City v Everton 0-1
Sept 11th att. 47,006
This was an awful display by City. Fresh from his error against Austria David James was the only City player to show any semblance of form. When his name was announced just before kickoff there was sustained applause for at least a minute - I cannot remember such a response for a City player before a game. Unlike his colleagues he played a blinder making at least three superb saves. Controversial referee Steve Bennett also had his moments in the spotlight with the sending off of Cahill with a second yellow for over celebrating his goal. Mind you the way City played it they would not have scored if Blackburn had only 7 men! The service to Anelka was negligible and Martyn in the Everton goal had hardly a save to make so you won't see many pictures of City attacks!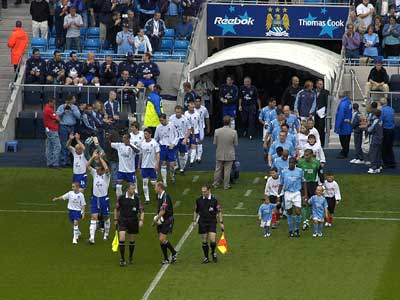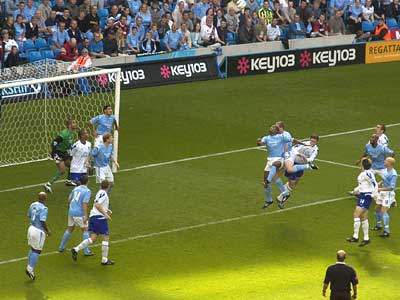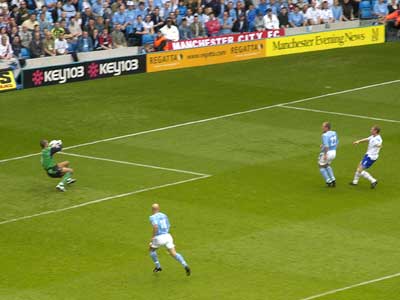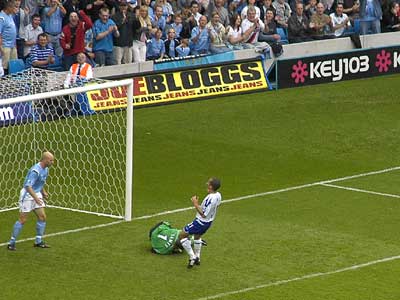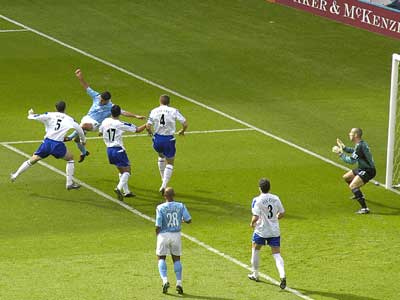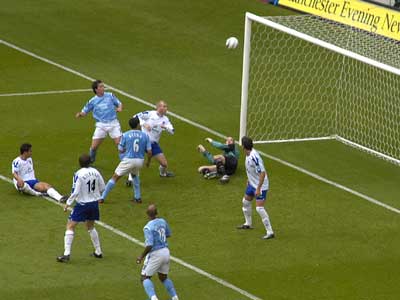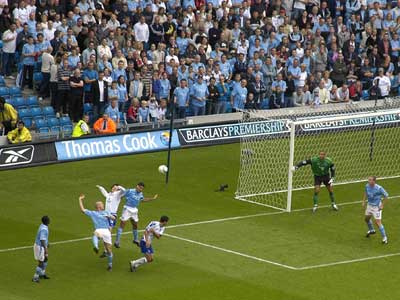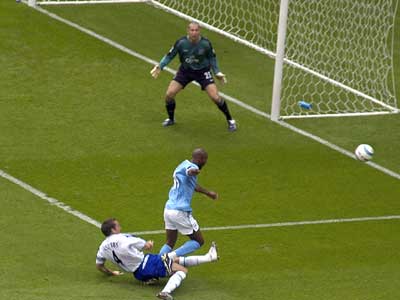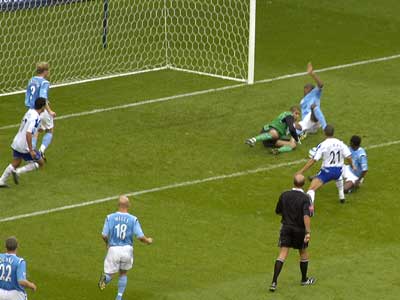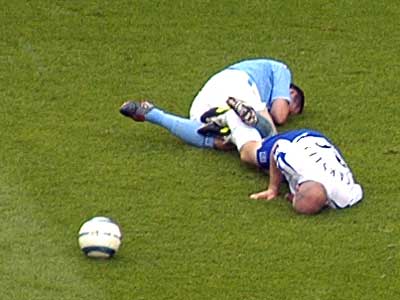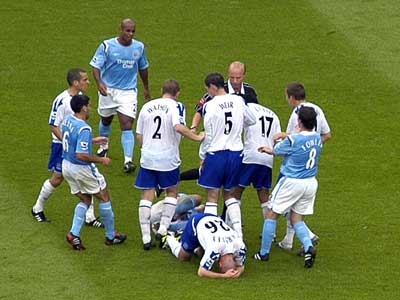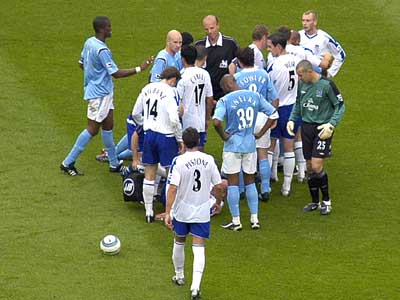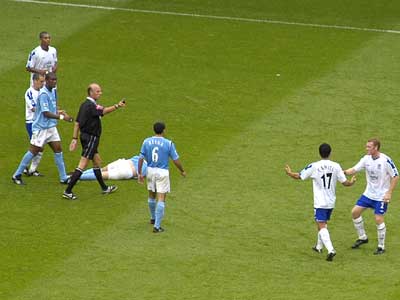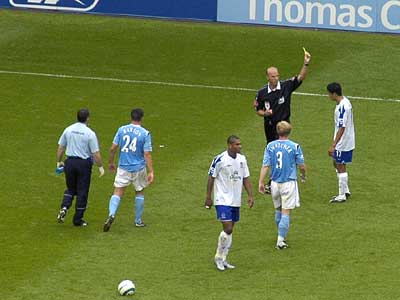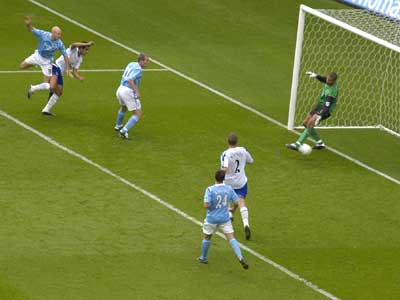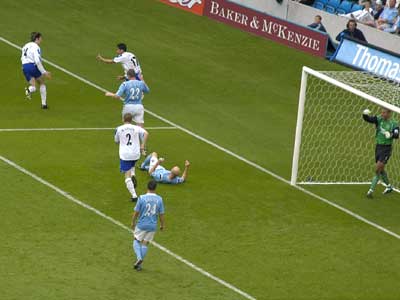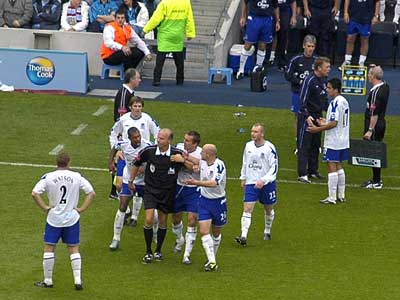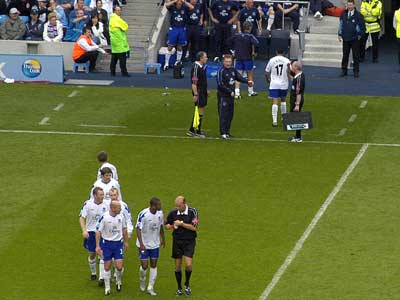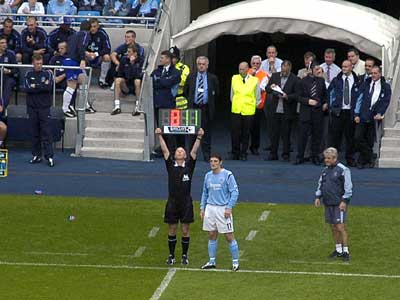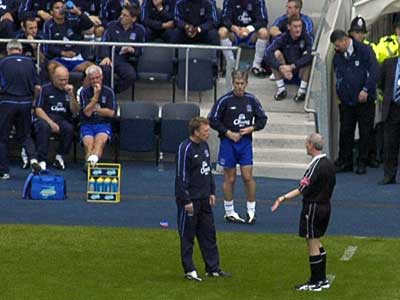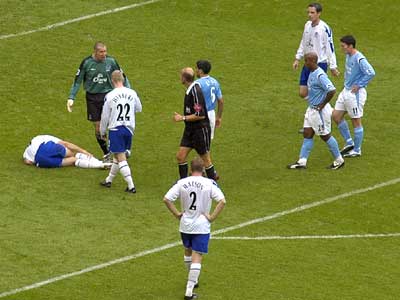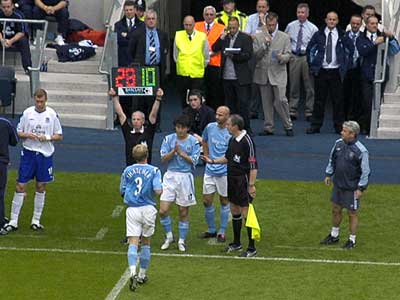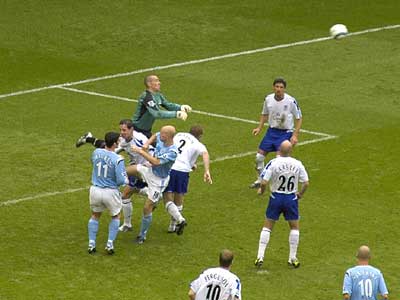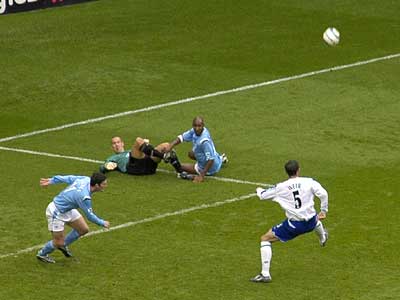 City were unchanged after their 4-0 win over Charlton
Everton took the initiative from the first whistle and with City defending the South end at the start for a change, the home side had to withstand a scission of corners
David James made a great save from Watson and then made a second save by diving on the ball from the follow-up.
Sinclair had missed a sitter minutes earlier for City - so the warning signs were there early on.
Unlike James, Nigel Martyn had few saves to make with the ball either going well over or wide of the goal.
A magnificent reflex point blank save from Bent by David James earned him a standing ovation.
A last ditch tackle by Stubbs prevented Anelka from scoring.
Yet another save by James from Osman kept City in the game
A clash between Barton and Carsley for a 50-50 ball ended with both players on the floor . Players from both sides decided to have a meeting to influence Mr Bennett.
The incident ended with both players being booked but Everton got a free-kick. Quite extraordinary. A few years ago this would have been a dropped ball and a hand shake. Just what has the game come to .
Shortly after an elbowing offence by Cahill on Barton earned him a yellow card from the imperious Steve Bennett
Mills and Reyna combined to halt this Everton attack.
A long cross from the right wing found Tim Cahill unmarked between Mills and Dunne and his downward header beat James for once to give Everton the lead. Cahill ran away to celebrate and he briefly covered his head with his shirt.
To everyone's amazement Steve Bennett gave him a second yellow and sent him off. The Everton players were dumbstruck. Everton were down to ten men. Commonsense seems to have been thrown out of City's window in favour of the strict rule book. I never hear about the referees moaning about it though. It may harm their pay packet!
Keegan brought on Macken for Fowler who had done little while Everton manager Moyes continued to argue with the fourth official.
When one of the Everton defenders went down during a City attack play went on for a short while so Nigel Martyn has a good moan about it.
With a 150 million Chinese watching the game live on TV it was expected that Jihai Sun would get a 15 minute spell as substitute for Thatcher
Although playing against ten men City failed to make much headway in the opposing penalty area and the solid Everton defence rarely gave Anelka, Macken and Sibierski ( on for Sinclair) a chance to give Martyn something to do. Wright-Phillips rarely had a chance to show his pace and skill. He had one good run, one good pass and one goal scoring effort from a corner that was blocked. Everton had a plan to subdue his efforts and it worked. So where was plan B City? This was a poor City display and if this form continues a relegation battle is ahead. I heard there were Channel 4 undercover journalists working on a future programme on racism in football at the ground today. Pity they could not have discovered why City were so poor against ten men ! They just couldn't hit the target for 'toffees'!
Team
James 9: Mills 5, Dunne 5, Distin 4, Thatcher 4 ( Sun 5): Wright-Phillips 6, Reyna 5, Barton 5, Sinclair 5 (Sibierski 5): Fowler 4 (Macken 5) Anelka 7:

The last twenty minutes or so saw Everton put everyone bar Ferguson ( on as sub) back in defence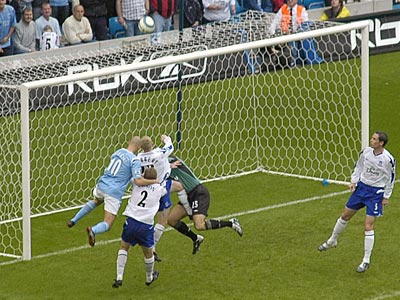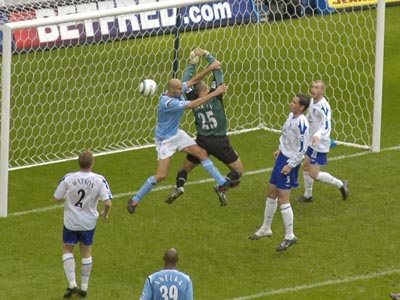 Sibierski did his best to try and salvage something from the City display but to no avail his attempt - above right- being penalized for a foul on the keeper..
City v Barnsley 7-1 Carling Cup
Sept 21st att. 19,586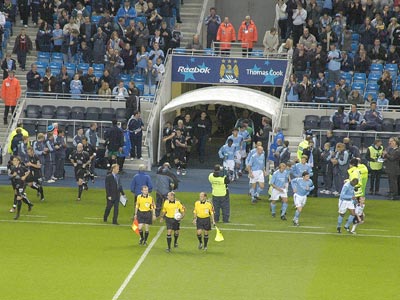 With rumors galore flying around Manchester about a change of manager, the win last weekend at Palace and the performance this evening certainly put paid to those - for a few days anyway! When I watched the players warm up without the likes of Anelka, Dunne and James I wondered what was in store for us as Barnsley have been tough opponents in the past. I should not have worried even though we had a weakened team - indeed I had sent an e-mail to a friend earlier stating we would score 8. I would have been right if only BWP hadn't missed a sitter late on! Barnsley came with 500 fans. When I arrived you could almost count the City supporters. A disappointing turnout considering the low prices for the game. I had watched the 10-1 thrashing of Huddesfield some years ago and this display could easily have eclipsed even that score, so poor was the Barnsley defence. SWP had a field day setting up 5 goals and scoring another himself- easily man-of-the-match. Will KK keep him upfront with Anelka against Arsenal I wonder?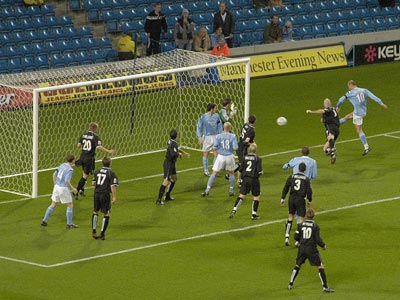 With Willo Flood and Waterreus making their full debuts and SWP upfront with Macken it was a strange City side that took the field. Barnsley had two City old boys- Shuker and Conlan
The Barnsley goal had a narrow escape early on at a corner the ball hitting the side netting from a Sibierski effort.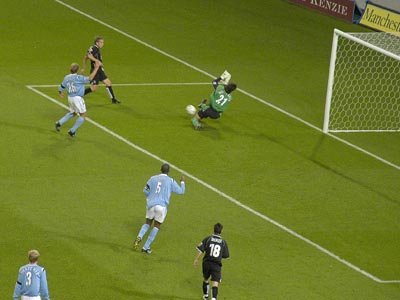 However first save was a great block by Ronald Waterreus from Wroe after a dreadful mistake by Thatcher.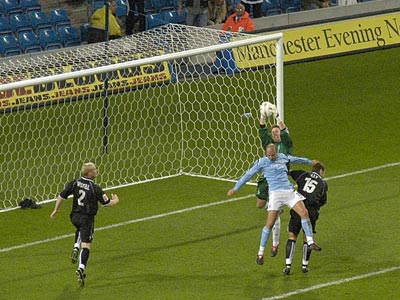 City were soon back on the attack forcing Colgan into action - here catching from Sibierski.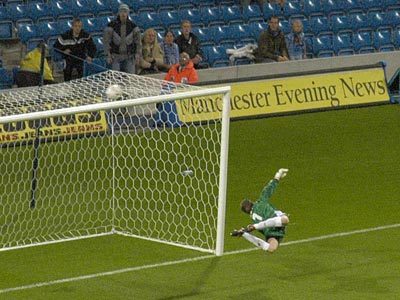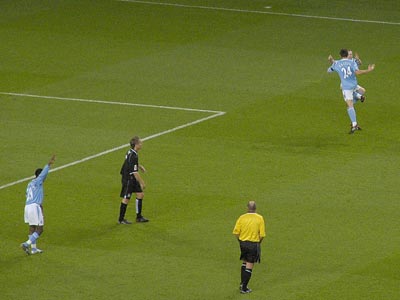 Just when we thought we were not going to score the avalanche started. It was just on 21 minutes when Distin, fed up with his team mates efforts attacked himself and fed SWP who in turn gave Dick Barton Special Agent (for the older readers)- sorry Joey Barton a great opening. JB cracked the ball into the back of the net and it was 1-0.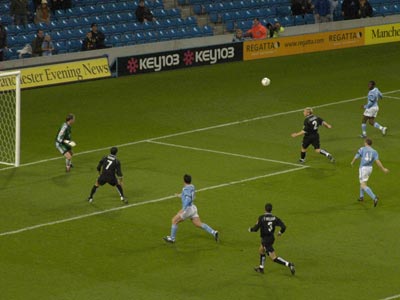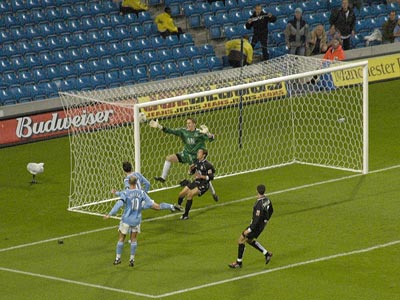 The Barnsley defence melted again 7 minutes later when along came number two. A run down the right by Shawn Wright-Phillips - a lovely chipped cross with Macken haring into position and there was Jon Macken to head past Colgans right hand to make it 2-0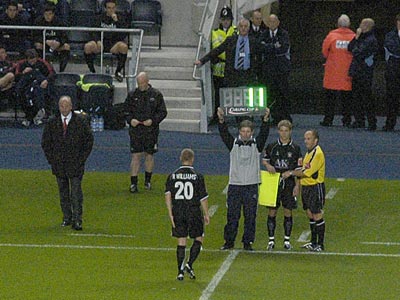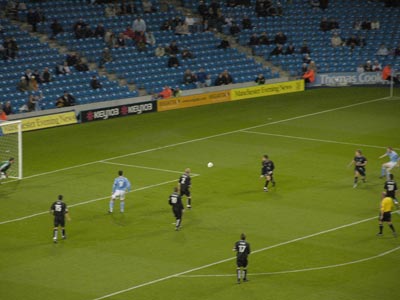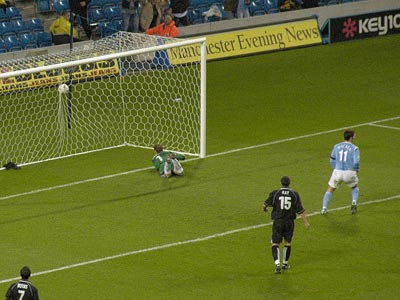 Five minutes later the flood gates really opened with Willo Flood getting number three. He raced inside his marker and cracked in a great shot from the edge of the area. It beat the Barnsley keeper at the near post to make it 3-0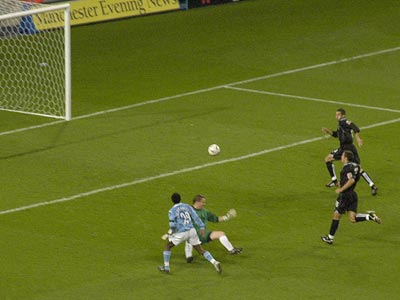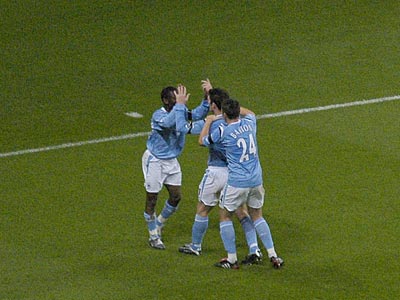 Three minutes later Shawn Wright-Phillips decided it was time he scored himself and this time it was Macken the provider. SWP chipped the ball over the forlorn Colgan to make it 4-0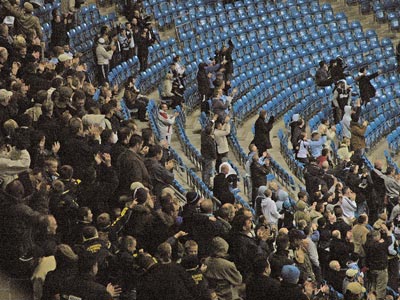 The City fans rose to applaud this super effort by Shawn Wright-Phillips who must surely gain an England place on this form.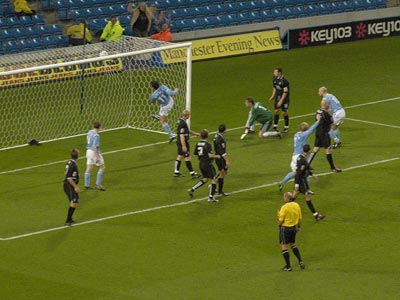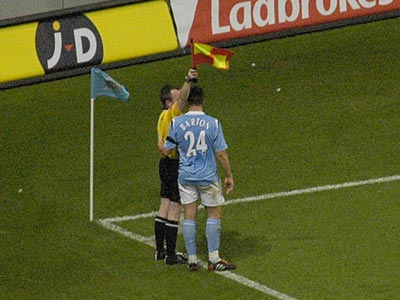 Robbie Williams was an early Barnsley substitute. He obviously was not in tune with the rest of the Barnsley Band
City did get the ball in the net following a corner shortly after but it was disallowed - presumably because it had swung out of play. Joey Barton did have a close encounter of the amorous kind with the referees assistant about it.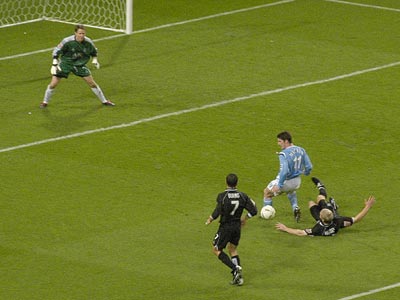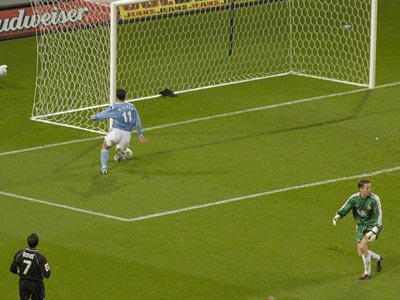 Just before half time Jacob Burns made a bad error and let in Macken who walked the ball into the net to give City a five nil lead . I guess KK would have been quite pleased with his players at half time and his decision to rest James and Anelka.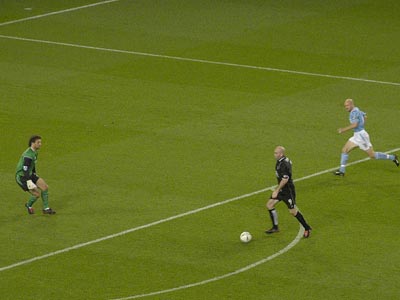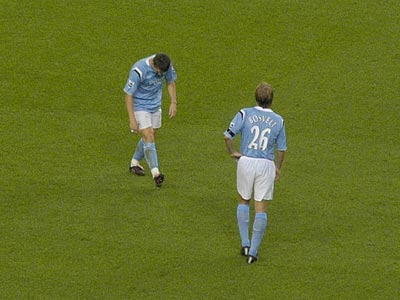 City made three substitutions at the break bringing on Bradley Wright-Phillips for Macken, Jordan for Thatcher and Sommeil for Distin. We had a bit of a shock just after the restart. Joey Barton blotted his copybook with an atrocious pass to opposing forward Barry Conlan who took advantage of this early Christmas present to shoot past the City keeper. No wonder Barton hung his head in shame.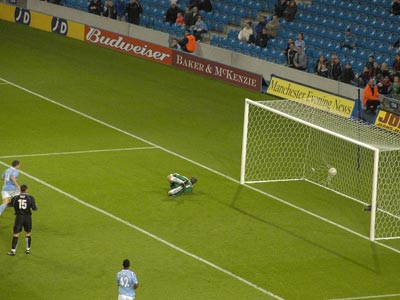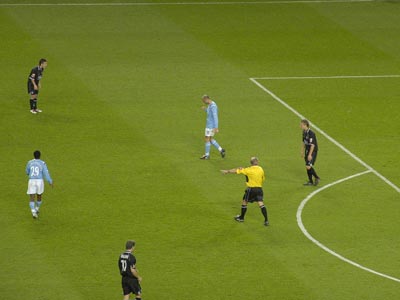 Ten minutes later and City had restored a five goal buffer. Shawn Wright-Phillips set up Sibierski who beat the Barnsley keeper from the edge of the area. 6-1 to City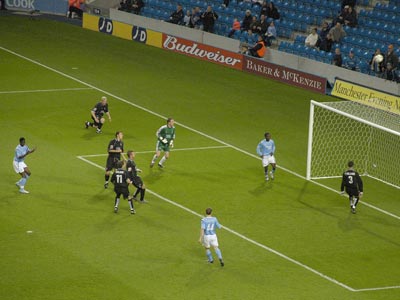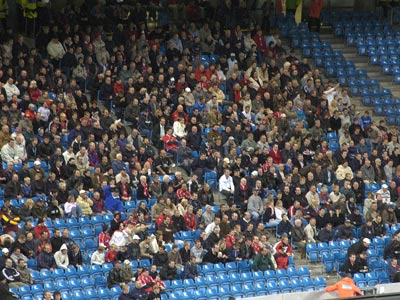 City should have made it six two minutes later when SWP set up BWP but Shawn's younger brother hit it high over the bar. No bedtime story for him tonight and no doubt a slapped wrist.
The Barnsley supporters must have wondered whether their journey over the Penines had been really worthwhile as there was worse to come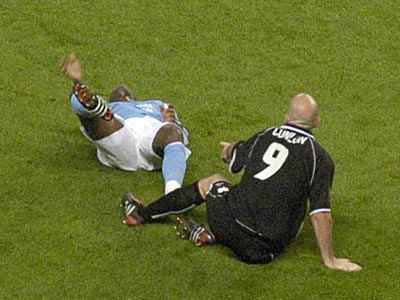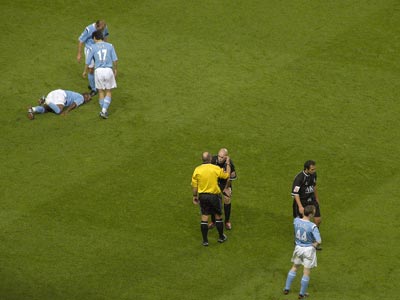 It had been a pretty clean match with hardly a bad foul but Barry Conlon made a late challenge on Sommeil and the French man made the most of it with his usual theatrical display of pain and distress. I think we can do without this David. Anyway Conlon got a yellow card as did Jihai Sun for another silly poor challenge a little later.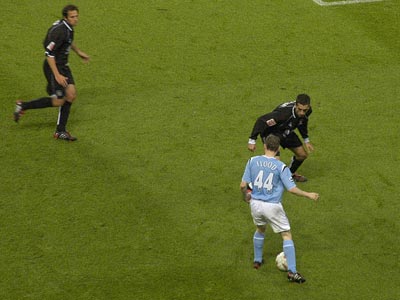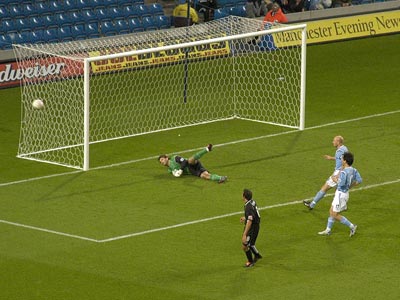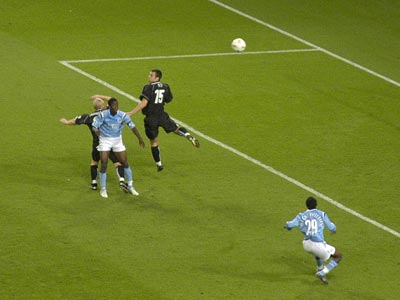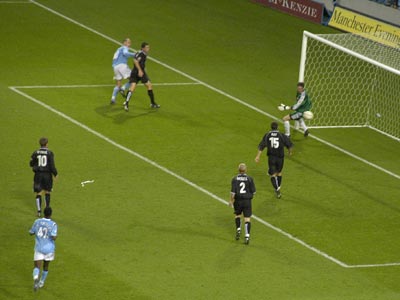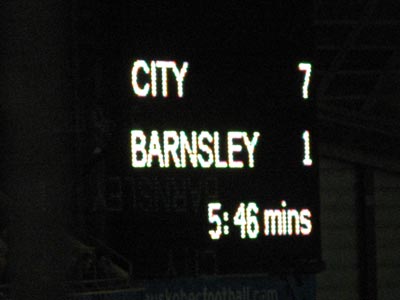 City's new youngsters had mixed debuts. Whereas Bradley really messed things up by missing a good chance, Willo Flood did not look too out of place in the side and may get further chances. He took his goal really well.
Waterreus made another good save late on in the match and looks a good alternative to David James
It's not often City have two brothers playing together in the same match but BWP has some way to go to match SWP.
With but four minutes to go City made it 7 . A cross by SWP -who else- found Sibierski waiting by the far post and he headed it past the Barnsley keeper.
Just in case you don't believe it here is the scoreboard - which incidentally broke down for a period in the second half. No doubt they could not find numbers 6 and 7!
Team
Waterreus 7: Sun 5, Mills 7, Distin 7 (Sommeil 6) , Thatcher 5 (Jordan 5 ): Flood 7, Bosvelt 7, Barton 8, Sibierski 8: Shawn Wright-Phillips 9, Macken 8 (Bradley Wright-Phillips 5)
A good display by City that will give confidence to both players and supporters. However Barnsley were pretty poor and Arsenal on Saturday will be a different matter but their run must end and why not then. Any way that will teach Mike Parkinson not to go to ITV from the Beeb.
City v Arsenal 0-1
Sept 25th 2004 47,015
Well Arsenal went past the 47 unbeaten game milestone at the City of Manchester Stadium today but City came out of the game with plenty of pluses and with any luck City deserved least a point as they dominated the second half giving the Arsenal defence a hard time. The City defence also did well and Jihai Sun had his best ever game for City at left back. Where was all this endeavor against Everton? City have never beaten Arsenal in the Premiership but this was the nearest we have got for a while though I always had the horrible thought that they could have gone up another gear should it have been necessary.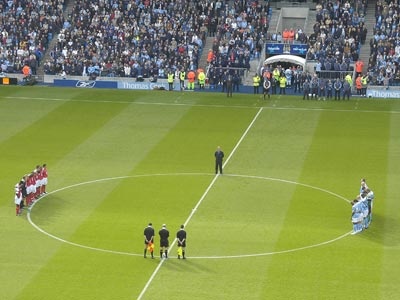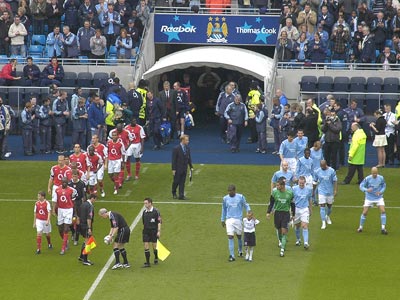 City made several changes from the Barnsley game. Anelka and Dunne returned and Jihai Sun played at left back a position he has played in for China.
You could not have heard a pin drop in a wonderfully observed minute silence for the late Brian Clough. I am sure the late Forest manager would have approved. 'Well done young man'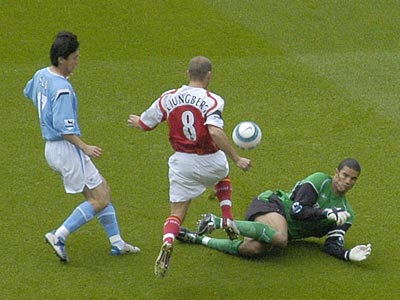 David James had to make an early save with his feet from Freddie Lungberg in the opening moments when Bergkamp put him through with a good pass.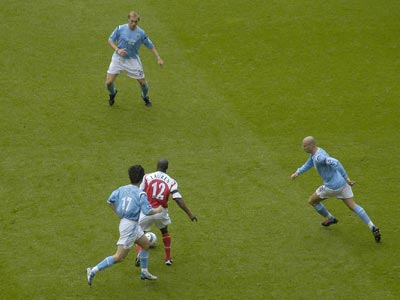 Lauren is faced with three City defenders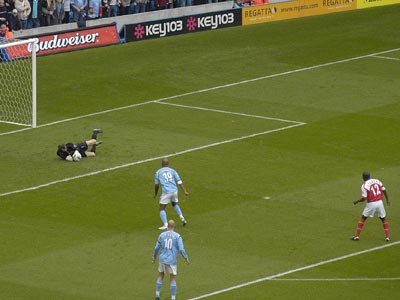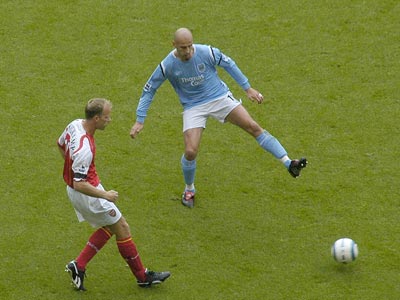 A good run down the wing by Shawn Wright-Phillips ended with a shot by Macken just out of picture that Lehmann had to hold onto with Anelka lurking for the rebound
Bergkamp the quiet provider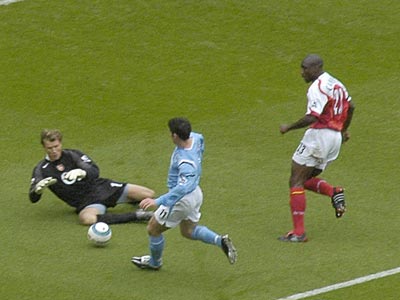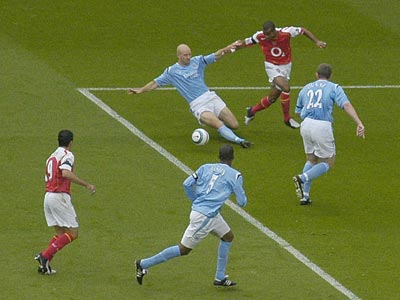 Mills and Cole battle for the ball with Distin and Dunne covering
Lehmann was again in action having to save at the feet of Macken with Campbell in close attendance. This was Campbell's first game after a long spell out through injury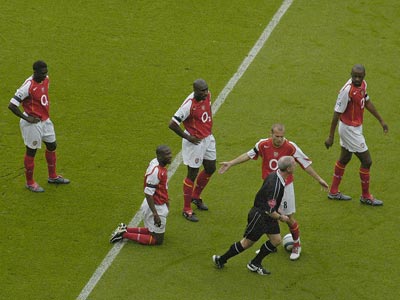 One annoying aspect of Arsenal was their habit of moaning everytime a decision didn't go their way
Toure's shot on goal is blocked by Distin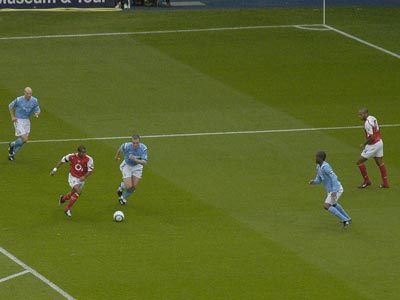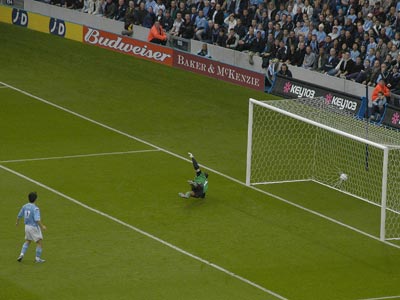 After 14 minutes Arsenal took the lead. Reyes took the ball down the left slipped the ball through to Cole who had continued his run. The ball rebounded off Dunne back to Cole who flicked the ball through the legs of the advancing Distin and to the right of slightly unsighted David James. Cole did look a fraction offside when the ball came through initially and Henry is certainly in an offside position but not interfering when the shot goes in. One nil to the visitors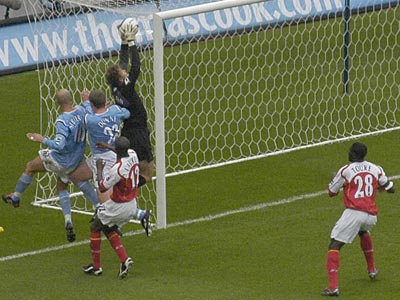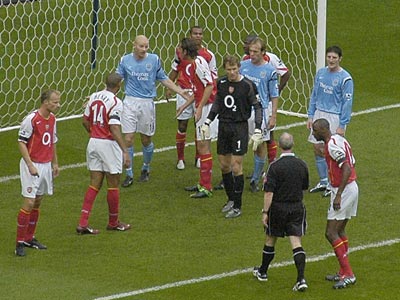 Lehmann catching under pressure from Dunne and Sibierski at a corner
Mills is the target of another session of Arsenal moaning.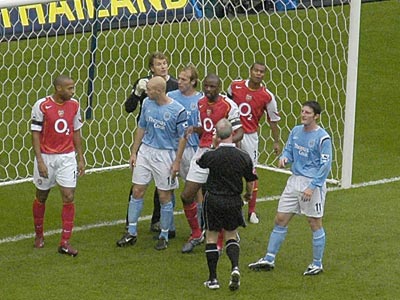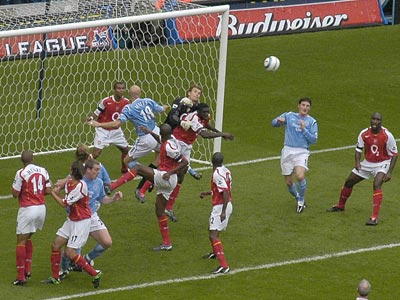 Lehmann continued to moan about being impeded at the corner by Bosvelt and Mills
At this corner Lehmann manages to punch clear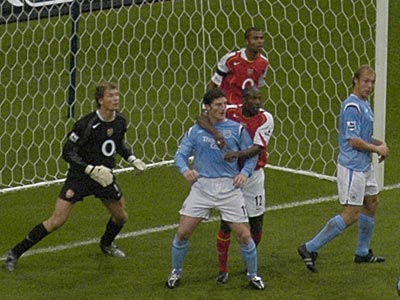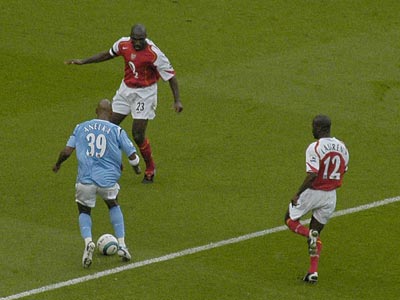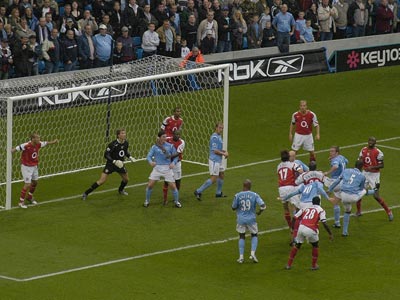 Anelka playing against his old club was a constant menace to the visitors and nearly scored on a couple of occasions.
At this corner City look to have a good case for a penalty as Lauren can be seen holding Macken as the ball comes across. This tactic we shall see later was not an isolated incident.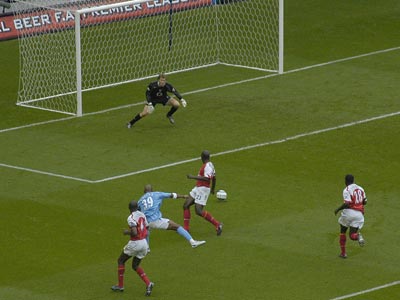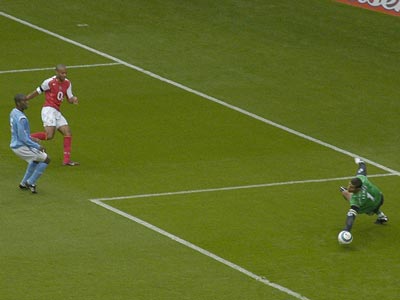 Anelka shoots well past the far post of Lehmann. A good chance missed as he scuffed the shot.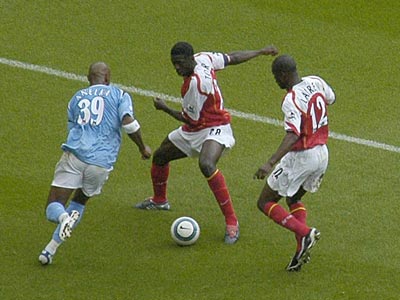 At the other end Henry just misses from a narrow angle though James had the shot covered.
It needed the combined efforts of Toure and Lauren to stop Anelka at the edge of the area but the ensuing free-kick was blocked.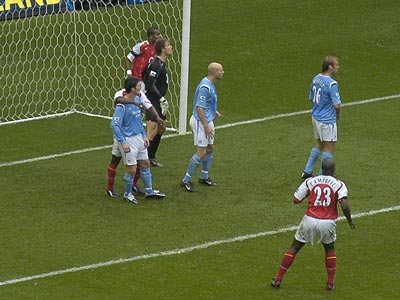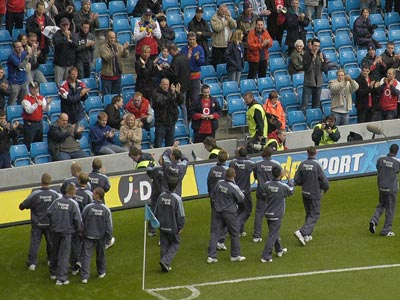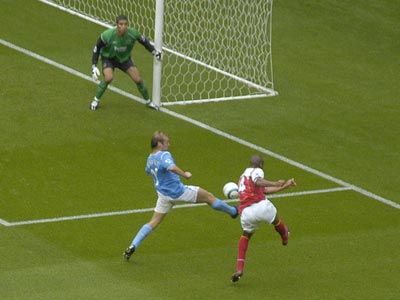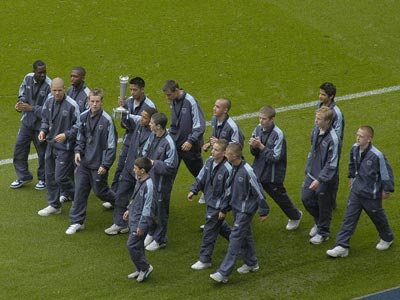 At half time the possible future players of City paraded their Nike International trophy around the ground and it was nice to see the visiting Arsenal fans applauding their success. It will be interesting to see how many of these under 15 youngsters eventually make the grade.
Lauren is at it again with Macken being held at this corner. I have seen penalties given for less.
Henry shoots but David James was equal to the task and saved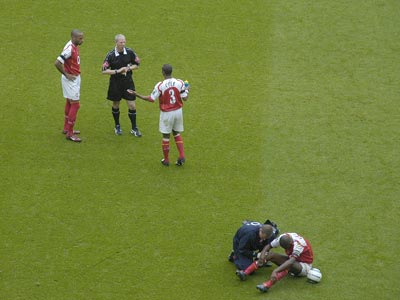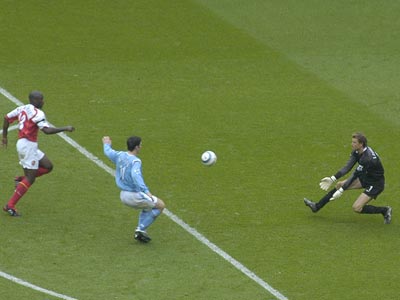 Cole has a moan after one of his colleagues receives treatment after a clash with Bosvelt who got booked.
Macken was a bit slow to take advantage of this chance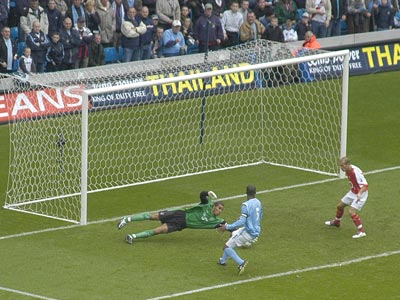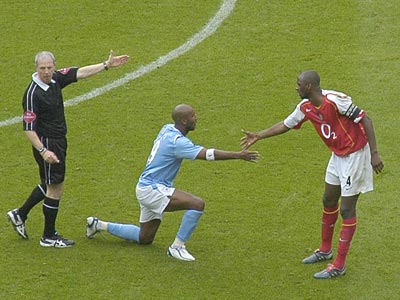 As Max Bygraves used to sing 'You need hands'
David James makes a vital save from Henry the ball rebounded out and Jihai Sun blocked the ball on the line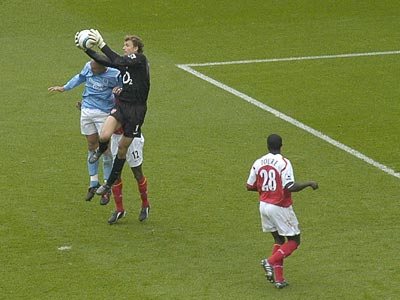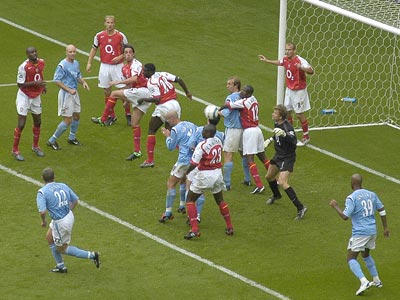 Lehmann catches under pressure from Sibierski
Have you spotted Lauren upto his tricks again. This time he is holding Bosvelt at the corner. Yet another penalty!!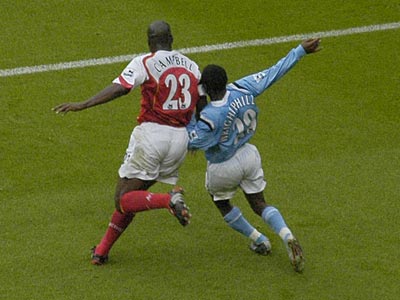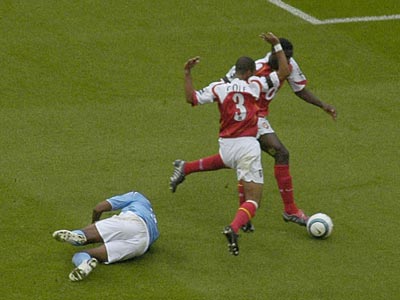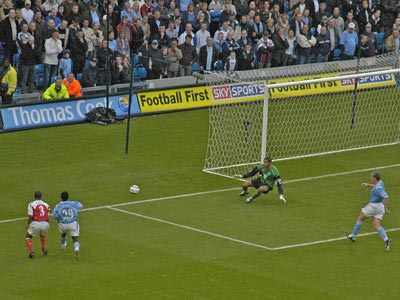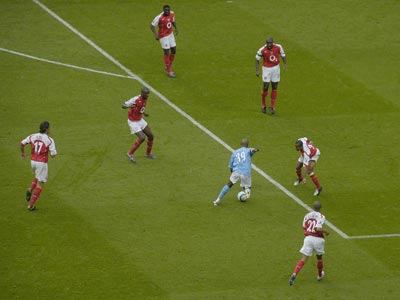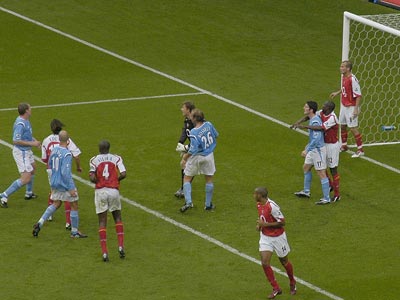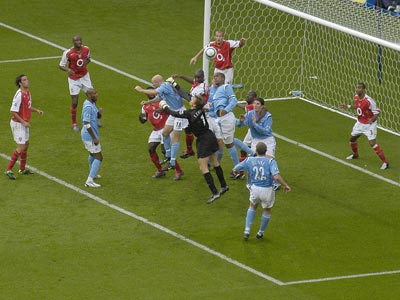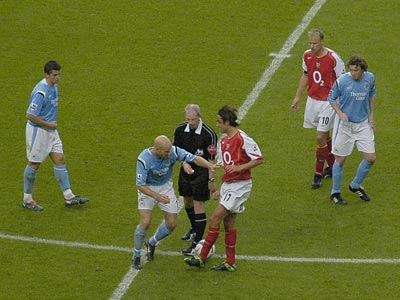 An old fashioned drop ball. I haven't seen one of these for a while. I don't think Edu relished this meeting with Danny Mills.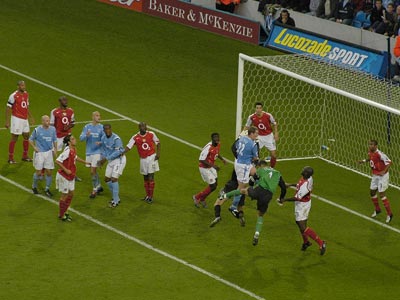 Shawn Wright-Phillips tussles with Campbell. Will they be England colleagues shortly?
Cole hits the outside of the post
Anelka is surrounded by 6 Arsenal players as he tries to break through
Another two occasions at corners where Lauren is holding Macken. Premiership referees please note! Mind you I didn't see Macken make any effort to try and escape his marker . City coaches please note!
Anelka falls but no penalty.
For City's final fling we had the rare sight of David James joining his colleagues in the box. In the end the Arsenal defence stood firm and they took the three points and held onto their unbeaten record.

A spirited display by City that bodes well for the future. The defence looked stronger and Jihai Sun played really well at left back. hecertainly looked a better prospect than Thatcher and he might have crowned a great display with a goal when he broke through but his finish was poor. Mills and Dunne also did well. Anelka worked his socks off and with luck might have scored three. SWP had his moments but was well marked. Barton continued his improvement but Bosvelt tired after 60 minutes.
Team
James 7: Mills 8, Dunne 8 Distin 7 Sun 8: Wright-Phillips 7, Bosvelt 6 (McManaman 6), Barton 7, Sibierski 7: Macken 7(Flood 6), Anelka 8