Manchester City 3 v Stoke City 0 October 26th 2008
Premier League att.44,624
A Robinho hat trick was the star attraction in this easy 3-0 win over Stoke City. It could and should have been at least five as several other opportunities were squandered. A good crowd turned out for this visit by the Pottery side and City played some fine football to reward their supporters. Not that Stoke were completely bereft of ideas - Hart making a few good saves to keep a clean sheet to celebrate putting pen to paper to sign a five year contract with the club. This was the 100th Premier game at COMS so this display was a great way to mark the occasion. It was a good attacking team effort so keeping a clean sheet was a bonus.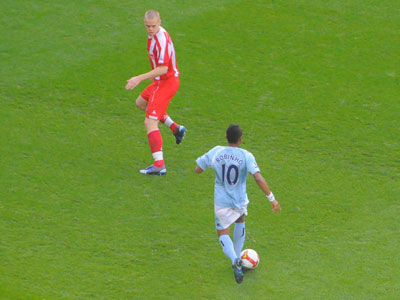 With Jo out with illness Evans came in to lead the attack. Zabaleta was still suspended but Richards was fit to play in his place.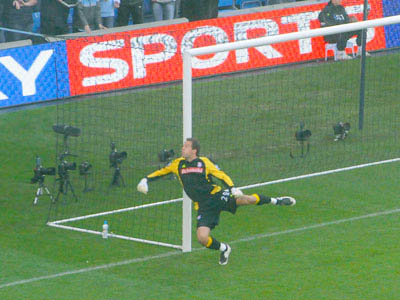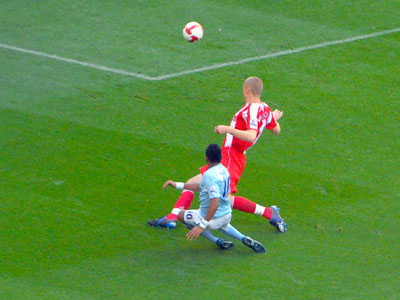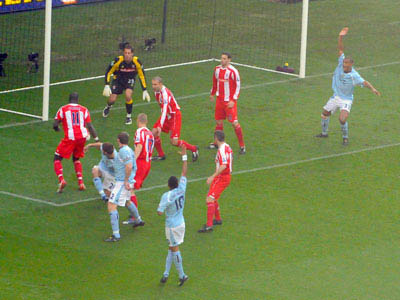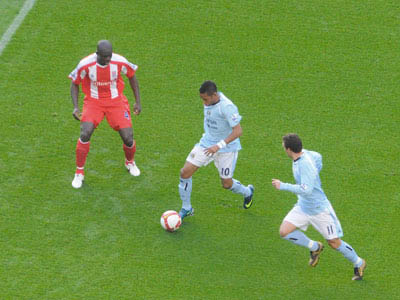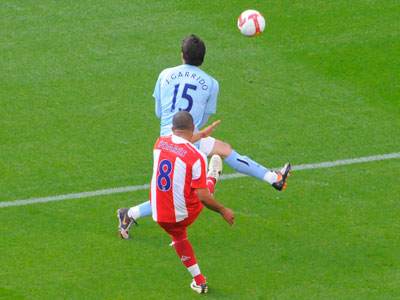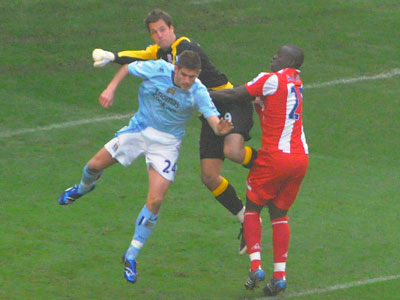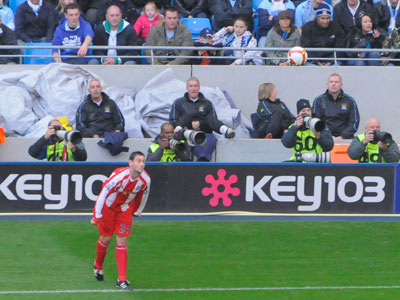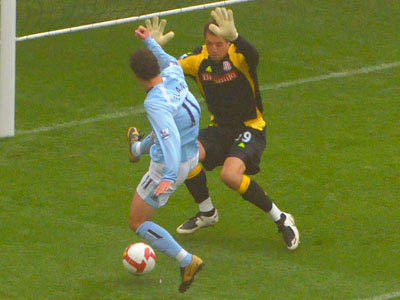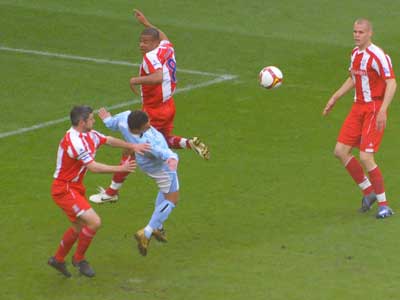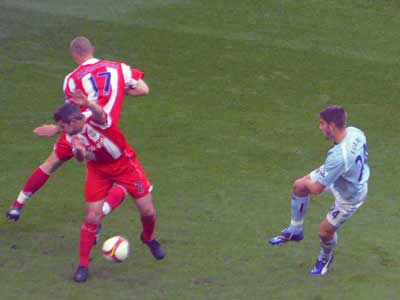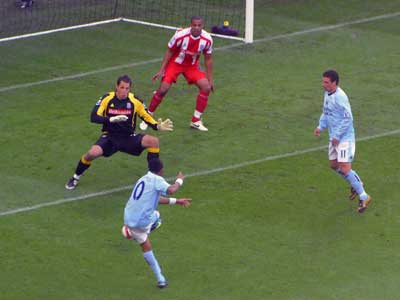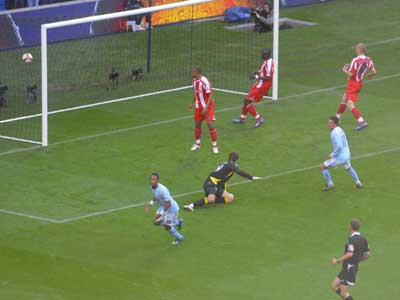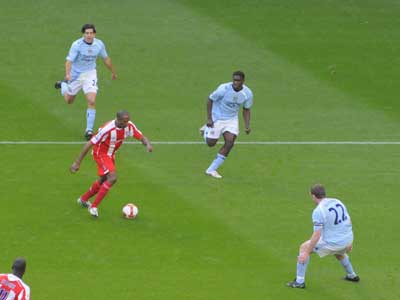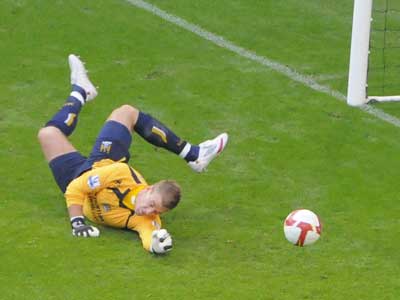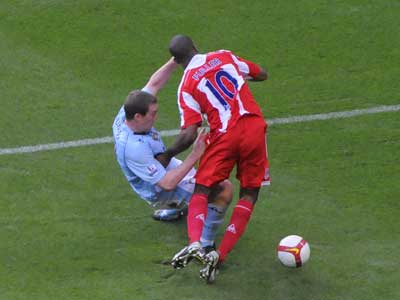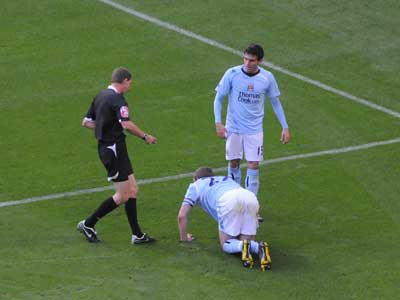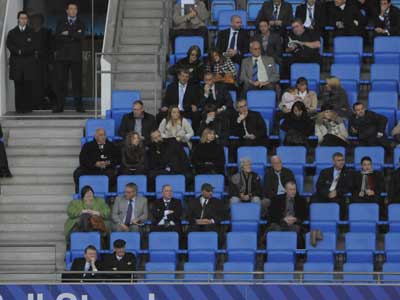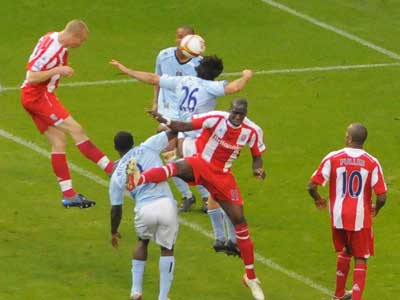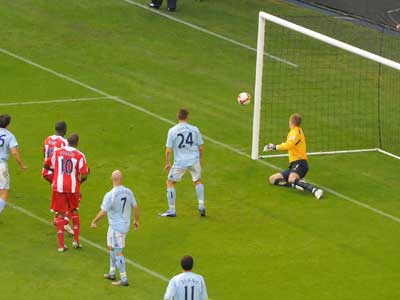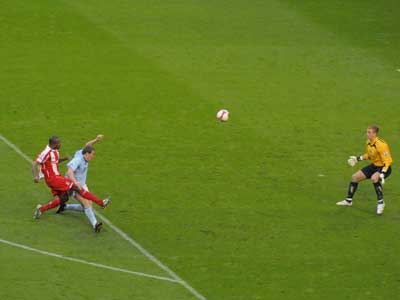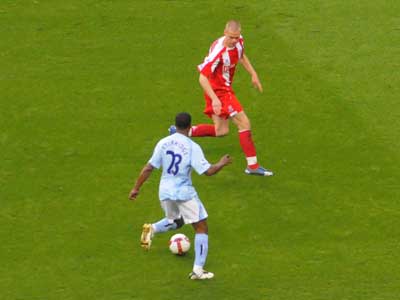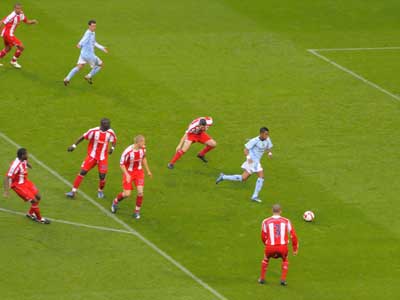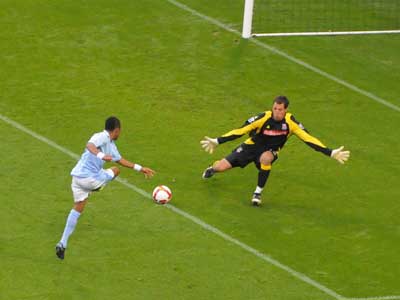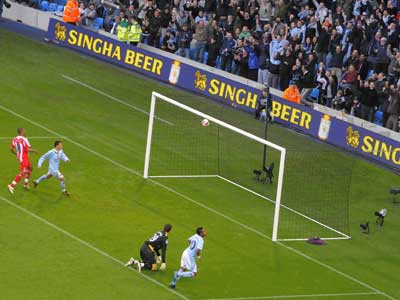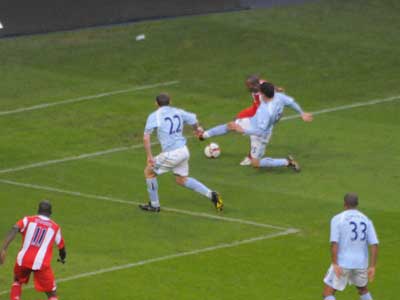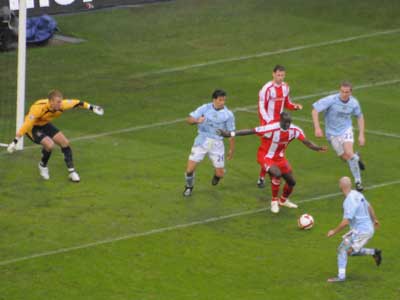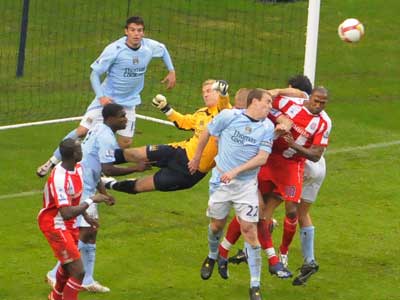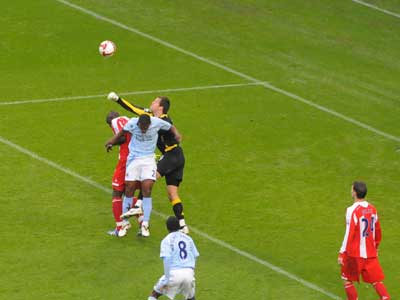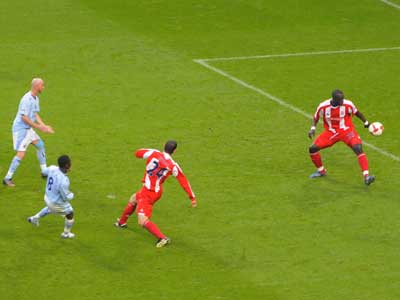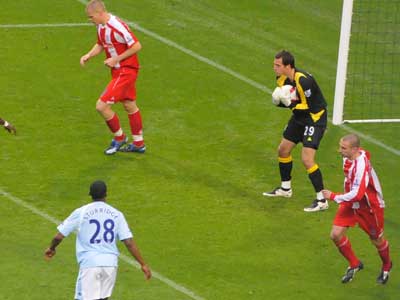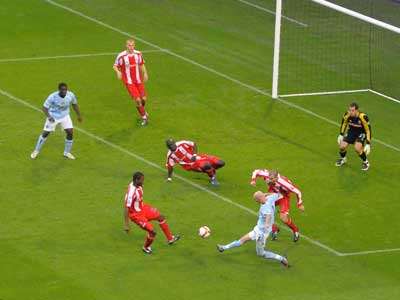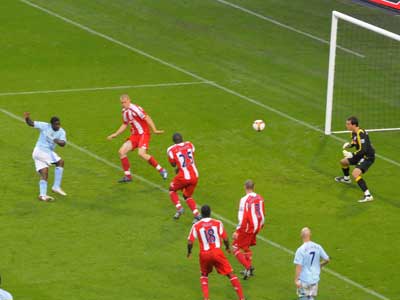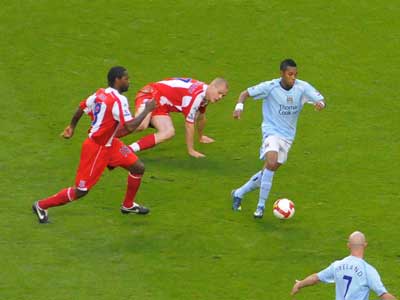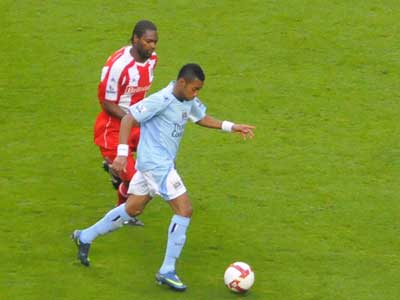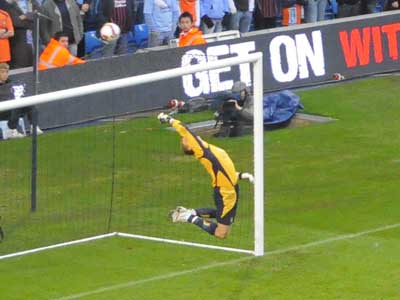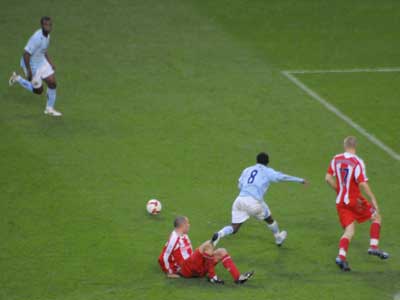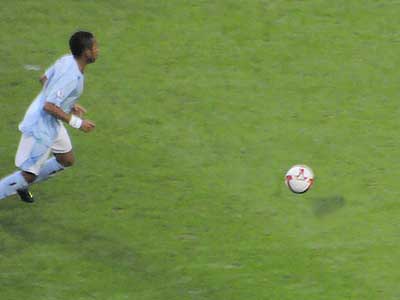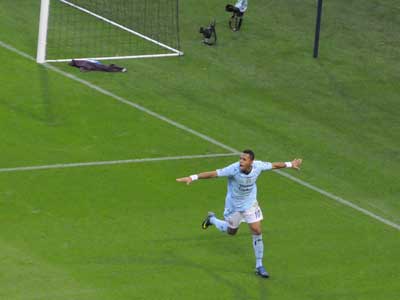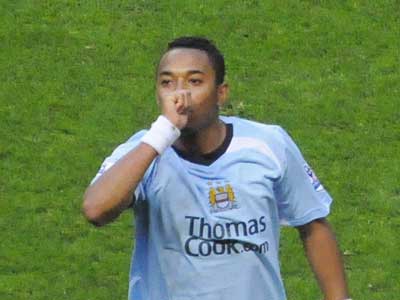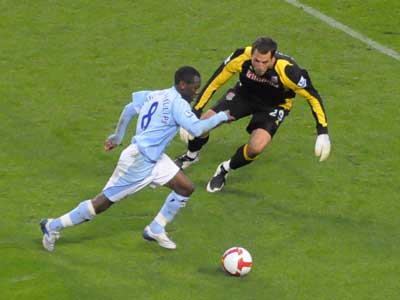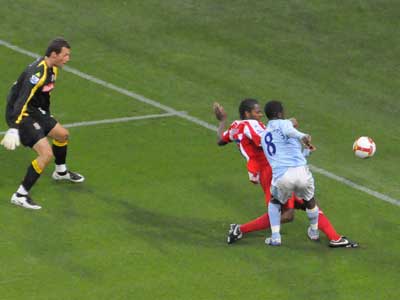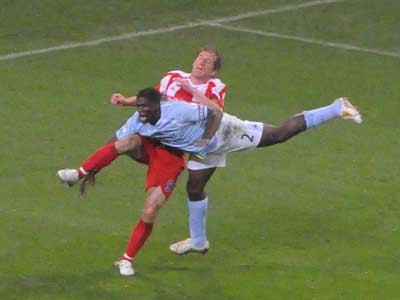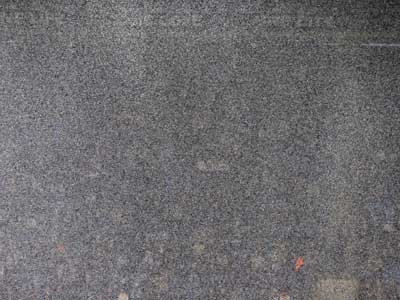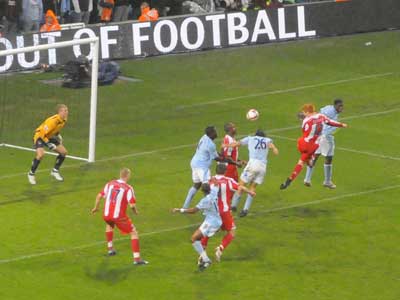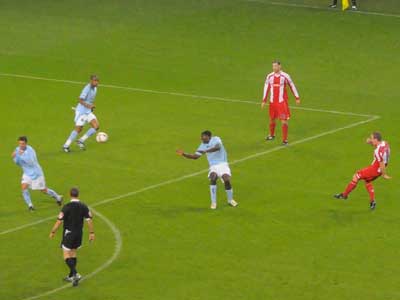 TEAM
Hart 7: Richards 6.5, Dunne 7 ( Fernandes 6 ) Ben Haim 6.5 Garrido 6.5 (Onuoha 6) , Kompany 7, Ireland 7.5, Wright-Phillips 7, Elano 7.5, Robinho 8.5, Evans 7 (Sturridge 7.5)
From the off it looked like Stoke were going to have trouble coping with the skills and movement of Robinho.
As early as the 3rd minute a run and shot by Robinho nearly gave City an early lead. Only a last gasp save by Sorensen saving the day for Stoke
From the ensuing corner City had an appeal for hand ball turned down.
The linking between Elano and Robinho was a feature of the City early play
Garrido tries to block a cross by Soares
Evans puts pressure on the keeper
When Stoke got their first attacking throw-in all eyes were on the phenomenal throw of Delap. This one went right into the hands of Joe Hart
However it was not long before the Brazilian was involved again- his pass finding...........
......Evans who passed to Robinho who calmly slotted the ball past Sorensen to give City their deserved lead
The Brazilian celebrated in his usual manner
Stoke soon hit back and Joe Hart had to make a fine save when Fuller had a chance after an error by Ben Haim
After 30 minutes or so Richard Dunne was injured in this clash and had to have treatment.
The first couple of rows of the 'directors box' was somewhat deserted today. Even Bernard Halford having a seat today. I think I spotted Paul Dickov though.
Stoke had a couple of chances - Hart saving a Shawcross header and Fuller shot over when well placed
City started the second half in great style. A cracking move involving Danny Sturridge ( on for the injured Evans) ended with Robinho..........
....... shooting past Sorensen to give City a two goal lead. Stoke City had been caught cold a minute into the second half..
The City defence had to be alert to clear a Stoke attack down the right wing
Both keepers using punches to clear their lines under pressure
Nine minutes into the second half SWP had a great chance but his shot went straight into the arms of Sorensen
Then Richards made a mess of a golden opportunity following a corner - shooting over from close range after a pass from much improved Ireland
Another great run by Robinho almost got a third for City after 60 minutes but his final shot.........
.............was pushed wide by Sorensen
At the other end a minute later Joe Hart had to push over the bar a shot from Soares
However after 72 minutes the killer goal arrived. A great move featuring SWP ,Ireland, Sturridge and Robinho ended with the Brazilian slotting the ball past the Stoke keeper to get his hat-trick
He celebrated with the East Stand and the game was over for Stoke
City should have made it 4 moments later when a SWP solo run ended with Sorensen managing to keep the City winger at bay and the result was a corner
At one stage the rain became very heavy
A Kitson header is about to be saved by Hart
Whelan shoots well over the bar to finish any Stoke efforts