City 3 Middlesbrough 1
Oct 7th 2007 Premiership att. 40,438
City supporters must be on 'Cloud Sven'. Nine games in and we are in 3rd place and unbeaten at home. It was in the 1974-75 season that City last won their last five home games - West Ham (4-0) Spurs (1-0) Leeds (2-1) Liverpool ( 2-0) QPR (1-0.) Chelsea managed a 1-1 draw that season to break the sequence. Tony Book was manager that season and Bell, Marsh, Tueart, Summerbee, Hartford were among the scorers for the season. We finished in 8th position. So a good home start does not guarantee a top 4 place. However if we are still in the top 4 at Christmas then a miracle is not out of the question. City are playing excellent football and as the team improves and providing there are not too many injuries to key players then anything is possible. The January transfer window will be important with a minimum of three players on Sven's wish list. A keeper - a defensive midfielder - and another striker.
Already City have scored nine goals at home - just one short of what was achieved during the whole of last season at COMS. What a transformation. There is a real buzz about the stadium and the atmosphere is much better. Can you remember when we had two goals in the 'Goal-0f- the- Month' competition !
Since writing the notes I have heard that Johnson may have to have an operation to sort out a groin injury which would account for his unusual errors early in the second half. I hope he is back in action soon.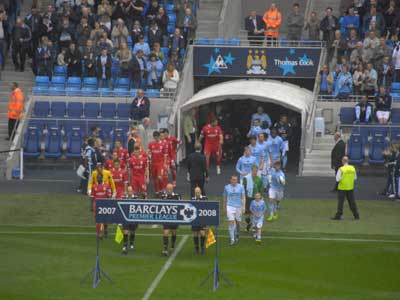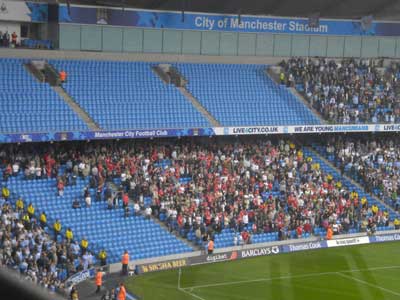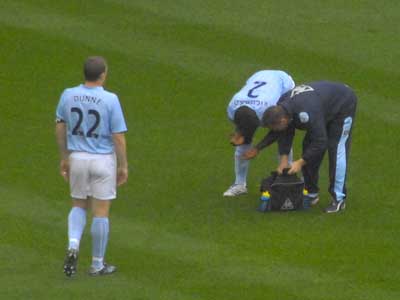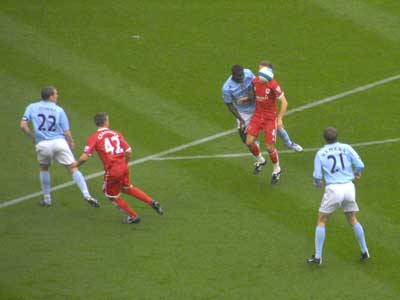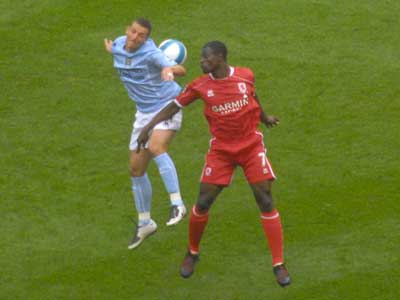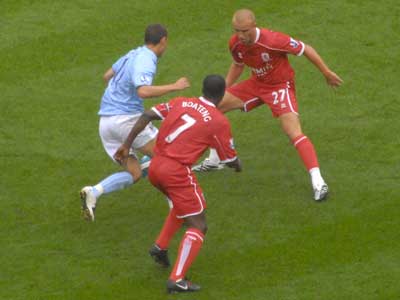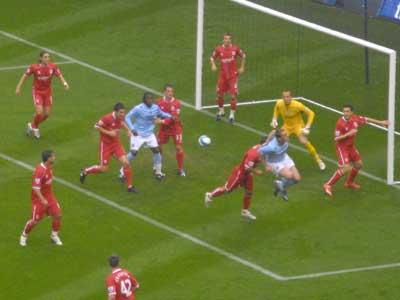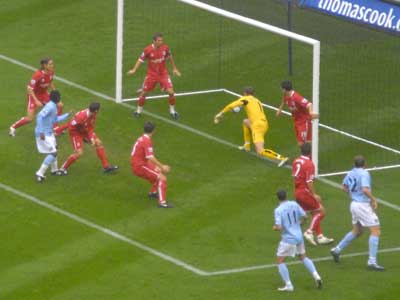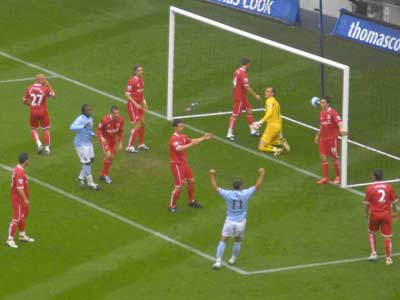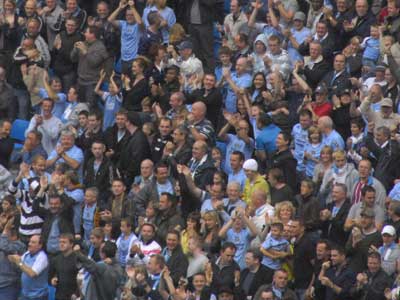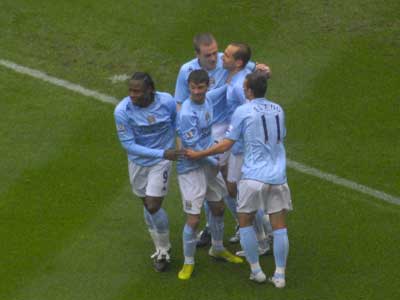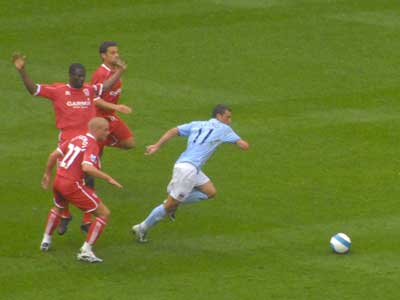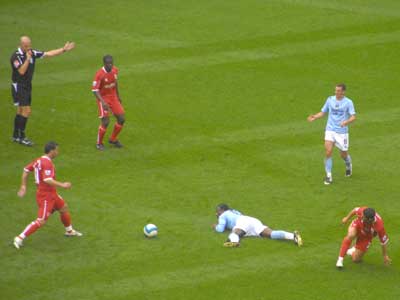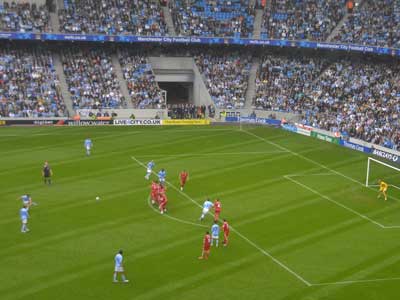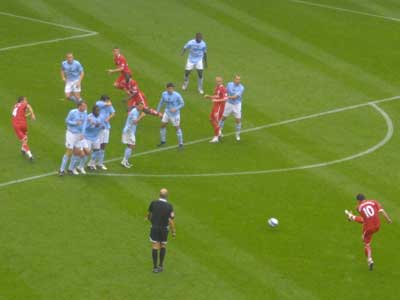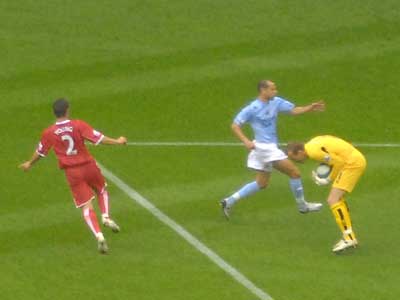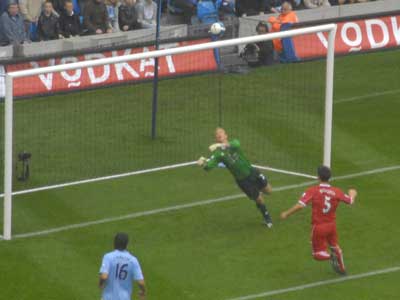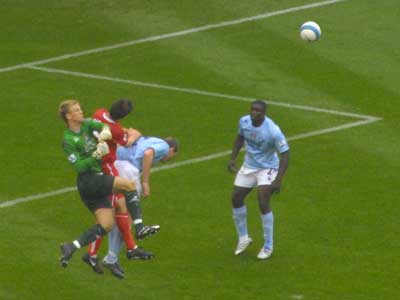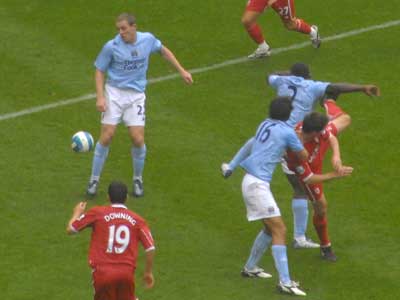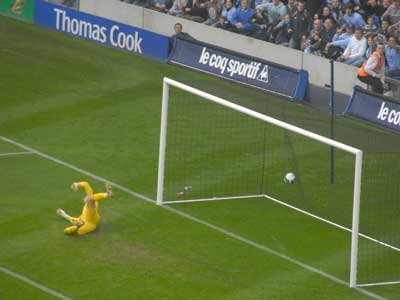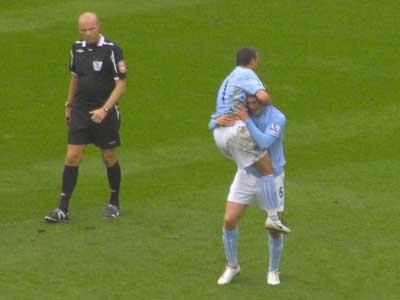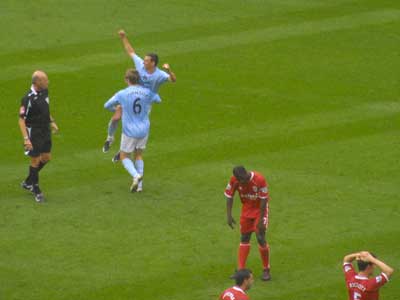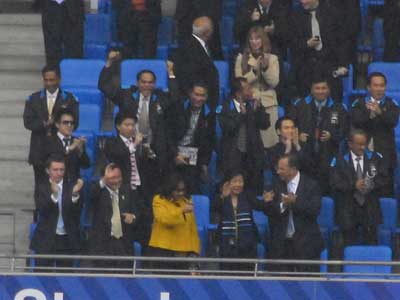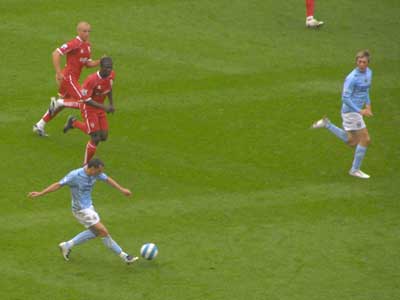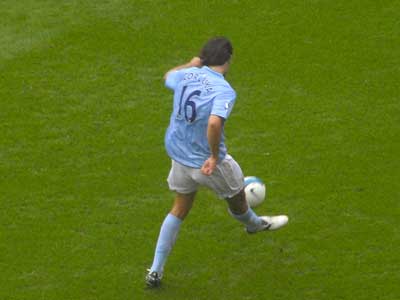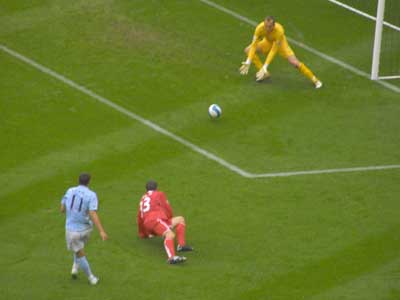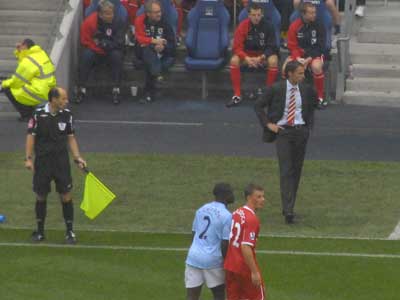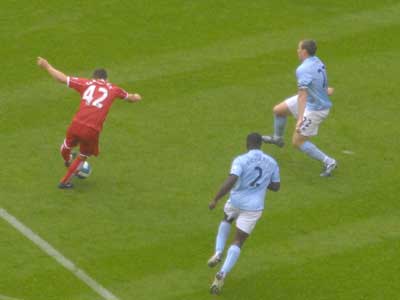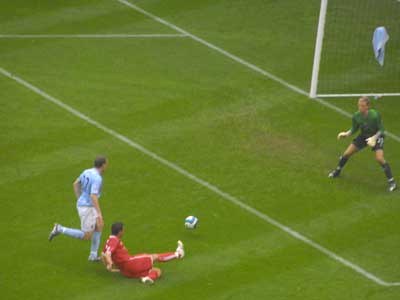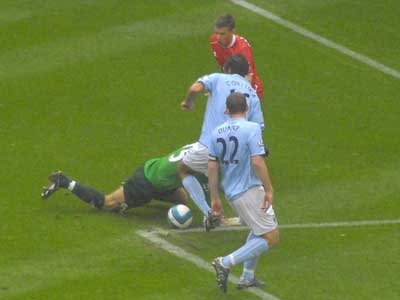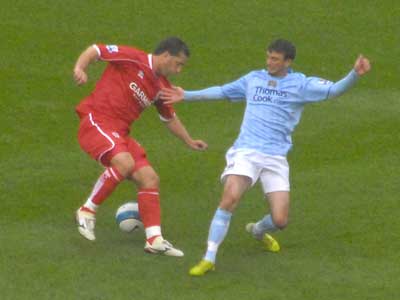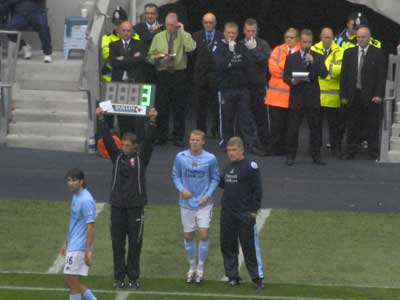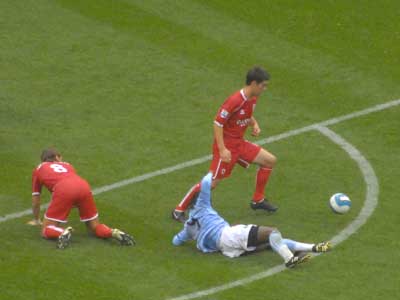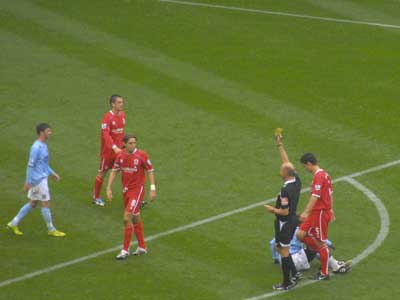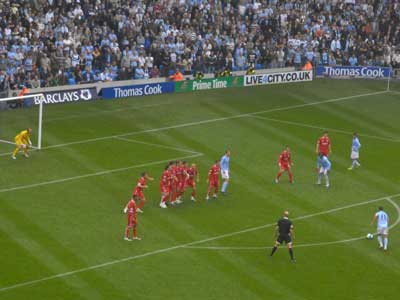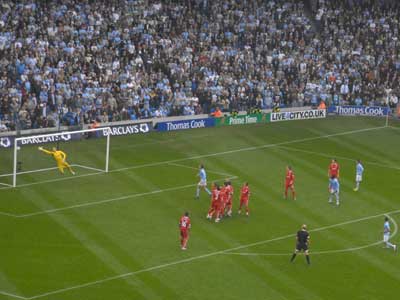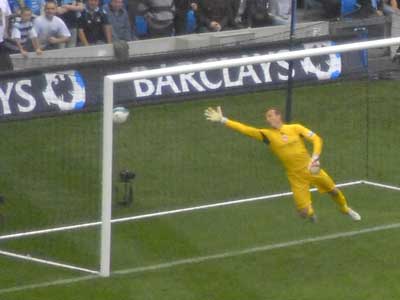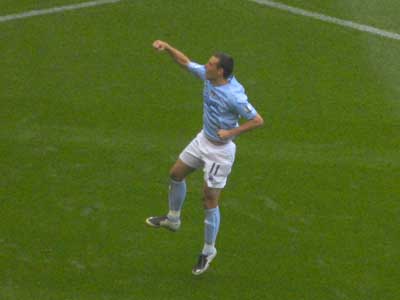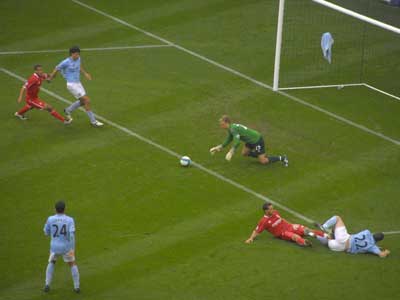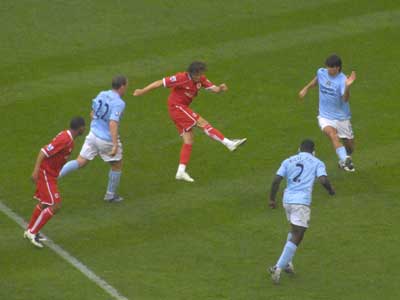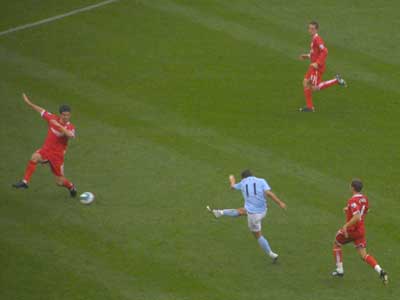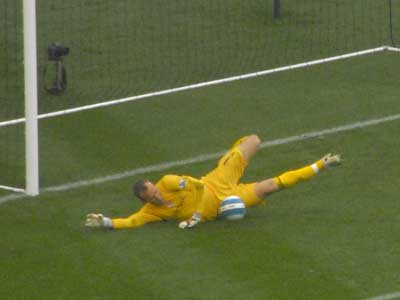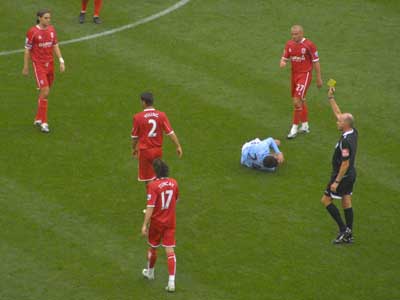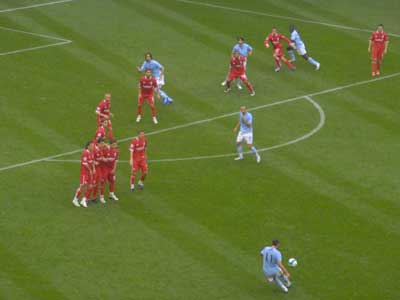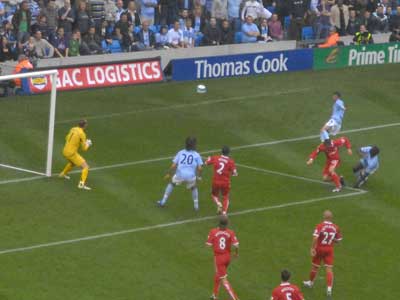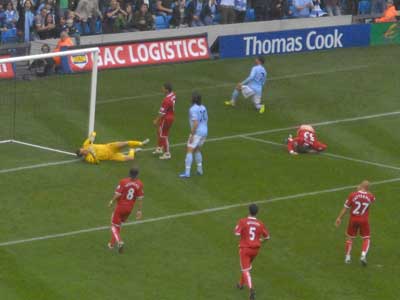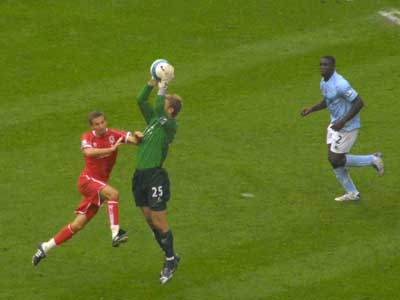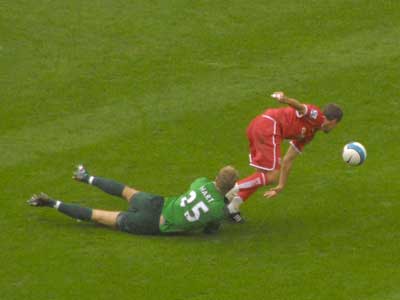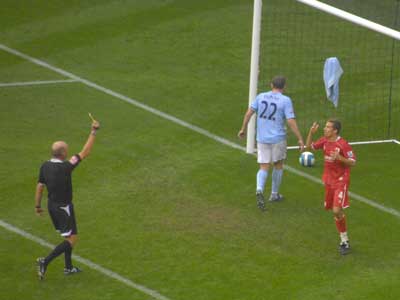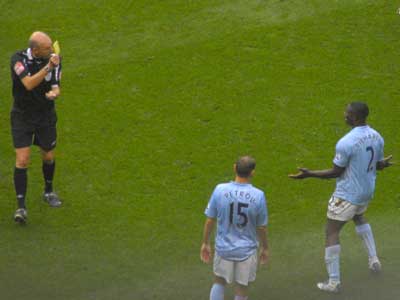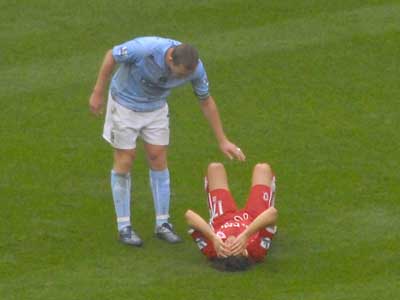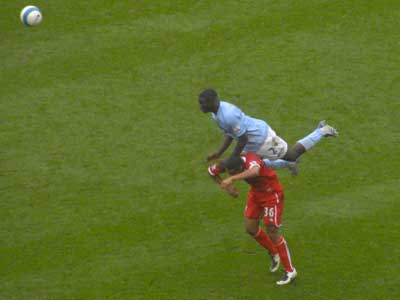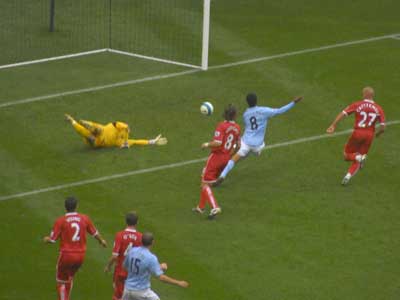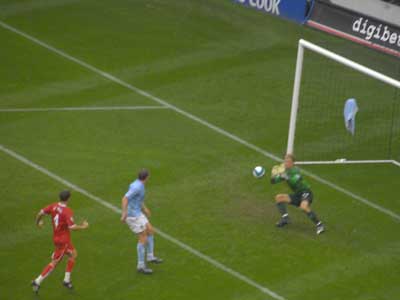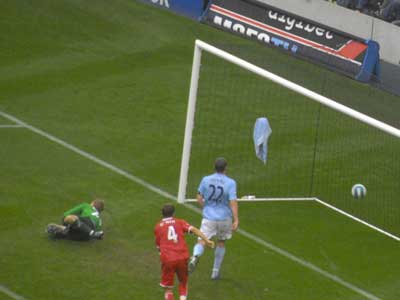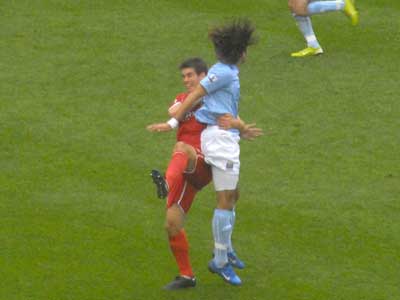 An early worry for City when Richards had to have treatment in the second minute.
Middlesbrough gave a first start to Tom Craddock (no.42) in the absence of Mido
Elano soon made his presence felt and George Boating had his hands full trying to deal with the Brazilian
With Middlesbrough flooding the midfield leaving just one up front it was important that City got an early goal and after 9 minutes we got an early Christmas present. Johnson's shot was deflected for a corner which Petrov whipped in. Dunne missed his header and such was the pace of the cross that Chris Riggott put it past his own keeper
While Dunne and Petrov got the congratulations at the success of their ' plan'!! the visitors defence were dismayed.
The City faithful could not believe their luck
Leaving three defenders standing Elano breaks through yet again
After 26 minutes the referee gave a free kick for a foul on Mpenza and after Elano's effort in the previous game we were all expectant when he ran up to take the kick. Alas the wall did its job and blocked the shot
A minute or so later Rochemback also failed to score from a free kick a lot nearer the goal
Straight from the clearance a terrific cross ball nearly caught the Middlesbrough defence out but Schwarzer just beat Petrov to the ball
After 31 minutes Joe Hart had his first bit of action saving really well from a header by Cattermole following a cross by Rochemback
Hart had to punch away another awkward ball moments later
The City defence withstood the pressure from the visitors and when a Middlesbrough pass went astray City counter attacked. Mpenza managed to get the ball to Johnson who took defenders away - brilliantly back heeled the ball to Elano who.............
....... just thumped the ball past a helpless Mark Schwarzer to give City a two goal lead.
Elano got 'carried away' with his elation - a contender for a October goal-of- the- month competition. The Middlesbrough defenders looked really dejected at this point.
From the North stand to the Chairman there was an ovation to grace a wonderful goal. Over the years City have had the odd genius and now it is Elano who has shown us he can score goals as well as make them.
Vedran Corluka showed plenty of skill at right back and continues to improve.
Another Elano shot was saved easily by Schwarzer after 36 minutes
It was going to take a 'Churchillian' effort by Middlesbrough manager Gareth Southgate to get back into this game as City continued to give problems when counter attacking . Half time and 2-0 to City
Middlesbrough made a switch at half time bringing on Tuncay for their skipper George Boateng and they missed two chances early on. First Craddock mishit his shot and then Luke Young shot just past the far post
Hart has to scramble to get hold of this loose ball to defy Craddock
Stephen Ireland -back to form - clashes with Luke Young
After 60 minutes Ball came on for Johnson who had given the ball away a few times in midfield
!7 minutes into the second half Mpenza was brought down by Woodgate who got booked for his trouble.
We just knew what was going to happen! But instead of just smashing the ball Elano just curled it beautifully into the top corner ......
........ to give Schwarzer no chance at all and City went into a three nil lead. Ah bliss! A sublime free kick - work of a genius
Middlesbrough tried to come back but the City back four are working well together and difficult to beat
We were all hoping for an Elano hat trick as he powered forward again and shot but Schwarzer managed to save . Well a genius is allowed to make the odd error !
After 73 minutes Luke Young got a yellow card when he floored Garrido and we held our breath as Elano came up to take the kick
... but he came up with another variation and curled in a wide pass for Ireland to come in on the blind side and fire in a volley from an acute angle which the keeper managed to push for a corner - nearly 4
Gary O'Neil must have been watching too much Rugby Union as he went in to Joe Hart who was in mid-air. .... he had the temerity to run the ball into the net after Hart fell to the floor
He got booked for the foul as he pleaded his innocence
Then Richards got booked for a stupid tackle when his opponent was going nowhere. Think Micah!!
Richard Dunne has some words of consolation for Tuncay who suffered a thunderous fair tackle by the City defender
Richards heads clear from Hutchinson ( on for Craddock)
Schwarzer saves well from Petrov and Cattermole has to clear to prevent Geovanni ( on for Elano) from scoring from the rebound
It was almost full time when Middlesbrough got a consolation goal. Tuncay shot from the edge of the area and Hart failed to catch the ball.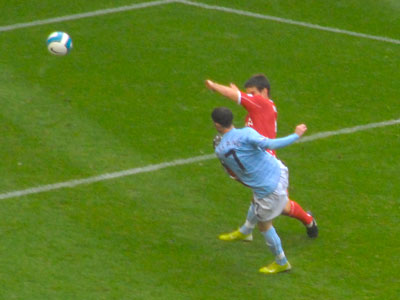 In between the Middlesbrough misses Stephen Ireland nearly scored with this volley
Hart pushed the ball out right in the path of Hutchinson who scored easily from close range
Samaras who had come on for MPenza for the final 20 minutes tried very hard and it need some very close marking here to hold him up.
Team
Hart 7: Corluka 7, Dunne 7, Richards 7, Garrido 7: Hamann 7: Ireland 8, Johnson 7 (Ball 7), Petrov 7: Elano 9 ( Geovanni 7): Mpenza 7 (Samaras 7)
City 1 Birmingham 0
Oct 20th 2007 Premiership att. 45,688
There was a good crowd - best of the season so far- to see City win their 6th home game on the trot. This is the best opening home sequence since the 1957-58 season when Chelsea (5-2) Preston (2-0) Portsmouth (2-1) Spurs (5-1) Sheff W (2-0) Leicester C ( 4-3) were the victims. The run came to a halt with a 2-2 draw with Luton. City finished 5th that season scoring 104 goals but conceding 100! Back to the present and the bubble has yet to burst but this was no easy win as Birmingham fought hard and Joe Hart had his busiest time in goal making some good saves while Taylor in the visitors goal had little to do. The City passing was not quite as fluid and accurate as usual and some attempted through balls were just not quite inch perfect. An Elano goal settled the result and once again he was man-of- the- match. Mpenza found it difficult on his own up front for once and Petrov as lively as ever was too often off target. Dunne's distribution was a little haphazard while Ireland and Johnson were hardworking in midfield. Hamann continued his good form and Corluka in particular had a good game. He gets better as does Garrido. Richards looked a little tired after his England efforts. A blinding sun made it difficult for me today and it was not a pretty game to watch. Still City fought hard for the three points which they just about deserved but it was pretty close.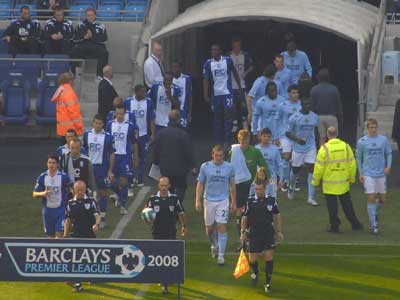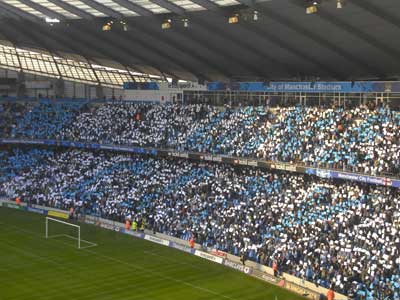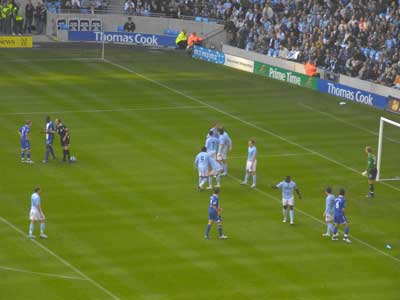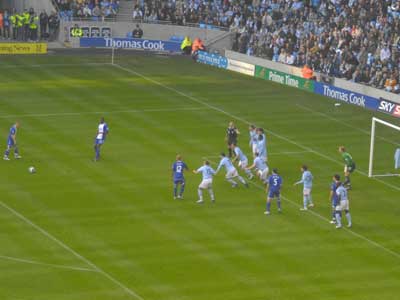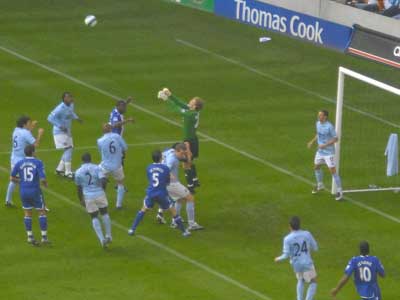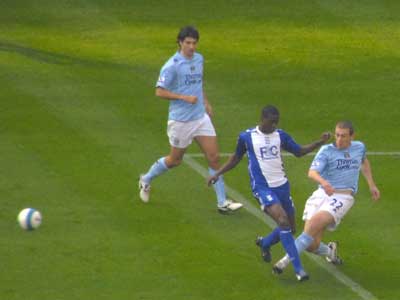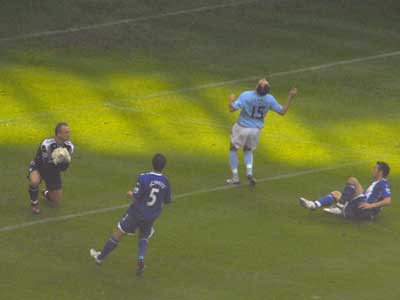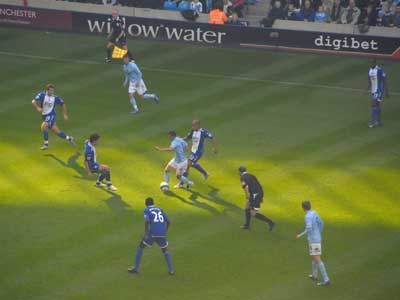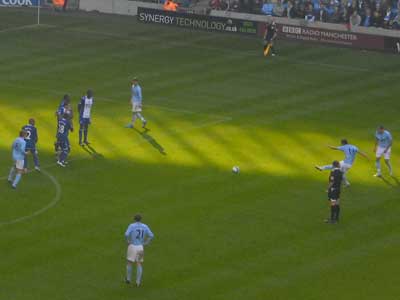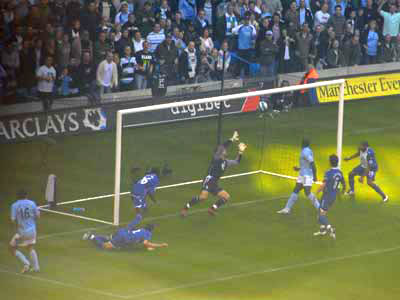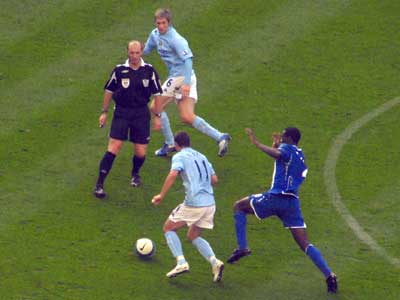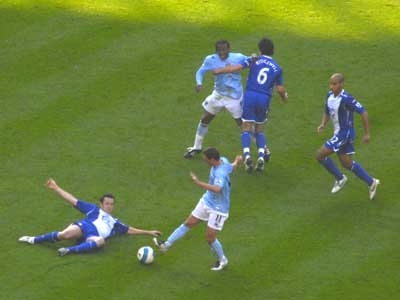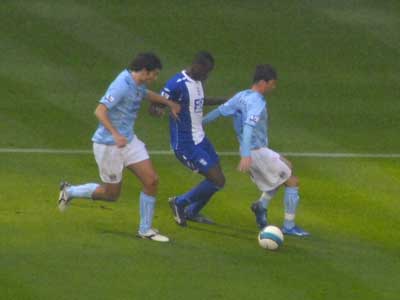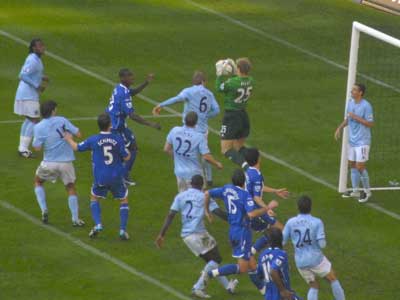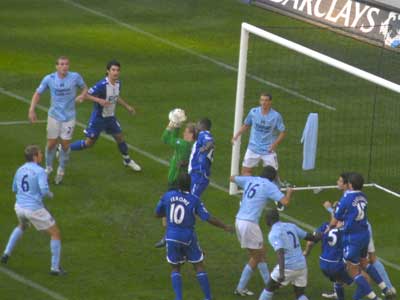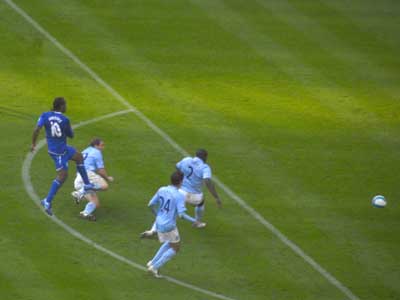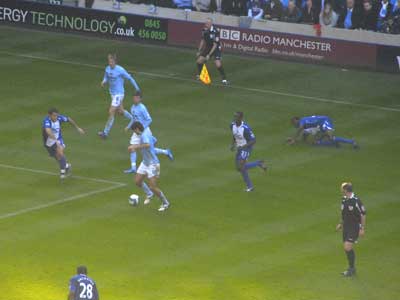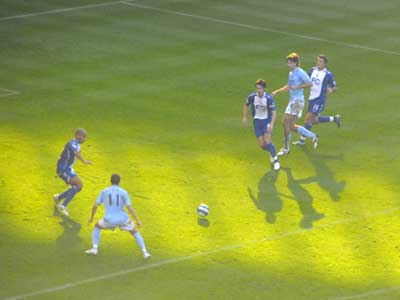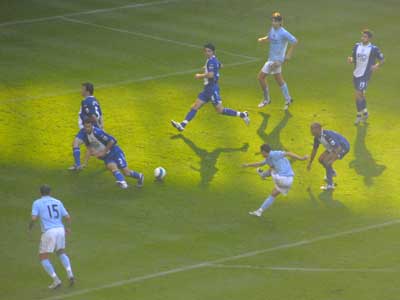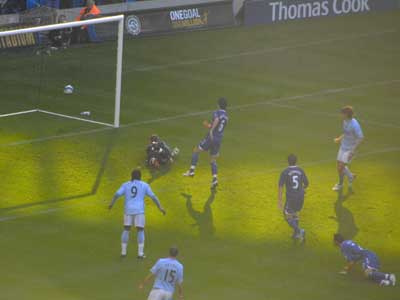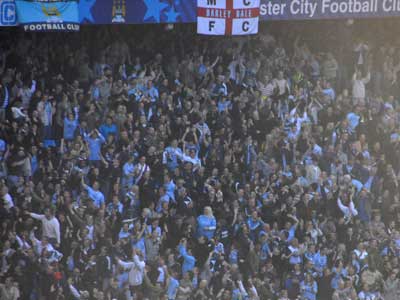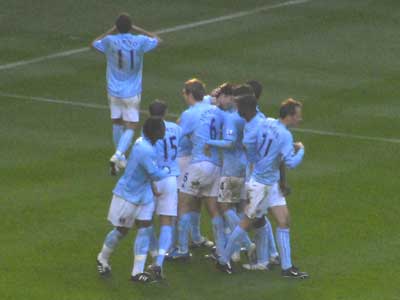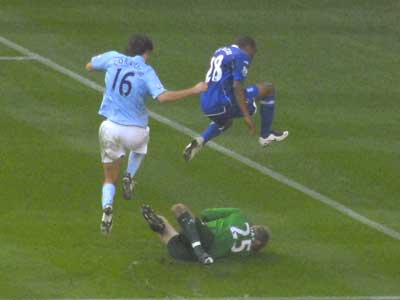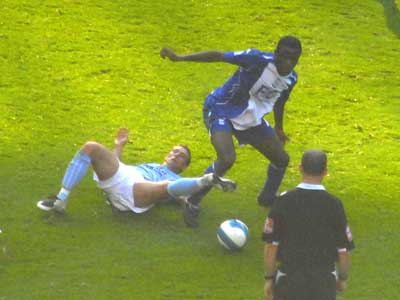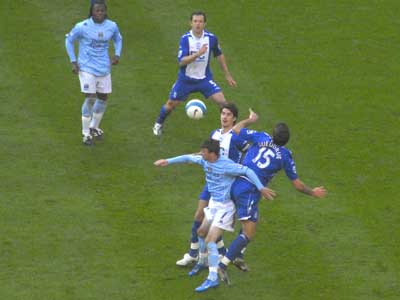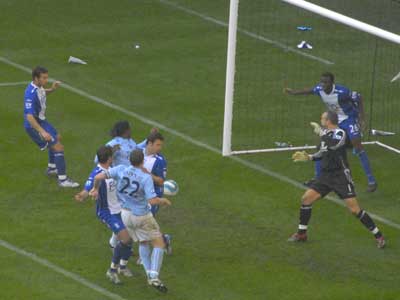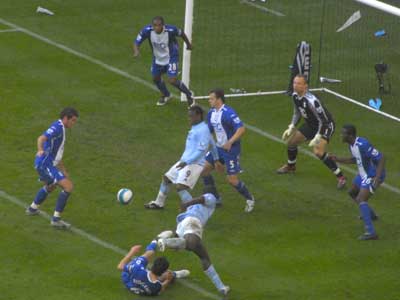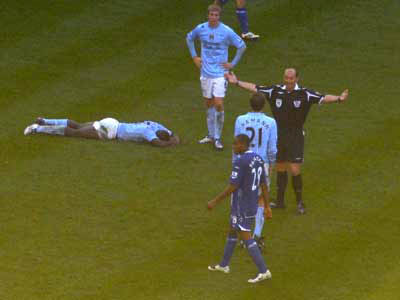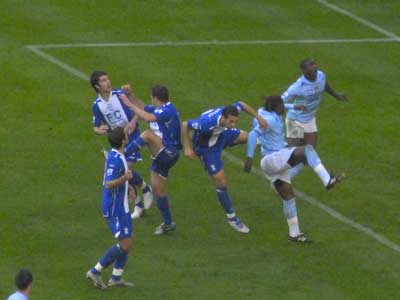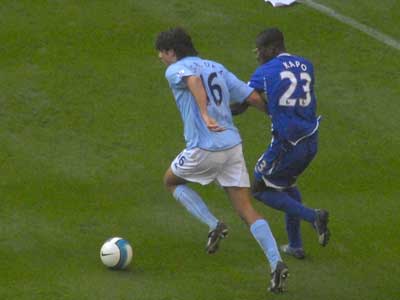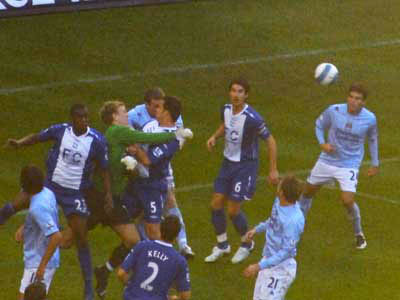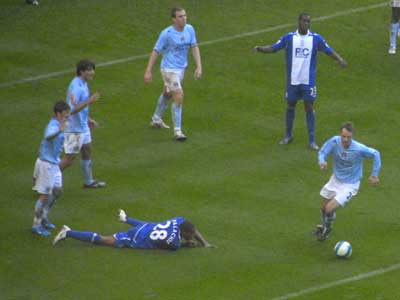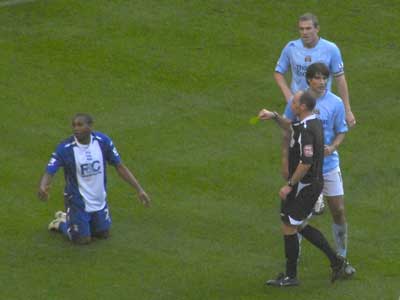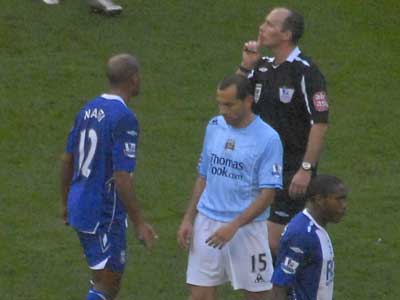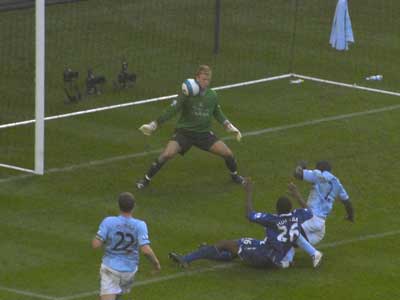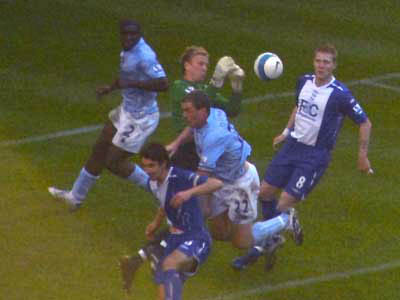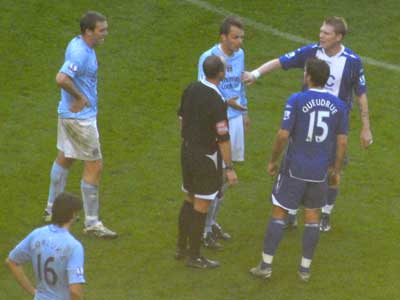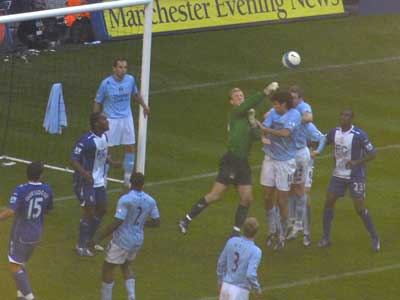 City were unchanged with no injuries following International week
The One City message in the crowd
It's a long tome since I saw an indirect free-kick being given in the penalty area so in the 4th minute Birmingham had an early chance after Joe Hart ( whatever was he thinking) picked up a back pass. Fortunately for City the ball was cleared for a corner which.............
....... was punched clear by Joe Hart
Richard Dunne clears under pressure
Petrov put through by Elano ( who else) looks frustrated as Kelly robs him at the last moment and Taylor saves
Yet another Elano attack watched by three defenders and was about to be fouled by Ridgewell..........
The resultant free-kick taken by Elano was deflected wide for a corner ........ which was taken by Petrov. The ball ran across goal to an unmarked Corluka and the ball comes off Kelly on the floor for another corner
Elano is quickly becoming a top favorite among City supporters with his ability to beat a defender, make wonderful passes and score goals from both free-kicks and open play. I have vague memories of Peter Doherty when I first watched City and then Kinky in the recent past but I think this man has it all. Long may he reign in City colours.
Joe Hart clutches a difficult ball at a corner
Ireland and Corluka combine to defy a Birmingham attack
Joe Hart in action again at a corner.
Shot by Jerome is easily saved by Hart
A fair tackle by Johnson on Muambo gets the ball to Ireland who slips it to Corluka ( on the ball) . The Croatian neatly finds Elano and ........
....Elano whips in a shot to beat a sprawling Taylor and give City the lead
The City supporters go mad and Elano gives his personal thanks to the crowd. I have noticed the odd Brazilian flag appearing!
Palacios jumps over a brave Joe Hart as he saves twice from the Honduras international
Elano still tries to get the ball despite being on the ground
Ireland outnumbered by defenders early in the second half
A series of corners by Petrov gave the visitors lots of trouble
Referee Dean shows Hamann the size of the fish he caught during the week while Richards lies prostate in disbelief.
....... and it looks like Mpenza is being held at this one by Schmitz as Richards heads for goal
Corluka brought down on one of his sorties by McSheffrey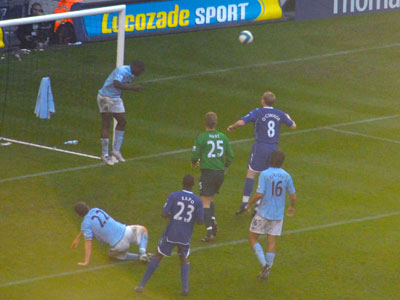 Wilson Palacios finds that his diving practice for the Honduras swimming championships is not welcomed by the referee who rewards him with a yellow card
Yet another punch out by Joe Hart. Is he getting coaching by Ricky Hatton?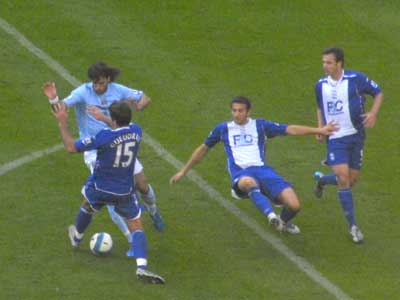 A free kick caused trouble in the City defence when Hart under pressure could not clear completely but when the ball was returned Richards was at hand to head clear off the line
Frenchman Queudrue refuses to shake hands with Hamann after a minor dispute. Goodness me a breakdown in ECC relations
Joe Hart is kept busy right until the final minute as he punches well clear to keep a clean sheet
Referee Dean tells the players to shut up
Joe Hart makes a brilliant save with his shoulder from point blank range to frustrate Birmingham City
The free kick by Petrov is cleared with difficulty by the visitors defence
Corluka on the attack again
Samaras on for Mpenza after 65 minutes once again tried hard to make an impact
Team
Hart 7.5: Corluka 7.5, Dunne 7, Richards 7, Garrido 7: Ireland 6.5 (Ball 6). Johnson 6.5, Hamann 7.5, Petrov 7: Elano 8 ( Fernandes ) Mpenza 6.5 (Samaras 6.5)
City were unchanged from the Newcastle win - Hart remaining in goal
The visitors failed to take up their full quota of seats which reduced the crowd