City 0 Sheffield United 0
Oct 14th 2006 att. 42,192
The scene is a BBC editing room at 2 in the morning and a group of harassed editors are huddled round a monitor desperately trying to pick out some highlights from the game at COMS that afternoon. The programme editor is tearing what's left of his hair out and cries- "There must be something! Poor old Garry Linacre has been waffling on about Van Persie's goal of the month for ages now and we've shown it 345 times already. We've run out of Walkers Crisps and the Omen's been put back several hours."
Yes - it was that bad. A dire game almost totally devoid of attractive football. Chances were few and far between. City rarely managed a passing movement involving more than three passes . OK so we did not concede a goal but the lack of a fast attacking forward and creative playmaker is becoming more obvious. The predictability and slow build up of any attacks gives opposing teams time to defend in numbers.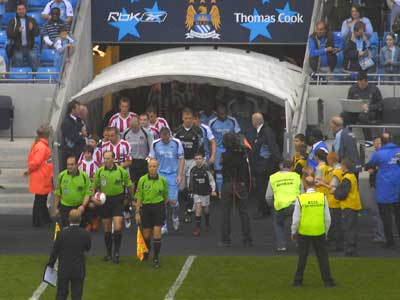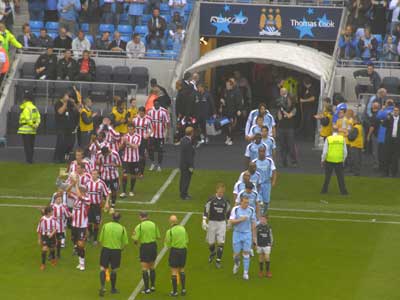 With Nicky Weaver injured it was debut time for young Joe Hart and a home debut for Hatem Trabelsi.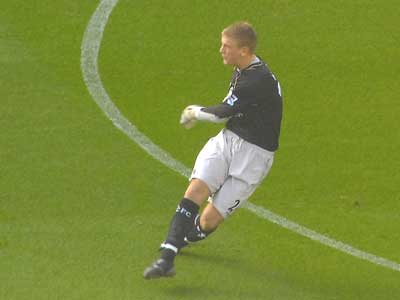 Beanie was in position by the water bottles so with Stuart Pearce's lucky mascot ready for action all that was needed was the team to perform!
Joe Hart had his first kick of the ball after a couple of minutes and no problems or divots there.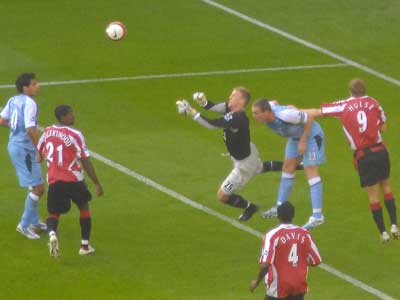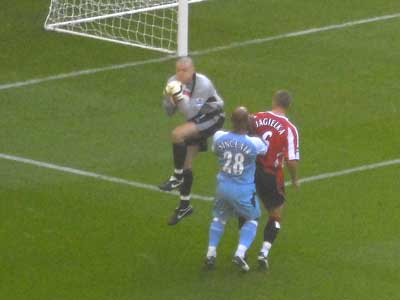 After 20 minutes Joe Hart had his first save to make - punching away a cross by Gillespie
Paddy Kenny in action at the other end moments later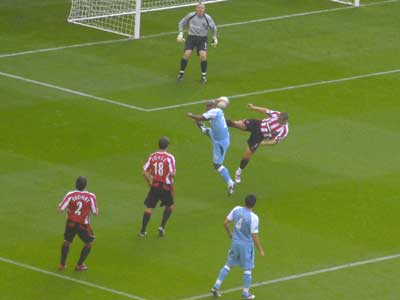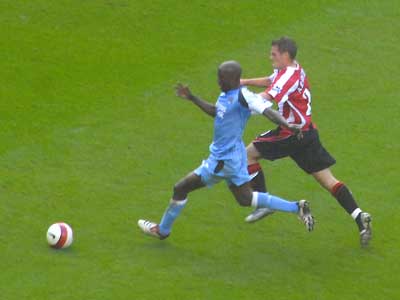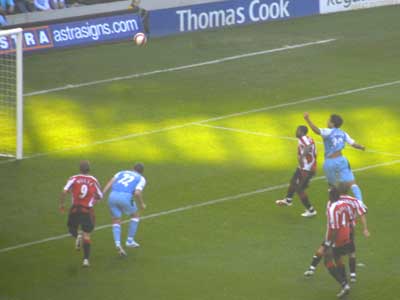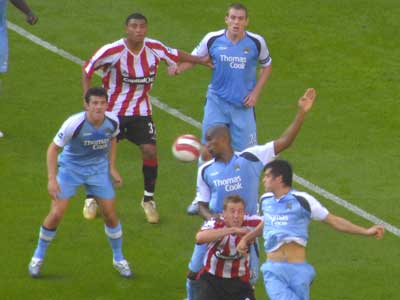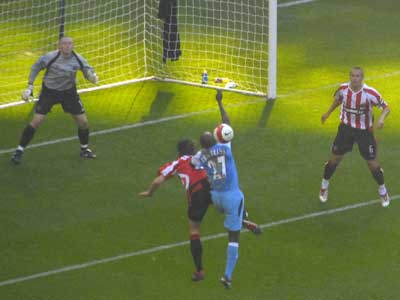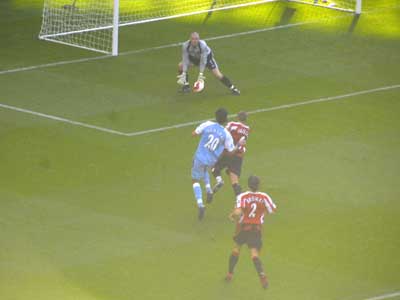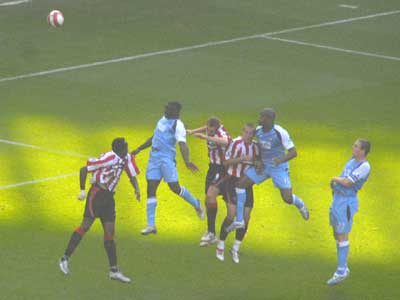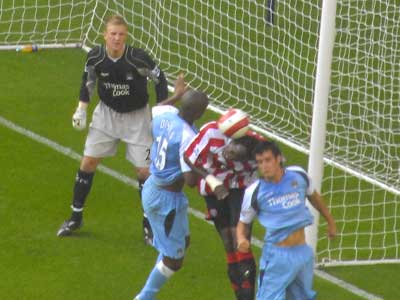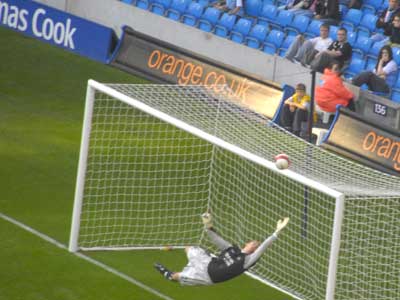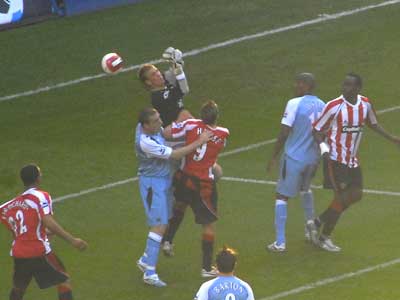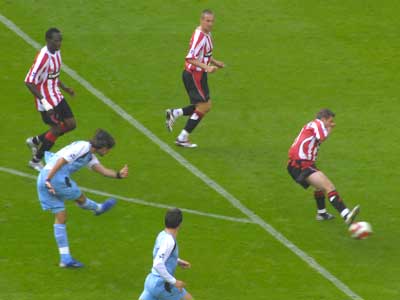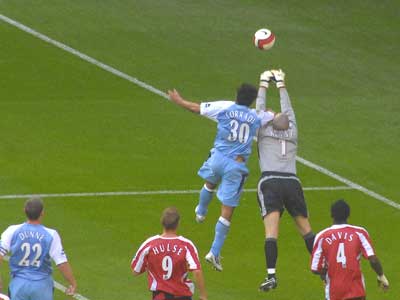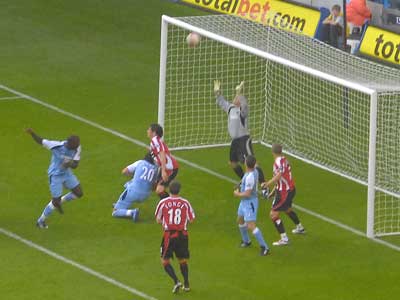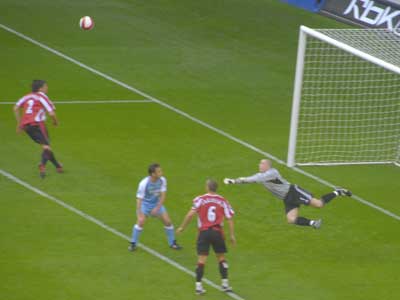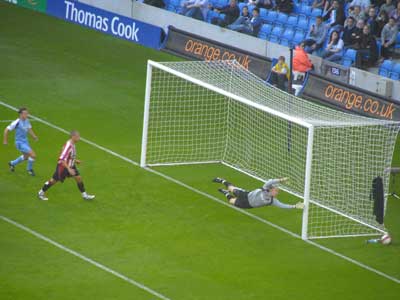 Hatem Trabelsi showed glimpses of his ability as an attacking player on his home debut but I don't know what position he is going to be best in.
Corradi had a good chance following a free kick by Barton but his header went well over the bar
The Blades occasionally put the City defence under pressure but Distin and Dunne were equal to the task.
Trabelsi back in action but he City attack came to naught.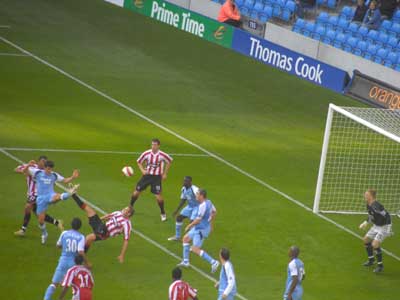 The City goal had a narrow escape just before half time when an overhead shot by Hulse hits the bar with Hart beaten. It had been a poor first half.
Another wasted high ball into the visitors penalty area
Distin and Jordan thwart Davis
Just after the restart Joe Hart made his only error of the game when he mishandled a long throw. It looked as though he as fouled by Hulse as he jumped for the ball
Barton had for him a very quiet game
Though Kenny was the busiest of the keepers he was rarely really troubled. Miller had a great chance from a Barton free-kick but he headed over
City went near towards the end following another Barton free-kick and a Richards header that went just wide but another bad half only marginally better than the first.
Team
Hart 6: Richards 7, Dunne 7.5, Distin 7, Jordan 5 (Miller 6.5): Sinclair 5, Trabelsi 6.5, Barton 6, Hamann 5.5 ( Reyna 6): Corradi 6 ( Dickov 6), Samaras 6.5
City 1 Middlesbrough 0
Oct 30th 2006 att. 36,720
Whether it was the poor showing of City at Wigan or the fact that the game was live on TV this was the poorest crowd for a home league game since City left Maine Road. I guess it was a combination of both as the weather was OK and quite mild. City have not the best of records against Middlesbrough so we wondered what was going to be in store for us. Changes were inevitable after the disaster at Wigan and there was a home full debut for Beasley and the return of Ben Thatcher after his long suspension. The decline of Jordan at left back is a mystery as he looked so promising last season. Dickov replaced Corradi upfront and Distin returned after injury to partner Dunne. Middlesbrough brought only a few hundred supporters so the ground looked half full as kick-off time approached. The game was not quite as bad as the Sheffield United game but though City got the points through a single goal the strikers were again off target and with only 4 shots on target throughout the whole game something is going to have to be done to improve this. The defence coped with a lack lustre Middlesbrough quite well though they did lose their shape in the final ten minutes or so as the visitors hoped to gain a point which would have been undeserved.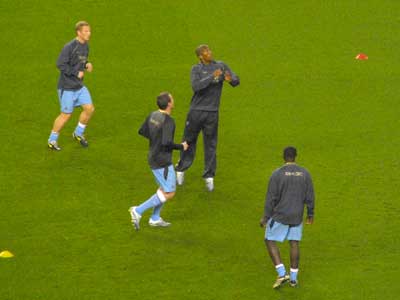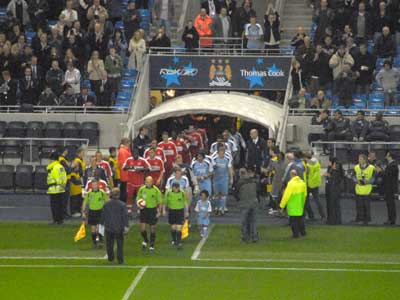 After the debacle at Wigan it was interesting to see some special drills for the back 4 before the game
City made 5 changes from the game at Wigan. The only slight surprise was the choice of Reyna over Trabelsi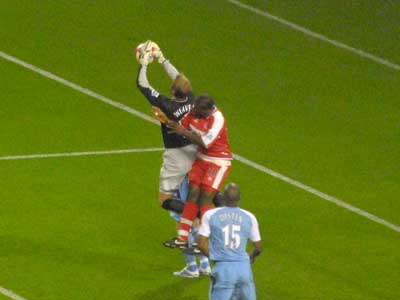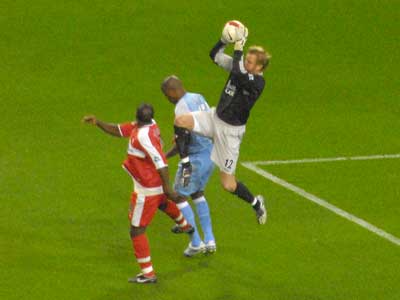 Weaver was the busiest keeper in the opening minutes having to make a couple of catches under pressure.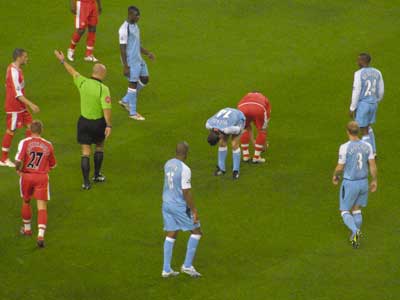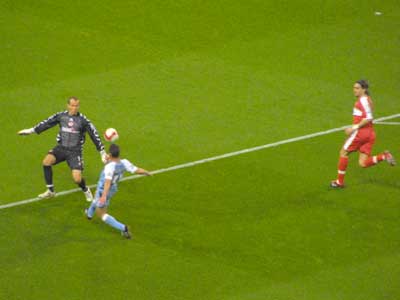 Paul Dickov was soon in action at the other end and shortly after winning a free kick he broke away down the left and almost scored as Schwarzer came dashing out from goal. Dickov was injured as the two clashed but soon recovered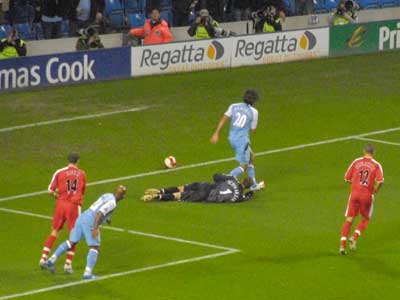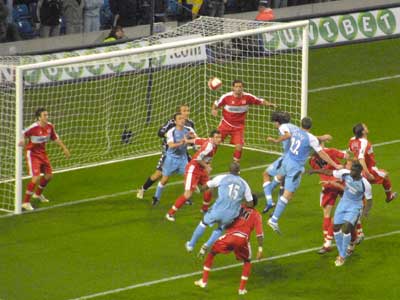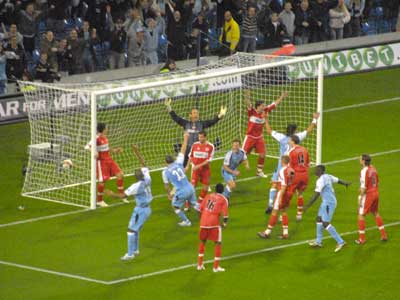 After his own goal at Wigan Dunne was obviously delighted as were the rest of the City players and supporters.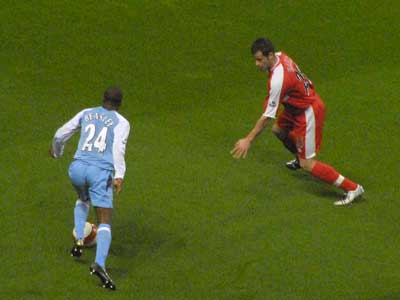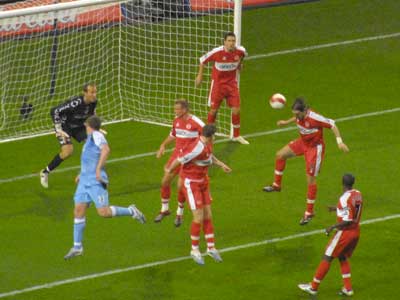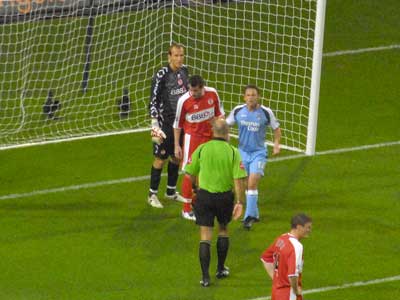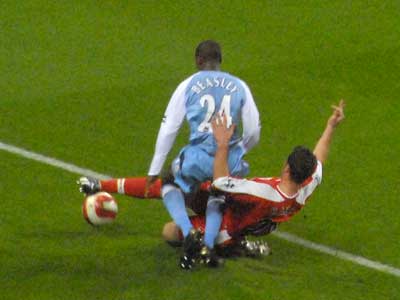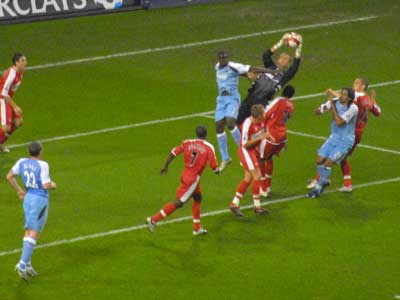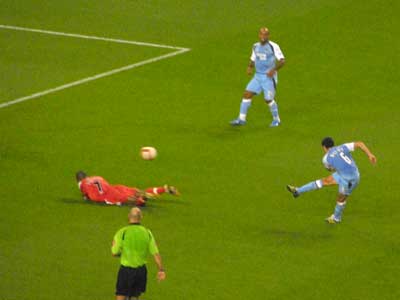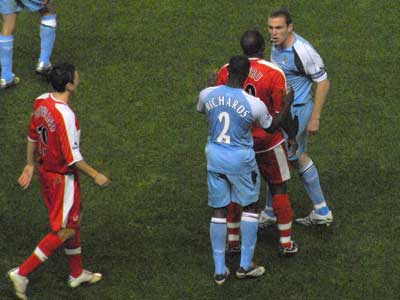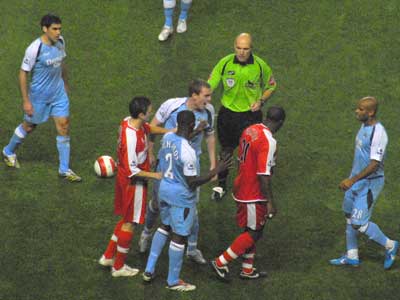 Not long after half time Dunne got quite annoyed with Yakubu and I think he is definitely off his Christmas card list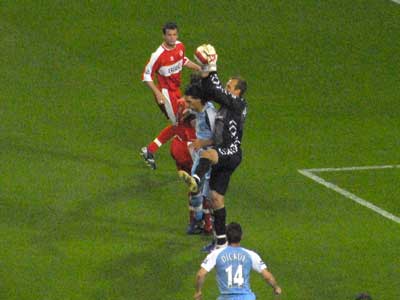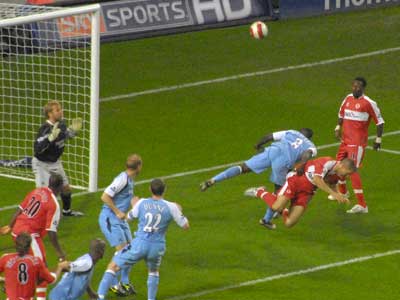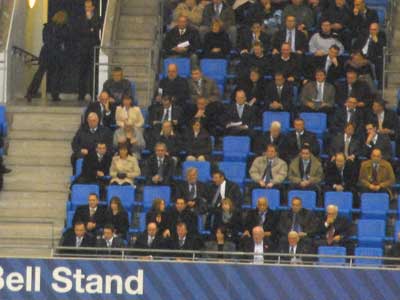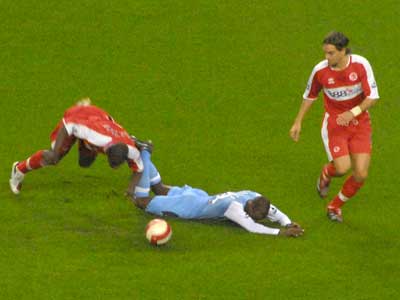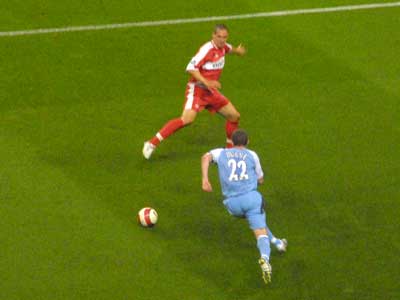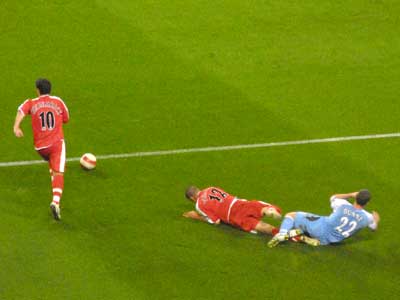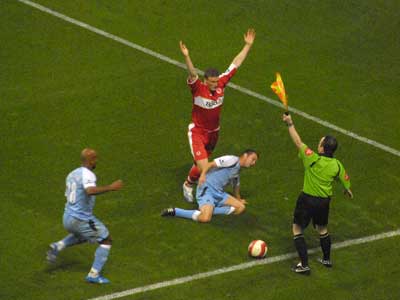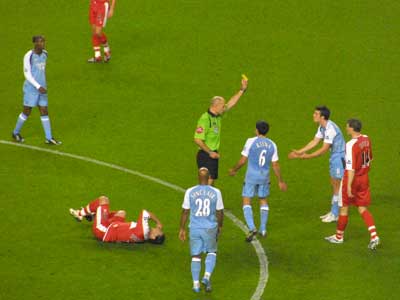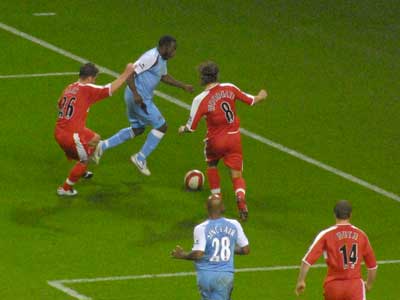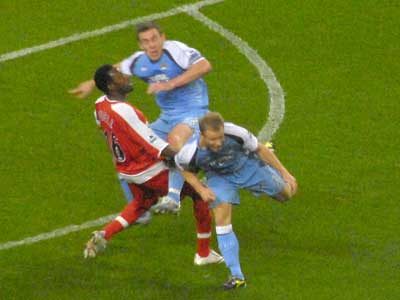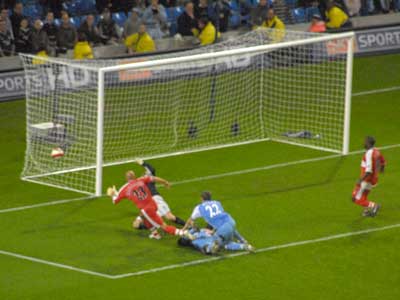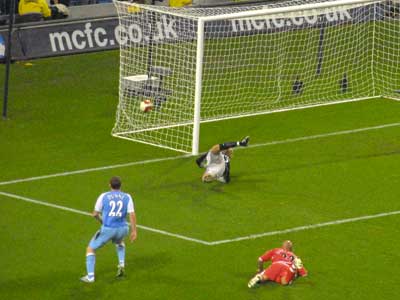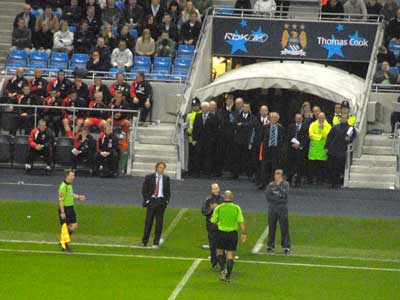 After 22 minutes City took the lead. Samaras won a corner as Schwarzer saved at his feet. Barton took the corner and with Dickov keeping the keeper occupied Dunne headed home
Beasley showed a few glimpses of skill but I am sure he is capable of a lot more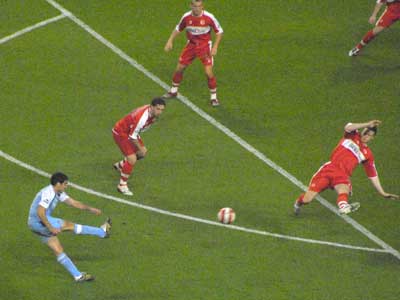 City continued to have more of the play and won quite a few corners
Dickovs tactics at corners is questioned by fussy referee Webb
Beasley is tackled at the last moment ending a good run.
Another City corner and Schwarzer has to make a difficult catch.
Barton had some shots at goal but he was off target today
Reyna had a shot blocked by Huth and there was a suspicion of handball.
Schwarzer catching under pressure from Samaras
Richards defends at one end then Beasley is brought down at the other as the game opens out with Middlesbrough attempting to equalise.
Richard Dunne tried his hand as a right winger and floors Pogatetz as the Austrian defender tries to block him.
Dickov and Barton get yellow cards in a spate of yellows half way through the second half. No doubt Howard Webb was down on his quota.
The City goal had a charmed life as substitute Maccarone twice hit the post in a final flurry of attacks by the visitors who had suddenly come to life.
England Manager Steve McClaren sitting next to Denis Tueart in the front row no doubt looking at Richards,.Downing and Woodgate
Middlesbrough manager Gareth Southgate gets it in the neck after he ran onto the pitch to kick the ball to save time.
Team
Hart 6: Richards 6.5, Dunne 8, Distin 7.5, Thatcher 6: Sinclair 6.5, Barton 6.5, Reyna 6.5, Beasley 6: Dickov 7, Samaras 6.5
subs Vassell 6, Corradi 5, Trabelsi 6
Vassell on for Beasley after 70 minutes showed bursts of speed and might have scored twice late on.
Dunne was a colossus in defence and Thatcher apart from a couple of late errors did OK on his come back