City 2 Everton 0
October 2nd 2005 att. 42,681
This was a record early morning kick-off (11-15am) for the Premiership and while some churches were perhaps missing a few faces, 42,000 odd football fans filled the City of Manchester Stadium for the visit of Everton . It was not the first time I had watched a football league game so early. Back in the late 40's and early fifties I used to go to watch Stockport County on Christmas morning before heading for Maine Road for an afternoon game. On a sad note mention was made before the game of the death of Helen Turner one of City's greatest supporters. She was 85 and you can see a couple of pictures of her taken 34 years apart
here
Though the Timpson scoreboard was working again there was an odd occurrence - the regular announcer was back in business but as the teams came out he failed to announce the Everton side! He had given it out earlier but not at the second occasion.... odd. Perhaps they should have had Billy Cotton shouting Wakey Wakey ! ( for older readers) Well it was early Sunday morning.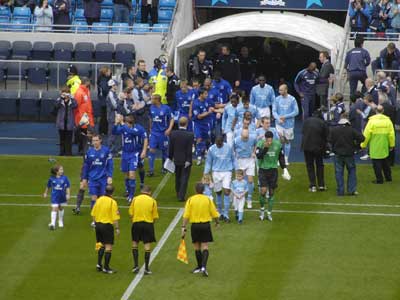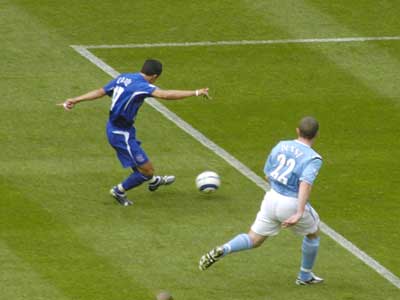 Andy Cole was back for City and the very promising 19 year old Stephen Ireland came in for his first start for the injured Reyna.
Everton, bottom of the league made the first effort after about nine minutes but Cahills shot was easily saved by James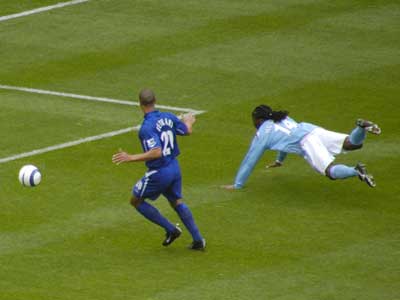 A minute or so later Ireland's cross just evaded a diving Musampa
After a clash with Yobo Joey Barton went down with a bloody nose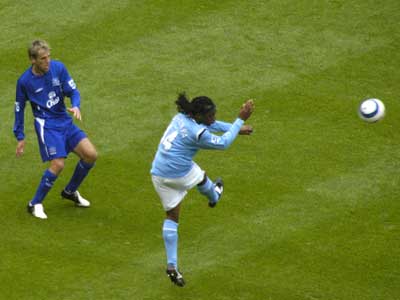 Barton went off the field to change his bloodied shirt and returned with a nifty new look - reminded me of a fearsome New Guinea tribe.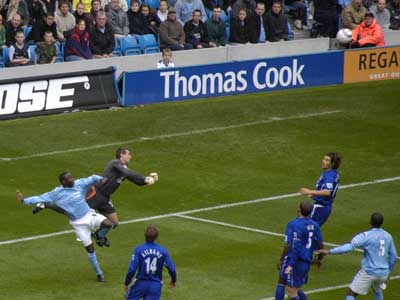 Dear Philip Neville had a warm welcome from the City fans on his first visit since his move from Glazer United. To be honest he was the only Everton player to show any form at all.
City though not playing at their best gradually began to put pressure on the visitors defence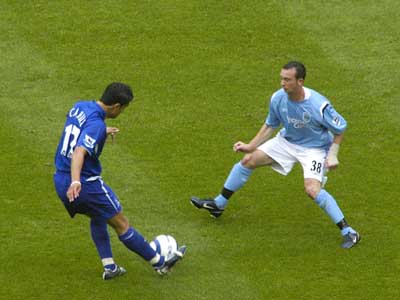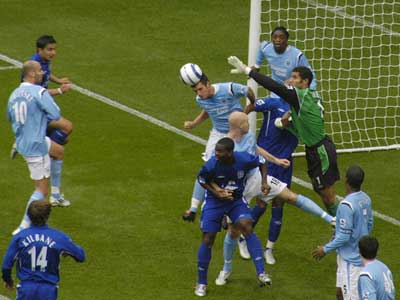 The usually industrious Cahill looks a shadow of the player he was last season and here he is been marked by Ireland who gets better every time I've seen him play. Cahill did put the ball in the net (above right) but he was well offside following a header so the Everton supporters' glee was short-lived.
James clears an Everton corner under pressure.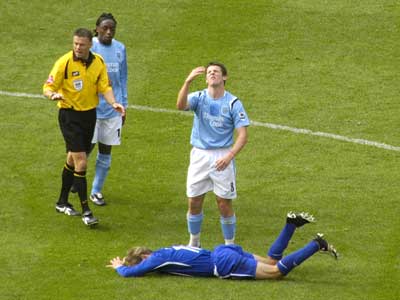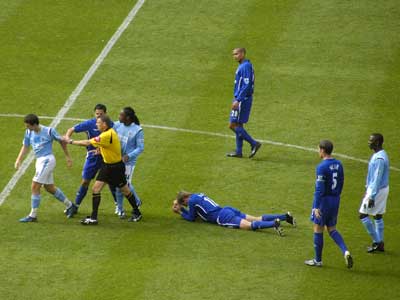 Oh dear Phil Neville is having a minor tantrum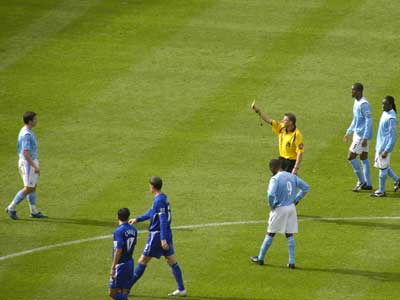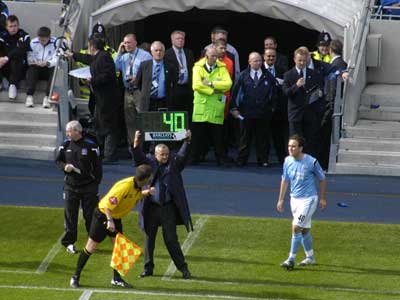 Joey Barton walks way from the incident but referee Halsey calls him back for a booking.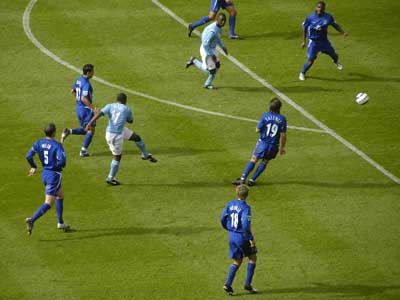 One of the linesmen was replaced by the 4th official so we had an unknown putting up the changes in the second half . After 62 mins Croft replaced Musampa who had just missed a good opportunity.
Vassell shoots for goal but misses.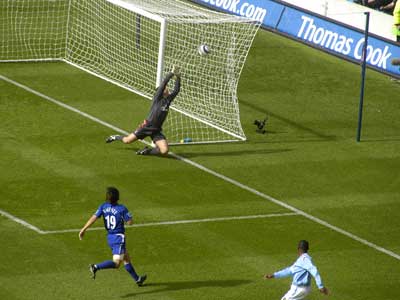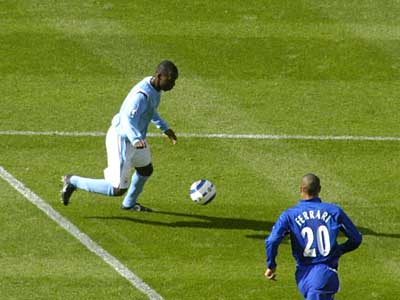 City were now having the best of the chances and Cole hit the side netting with this effort
Just when we were beginning to think Everton were going to get away with a point City broke down the left and eventually the ball came across to the right wing where Ireland and Croft interpassed and ...
..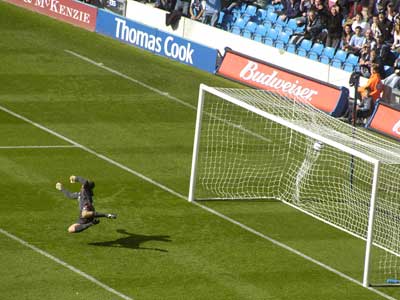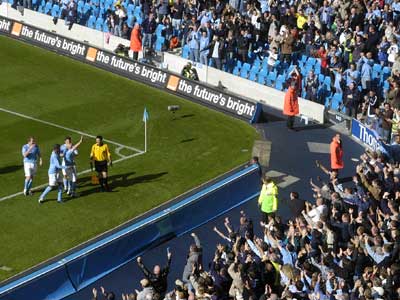 The ball came to Danny Mills who was some 30 yards or more out. He came forward and blasted the ball at goal and it flew like a missile past a despairing diving Nigel Martyn and into the back of the net. Pandemonium broke out as the City supporters realized we had broken the deadlock with this goal of the season. How a goal can change a villain into a hero at a stroke!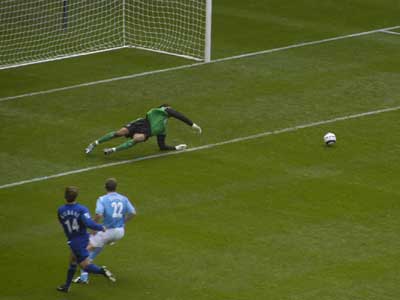 The moments after you score require great concentration as jubilation takes over so it was no surprise to see Everton hit back quickly and David James had to save well from Kilbane. James did not have much to do but his kicking was really off today one or two kicks nearly landed us into real trouble.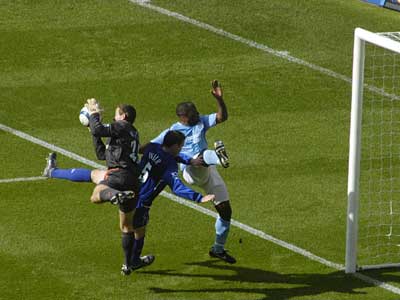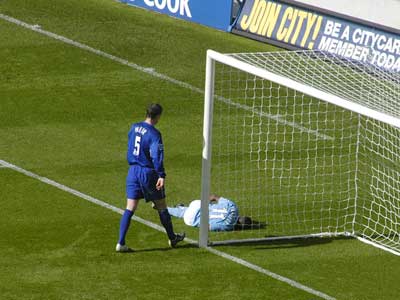 Vassell went near in this attack but he ended up hitting the post- well it makes a change from the ball hitting it!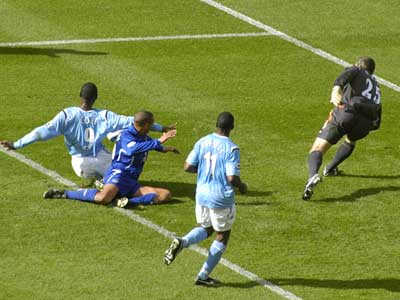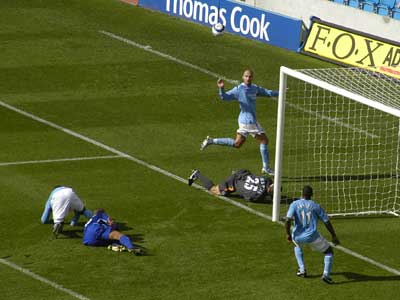 With Everton having to throw everything forward to get an equalizer City were now able to counter attack and went so close on several occasions with excellent passing moves.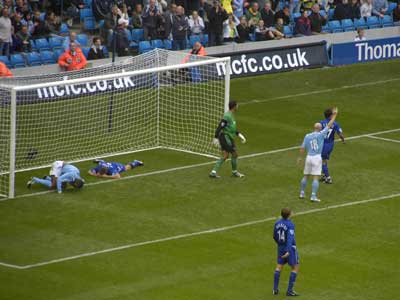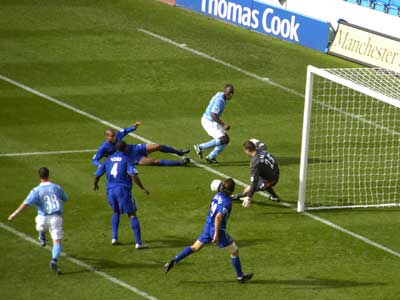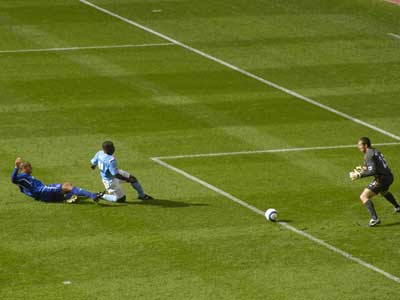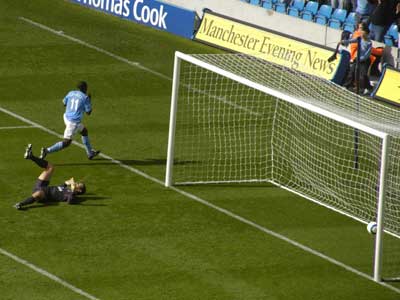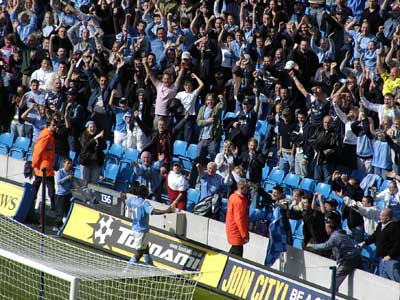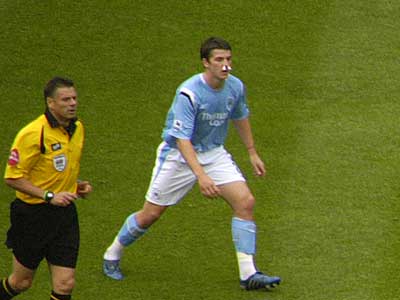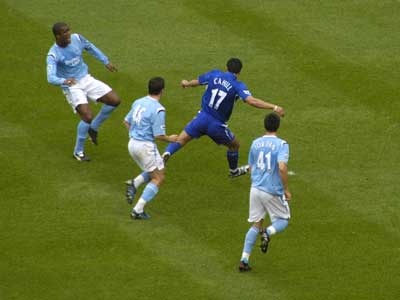 While the Evertonians were stricken into silence the City multitude were lapping it up. The first half had been such a drab boring affair that TV programme editors would have been hard pushed to find any highlights at all. The game now came alight as Everton had to push forward and the game became stretched.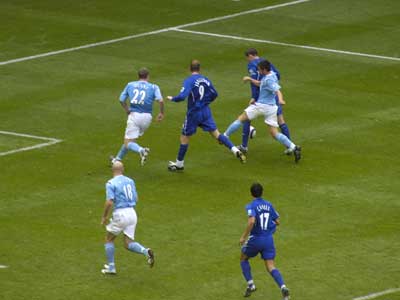 Beattie and Ferguson were now upfront for Everton who came close after 88 minutes but Distin saved on the line to keep the clean sheet
City were now playing with greater fluency and after Ireland missed a good chance City clinched the win with a second goal. A good move from Sun Jihai and Barton ended with Vassell shooting past Martyn to score
So it was celebration time for the second time and the run of 3 defeats came to an end. Vassels goal was virtually the last kick of the game. If only City had scored their first goal much earlier then I think they would have won by more than the two goal margin.
Though Danny Mills will get the headlines for his match winning goal, man of the match for me was young Stephen Ireland whose quiet unassuming display of creative passing reminded me a little of another City player from the 'Emerald Isle' Peter Doherty. Stephen will have improve his goal scoring ability to match Doherty's so young Ireland has a bit to learn first but the signs are there. I'm sure Stu Pearce will be using his talent with efficiency. Incidentally I'm glad the City programme has finally changed his birth date from 1988 to 1986! Some web sites still have it at 1988 .
Team:
James 6: Mills 8, Dunne 7, Distin 8, Jordan 7: Sibierski 5, Barton 7.5, Ireland 9, Musampa 6 (Croft 7); Vassell 7, Cole 6 (Sun Jihai 6)

City 2 West Ham 1
October 16th 2005 att. 43,647
Promoted West Ham were the latest visitors to COMS and with their reputation for playing open football we could expect a good open game on their first visit to our new home. We were not disappointed .This was a cracking game, enjoyable to watch ,even for the odd neutral who might have strayed in. Wallace and Gromit would have liked it too. No Bobby Moore, Peters , Hurst or Brooking any more alas but West Ham on a good run of form - 5 games unbeaten - will not be sitting back - I expect James and company to be busy. Once again the announcer failed to give the visitors team as the players came out and I wonder if this is a new PR tactic!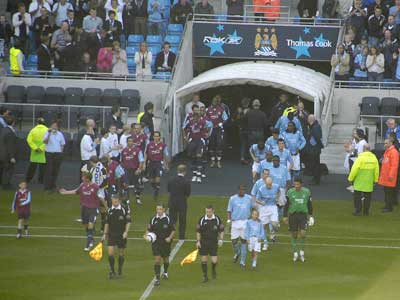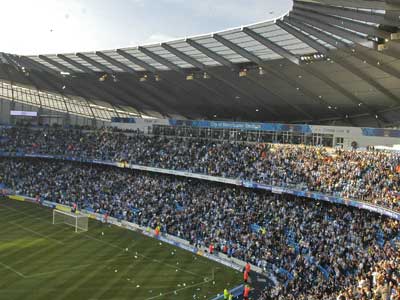 Dunne and Thatcher were injured so Onuoha played in the centre of defence and Jordan stayed at left back. Reyna was back from injury ,Sibby dropping to the bench and it was good to see Ireland keep his place after his display against Everton
The giving out of blue confetti was the latest gimmick to create atmosphere as the teams came out. I doubt the cleaners and groundstaff approved.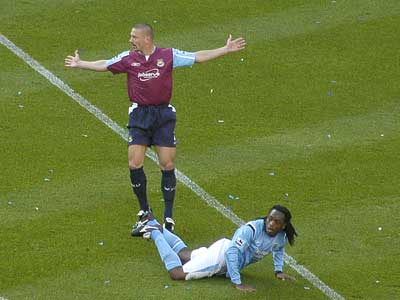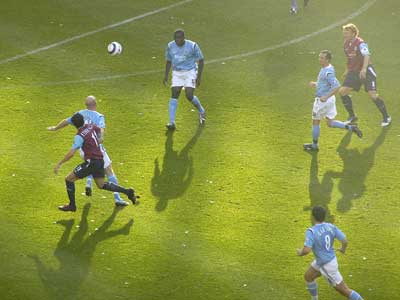 Musampa is pulled down by Repka early in the game but the referee failed to give a free kick
The pace of Etherington on the left flank caused City some problems early on so the choice of Barton on the right was no doubt influenced by this.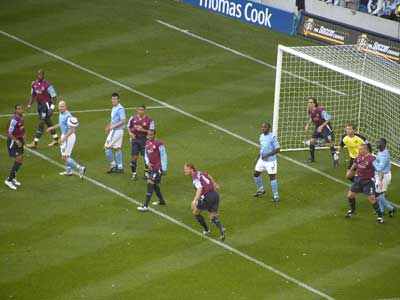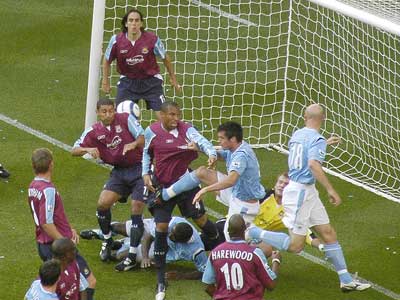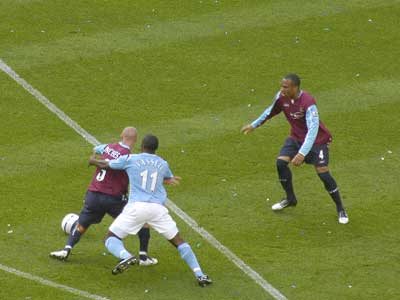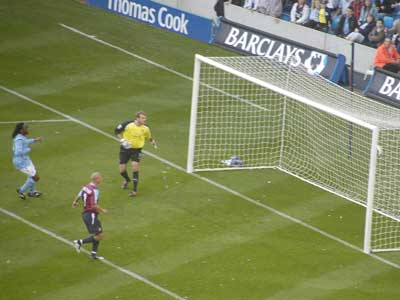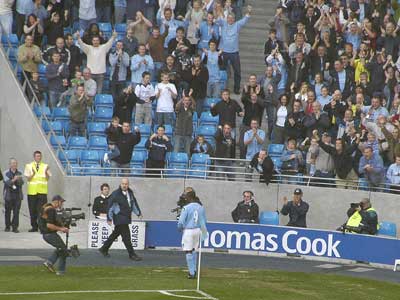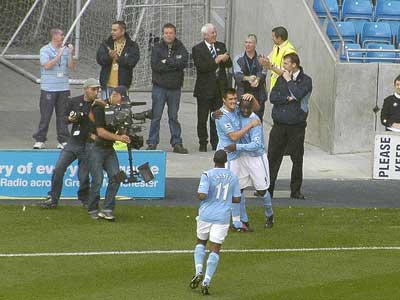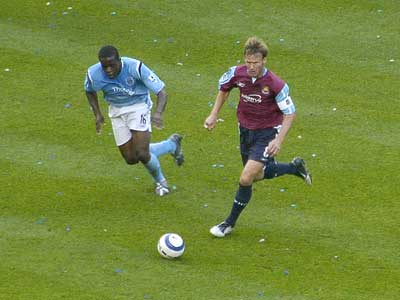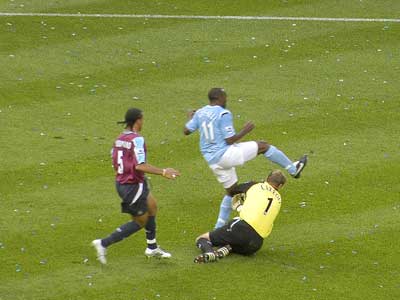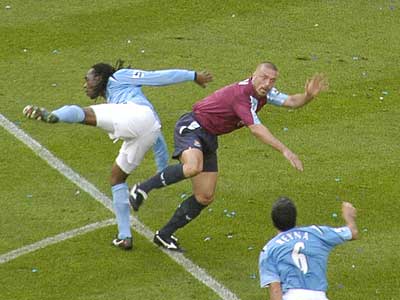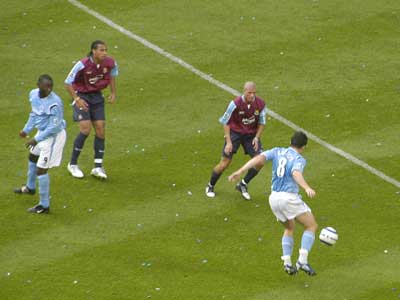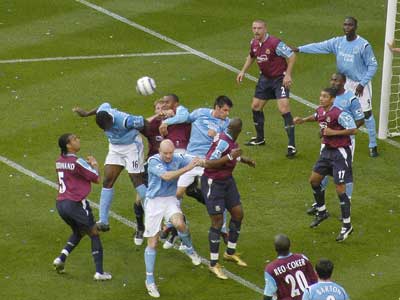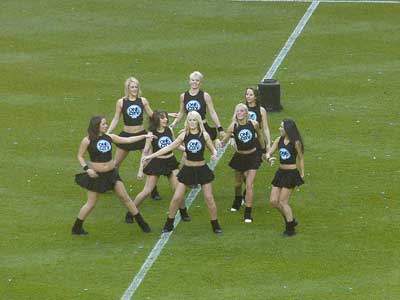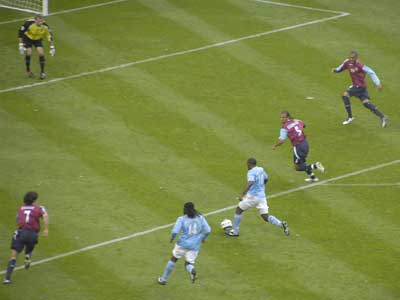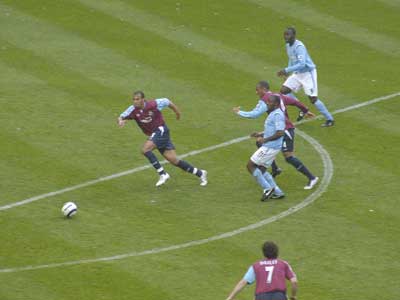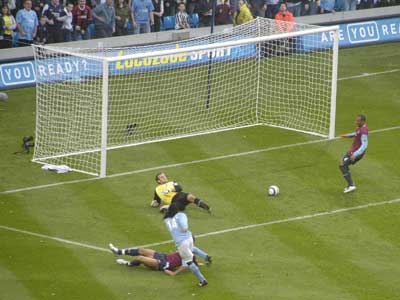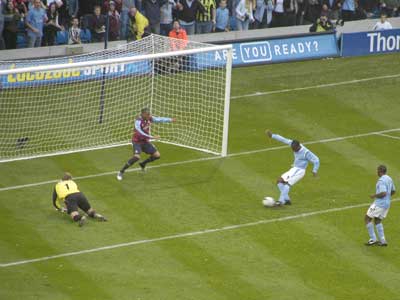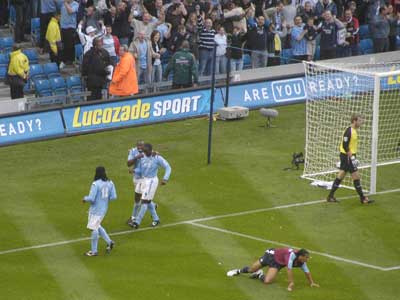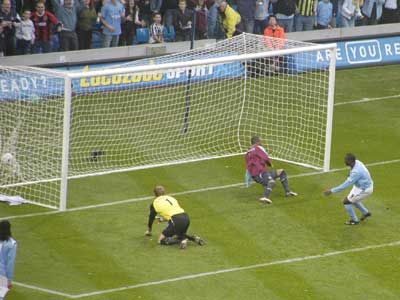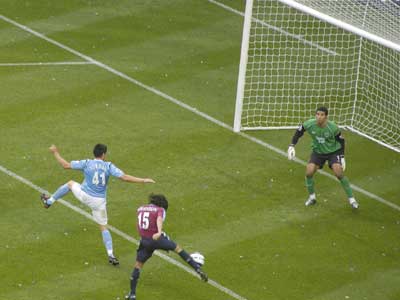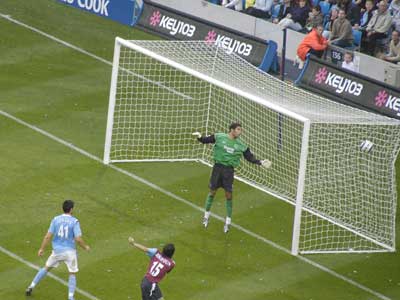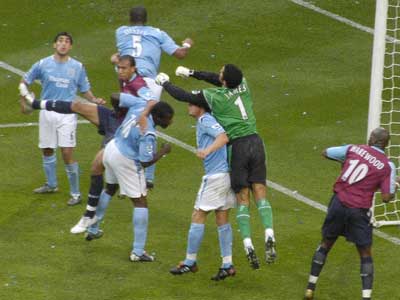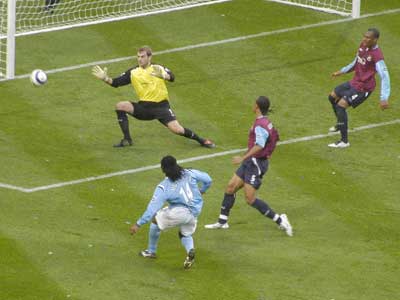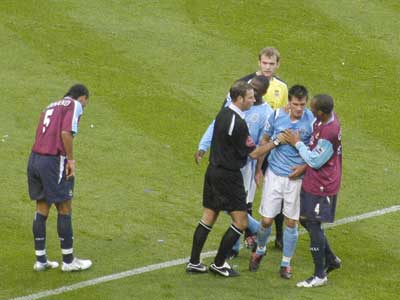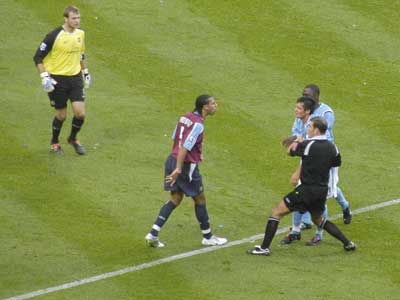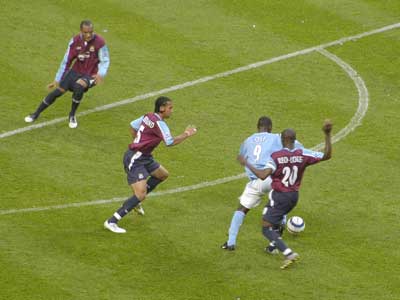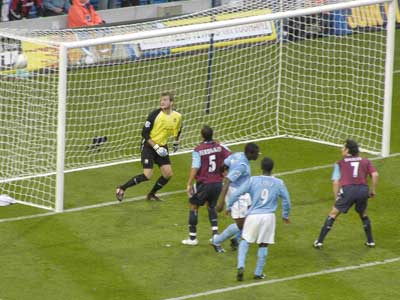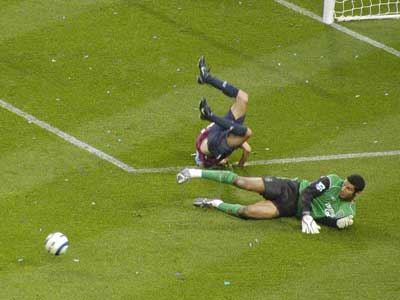 Musampa gets substituted with 4 minutes to go and gets a pat on the back by skipper Distin after his efforts. With better finishing Musampa could have scored three.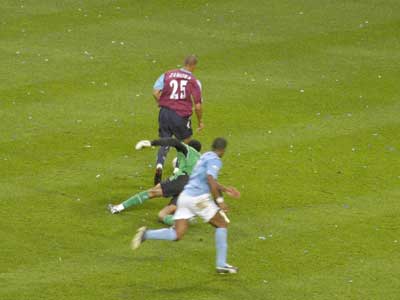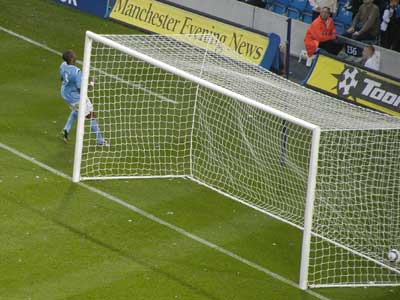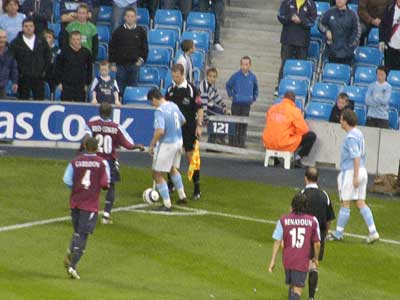 City began to take charge and forced several corners ,the second of which needed a save on the line by Benayoun as Mills flicked on an inswinging Musampa corner with Carroll helpless on the ground. I do wish he would move quicker to take corners. Anyone would think he was approaching a dentists surgery!
After 17 minutes City took the lead following good work by Vassell who fed Andrew Cole l who stroked the ball delicately into the top corner with Carroll utterly beaten. A wonderful goal brilliantly taken. Sheer genius. It had been a great passing move from defence.
Cole celebrated his 179th goal in the Premiership
Musampa's dangerous cross is cleared by Konchesky
Teddy Sheringham now 39 , rarely threatened as he was closely marked by Nedum Onuoha.
Carroll dives at the feet of Vassell to save West Ham
Kiki Musampa practices his kick boxing move as Repka prepares to dive for cover.
City continued to press and the impressive Barton had a half chance but his first touch let him down as the home side dominated play forcing more corners
West Ham had another escape just before half time when Konchesky headed off the line from a powerful Onuoha header from a corner
We had some dancing girls at half tome - Pro Excel to celebrate ONECITY - tackling Racism
Harewood's excellent pass sent Etherington away pursued by three City defenders but James was equal to the task blocking the wingers shot.
Vassell breaks through but his shot is saved by Carroll
After 55minutes City went two up. Barton passed to Ireland who fed Cole. The ball ran to Vassell who almost lost it, but his persistence won the ball back and he passed to Musampa.........
Musampa's shot was saved by Carroll but the ball ran to Cole who slotted the ball home from close range
Cole's 180th in the Premiership - He's chasing Shearers record but there's a long way to go. Poor Anton Ferdinand (he has a brother who plays for some other team ) crawls away from the celebrations.
West Ham could have reduced the arrears a couple of minutes later but Benayoun wasted a good chance by hitting the side netting with his volley when well placed.
James who was kicking far better than his last game punches the ball away at this corner
Musampa who was getting plenty of the ball and causing all sorts of problems hits the side netting when he should have scored.
Ferdinand and Jordan arrange to swop Valentine cards in an exchange that referee Clattenburg has to intervene. Jordan ended with a yellow card for his over enthusiastic challenge.
Andrew Cole who had celebrated his 34th birthday the previous day would have liked to have scored a hat-trick.
Musampa's inswinging free-kick nearly goes in the top corner.
Musampa breaks right through but fails to win a penalty.
One minute into injury time and West Ham score through Zamora - set up by Benayoun
After West Ham's goal City had a nervous minute or so before the final whistle .They tried to keep the ball right in the corners -taking several very short corners. It was a first rate team performance with everybody playing well. Mills continued his recent good form. Ireland whilst perhaps not quite reaching his Everton game level still did lots of good things quietly without fuss and had one good shot saved. James was back to his best and Distin at the centre of defence was a master of his craft. Upfront Vassell and Cole continue their good interplay and understanding with Cole now upto 4 goals in 7 games. Barton though out of position still did well and his discipline is first rate. It was good to see a visiting team come to COMS and not decide to defend for the whole game. It could have finished 6-3 !
Team:
James 8: Mills 8, Onuoha 7, Distin 9, Jordan 7: Barton 8, Reyna 7.5, Ireland 7, Musampa 8: Vassell 7.5, Cole 9