Manchester City 3 v Arsenal 0 November 22nd 2008
Premier League att.44,878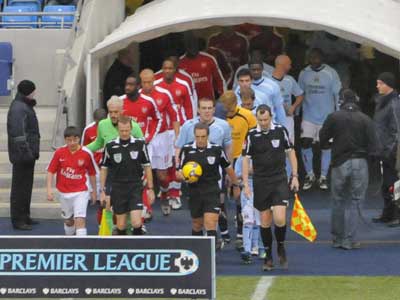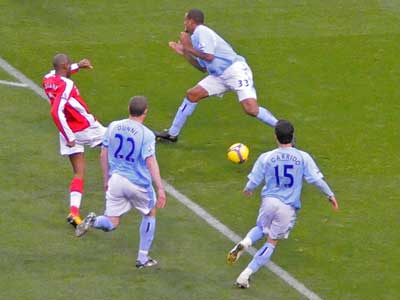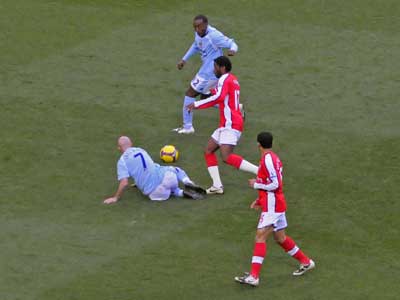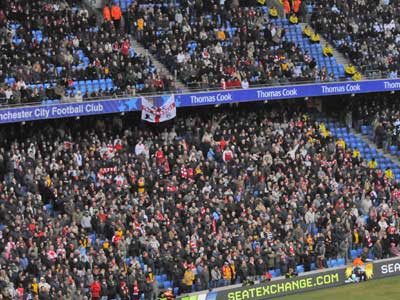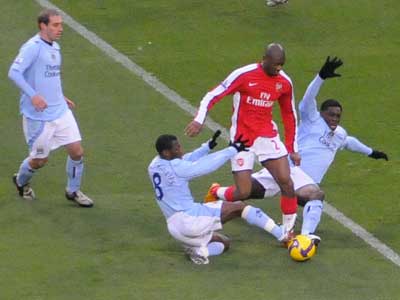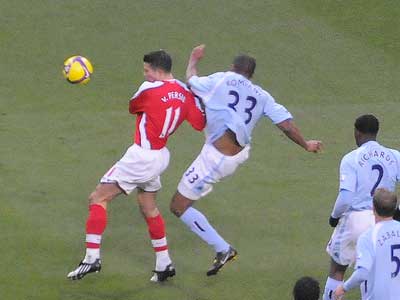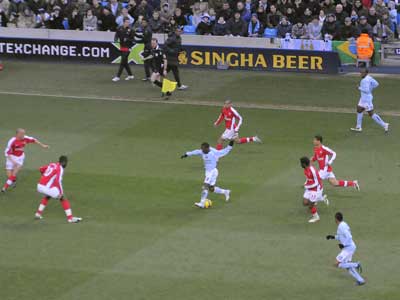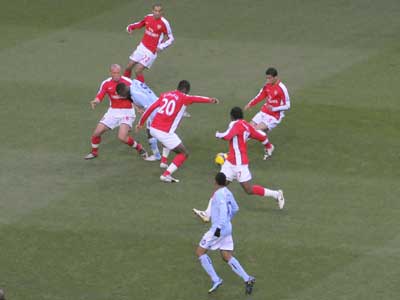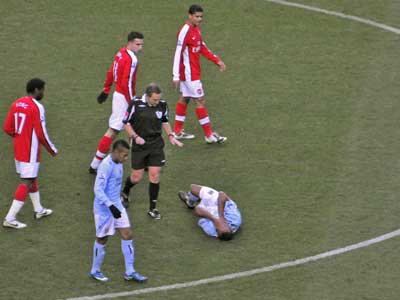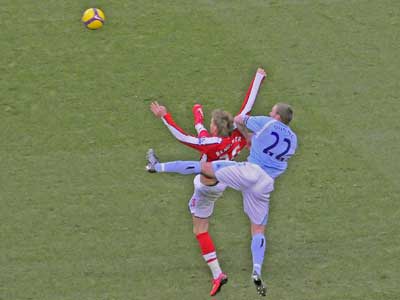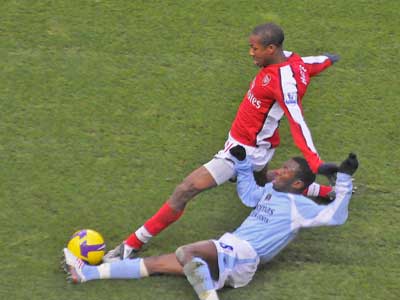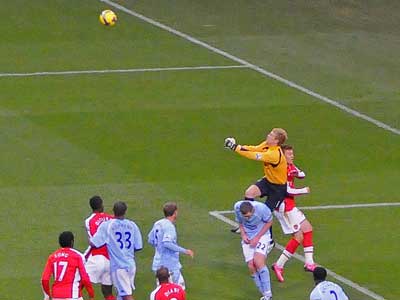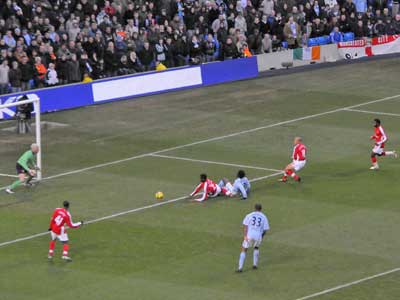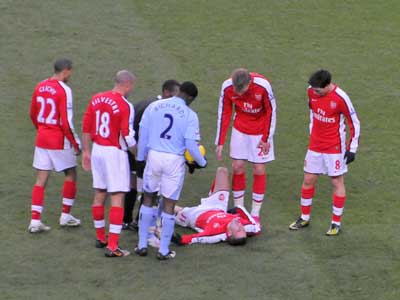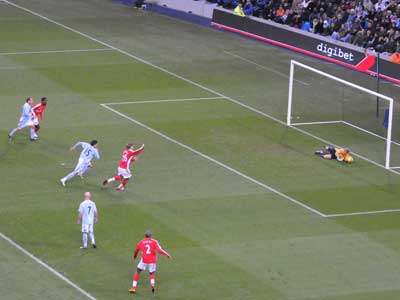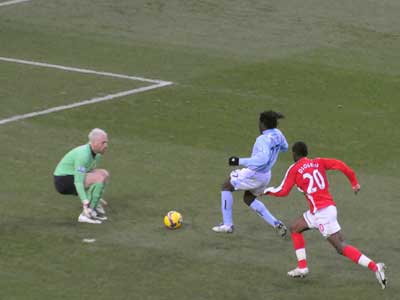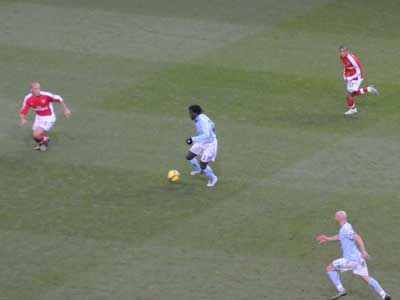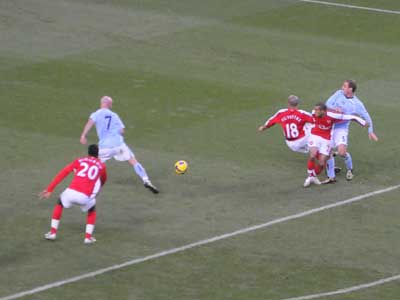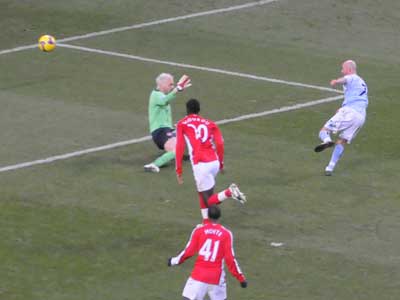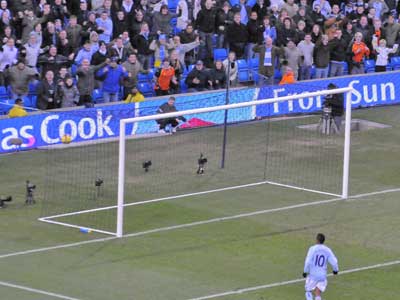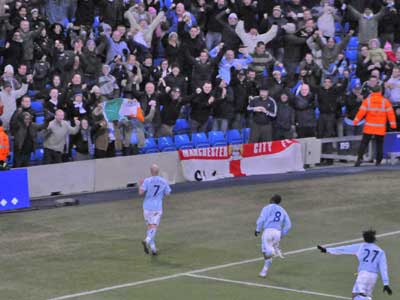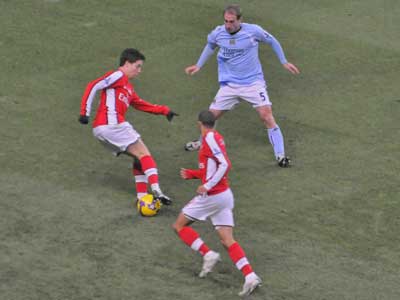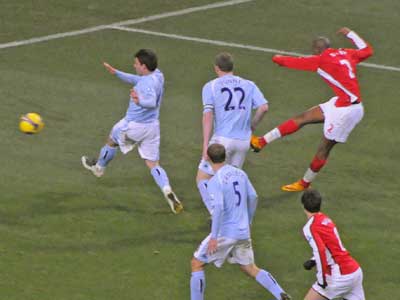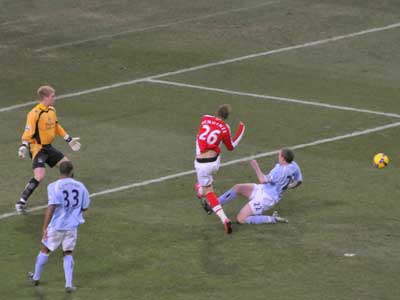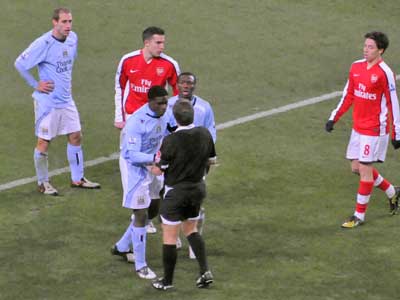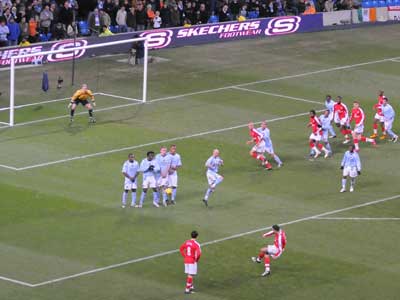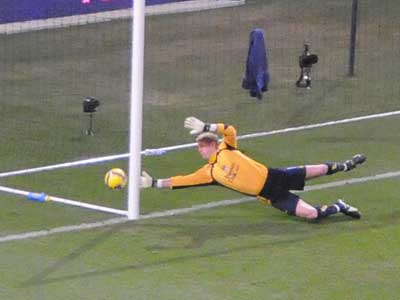 I can't remember when City last beat Arsenal at home probably in 1991 when White scored the only goal in the old first division game. I also saw Neil Young score a hat trick in 1962 in a 3-0 City win. So home victories against the 'Gunners' are few and far between. Admittedly Arsenal were short of several of their 'stars' and no doubt suffering from Gallasgate but after a pretty boring first half with most of the play taking place in the centre third City took over the game and outplayed the visitors and might have scored at least five with luck. It was great to see the return to form of Dunne and Richards which allowed SWP .Ireland and Kompany to dominate the midfield. Although I would like SWP to play on the wing I can understand the managers reason for playing him midfield as his speedy runs from that zone are always dangerous. A superb goal by Robinho who might have scored a couple more emphasized his worth to the club. A great display by City to warm us on a chilly afternoon.
Big surprise was the quick return of Hart after injury and the preference of Vassell over Elano especially after the Brazilians great goal for his country midweek
Kompany blocks an early Arsenal attack
Ireland gets the ball to Vassell who dithered too long and the chance went astray in the first minute
Arsenal brought a good number of supporters with them
Richards and SWP combine to stop Diaby
Kompany battling with Van Persie
After 8 minutes SWP started on a run but was soon surrounded and outnumbered by the Arsenal defence.
Kompany comes off worse with a clash with Van Persie
Richard Dunne back to his best form heads clear from Bendtner
After 26 minutes SWP fed Vassell on the right wing and his cross just evaded Benjani.
Van Persie suffers in a clash with Richards
Nasri's free kick was pushed aside by Hart
A few minutes later Benjani looked to be through but was ruled offside.
Benjani was caught offside far too often!
As the poor first half was coming to a close a run by Benjani ( note Ireland sprinting into position) led to a defensive error and the ball...........................
..... ran kindly for Ireland who clipped the ball over Almunia into the goal to put City one up
So action man Ireland in incredible form enjoys his moment of magic as City lead 1-0 at half time
French International Nazri is closely watched by Zabaleta
Diaby shoots wide from a narrow angle
A cross by Clichy just evades Bendtner under pressure by Dunne
A free kick against Richards is disputed by City players. Come on lads the referee who was very good today won't change his mind
The free kick taken by Van Persie goes round the wall.......
.... and goes just wide of the post - well covered by Hart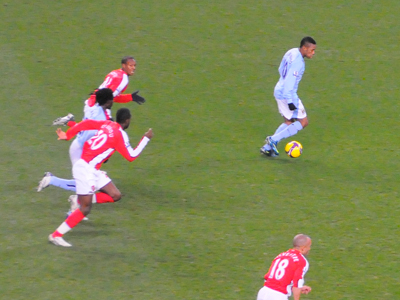 Put through by SWP, Robinho put City two up by brilliantly lobbing the ball over the head of the keeper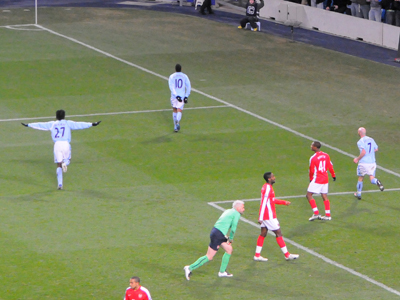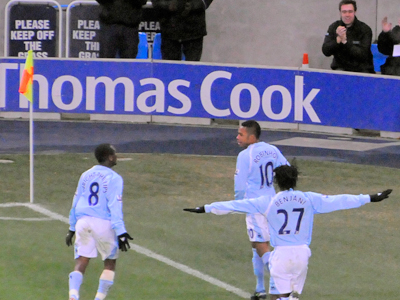 It was a brilliantly executed goal - his 8th in 11 Premier games.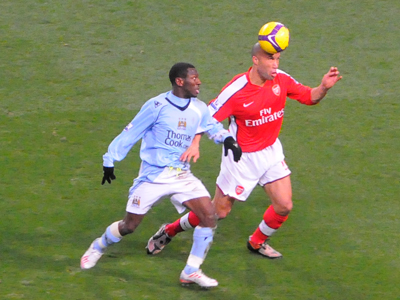 Shaun is amazed at a new Sylvestre tactic - gluing the ball to his head!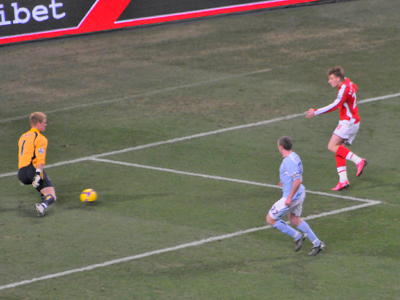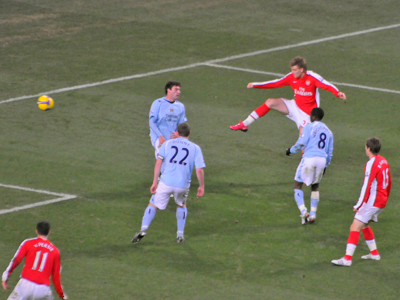 Joe Hart who was having an easy time was brought into action after 61 minutes saving from Bendtner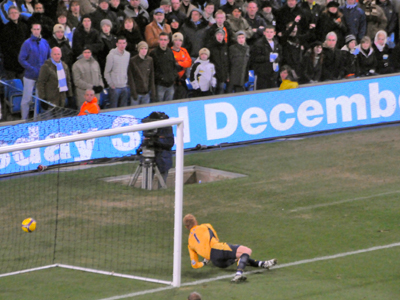 From the rebound Bendtner had a second chance but put the ball wide.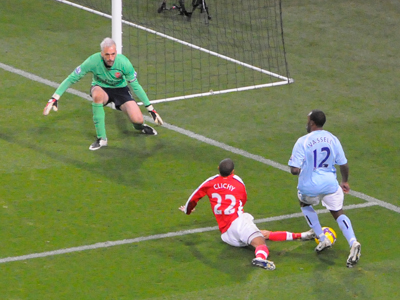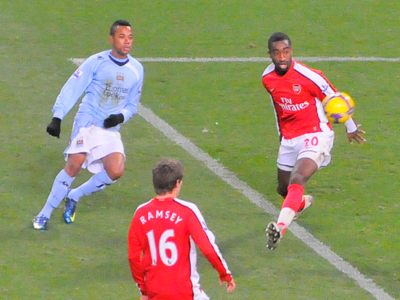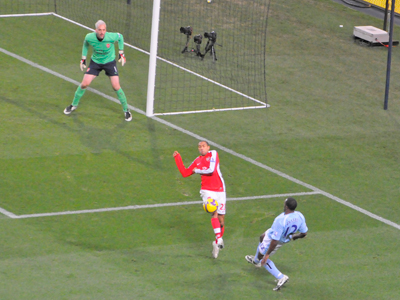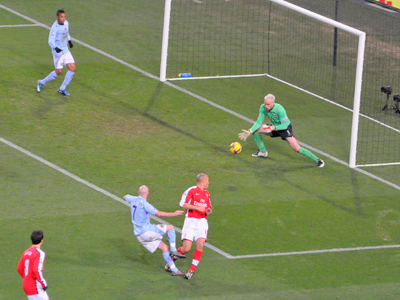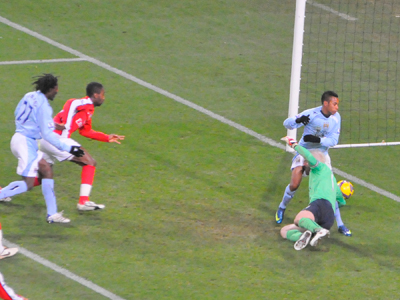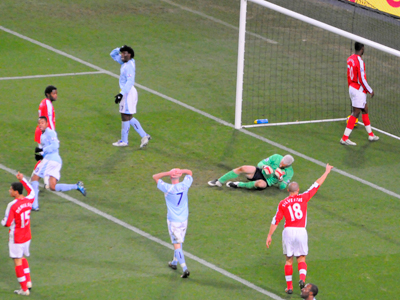 Vassell breaks down the right flank but the move breaks down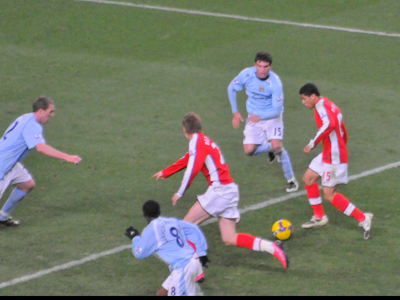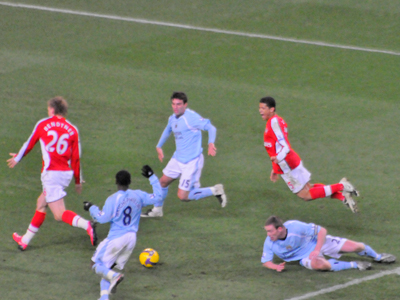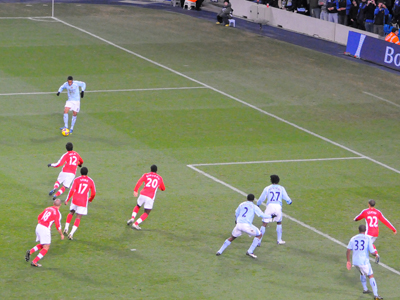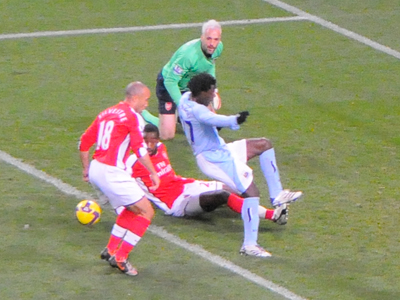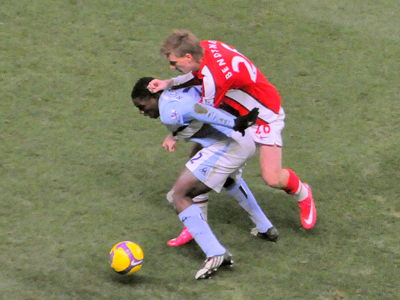 Shortly afterwards a cross from Robinho fed by SWP......
reaches Vassell and his attempted cross is diverted to Ireland who shoots for goal. Almunia fumbled and the ball ........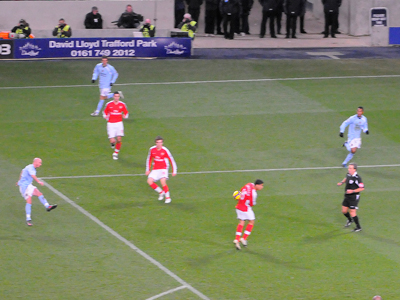 ...... went to Robinho who popped into the net only to find the linesman had given him offside - very marginal .
Dennison dribbles towards the City goal only to be tackled by Dunne and Denilson flies through the air with the greatest of ease!
In the 74th minute a shot from Ireland hits Denilson on the arm but no penalty given.
From the rebound Robinho shot and Almunia pushed the ball out.....
Richards holds off Bendtner
..only for Benjani to miss his kick and an open goal. Ooops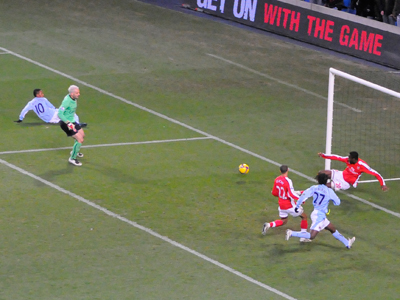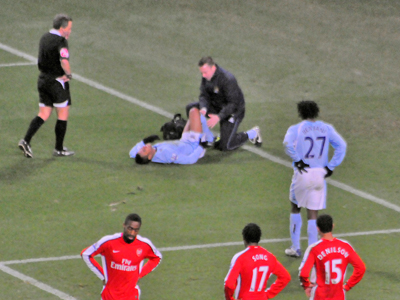 Another City breakaway and after a one on one with the Arsenal keeper Clichy had to save on the line. Alas Robinho hurt his ankle and had to be substituted so we have to hope he will be fit for next week.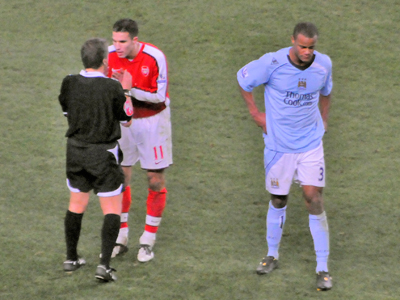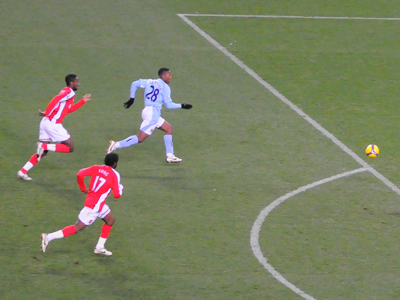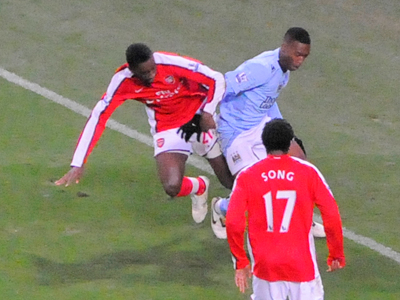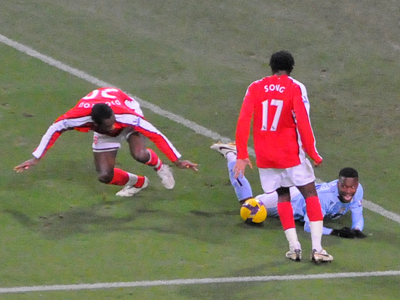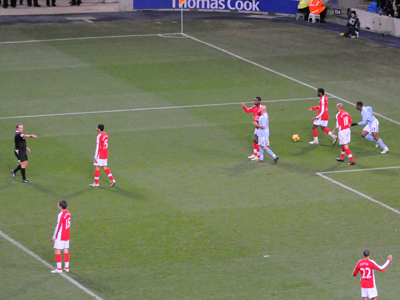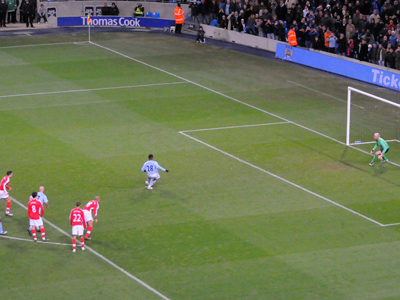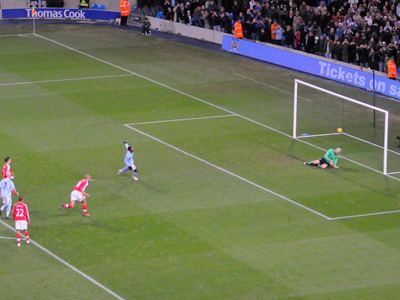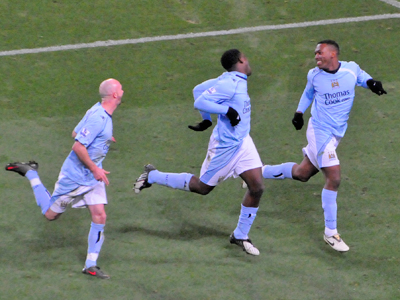 Referee Alan Wiley explains to Van Persie that it's ungentlemanly to kick the ball away as it is about to be kicked by the keeper.
As full time approached Sturridge (on for Benjani after 88 minutes) leaves defenders in his wake as he thunders towards goal.
He opts to go down the line but is brought to earth by Djourou and..............
.... the referee gives a penalty and after a short 'discussion' with Elano on who will take the penalty , Sturridge......
.... sends the keeper the wrong way and City finish 3-0 and worthy winners.
Team
Hart 7: Zabaleta 7.5, Dunne 9, Richards 8, Garrido 8: Kompany 8: Wright-Phillips 8, Ireland 8, Vassell 6 ( Elano 6.5 ) Robinho 8 (Hamann 7) Benjani 7.5 (Sturridge 7.5)