November 2007
Manchester City 1 Sunderland 0
Nov 5th 2007 att.40,038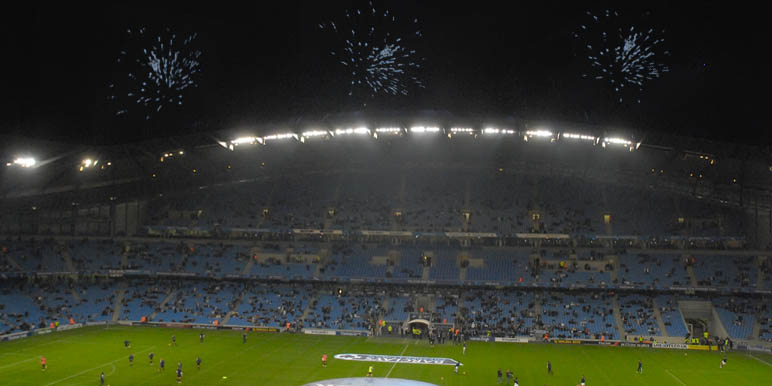 It might have been Guy Fawkes day but at Eastlands tonight it was a bit of a damp squib with the only fireworks to be seen well away from the pitch. A another home win - the 7th on the trot - 8 if you count the Carling Cup keeps City in the top 3 but this was no easy victory. It was hard going for both players and spectators and considering it was live on 'Sultana' TV it was a good crowd for a chilly Monday evening. No doubt many would have preferred to be enjoying an evening round a bonfire. This was never a vintage City performance. Sunderland saw to that. They fought for every ball and they deserved a point in this dismal game. We know City are capable of better than this and only Dunne and Corluka deserved a pat on the back. Inaccurate passing let City down time and time again especially in the last third. I just hope we have got the Chelsea debacle out of the system and Elano gets back to form. Jihai Sun did not have the best of games. You cannot fault him for trying but alas he made too many errors for the Premiership. Ireland took his goal really well but Johnson may be out for a few games so maybe Geovanni may get a chance at Portsmouth in the next tough away fixture. The centre forward position is still a problem and I feel that will be a priority in the January transfer window.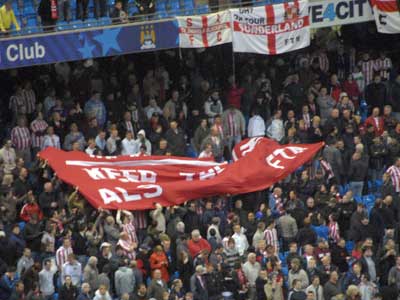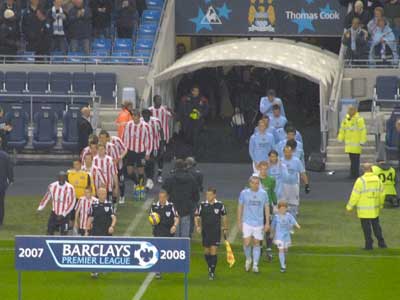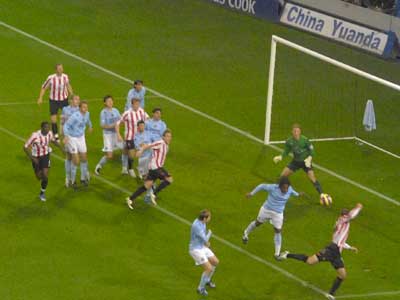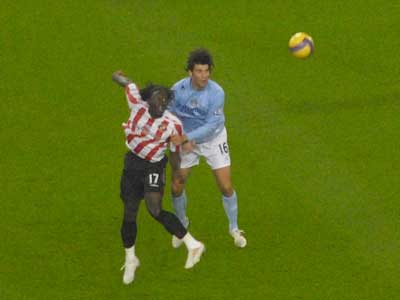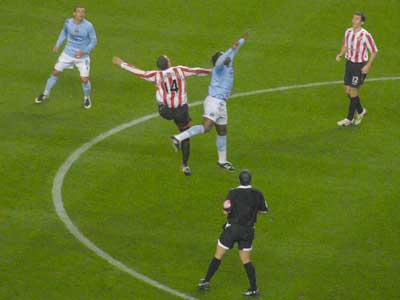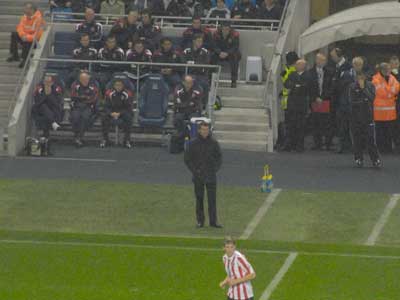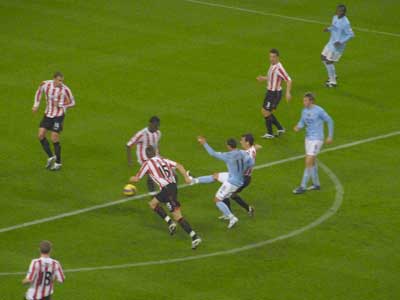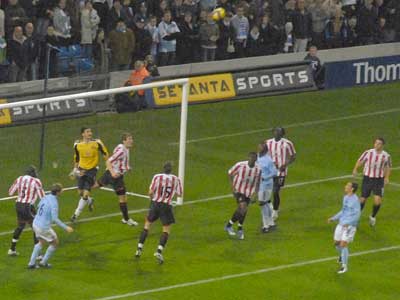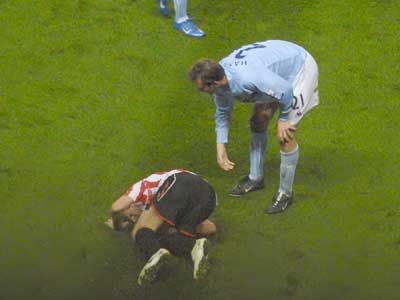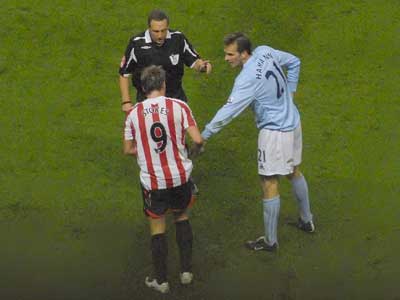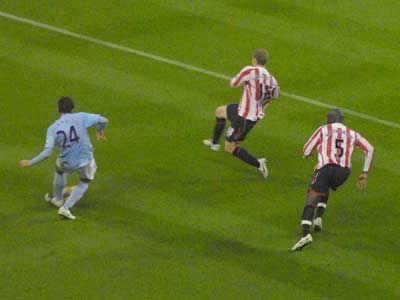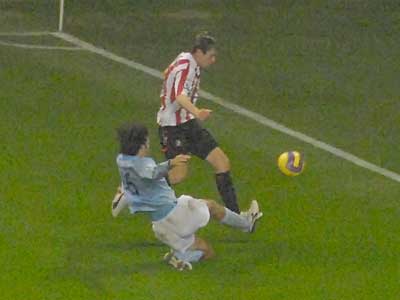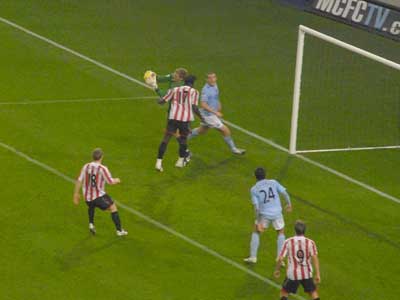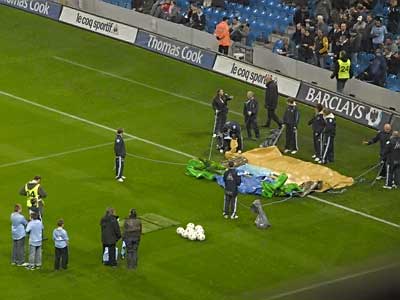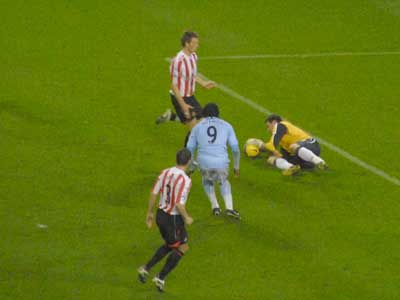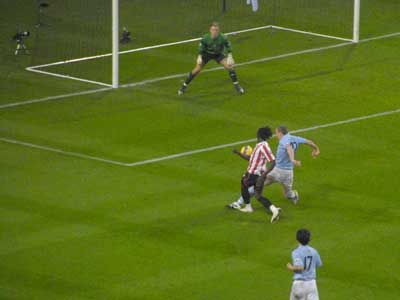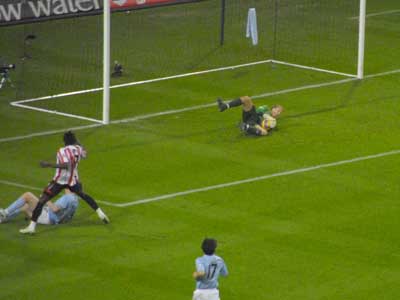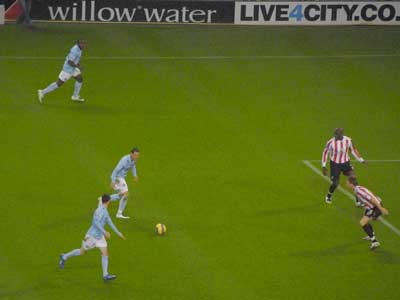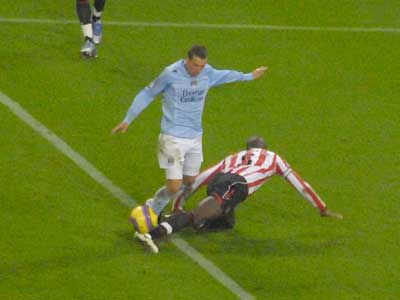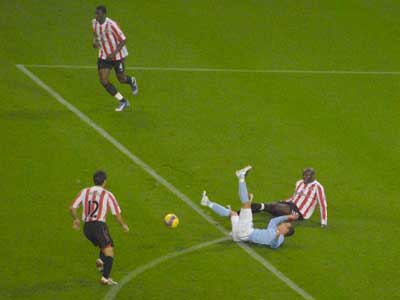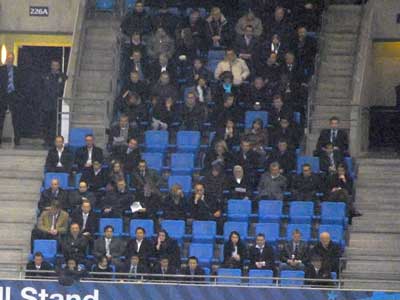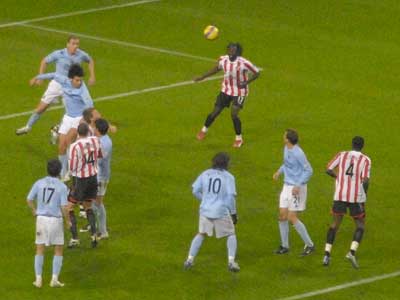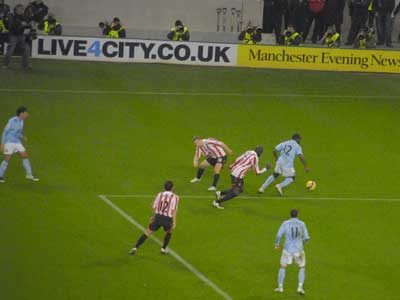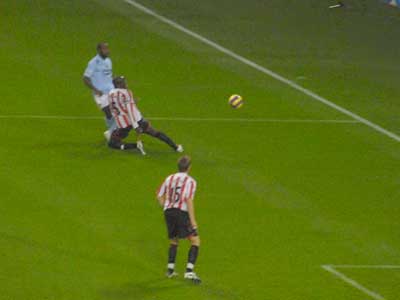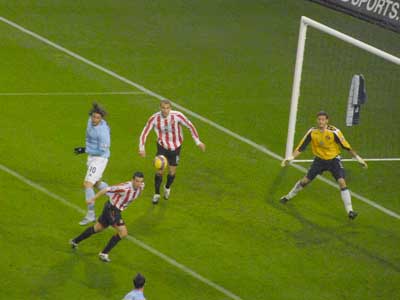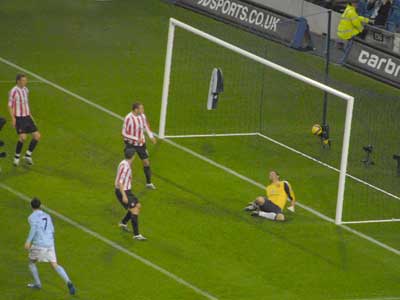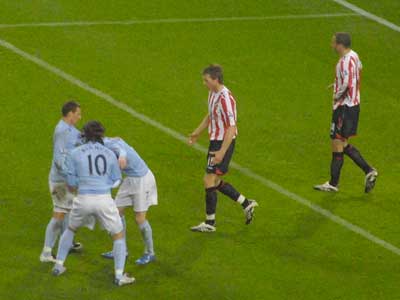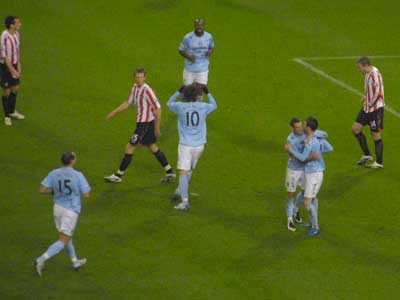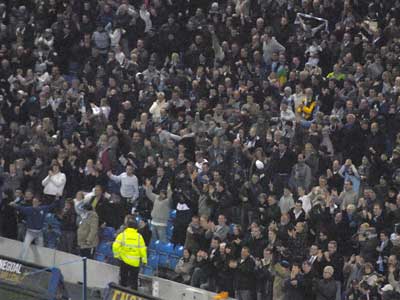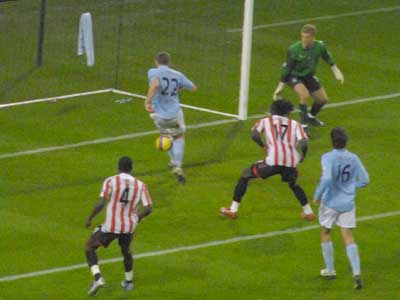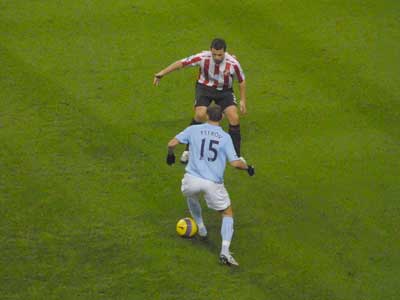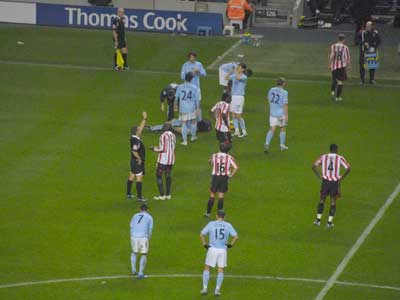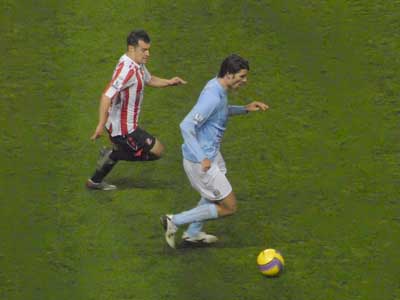 Full marks to the Sunderland supporters who came in numbers to support their team and add a bit of atmosphere to the evening. I nearly said evenings entertainment but that would have been overstepping the mark!
City made several changes. Hart returned to goal, Sun came in for the injured Richards as Onuoha was also injured. Mpenza came back from injury.
Sunderland got off to a good start and soon put some pressure on the City goal - two headers coming close.
Corluka heads clear from Jones
Emile Mpenza tries out his ballet moves under the admiring eye of referee Alan Wiley
Sunderland Manager Roy Keane got a thunderous welcome of boos whenever he rose from his seat in the dugout . No doubt it brought back many happy memories of his time at United!
It was 25 odd minutes before City managed a decent attack and Elano having jinked his way past defenders only half hit his shot and Gordon was able to save it comfortably
Mpenza gets a shot at goal but it goes well wide
A rare City corner is headed clear by a Sunderland defender
Tony Stokes goes down under one of Hamann's more gentle tackles and gets an apology!
Garrido had recovered some of his confidence after his mauling at the Chelsea game
Corluka just fails to block the cross.........
....but Hart just manages to snatch the ball away from the dangerous Jones
A really poor first half ended goalless with Sunderland having the better of the play. No doubt the players will be given a rocket in the dressing room!!
At half time Vassell replaced the injured Johnson - Petrov switching to the right and City made the first attack - Elano finding Ireland but the latter's final through ball was too firm for Mpenza and Gordon was able to save easily.
Joe Hart had to make his only major save of the game six minutes after the break. Ireland lost possession in mid field and Kenwyne Jones broke away but his final shot was not good enough to beat the City keeper.
Elano who for once was below his best was well tackled just on the edge of the area by Noseworthy just as the Brazilian about to unleash a shot
Our Chairman appeared to be missing this evening but I thought I saw Malcolm Allison ( centre back row)
Vedran Corluka heads clear at a corner
On 65 minutes the best and probably only decent move of the entire game started with a cross field pass from Petrov to Garrido who headed onto Vassell. He outwitted two Sunderland defenders and crossed a great ball....
...
It sailed over Bianchi's head (who had come on for Mpenza) right to the waiting Ireland who volleyed the ball into the net. It went .... yes...... like a rocket! One nil to City.
It was an excellent goal well taken and for once Elano was not involved.
The City crowd were more sober in their celebrations than Ireland who might incur the wrath of the F.A.for pulling down his shorts. I thought we had lost Bad Barton habits
Sunderland almost equalized a few minutes later but Richard Dunne managed to back heel the ball away with Hart beaten and Jones and Etuhu ready to pounce
Petrov had a relatively quiet game as he had to spend a lot of time on the right wing.
The only booking of the game came with ten minutes to go when Noseworthy brought down Hamann.
Jones and Dunne give their impression of a 'catherine wheel'!!
Corluka who had one of his best games in the centre of defence went on a run in the final minutes
Team
Hart 6.5: Sun 5.5, Corluka 8, Dunne 8, Garrido 7: Ireland 7, Hamann 7, Johnson 6
( Vassell 6.5) Petrov 6, Elano 6.5 ( Ball): Mpenza 6 ( Bianchi 6)
Manchester City 2 Reading 1
Nov 24th 2007 att.43,813
City remain in third place after a dour last second win against a well organized Reading side who almost snatched a point . This was City's 8th home league win on the trot and another good crowd turned up to see City continue their good home form. Alas I missed the winning goal having just left my seat after Giovanni's miss that went sailing over the bar. With only seconds to go I thought that was it so that was the first goal I had missed for several seasons. Never mind - to make up for it I have put in more shots of the first City goal ! City had most of the play and keeper Isaksson had little to do. Elano was well off form following his long trip back from Brazil. His passing has just lost that cutting edge in the final third - needed to counter the close marking by Reading.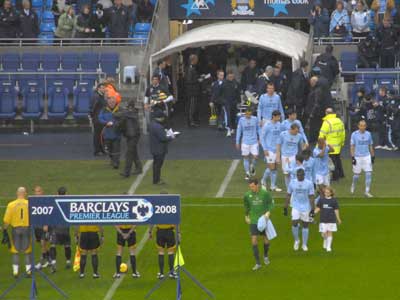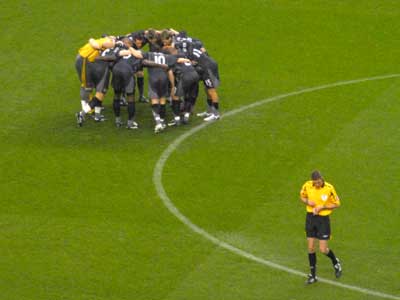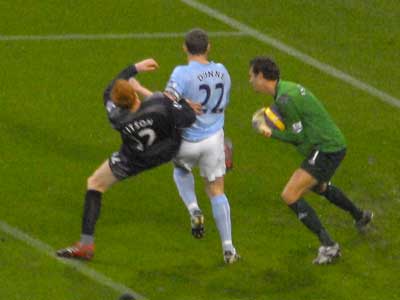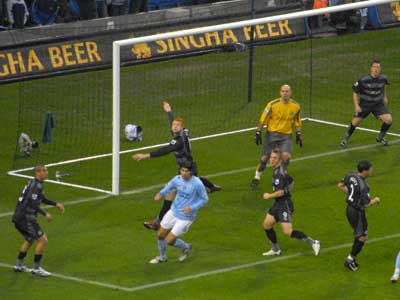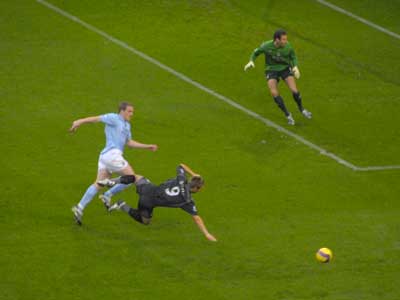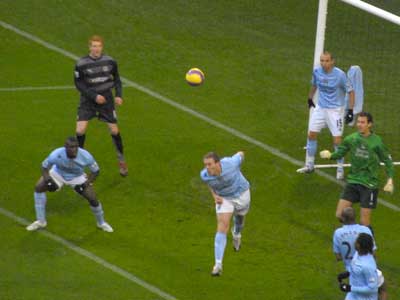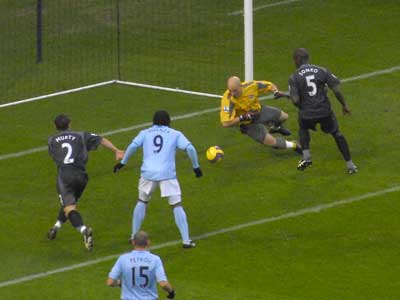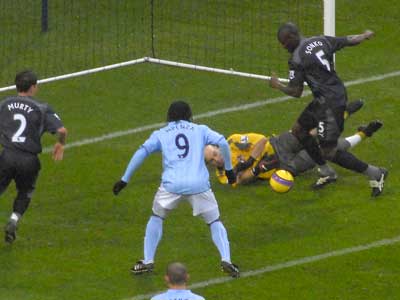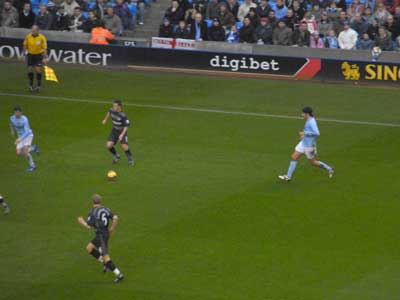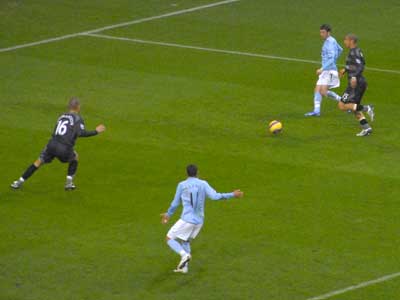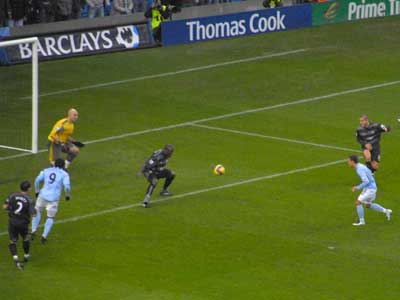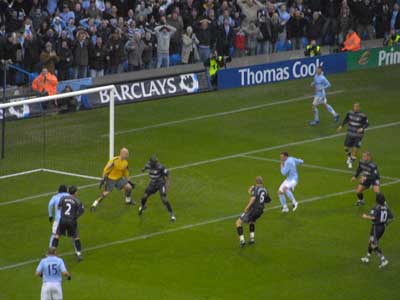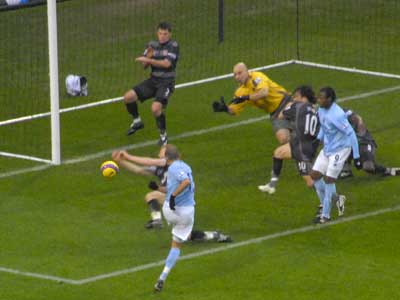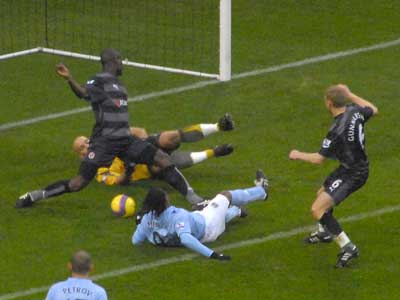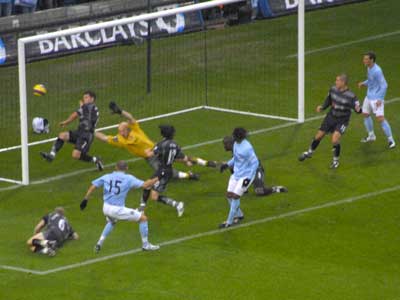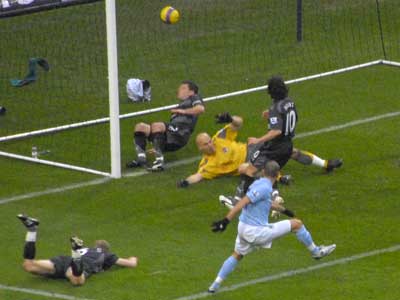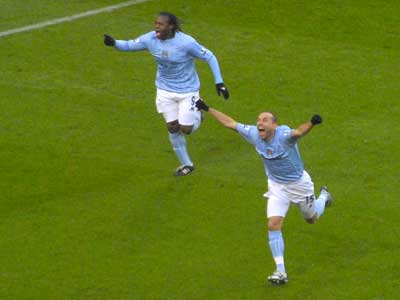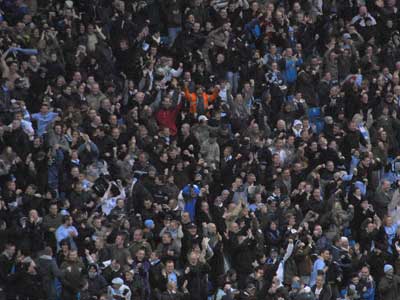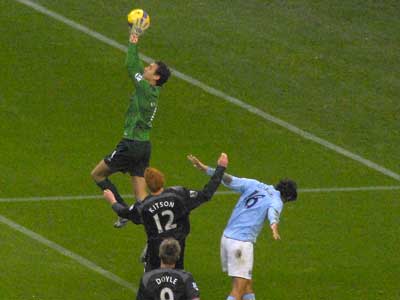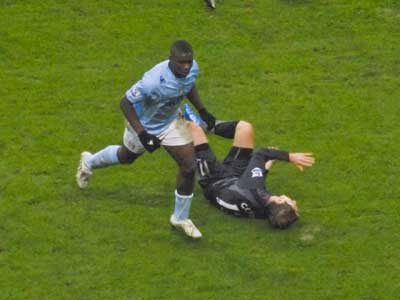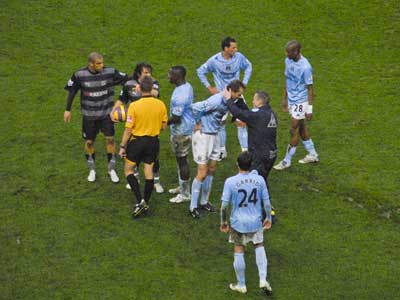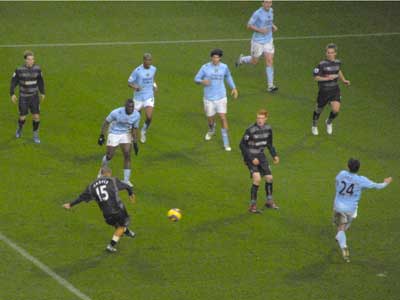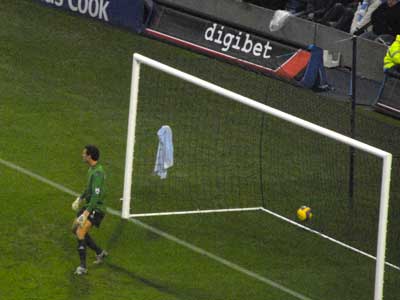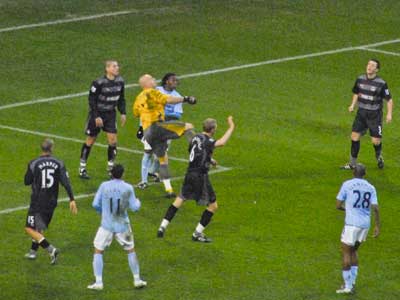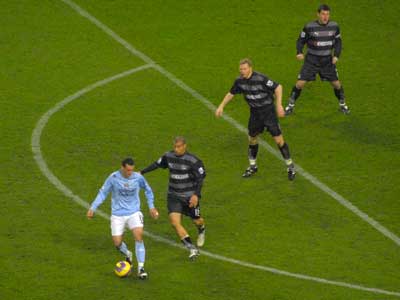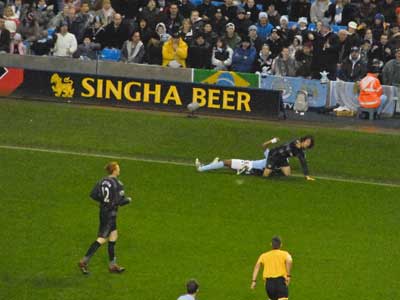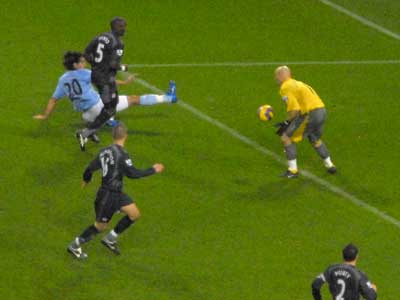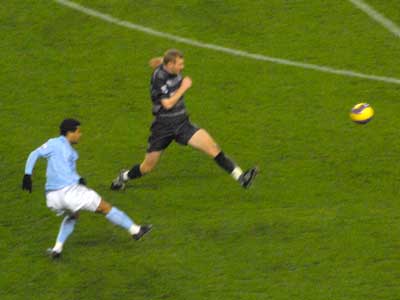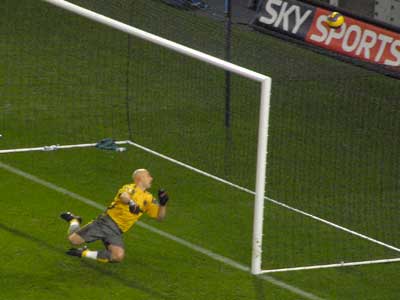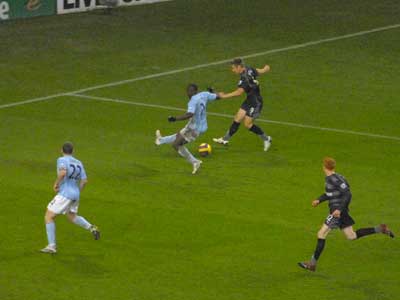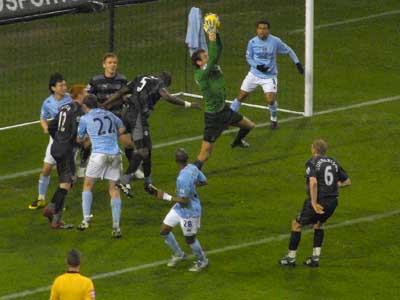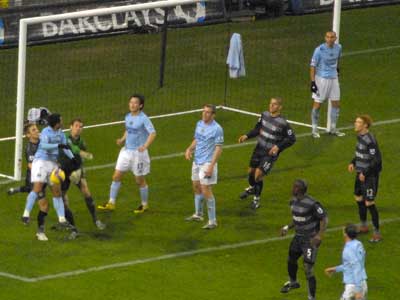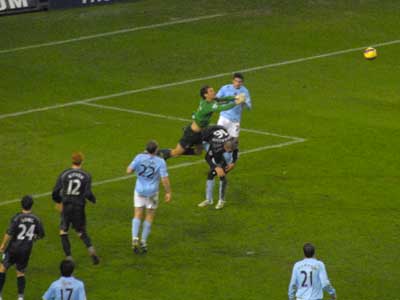 City made two changes from the Portsmouth game. Isaksson was given his chance in goal and Mpenza came in for Vassell. Fernandes continued in midfield for the injured Johnson.
As the referee checks his watch the Reading players go into a huddle- remember when we had to do that!
A dangerous ball in from Convey was thwarted by the efforts of Dunne and Isaksson despite the efforts of Kitson
At the other end a City corner caused the visitors defence a few problems
Skipper Richard Dunne was in fine form first clearing from Doyle and then heading clear at a Reading corner
After 8 minutes Vedran Corluka who had played so well for Croatia against England the previous Wedensday- put a great ball through to Ireland who placed the ball back to a waiting Elano.........
...... The Brazilians shot came back off a post and fell to ...........
Mpenza ....... who shot against the keepers body and the ball came loose once more.....
....... for Martin Petrov to come steaming in and slash the ball........
...... past a helpless defence and into the net to give City an early lead.
Petrov as usual enjoyed his moment of scoring and the crowd were pretty pleased too!
Isaksson used all his height when necessary to take corners
Micah Richards leaves no wounded as he goes in to tackle Convey
Dietmar Hamann took a knock on the face but recovered well to be his usual self
Hahnemann punches clear from Mpenza
Just before half time the City defence went to sleep when a move down the left left James Harper the easiest of chances to equalise.It was against the run of play and nobody had chased back to mark Harper when he came forward to glide the ball past a helpless Isaksson. 1-1 at half time then
City had made two substitutions in the second half. Corluka had gone off injured - replaced by Jihai Sun and Samaras had come in for Mpenza. I wondered how long Elano would last as he was well off his best having only arrived back from South America a day ago
Hunt made a reckless challenge on Fernandes after 50 minutes and was lucky to stay on - the referee here going straight for a yellow card
On 53 minutes Samaras almost got to a great ball from Petrov
Reading made the odd counter attack but Richards and Dunne were always able to block and cover
We almost had a second when Giovanni -on for Elano after 58 minutes - shot just wide in the 65th minute. The Reading keeper was glad to see the ball just fly wide
Isaksson looked quite comfortable when dealing with the odd cross or corner but the Reading attack was not able to test hi shot stopping ability in the battle to become City number 1 keeper
Isaksson punches clear with 7 minutes to go and all to play for at 1-1
In the first minute of extra time Hamann gave a great ball to Geovanni who had only the keeper to beat as he brought the ball down so well -but he shot over and .......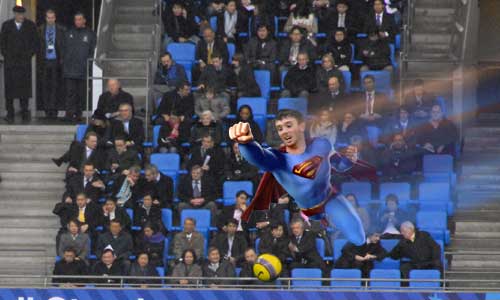 ......just as the final whistle was about to blow and our Chairman was going to witness our first loss of points at home a long ball forward by Jihai Sun was headed in turn by Samaras and Geovanni to SUPERMAN Stephen Ireland who cracked in a superb volley to give City the victory they just about deserved.
Team
Isaksson 6.5: Corluka 6.5 ( Jihai Sun 6) Dunne 8, Richards 7, Garrido 6.5: Ireland 8, Hamann 7.5, Fernandes 6.5, Petrov 7.Elano 5 ( Geovanni 7) Mpenza 5 (Samaras 6.5)