November 2006
City 0 Newcastle United 0
Nov 11th 2006 att. 40,571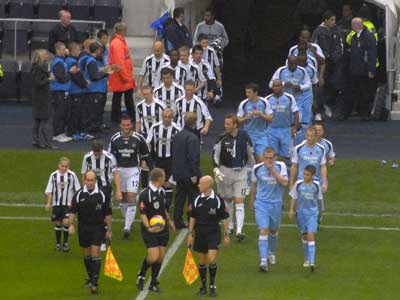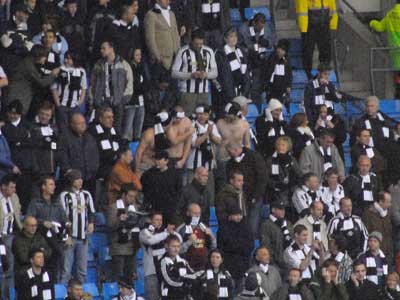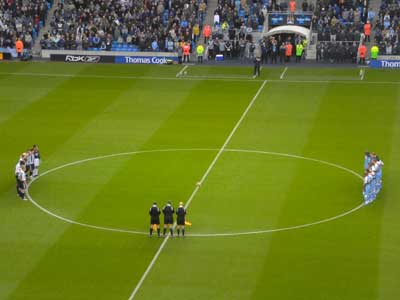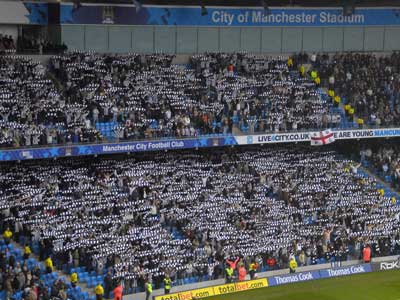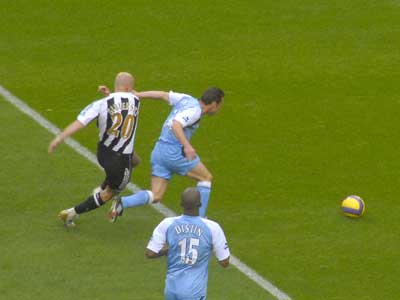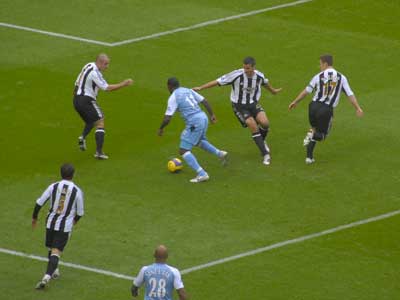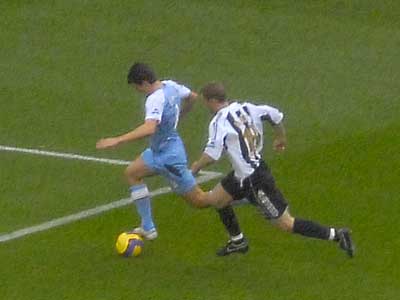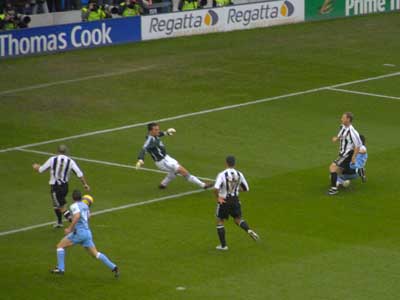 After 6 minutes City should have take the lead. Vassell put Barton through but his shot having beaten Harper went just past the far post.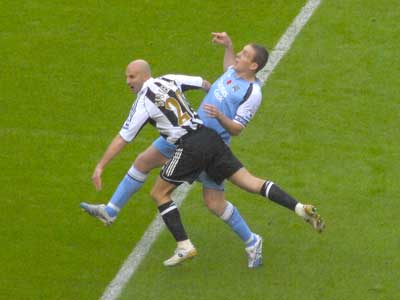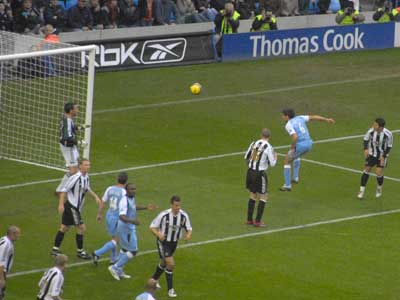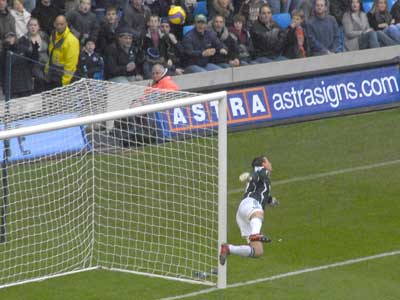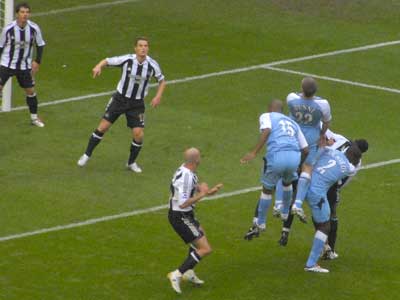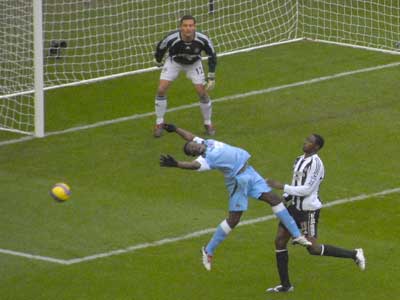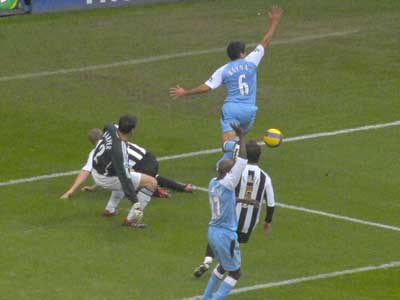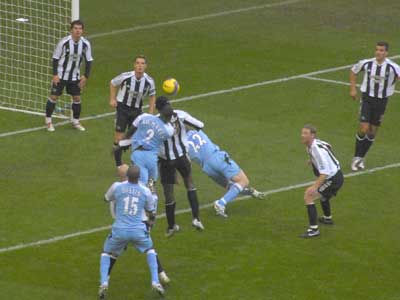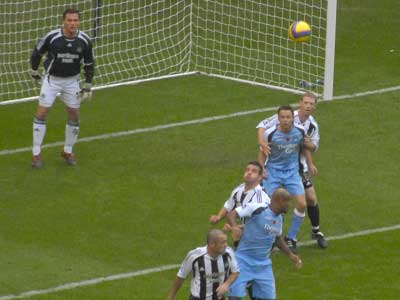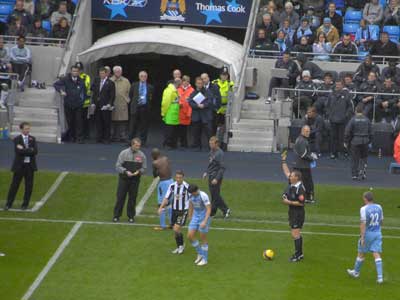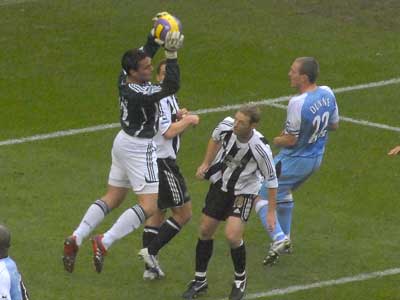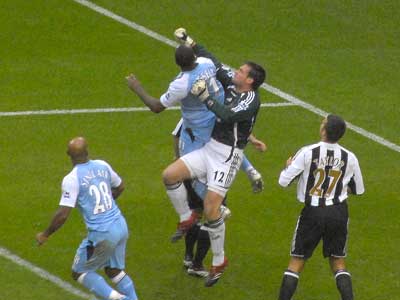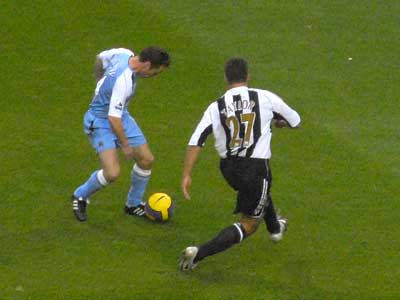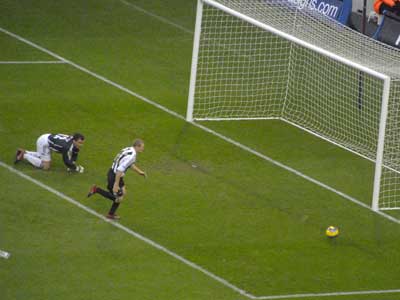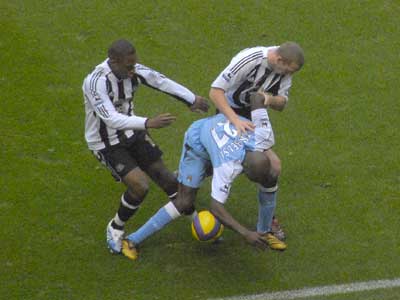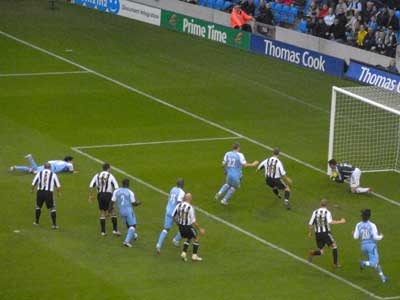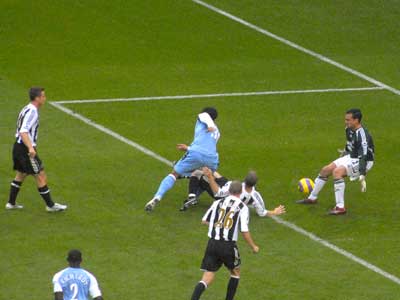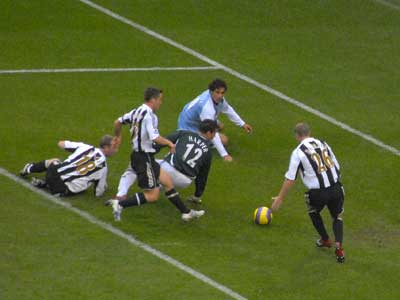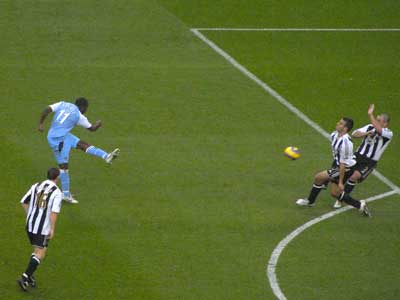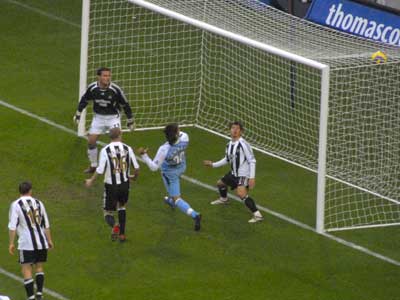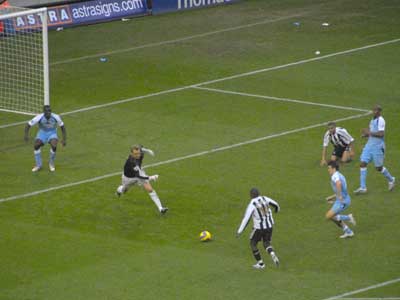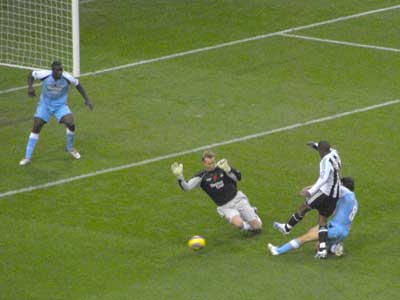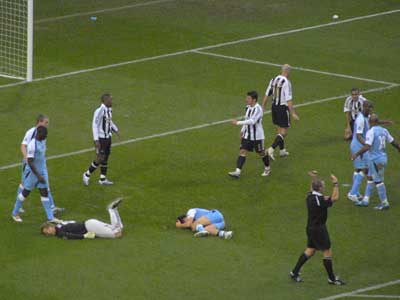 Team
Weaver 6: Richards 6.5, Dunne 6.5, Distin 6, Thatcher 6.5: Trabelsi 7.5, Barton 7.5, Reyna 6 ( Corradi 7) Sinclair 6; Dickov 6 (Samaras 6), Vassell 6.5
Two sides short on goals and too near the relegation zone for comfort met at COMS and guess what it ended up a goalless draw with City failing to score once again. It's six games since a City forward scored and come the January sales it is now imperative that City sign a natural goal scorer. The defence has done well and have yet to concede a goal at home but with terrible away form and failure to score at home it looks like a hard grind for the rest of the season unless Stuart Pearce can get his strikers to get the ball into the net. With another home game against Fulham next Saturday lunchtime the strikers have a quick chance to redeem themselves. Congratulations to Micah Richards who is in the England squad for the first time and is likely to play against Holland on Wednesday. Another plus for the City academy system.
City had Dickov and Vassell up front and Graham Poll , referee in the headlines was in charge of this live TV game
Despite their low position Newcastle once again brought good support and as ever there were a few to ignore the cold weather
The Remembrance Day silence was observed impeccably and it was a nice touch by the visiting supporters to raise their scarves
Antoine Sibierski made a return to COMS following his transfer to Newcastle but he was well looked after by Dunne.
Vassell tries to make his way through a packed visitors defence
Dunne and Sibierski clash again, Dunne winning the header.
A Reyna header goes wide.
Another chance following a corner goes adrift for City
A good shot by Barton from distance is well saved by Steve Harper
Too many City players going for this ball perhaps?
Richards looks horrified as the ball goes just over his head
From a narrow angle Reyna has a shot blocked though there was a shout for a hand ball which was turned down.
Yet another Barton corner fails to reward the home side. We seem to have little originality from dead ball situations.
Butt holds Dickov at a free kick
It took almost 40 minutes before Graham Pole issued a yellow card. Is that a world record I wonder! Scott Parker was the unlucky recipient.
Harper, deputizing for the injured Given was easily the busiest of the keepers
Four minutes into the second half and the Newcastle goal is under siege
Vassell is punished for this jump with Harper as the Newcastle keeper punches clear
Six minutes into the second half and Paul Dickov worked himself a really good opening but his final effort lacked strength and Harper was able to push it aside.
Hatem Trabelsi was one of City's best players on the day and showed lots of skill but he came off second best in this encounter
Samaras and Corradi came on for Reyna and Dickov and almost immediately Corradi lost his marker at a free kick and his header was well saved by Harper low down.
Corradi had another half chance shortly after but Newcastle managed to clear the ball but at least we were seeing a more dangerous striker in Corradi than we had seen in previous games.
After a Vassell shot was blocked City did get the ball into the net through Samaras but Graham Poll disallowed the goal for a foul by Corradi. I think Newcastle were lucky with this one.
A Samaras header goes wide as yet another chance is spurned.
With time almost up Newcastle suddenly came back into the game..
...
....and it was left to Weaver and company to keep a clean sheet and keep the visitors at bay. A win for Newcastle would have been a travesty as Weaver hardly had a shot to save and City had dominated play without being able to score. Will City's luck change against Fulham ?
City 3 Fulham 1
Nov 18th 2006 att. 35,776
At last - for the first time since September a City forward scored and for the first time this season City conceded a goal at COMS in this easy 3-1 win over a poor Fulham side. It could and should have been more such was the domination of City especially in the first half. Corradi who looked good when he came on as sub in last game against Newcastle, was at his best and took his two goals well. He might have had a hat trick. Lets hope that is the start of a good run of form and he turns out to be the striker we badly need. Trabelsi is now settling in and his touches are proving very successful. Hope he stays clear of injury. Weaver did not have much to do but his long kicking paid dividends. Shame about the attendance - our lowest in the Premier league. It did not help that Fulham brought so few supporters.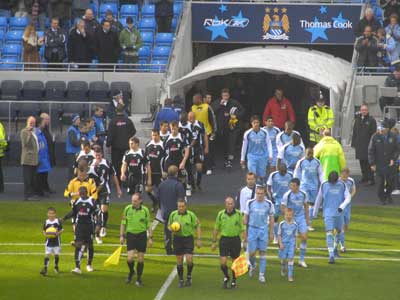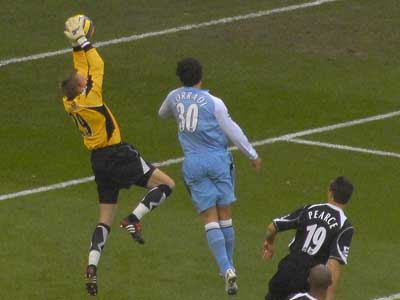 City started with Samaras and Corradi up front and Vassell on the left. It was Richard's first game after his England cap. No sign of Mr Harrods in the stand - probably helping to set up the Christmas decorations.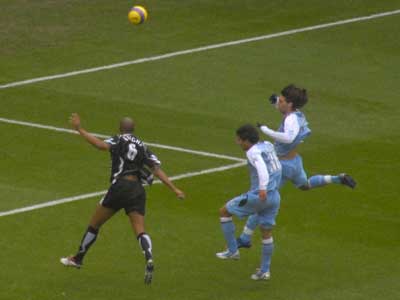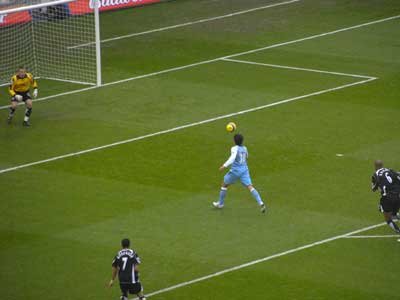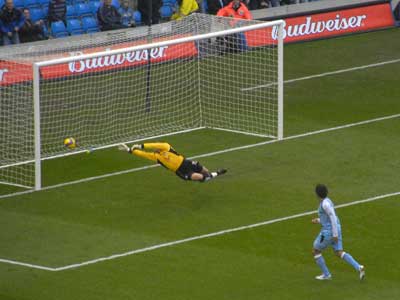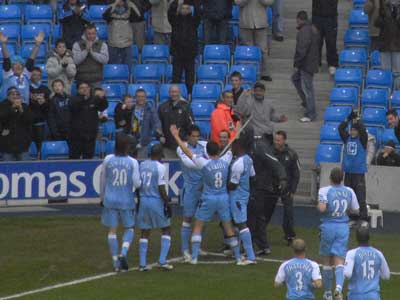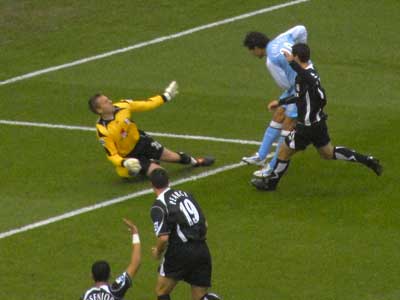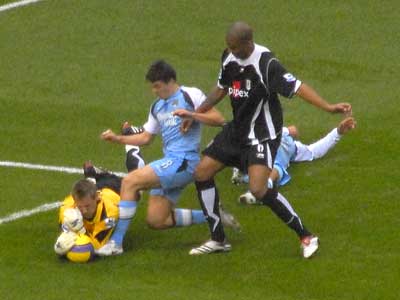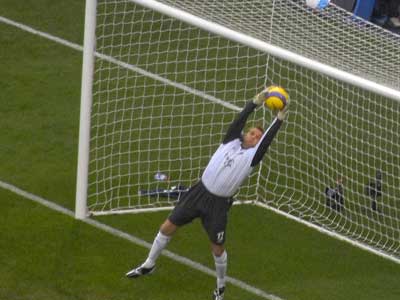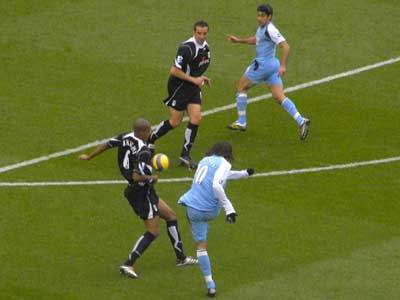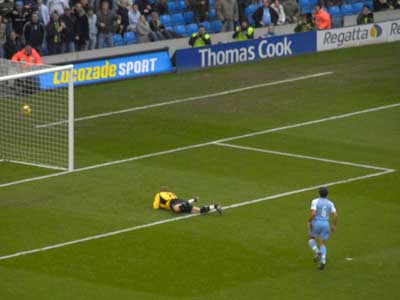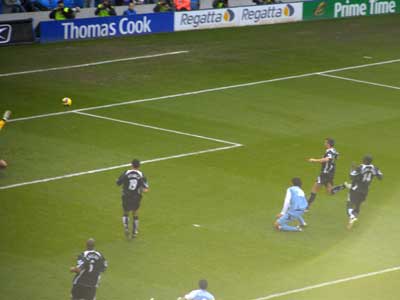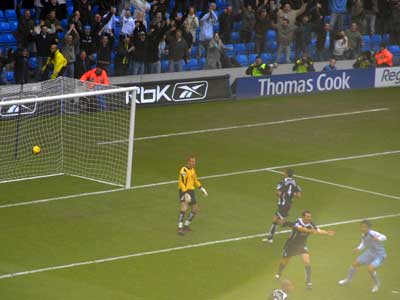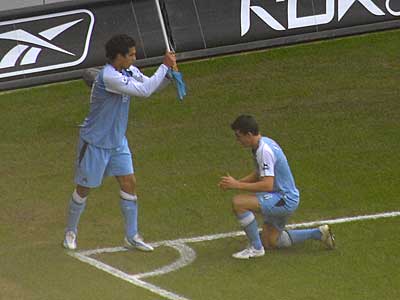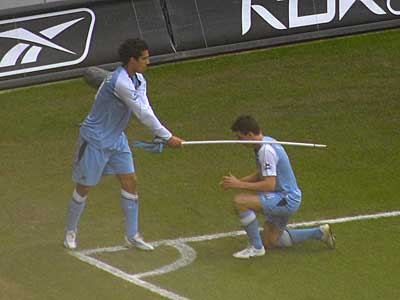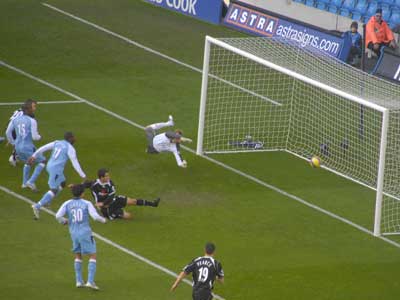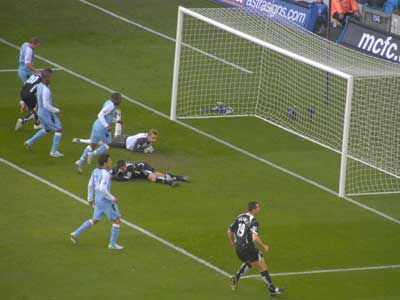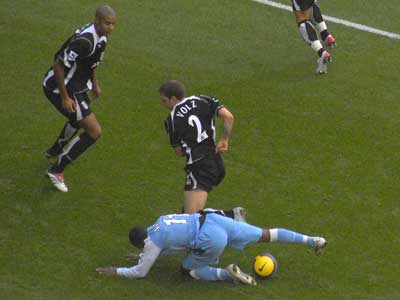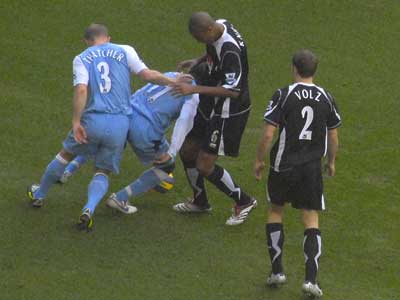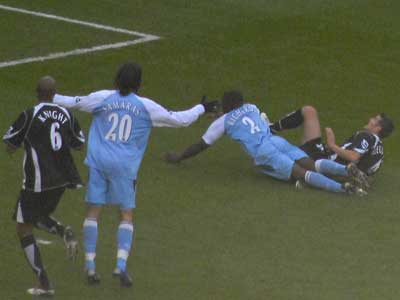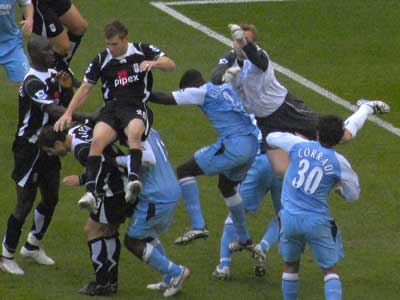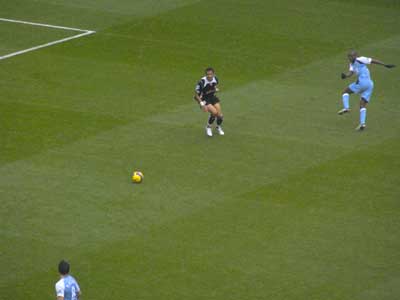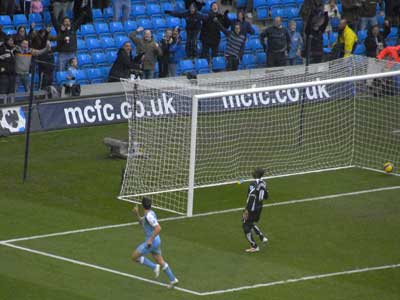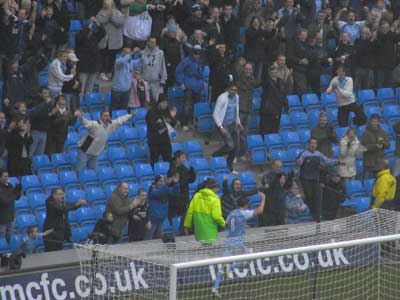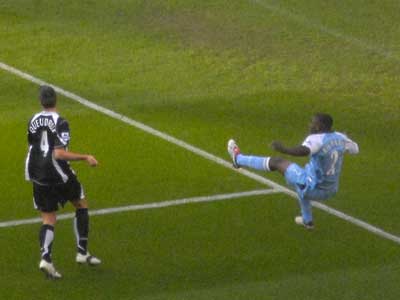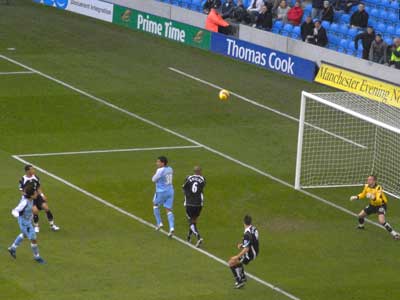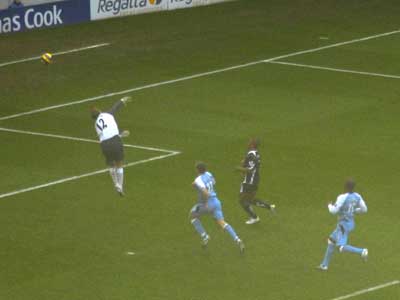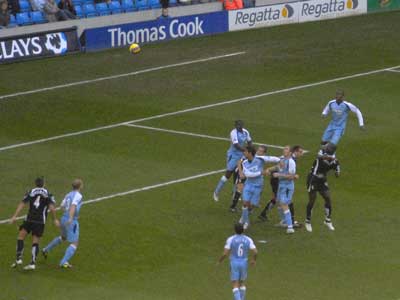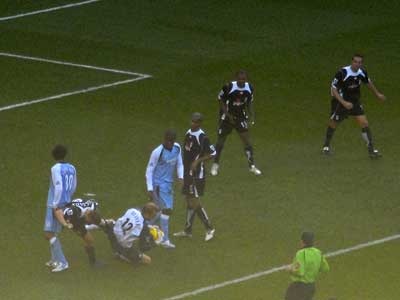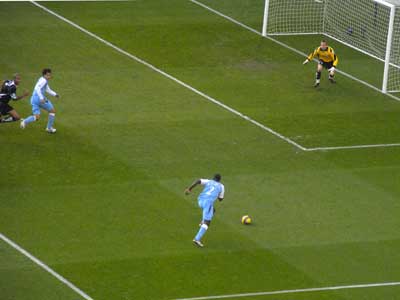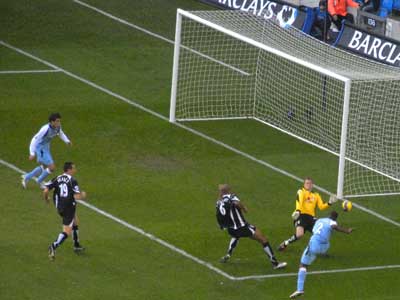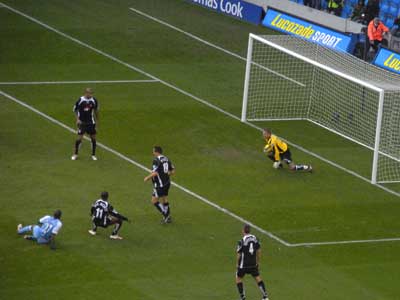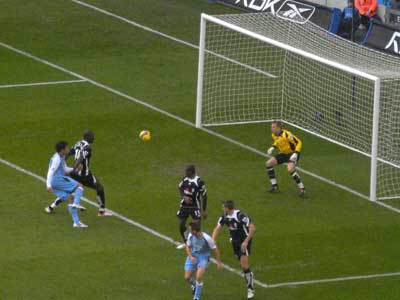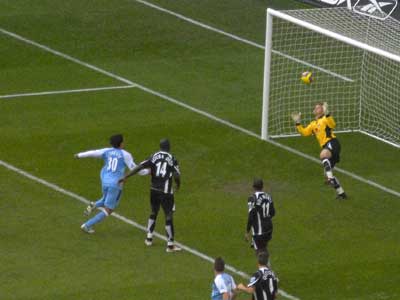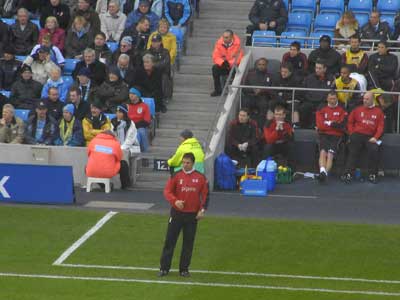 Team
Weaver 6.5: Richards 7. Dunne 7, Distin 7, Thatcher 6.5: Trabelsi 7.5 (Onuoha ) Barton 8.5, Reyna 7.5, Vassell 7: Samaras 6.5 (Dickov 6) Corradi 8.5
Richards had a great chance to make it four when he burst down the right in a counter attack. However instead of squaring to the unmarked Corradi he tried to beat the keeper and hit the side netting.
Fulham got a goal back after 57 minutes when John pounced onto a Helguson header and scored easily. Fulham were desperate to get back into the game but the City defence stood firm and Weaver was rarely troubled.
A great run down the right flank by Richards gave a good chance to Samaras but the young Greek 's shot sailed well over the bar
..........
..... found Hatem Trabelsi who immediately turned it inside for Joey Barton to crack it past the Fulham keeper. It was a gem of a goal and timed to inflict maximum punishment on Fulham - just on half time
I cannot remember when we last were three nil up at half time. Shame that the replay quality on the monitors during the interval was so diabolical.
Vassell , although out of position in left midfield did his best and once or twice showed quite a lot of skill to beat the opposition and get a corner
One of few times the City defence looked worried was when a cross cum shot by Boa Morte flashed dangerously past a number of players in the six yard box.
Arise Sir Joey Barton - now we could see the new Corradi goal celebration in all its glory!
It was this punch by Weaver that lead to City's third goal.. The ball ran wide to Distin.........whose long clearance....
.....
Micah Richards , now England's youngest ever defender in action again.
City were first on the attack with Niemi having to save with Corradi in close attendance.
Knight has to head clear from Samaras and Corradi
After 12 minutes a long clearance by Weaver was flicked on by Samaras to Corradi who was just onside..
.....
.
..... he flicked the ball past Niemi to give City the lead and he celebrated his first goal for the club. It was difficult to see from where I was what was happening with the corner flag but all will be revealed below !
A few minutes later Corradi nearly scored again. Niemi saved bravely and as he lost the ball momentarily in raced Barton but Niemi recovered and was rewarded with a free kick
A Diop effort nearly caught Nicky Weaver napping but the City keeper just managed to get two hands on the ball.
Straight from the clearance Samaras nearly scored as his right foot shot..
.....
....
... went just wide of the Fulham goal
City got their second after 32minutes. Barton having won a tackle on Bocanegra slipped the ball inside.....
.....
.....
to Corradi who - just as the sun burst through to blind me.... cracked it into the net with Niemi well beaten. 2-0
A Richards effort is blocked by a busy Fulham defence
Weaver makes a good catch under pressure.
Yet another City attack is foiled but with City having the better of the exchanges the result was safe.
Five minutes from time Corradi nearly scored his third but Niemi saved. Altogether a much improved City performance. The defence were fine as usual , even Thatcher earning a few plus marks. Reyna managed 90 minutes and Trabelsi and Barton were excellent. Vassell did his best on the left while Samaras and Corradi are beginning to forge a good relationship up front.
I don't think the Fulham manager was pleased with his teams performance so that means a cut in Welsh Cakes and more Larva Bread for the team