Manchester City v Middlesbrough 1-1
May 15th 2005 47,221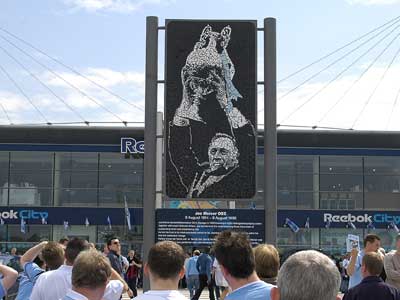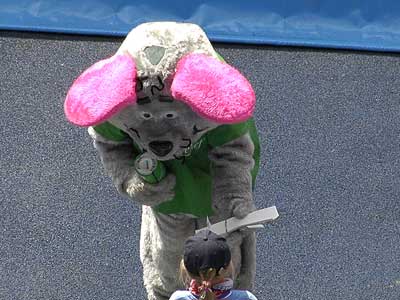 This mosaic to Joe Mercer on Mercer Way was unveiled last Thursday and received a lot of interest from fans. Perhaps in the future there will be one to a man called Pearce!
I hope this little girl has been warned about talking to strange animals!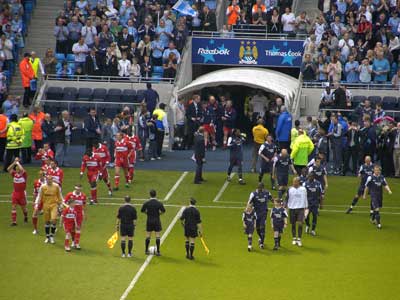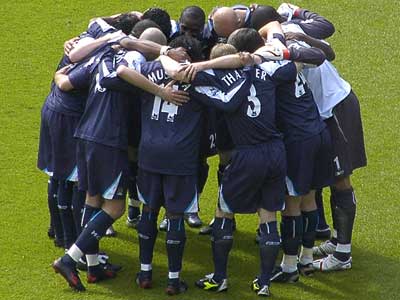 City made just one change -Robbie Fowler was back for Macken -
The prematch huddle took on a new look as some bright spark decided - for commercial reasons - for City to wear their new away kit. Alas it clashed with the referees kit and on at least three occasions City players passed to the referee.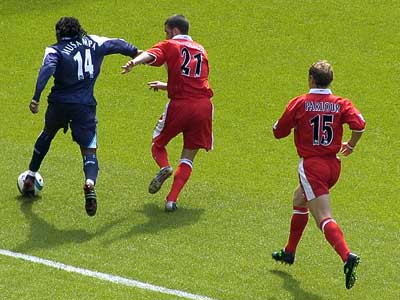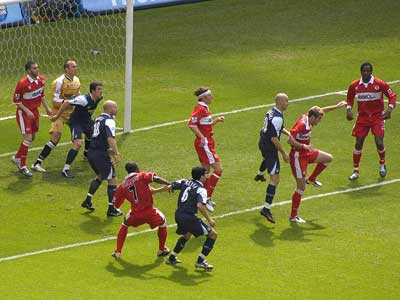 City took the initiative immediately and Kiki Musampa was soon in action.
City forced an early corner and put the Borough defence under pressure.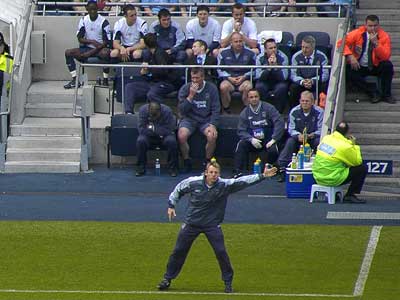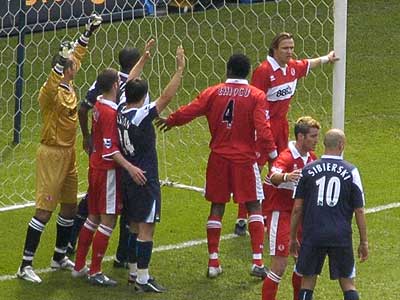 Stu Pearce was also in action early - training for calling for a taxi into Europe
It looks as though Joey Barton is having his pocket picked at this corner.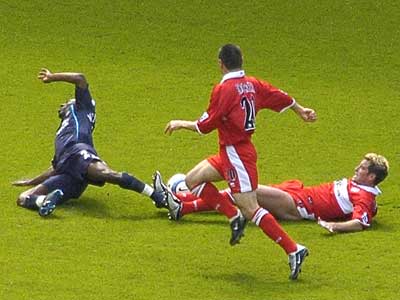 A packed stadium for the last game of the season and all to play for. Elsewhere 4 clubs were battling for one last place in the Premiership and for once City were well out of that relegation struggle. At the City of Manchester Stadium Middlesbrough and City were fighting for 7th position and a place in Europe. Three points ahead of City but with an inferior goal difference all Borough had to do is draw. City needed to win and they would be through providing Spurs did not beat Blackburn by more than two goals. The atmosphere was electric and with Stuart Pearce's boys on a roll this was the game of the season. Who would have thought that at the turn of the year we had a chance of playing in the UEFA cup next season. This was to be a titanic game with no quarter given or taken. Let battle commence.
9 minutes and Shaun Wright -Phillips was proving a handful for Frenchman Franck Queudrue and after bringing the City player down early on he was given a wigging from Rob Styles.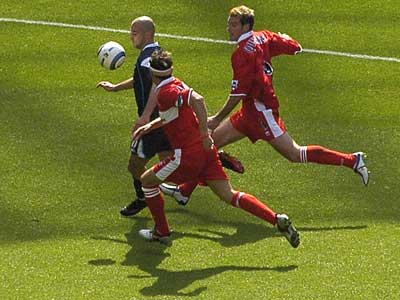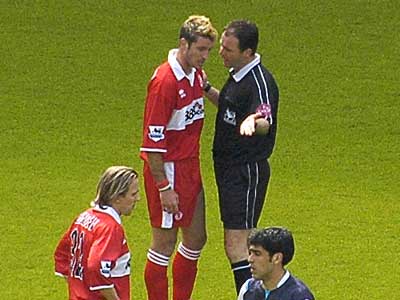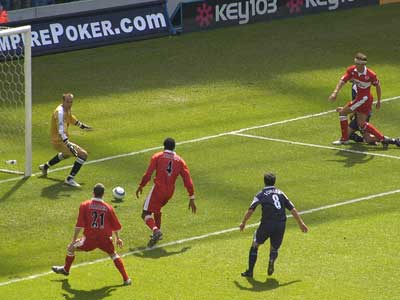 15 minutes gone and Sibierski chests the ball down, takes the ball to the line but his cross flashes across the 6 yard box without anybody able to finish the move off.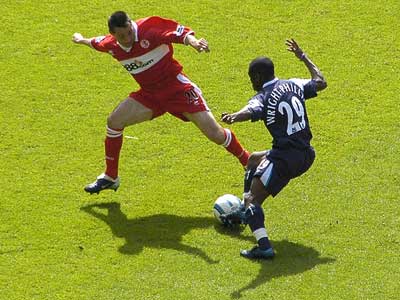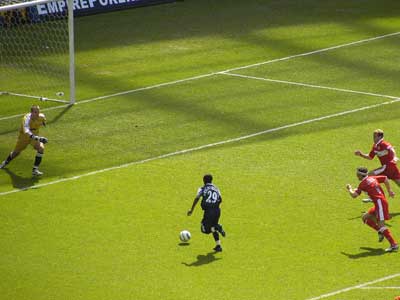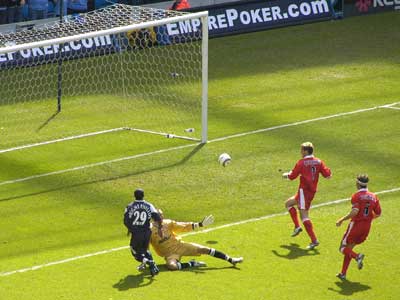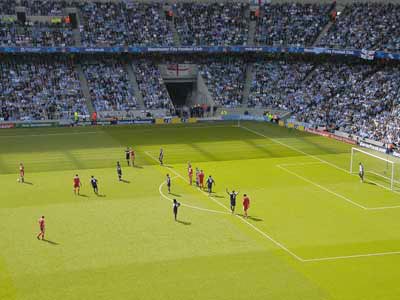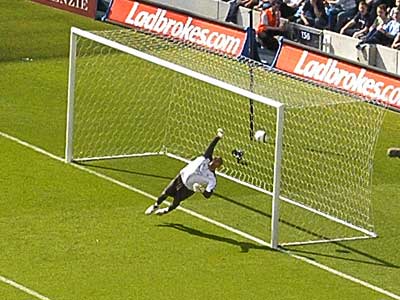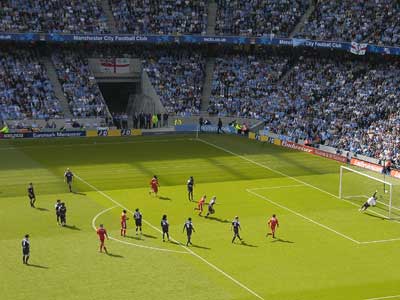 Jimmy Hasselbaink took the kick with only 2 players in the wall he struck the ball such power that it flew like a dart into the top corner with David James well beaten. Few would have bet on him scoring from that distance - a good 35 yards out.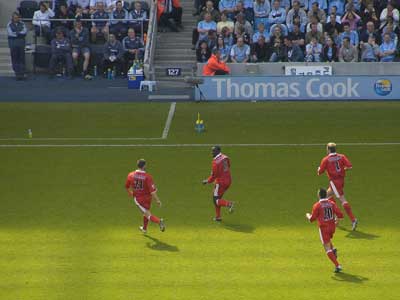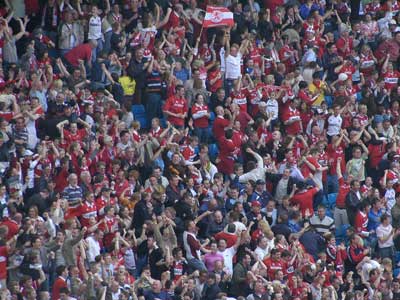 As Jimmy and the visiting supporters celebrated there was silence from the City faithful. Middlesbrough who had hardly set foot in City's half had scored. We needed two now.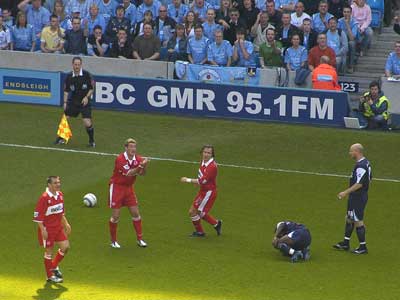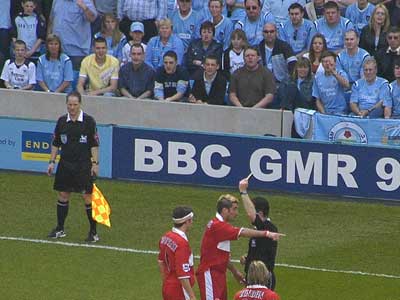 After 35 minutes once again Queudrue brought SWP down but this time Mr Styles would have nothing of his pleas of innocence and he got a yellow card.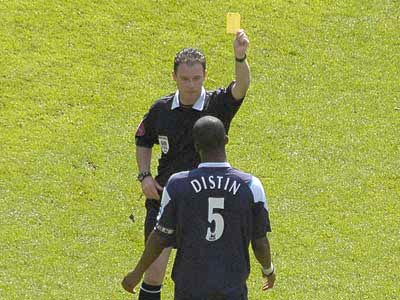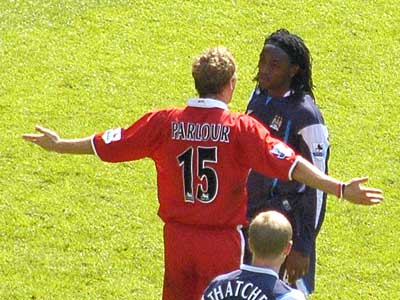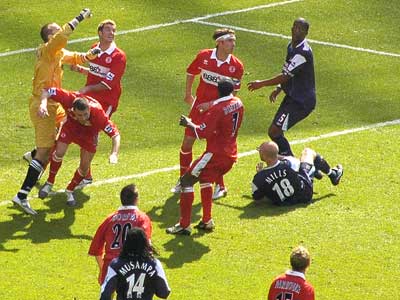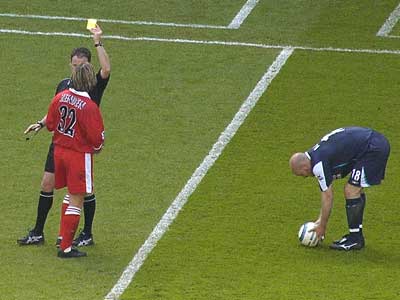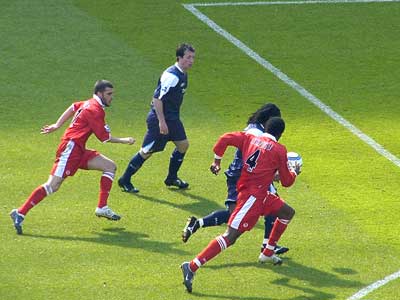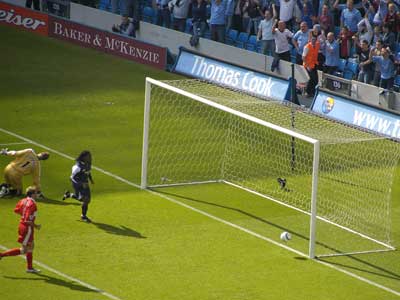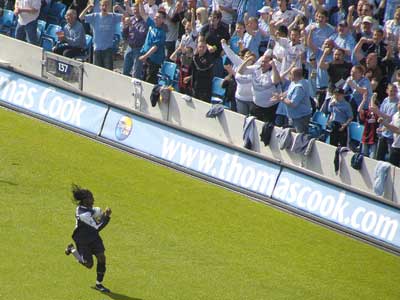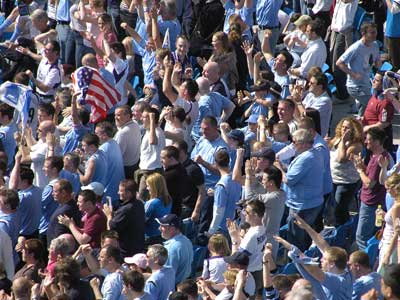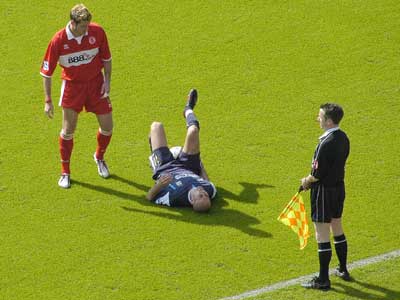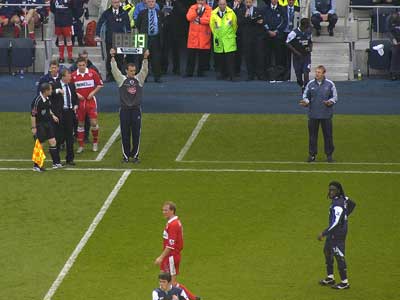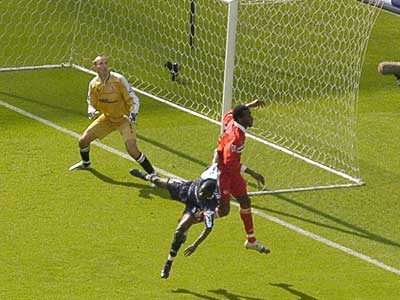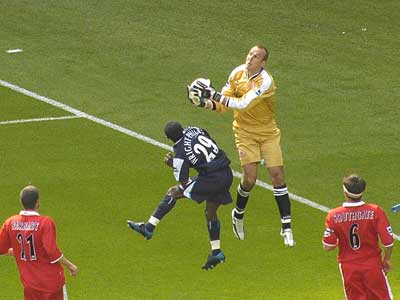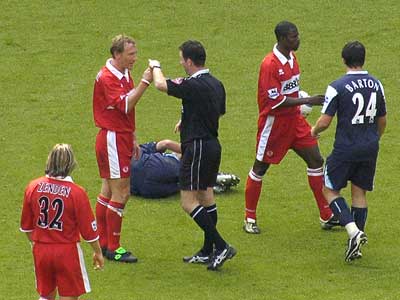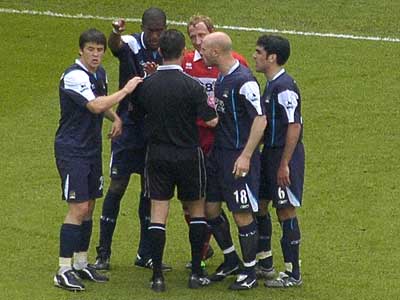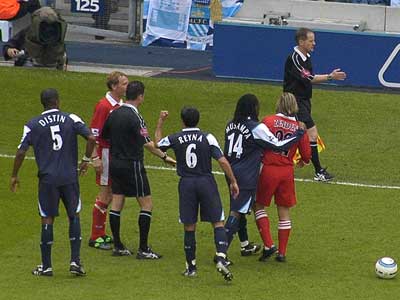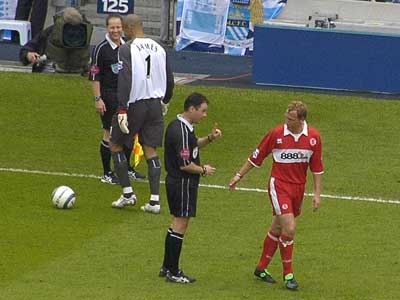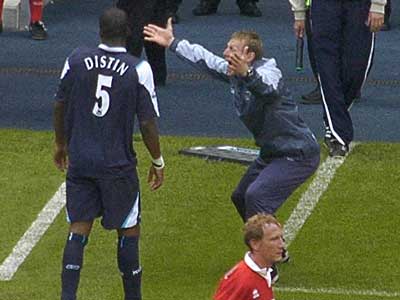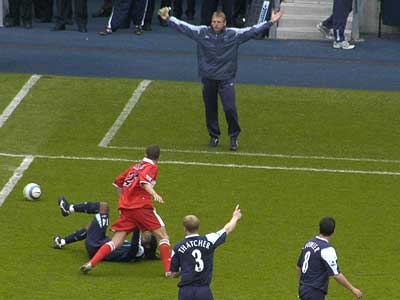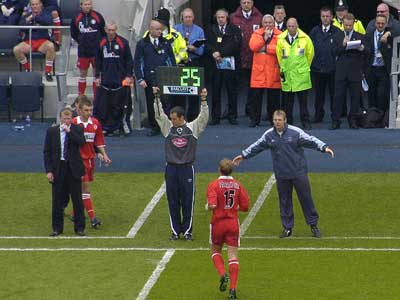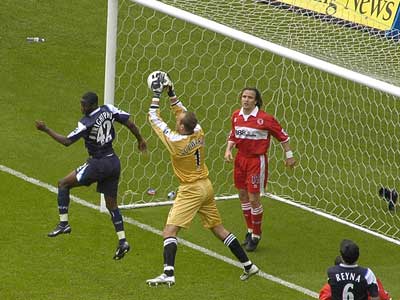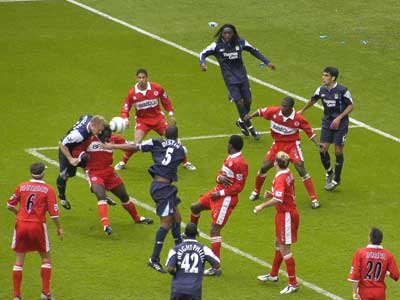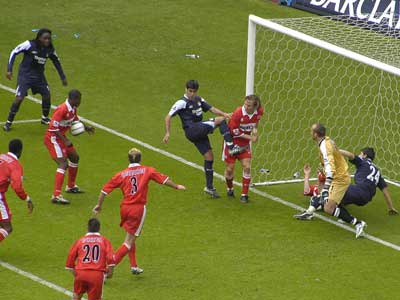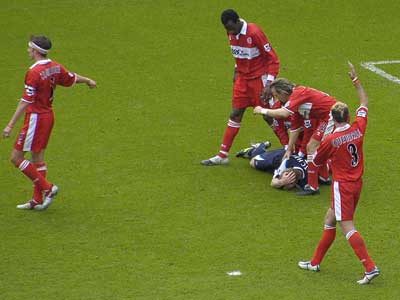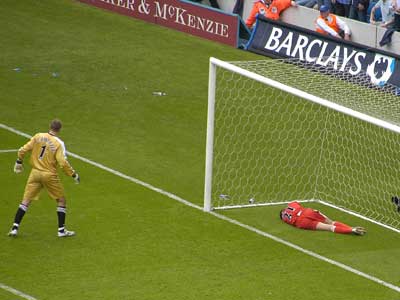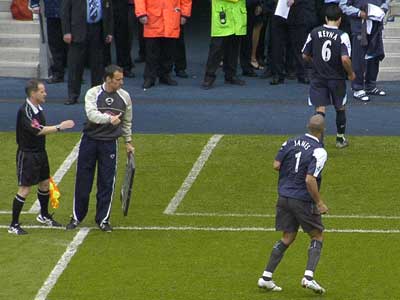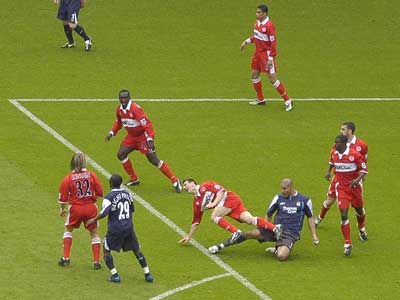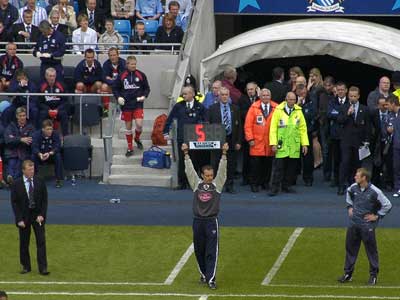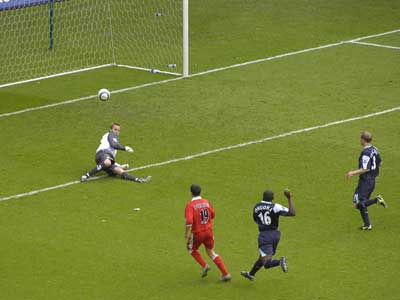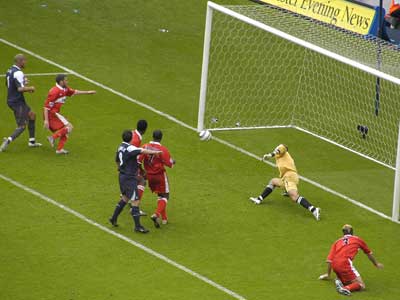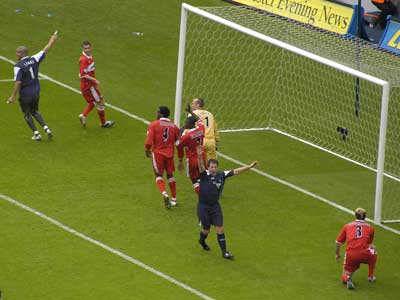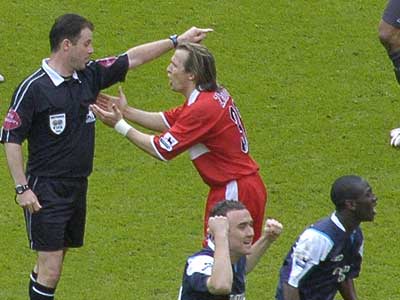 So all Robbie Fowler had to do was to score from the spot but note just as he is about to shoot-
a. Schwarzer has already moved off his line and b. Quedrue is a yard or so inside the box so a good referee would have ordered the kick to be retaken if a goal is not scored.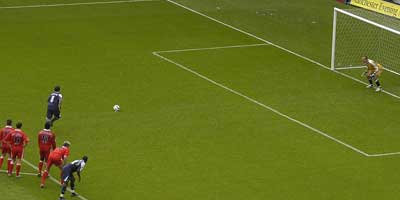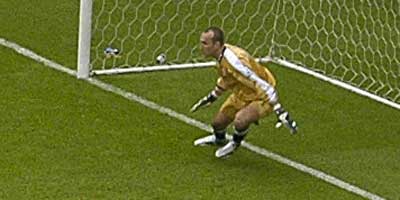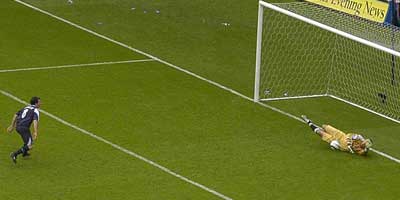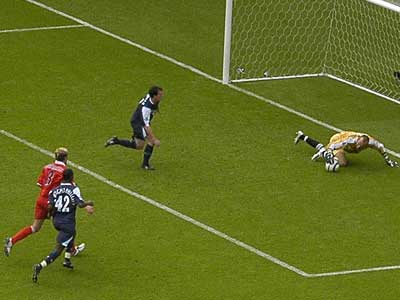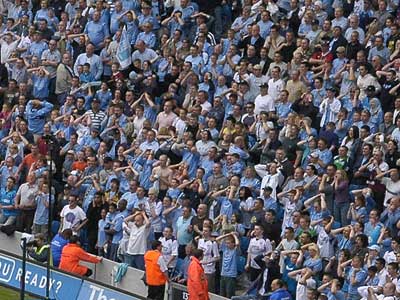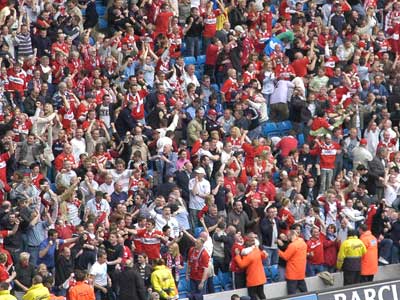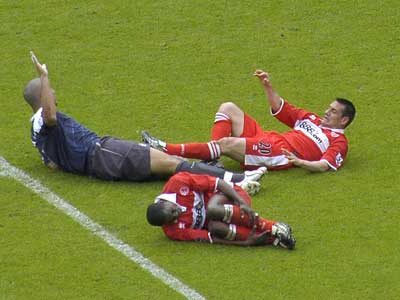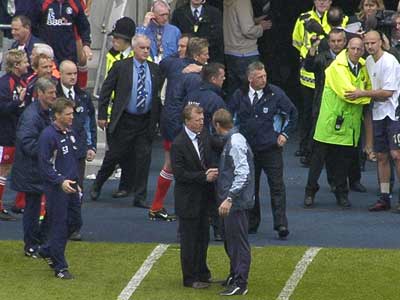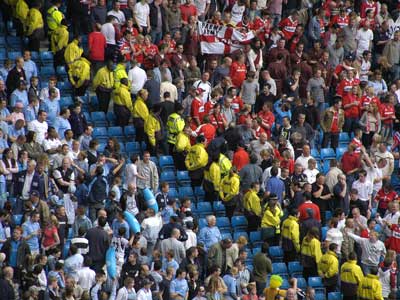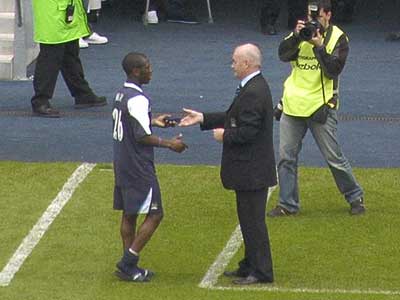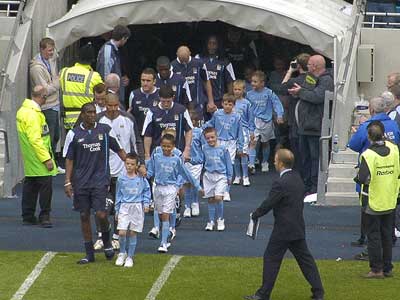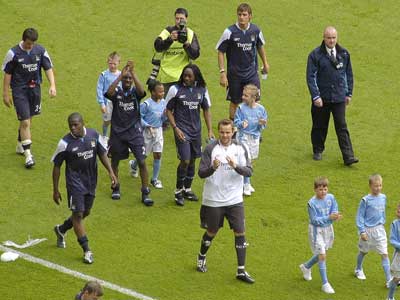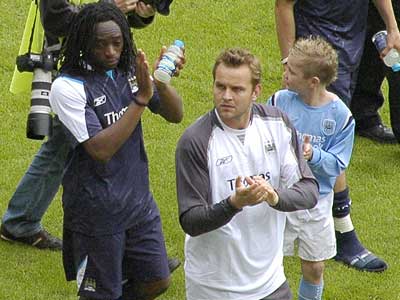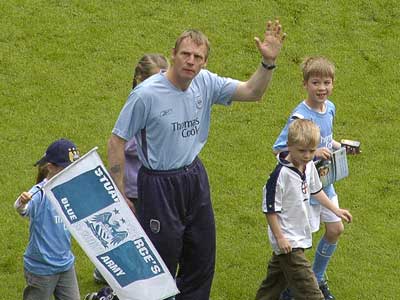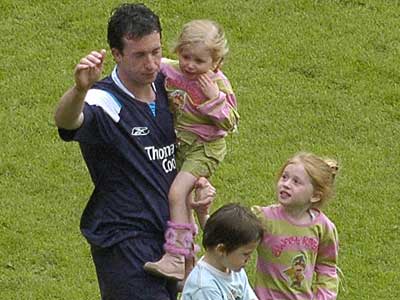 Team
James 7: Mills 6, Onuoha 8, Distin 8, Thatcher 7: Shaun Wright-Phillips 7, Reyna 7,Barton7 Musampa 8, Sibierski 6, Fowler 7 - subs Weaver 7, Bradley Wright-Phillips 6, Lee Croft 6
A minute later and City should have scored when Shaun Wright-Phillips breaks through gets a wall pass from Fowler and with only the keeper to beat.....
..
.....
sends the ball just wide of the far post. City were to rue that miss in a match of few chances.
Half way through the first half City conceded 2 free kicks well out side the area. The second foul conceded by Fowler was to have dire consequences.
After 42 minutes Distin joins the yellow card club. Rob Styles with well over a thousand yellow cards this season has had more bookings than our local travel agency!
A picture of innocence Ray Parlour pleads no foul. More later of this
Middlesbrough manage to clear another City corner.
Just on half time Zenden is the 4th player to be booked while Mills delicately places the ball
Taking a pass from Barton Kiki Musampa in the first minute of the second half bursts through he Borough defence
He slipped the ball through the legs of Schwarzer for his third goal for City .. and what an important goal it was.
1-1 with everything to play for the City faithful were ecstatic and the noise level grew again and do I see an American flag in the crowd. The chap obviously had a 'glazed' look on his face. Sorry!
After 53 minutes Sibierski pulls a muscle and has to be replaced by Bradley Wright-Phillips while Middlesbrough replace Nemeth with danger man Downing
Bradley Wright-Phillips was soon in action
Brother Shaun uses his height against Mark Schwarzer
Already booked Parlour floored Bradley Wright-Phillips by the touchline and he is very lucky to let off without being sent packing with a red card
While City players let the referee know what they think of the situation and keeper James tells the linesman a joke... or was the decision a joke.
While Parlour is let off with a ticking off City manager Stuart Pearce is not a happy bunny. Moments later Middlesbrough manager McLaren agrees and substitutes Parlour before more damage is done and Rob Styles loses his patience.
Stu Pearce appeals for the free kick
Centre forward David James in action - he needed a load of defenders to watch him but his tackling was not too good.
Five minutes extra time and the two managers prepare for the final duel.
James tries his hand at heading.
When Stewart Downing broke away substitute keeper Weaver saved with his legs.
Straight from Weavers save BWP linked with Barton and as the latter's cross swept across the box Quedrue handled
James and Fowler appeal for the penalty
Zenden pleads for mercy despite Rob Styles's finger pointing to the spot. Lee Croft is already hoping he can find his passport
This is the close-up of Schwarzer moving off the line just before the kick. He has also anticipated the direction of the kick
That slight advantage enabled the keeper to save
As the realization that all was lost the City supporters were in a state of shock. Talk about the ecstasy and the agony. But we're talking about City here .. and its all part of the rich tapestry of supporting City.
As poor Robbie Fowler at one end would have been devastated at the other Middlesbrough supporters could not believe their luck. With only seconds to go Middlesbrough with the 1-1 draw were in Europe
One last fling from David James and it was all over. The managers shook hands after a great match that was a credit to both sides. Chances were few and far between and the second half was one way traffic with the Middlesbrough defence managing to hold out.
The thin yellow line separating the Agony and the Ecstasy
Richard Dunne is presented with his award for Player-of -the Year
The Chairman John Wardle presents SWP with yet another award. It looks as though Shaun will be staying with us despite the interest from other clubs.
The team reappears to say a fond farewell to the season
The crowd gave the players a great reception despite the disappointment of the result.
A wave from new Manager Stu Pearce and part of his army
It was good to see Nicky Weaver back in action after his long absence through injury
Alone and away from the rest of the party -presumably waiting for his young family, Robbie Fowler says a sad good-bye to the fans. He will not be the first to miss an important penalty - a lot have gone before - his manager being one of them .
So that's it for another season. We can look forward with great optimism to next season with the makings of a solid squad playing as a team. Perhaps with the addition of a few new faces we can again go for Europe. Roll on the fixture list and you can be sure we will not be playing a PLC from Old Trafford. We may not have all the money of some clubs but this remains a good family orientated club and long may it reign. I just hope we never again turn out at home in an away kit for commercial reasons. That stupid decision on somebody's part will come back to haunt them. I will raise the issue at the next AGM.
With just two minutes of normal time to go Pearce made an amazing last ditch decision replacing Reyna with another keeper Weaver, David James moving upfront.
A body on the left and a body on the right - the siege of the Middlesbrough goal continued
Middlesbrough were near to conceding on several occasions and is that a hand ball -above right- when the ball was cleared off the line.