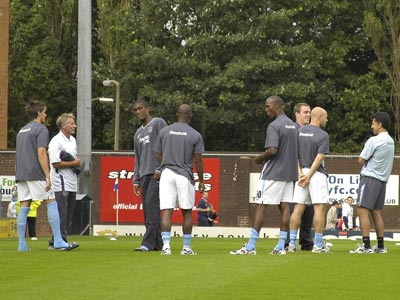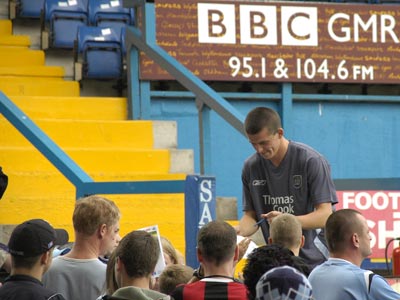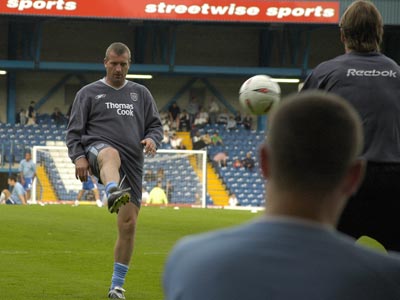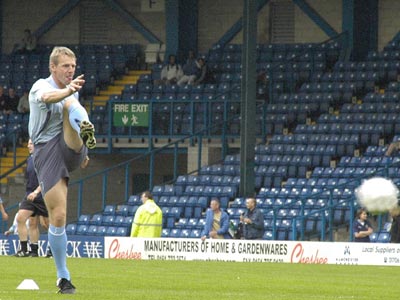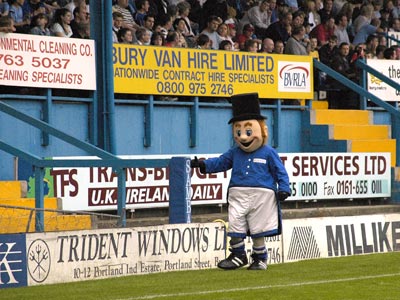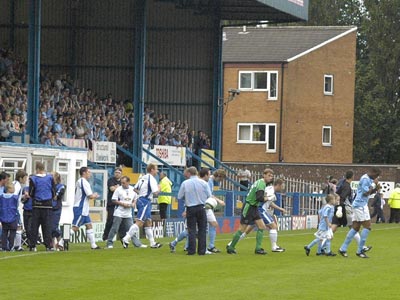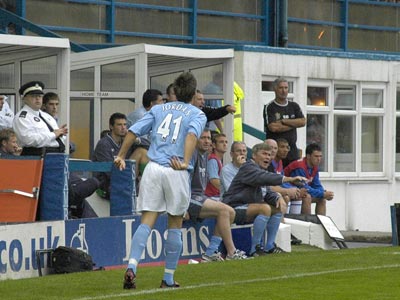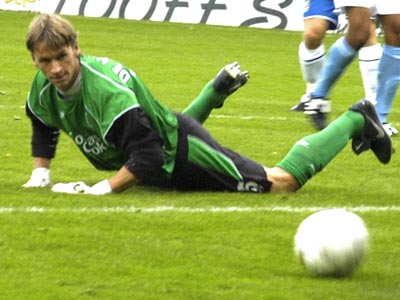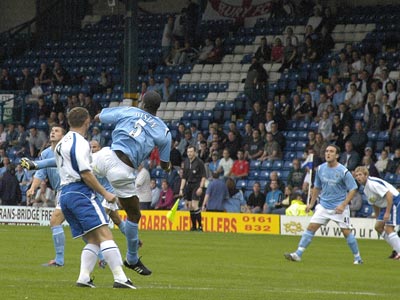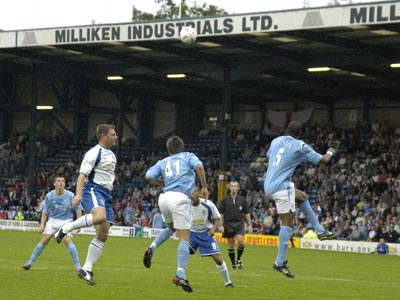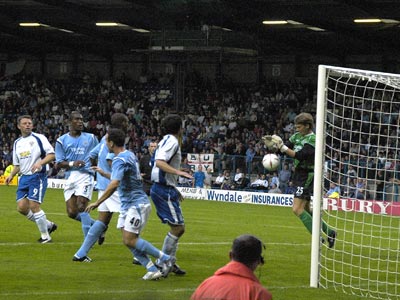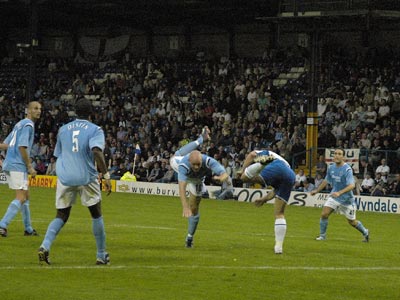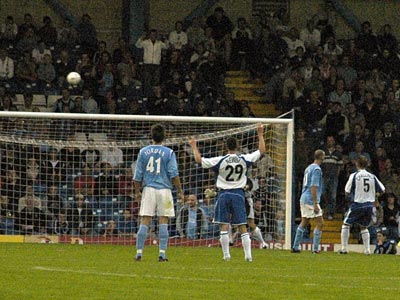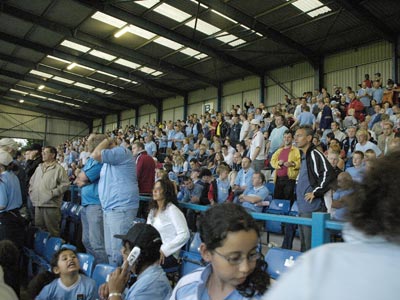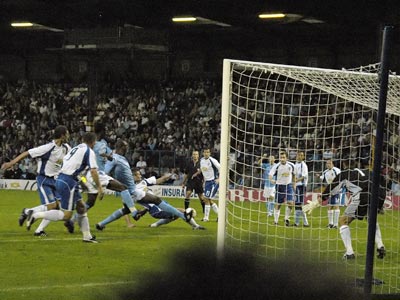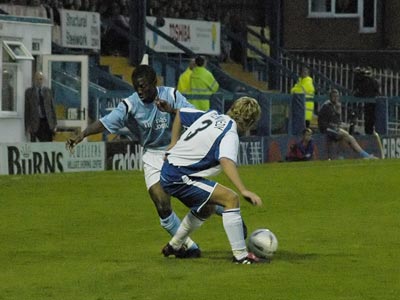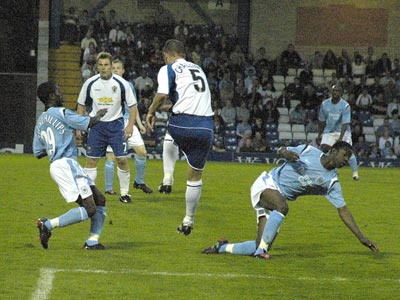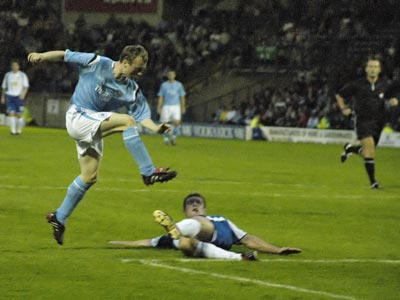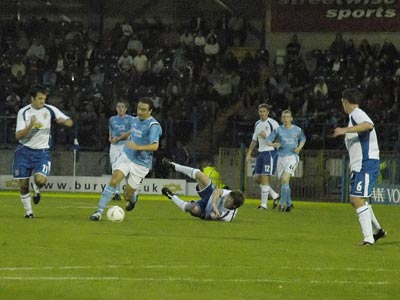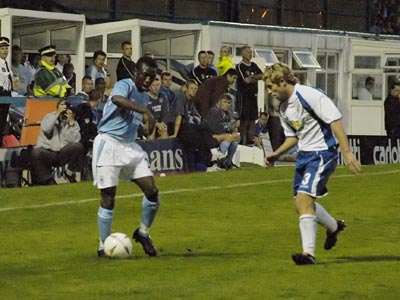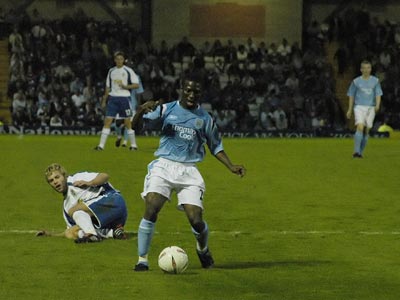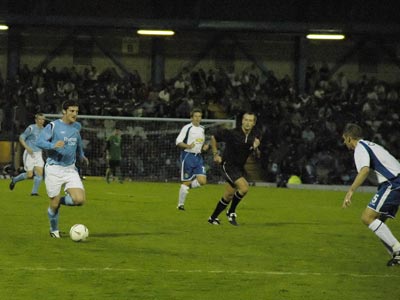 Bury v City 0-0 pre-season friendly
July 21st att 7,412
The kick-off to this pre-season friendly was delayed 15 minutes to allow the large number of City supporters who came to boost the finances of the Bury club and take an early look at the new signings. It was disappointing that both Thatcher and Annelka were absent through injury but we were able to see a total of 22 players in all as City played two complete teams. New signings Danny Mills and Geert De Vlieger made first half debuts.
The City players take a look around their surroundings before the warm-up.
It was good to see Joey Barton use some of his pre-match time to sign autographs for supporters
New goalkeeper coach Tim Flowers tests the new City keeper.
Coach Stuart Pearce also puts Vlieger through his paces as he blasts in a special.
There was no sign of Moonchester - I expect he was away on holiday on some distant planet - but we did have a visit from the Mad Hatter! I hope the children were not too frightened.
It was about 8-00pm when the teams emerged from the tunnel and we all looked forward to goals galore! Some hope!
An early Bury attack is repulsed by a header by Distin
In the absence of Thatcher young Jordan played at left back and took his chance well . He did not look out of place.
After about ten minutes Bury had a half chance but the scuffed shot went just wide with Vlieger having it covered.
Distin again heading clear
Apart from fielding the odd high ball the new keeper did not have much to do but he did drop the ball once to give us a nervous twitch. Hope he now has that out of his system!
Danny Mills and a Bury player doing some sort of unusual ballet steps. The other players are about to give them marks out of ten
.
One of City's best chances at the other end was just before half time but Fowler shot over from close range
.
At half time City made ten changes only Croft staying on for the second half. It had been a dull first half with neither keeper having a to make a difficult save.
The second half started at a much better tempo with the new players putting in plenty of effort.
Shawn Wright-Phillips brought some zest to the game and his runs down the right caused all sort of problems to the Bury defence.
We had the unusual sight of both Wright-Phillips brothers in action together. Bradley on the right tried hard but I don't think he is upto his brothers standard yet.
Before he was substituted in the 77th minute Lee Croft was a bundle of energy and I am sure his efforts did not go unnoticed
Macken too was eager to please and he made several good runs and actually scored but his effort was disallowed for offside.
Man of the match was Shawn Wright-Phillips who gave Kennedy a hard time down the right. If he keeps up this form he will be giving Premiership fullbacks a hard time this season.
Another chance for City with Willie Flood's effort being saved by the keeper.
It was unusual to see so many City supporters leaving with ten minutes or so to go but with so many parents bringing their nippers to the game I suppose it was well past their bed time. It all ended 0-0 with hardly a tackle during the game but I expect it made a change from attack versus defence at Carrington! It was interesting to see some of the players on the edge of the first team. Next stop for is Lazio in a few weeks. By then we should know the possible first team selection. How will Mills get on with SWP? Who will partner Anelka? Who is going to do the feeding from midfield?

Teams
1st Half
Vlieger: Mills, Bishoff, Distin, Jordan: Croft, Barton, Sibierski, McManaman, Wanchope, Fowler.:
2nd Half
Ellegard: Onuoha, Sommeil, Dunne, Collins: Shawn Wright-Phillips, Flood, Negouai, Croft (Ireland): Bradley Wright-Phillips, Macken.