Manchester City 2 Newcastle U 1 January 28th 2009
Premier League att 42,280
City made hard work of this win against a poor Newcastle United side. After a rather one sided first half in which City played some good football Newcastle had more of the play in the second period and their late goal caused some concern for home supporters. The debuts of new signings Craig Bellamy and Nigel de Jong went really well. Bellamy as expected was a live wire up front all game and took his goal with great aplomb. With Given not playing for Newcastle it looks like he will be the next signing. Robinhogate loomed once again and despite the latest issue our record signing made the first goal and kept Barton busy most of the game. Once again Zabaleta played in midfield and looks quite at home while Kompany was give the skippers armband in the absence of the suspended Dunne and once again played well at the centre of defence with the exception of one bad pass back. SWP scored his 6th goal of the season and took some punishment from defenders but managed to almost last the game - hope he's fit for Stoke. Onuoha did well in place of Dunne and I hope we keep this unassuming gifted defender. Ireland was a bit out of touch and tried too many back heels and needs to get on the same wavelength as Bellamy who makes runs early. However all things considered a promising performance. At least we are back in the top half of the table while long term injuries to Owen and Barton may hasten Newcastle United's arrival to the bottom three.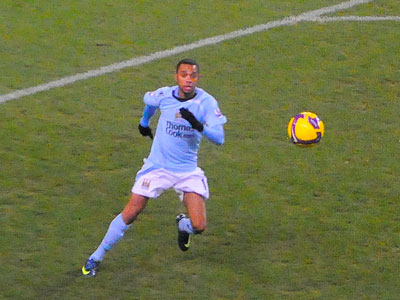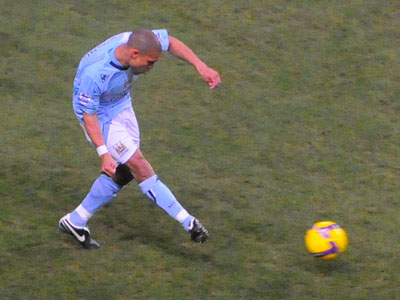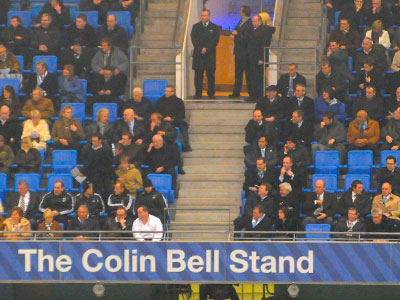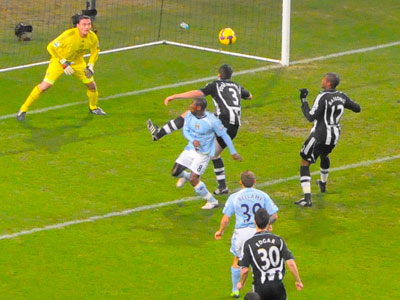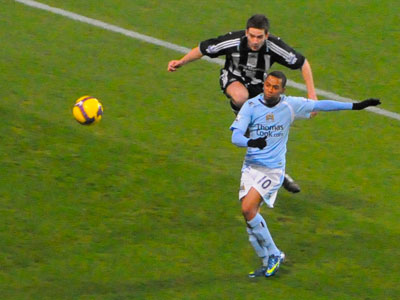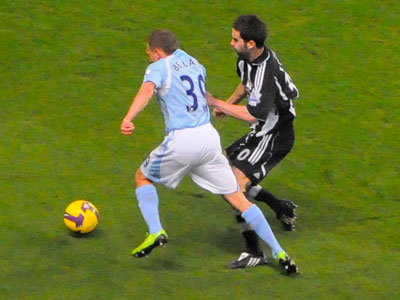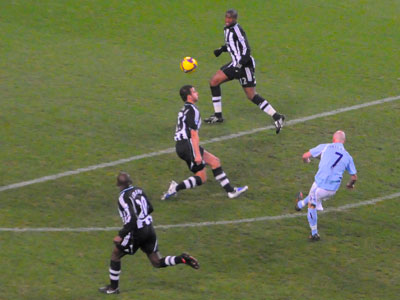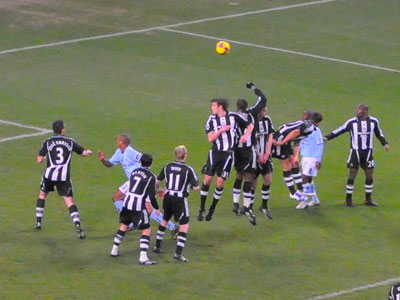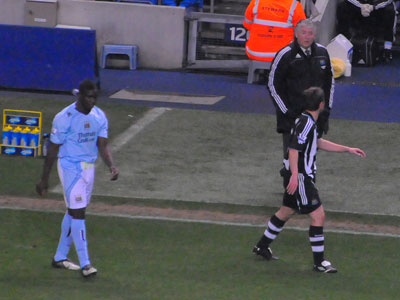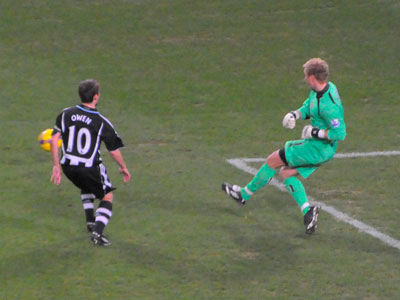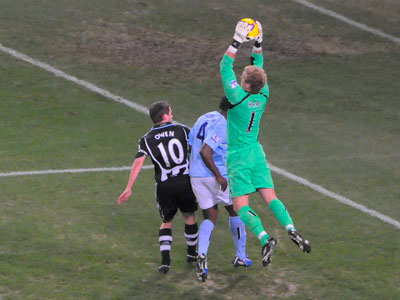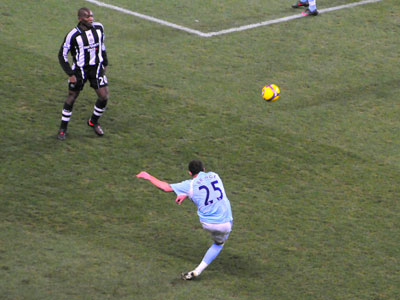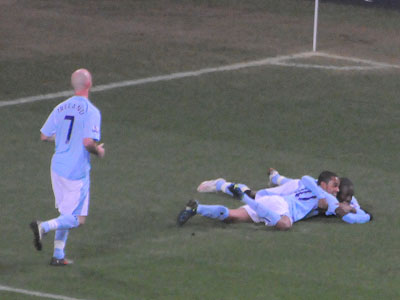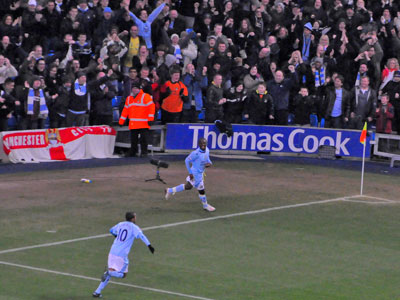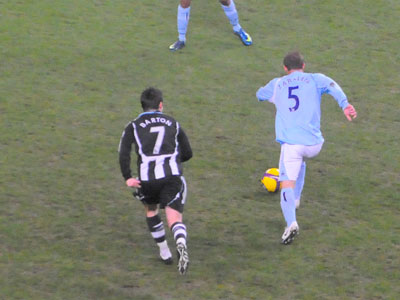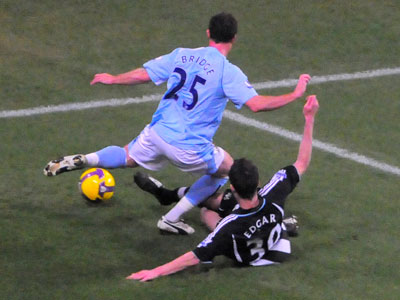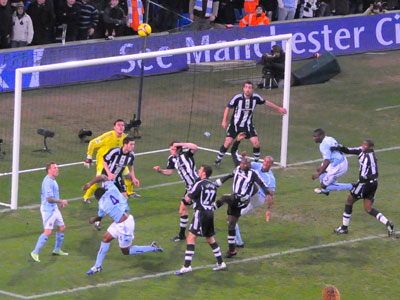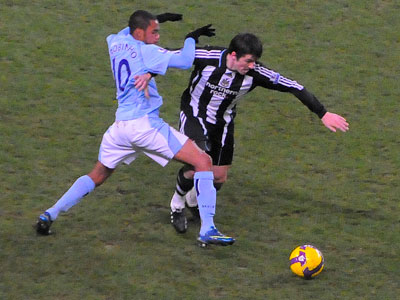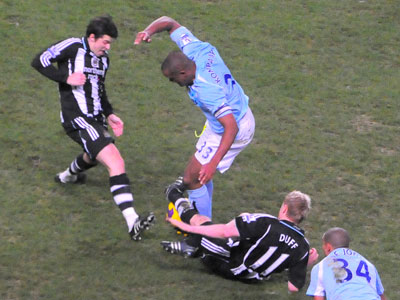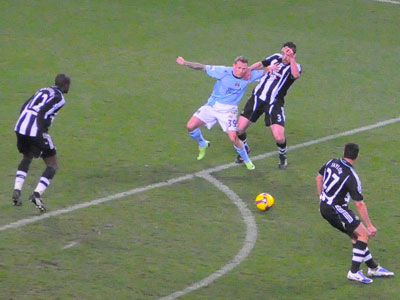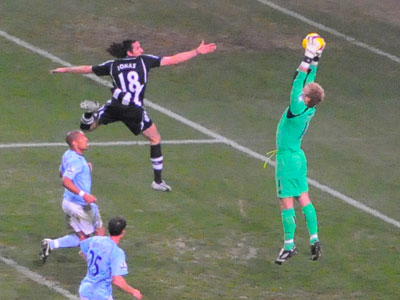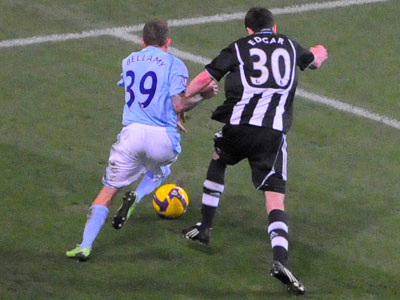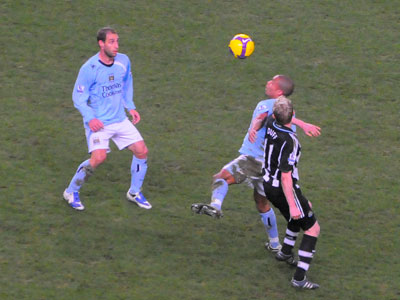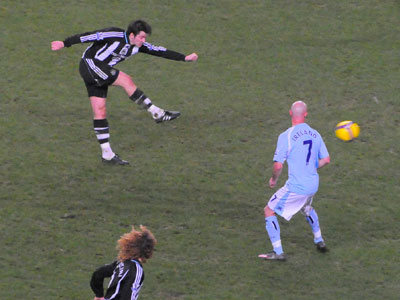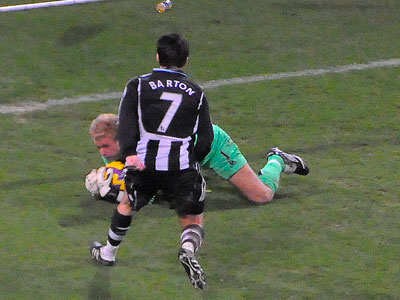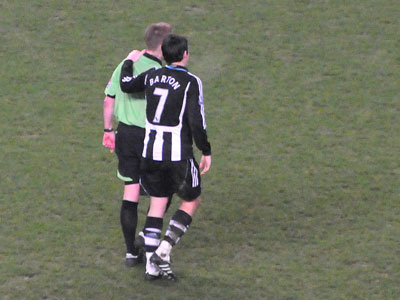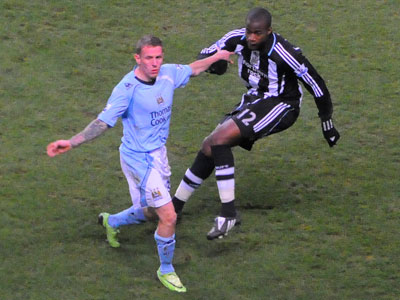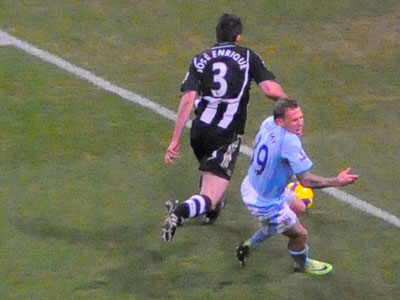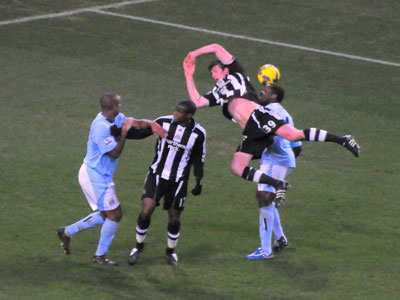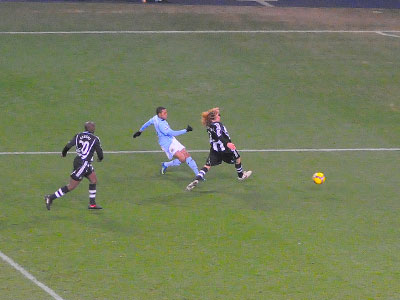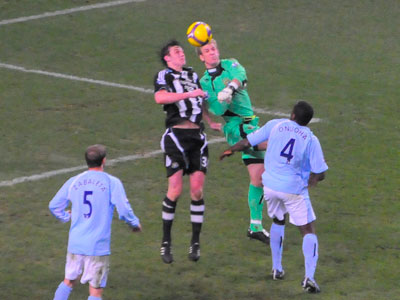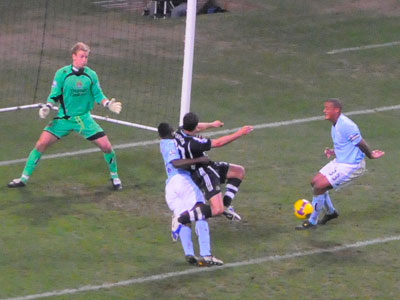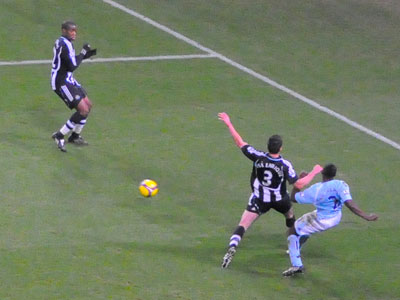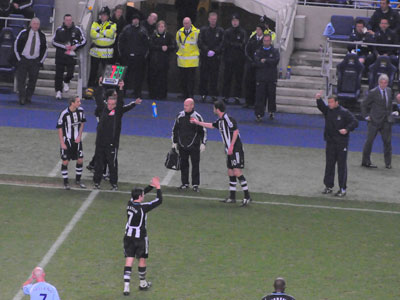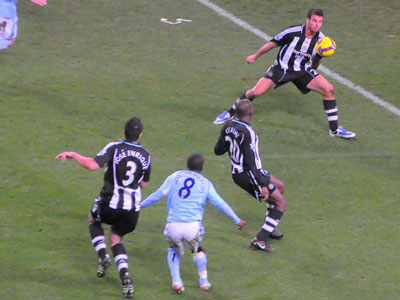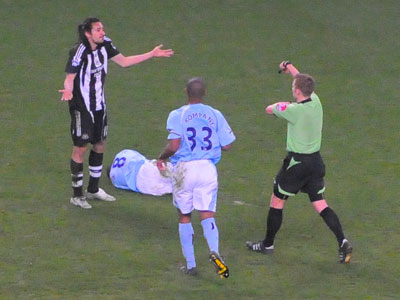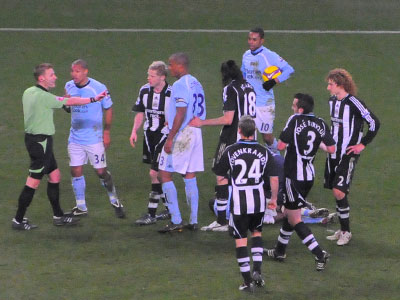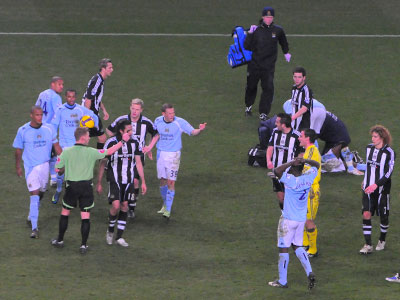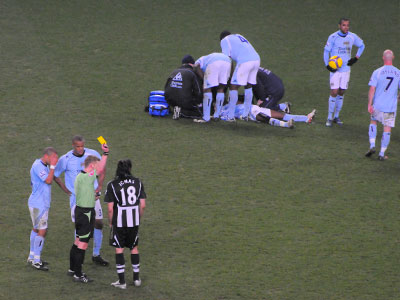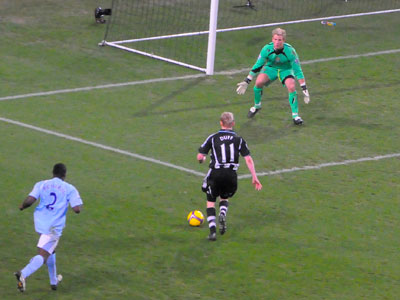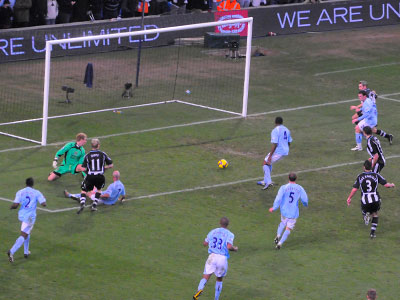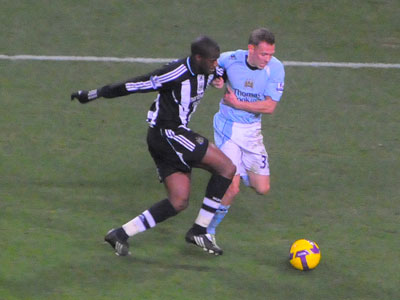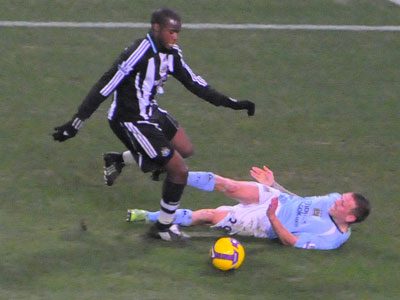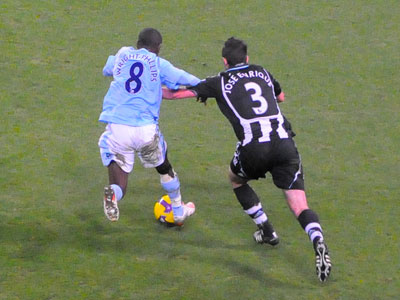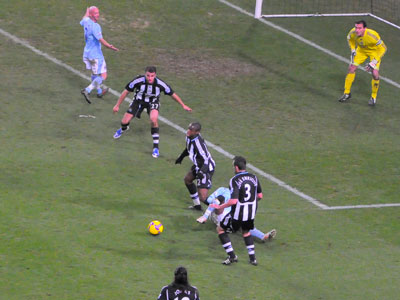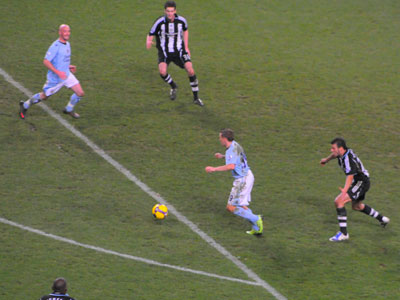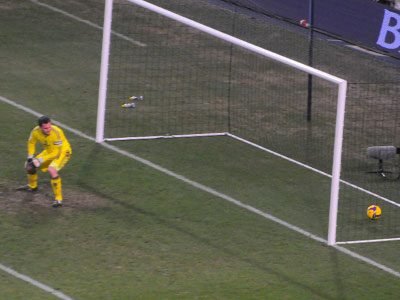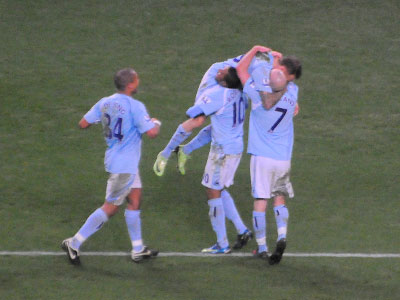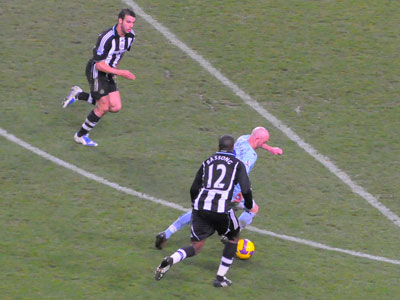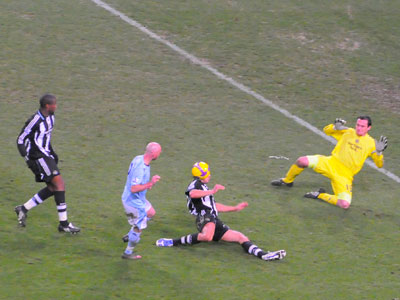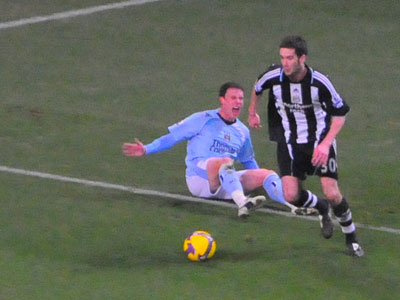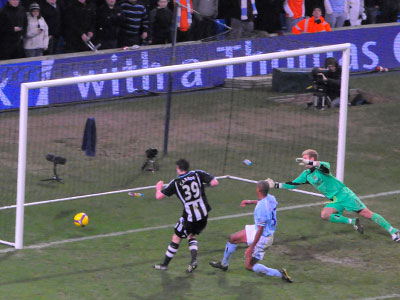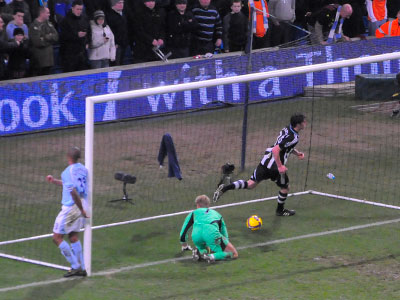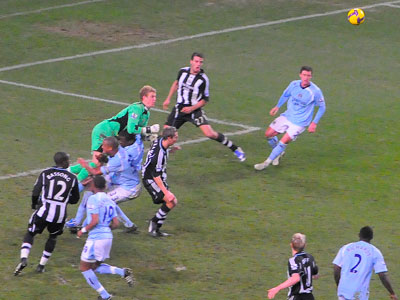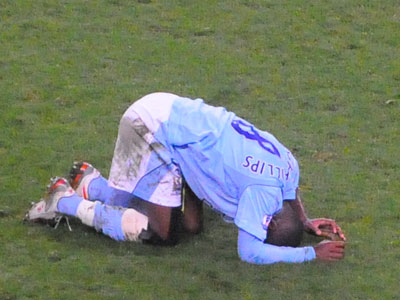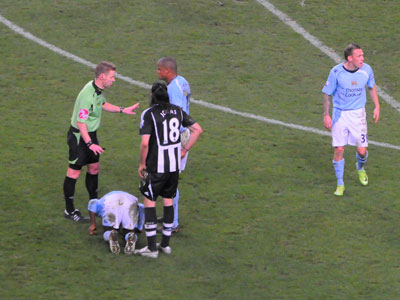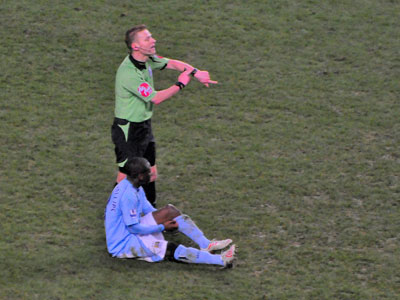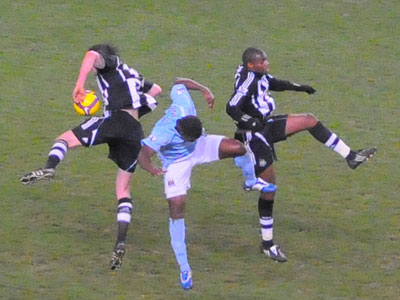 Bellamy and de Jong made their debuts while Kompany led the side out. Ireland returned for his first game of the year
There were a few gaps in the visiting supporters section and only a few bare chests! Are the Geordie faithful becoming disillusioned ?
Despite his recent problems Robinho was in action early and showed plenty of confidence
Making his debut de Jong showed some nice touches and will get better as he regains full fitness
Newcastle Chairman Mike Ashley was easy to spot with his white shirt . Everybody else were well wrapped up!
SWP uses his height in the tussle with Enrique!
Robinho puts on the style
Craig Bellamy zips past a defender
An Ireland shot was easily saved by Harper.
Robinho goes down fouled by Bassong
Robinho's free kick goes over the wall and the bar!
Joe Kinnear gets the info about Owens injury
A bad back pass by Kompany put Hart into trouble but he manages to clear
Is this our last look at Michael Owen as Hart catches a cross ?
After 18 minutes City scored. A cross from Wayne Bridge found Robinho who put the ball behind the defender for SWP to run onto and shoot under the legs of Harper from a narrow angle.
It was a simple but well taken goal and well deserved as City had dominated the game with some nice inter passing.
A Wayne Bridge run is ended with a last ditch tackle by Edgar
The visitors defend a City corner
Barton gets the better of Robinho for once. The ex city player was booed every time he touched the ball
There's a Duff in there somewhere!
Good job that boot was not off the floor Joey !
Bellamy's work rate was phenomenal and showed up some of our past strikers
Hart stretches to catch a cross to foil Gutierrez - on for Owen
Yet another dash by Bellamy to cause problems for the Toon
de Jong gets the better of Duff
A Barton shot goes well wide
Barton gets a bit too close to Hart when he makes a save
A Barton response after a word of warning by referee Jones who was using a lot of common sense - that's a change !
Bellamy fends off Bassong
Bellamy appeals to the linesman after a battle with Enrique
Carroll attempts a leap into space!
A Robinho run and shot goes near
Newcastle had a shout for a penalty when Richards and Taylor clashed
Shortly afterwards Richards was down the other end attempting to cross into the box
After 60 minutes the injured Barton left the field applauding the booing City supporters!
An effort by SWP is blocked by a defender
The referee reaches for his card as Gutierrez protests his innocence on clattering SWP . The City players make a point.........
....... then Bellamy makes his point to the opposition and eventually the yellow card is produced. Many referees would have given a red one!
After 68 minutes City had an escape when Duff found himself in a 1 to 1 with Joe Hart. Instead of shooting he passed across goal and Bridge was able to clear a dangerous situation
At the other end a run by Bellamy ends with a possible penalty shout against Bassong but the referee let play continue
An individual run by SWP ended with another penalty shout but at least the referee was being consistent!
in the 77th minute Zabaleta made a run down the right flank -passed to Bellamy who brilliantly turned Taylor ......
......and shot past a bemused Harper to give City a two goal lead . This is Bellamy's 7th club ( if you exclude his loan to Celtic) and if he can keep up his work rate he will soon become a City favorite
An Ireland effort is blocked as he tried to increase the City lead
With ten minutes to go disaster struck (that's new for City!) . Bridge made an error on the left being dispossessed by Edgar when he should have cleared. The cross by Edgar was easy meat for Carroll to score easily.
Now only a goal ahead and a difficult ten minutes for City
Hart has to punch clear under pressure
Shaun you're facing the wrong way! ......Yet another foul on SWP but no yellow card this time
Now come on lads hurry up ! The caretaker will be here to lock-up at 10!
Leading contenders for the SDDC ( Soccer Disco Dancing Competition) !
Team
Hart 6.5: Richards 6.5, Kompany 7.5, Onuoha 7, Bridge 6.5: Wright-Phillips 7.5 (Caicedo 6) , Zabaleta 8 (Fernandes 6) de Jong 7 ( Elano 6,5) Ireland 6.5 , Robinho 7, Bellamy 8