Manchester City 1 Wigan 0 January 17th 2009
Premier League att 41,262
We knew this was going to be a tough game and it was made even more difficult with the sending off of Richard Dunne ( his second red card this season) . Dunne has now passed Vinny Jones, Cantona and Keane and joined Ferguson and Viera at the top of the list of Premiership red cards.
This was a game of two halves - where have I heard that before! - City played some nice stuff in the first 45 minutes and with luck could have been two up as Robinho missed two chances. Hart had little to do and we were in general control for the most of the half. After scoring early in the second period Dunne departed and then it was a backs to the wall display which showed lots of spirit. Zabaleta played really well in midfield and was man-of-the-match for me. Elano too showed more fight and some of his passing was terrific. Wigan missed one golden opportunity to score but the restructured City defence with Bridges at left back and Onuoha at centre back held out. It was first time we had beaten Wigan in the Premiership.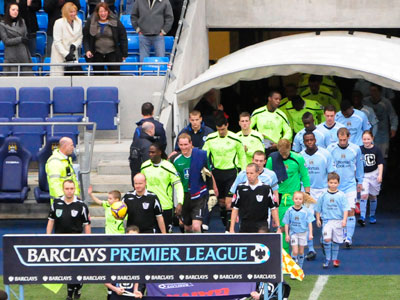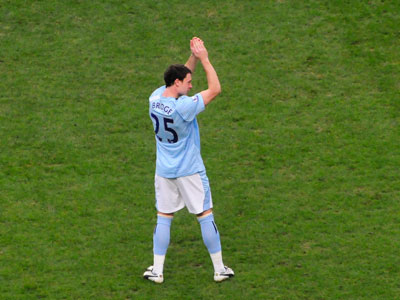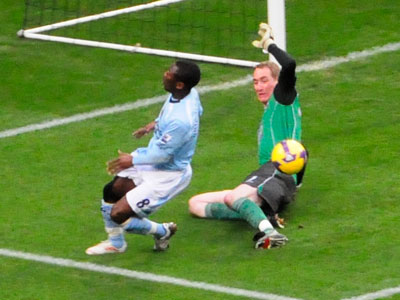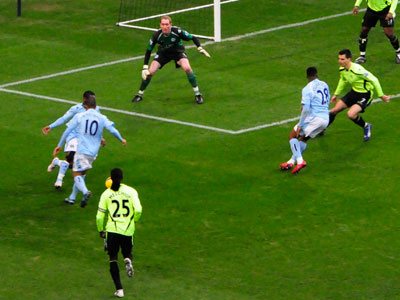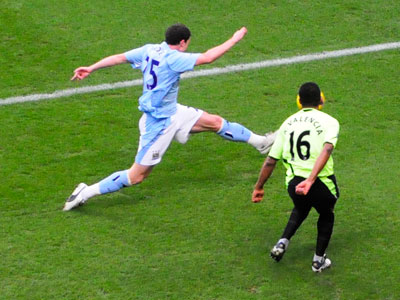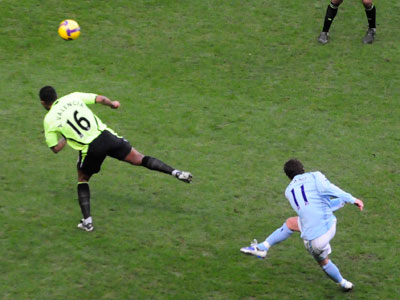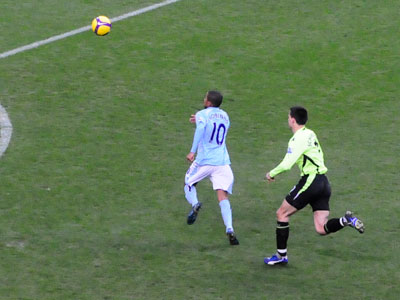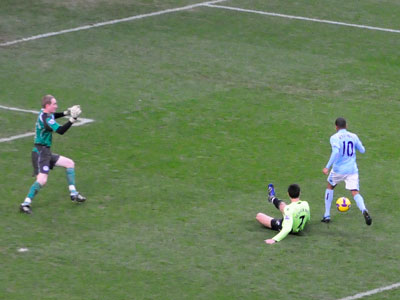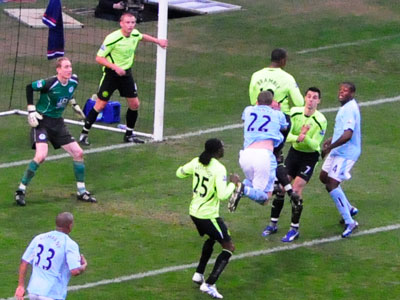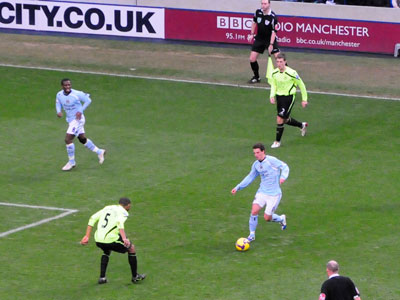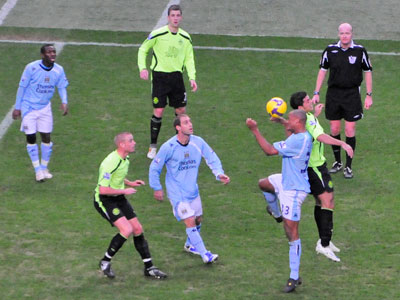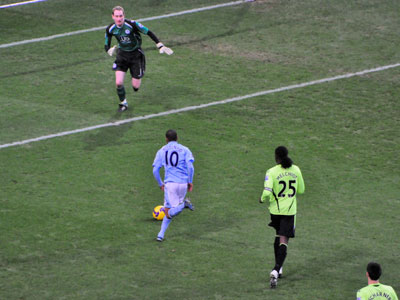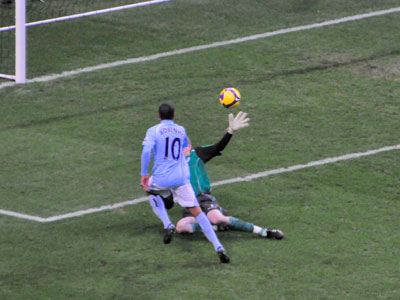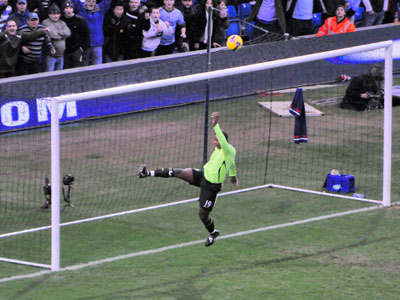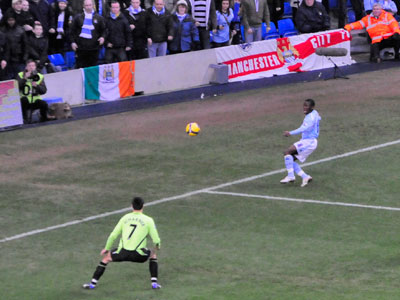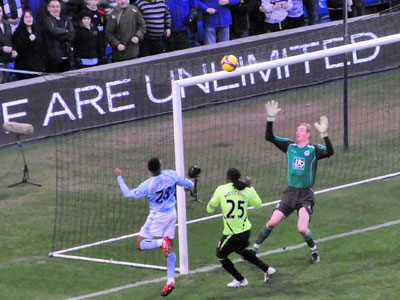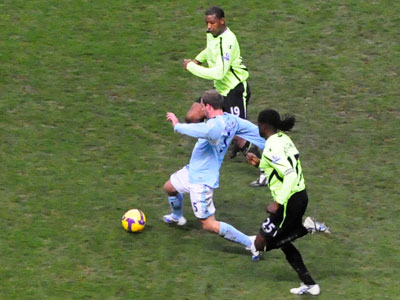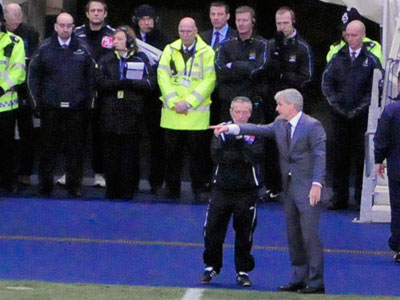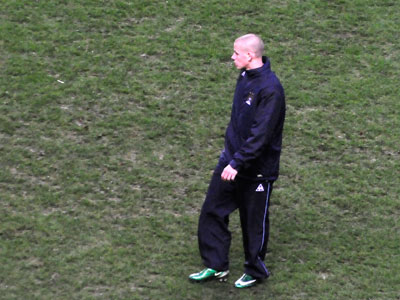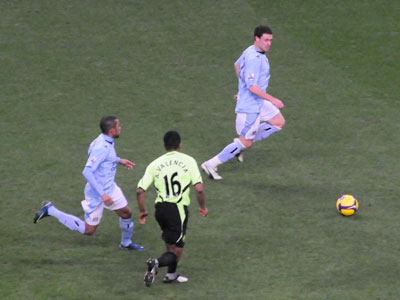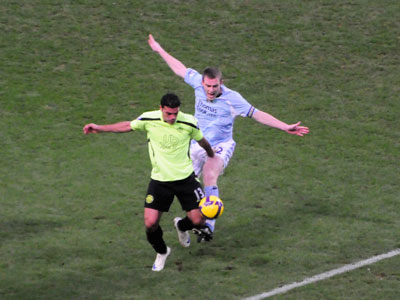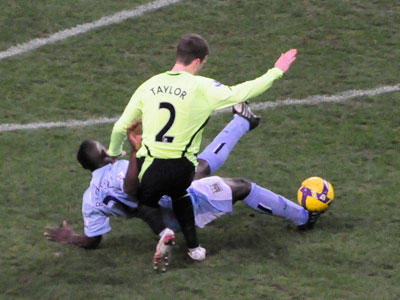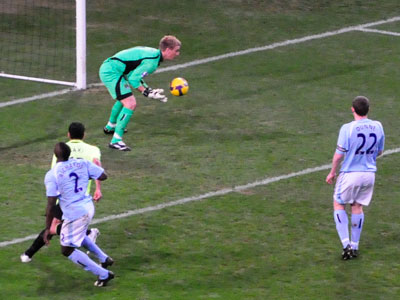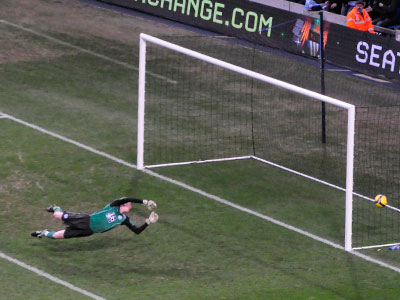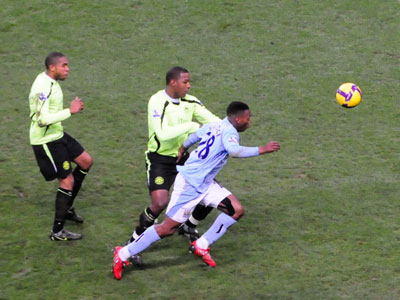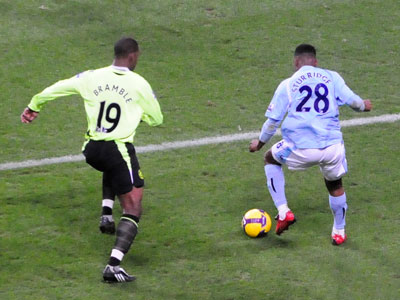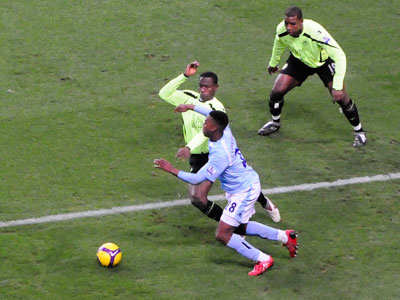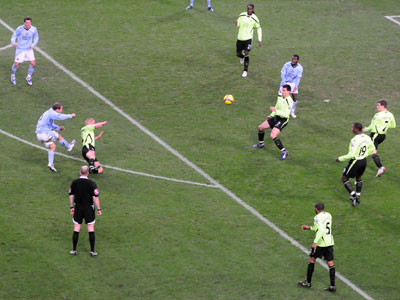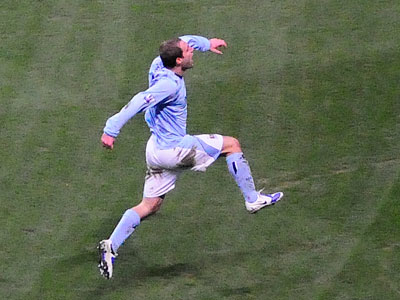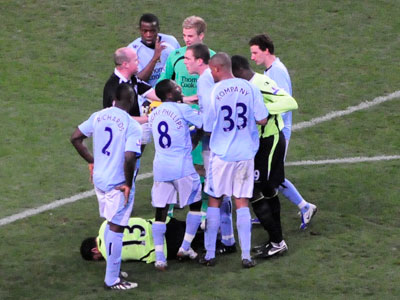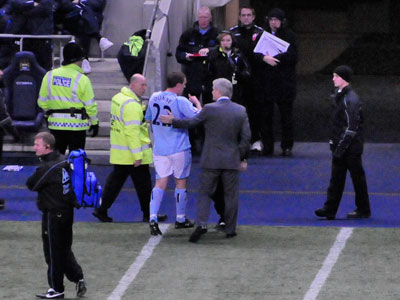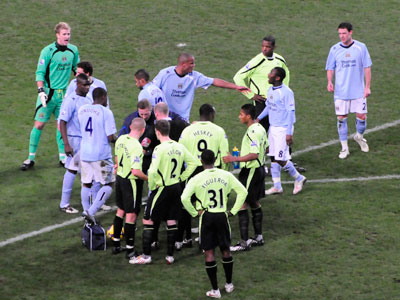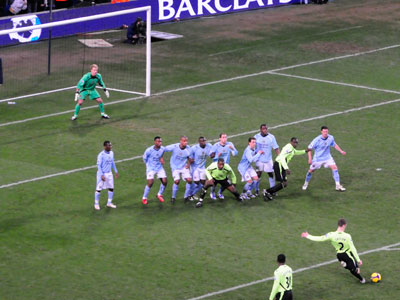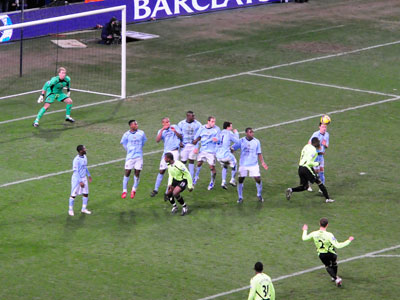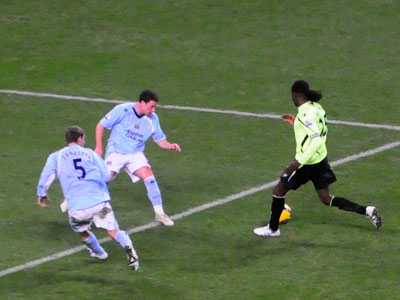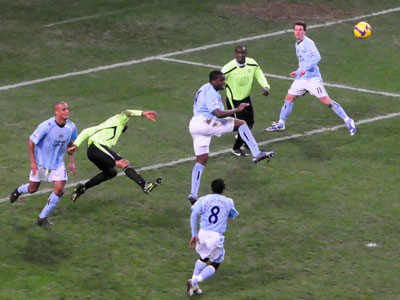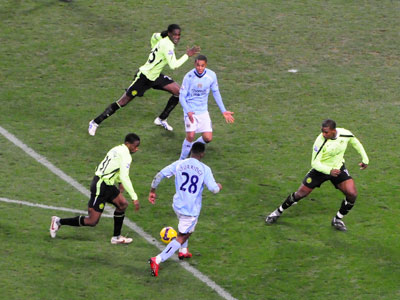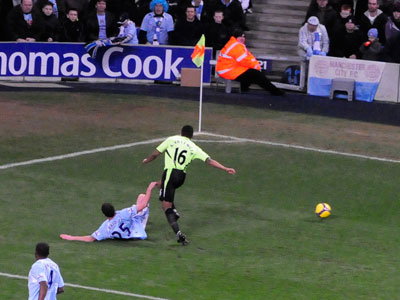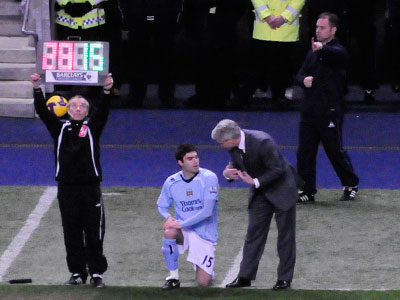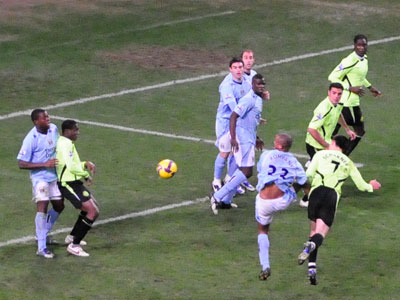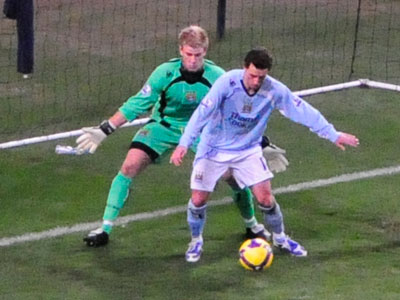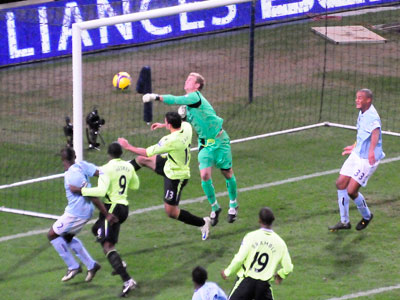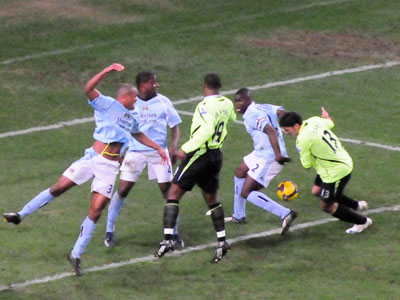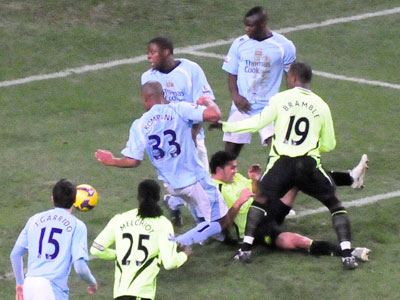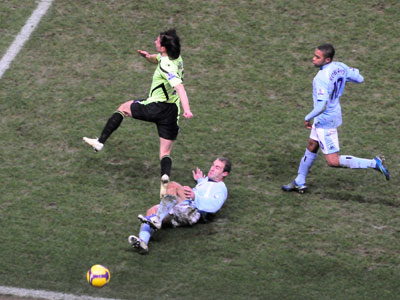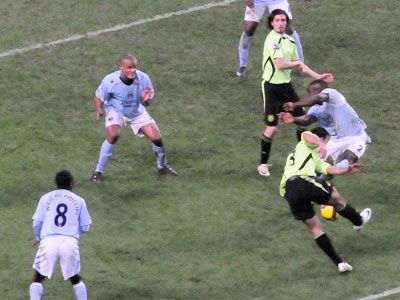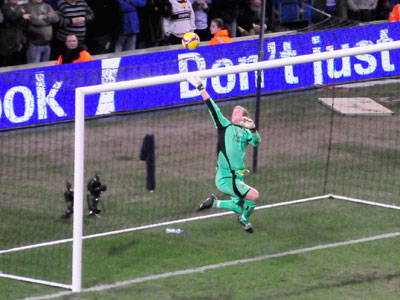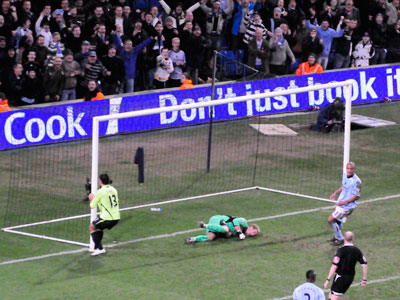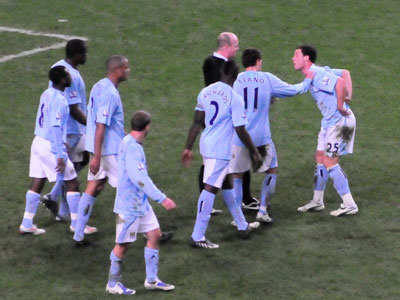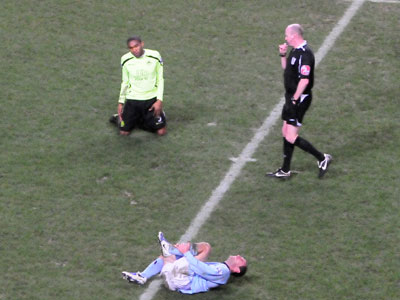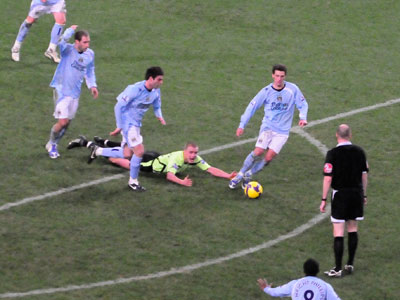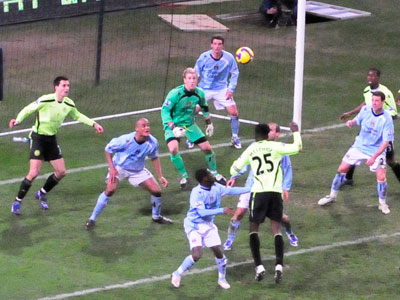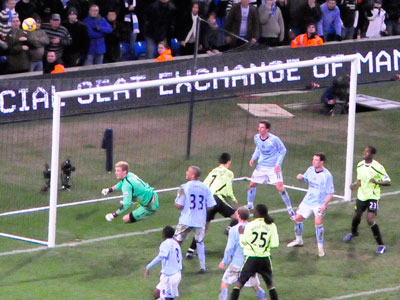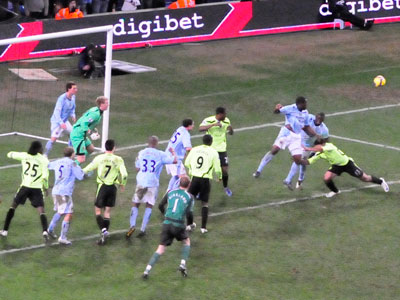 Great to see young Vladimir Weiss on the subs bench for the first time. A future star from the Academy.
His father played for Czechoslovakia and Slovakia and is now coach for Slovakia
Wayne Bridge made his debut and fitted in really well.
With Ireland suspended Zabaleta moved to midfield with Onuoha partnering Dunne in the centre of defence Richards moving to right back
SWP almost scored in the second minute just failing to beat Kirkland
Moments later a mix-up between Robinho and Elano almost gave City another chance
Wayne Bridge was soon to show his skills in attack and defence
After 5 minutes Elano has a shot from distance but did not trouble the Wigan keeper
After 11 minutes Elano put Robinho away and........
......had a good chance to score but put his shot just wide.
City continued to pressure Wigan without a positive result
Elano looked to be in good form causing problems for the Wigan defence
Kompany and Zabaleta were forming a good defensive midfield.
After 22 minutes Elano got a through ball to Elano who in a one-to -one with Kirkland chipped the ball over the keeper and we all thought it was a goal but............
..... out of nowhere came Titus Bramble to clear off the line!
A minute later SWP put in a great cross........
.
......but Daniel Sturridge just failed to keep the header down - more cereal needed Danny!
Zabaleta was really playing well in his midfield role obviously celebrating his 24th birthday yesterday
Mark Hughes points out to Mr Mathieson the divots on the pitch!
Steve Bruce and Mr Mathieson discuss the aircraft landing on the river in New York!
Robinho and Bridge link up on the left flank to stat the second half.
Dunne shows some frustration in his clash with Zaki
Richards who was in improved form at right back tackles Taylor
Joe Hart about to catch a cross
8 minutes after the break Robinho fed Sturridge on the right......
....... he held up the ball well - darted right and then left ....before feeding Zabaleta via a defensive header....
....... who crashed the ball past Kirkland to give City the lead.
What a birthday present! You could also see that his team mates were very pleased for him.
So much for the so-called poor team spirit
A minutes later and City where down to ten men when Dunne was sent off for an offence - apparently retaliation.
After all the talk it was time to reorganize and Kompany moved to central defence
The resultant fee-kick for Wigan (though it looked like Dunne had been fouled by Zaki) taken by Taylor sailed over the bar
Onuoha playing his 50th game for City heads clear.
He had a good game
Robinho pleads for the ball from Sturridge.
Good late tackle by Bridge on Valencia
Hughes gives last minute instructions to Garrido coming on for Sturridge after 60 minutes
Kompany and Scharner battle it out
Elano stuns a difficult spinning ball and clears.
City have to really battle to clear the ball in a packed area
Yet another Zabaleta tackle
City block another Wigan attack
A huge miss by Zaki after the ball hits the bar . He heads over from close range. Miss of the season?
Has Bridge got a bad back or is he making a point!
Oh I think there's another yellow card coming here!
Cattermole appeals for a penalty. The ref is quite near but that today didn't mean anything!
More defending needed by City
As the end drew near Joe Hart had to make a good save and then City had to defend several corners -even Kirkland coming up for the last one
Team
Hart 7.5: Richards 7.5, Dunne 6, Onuoha 7.5, Bridge 7: Kompany 7.5, Zabaleta 8.5, Elano 8 , Wright-Phllips 7, Robinho 7 , Sturridge 7.5 ( Garrido 7)