January 2009
Manchester City 0 Notts Forest 3 January 3rd 2009
FA CUP Round 3 att 31,869
Well at least today I can say I scored a hat-trick -witnessing the three worst City efforts at home against lower league teams in the cup (details of the other two below). I suppose to be knocked out by Tyson is not a disgrace but by a 26 year old ex Wycombe player with the same name - well really !
This was not a good day - even the chips were luke warm ! The absence of Robinho ( some said he just didn't want to play!) Ireland and then the early departure of SWP gave great concern. There are too many players who are off the boil and conspiracy theories are rife. Consistency does not exist. The roller coaster that is City has gone much more volatile of late. When we are bad we are really terrible. When we are good we are very good. Don't understand some of the substitutions today. Why bring on Jo for Caicedo ( unless he was injured) and why not give Clayton a chance instead of Hamann. He certainly could not have done any worse. The defence needs changing quickly as their form and understanding have gone down dramatically over the past 12 months. Let's hope the January buys will solve the problem.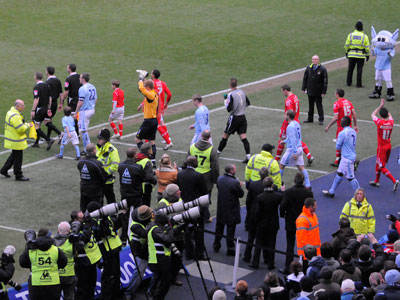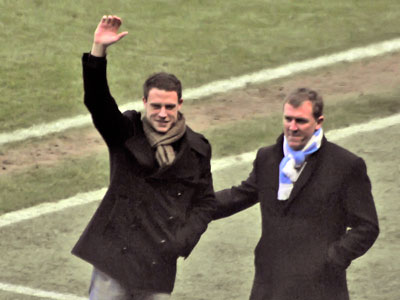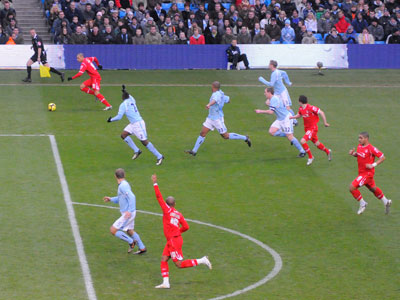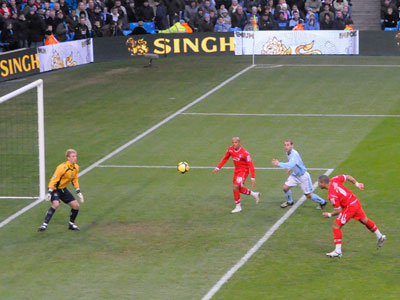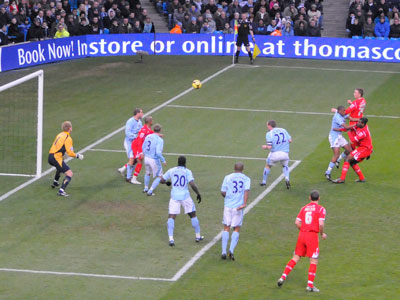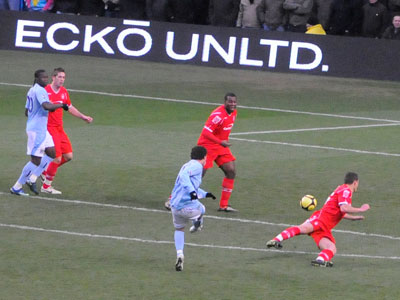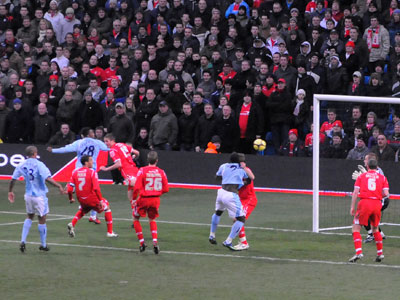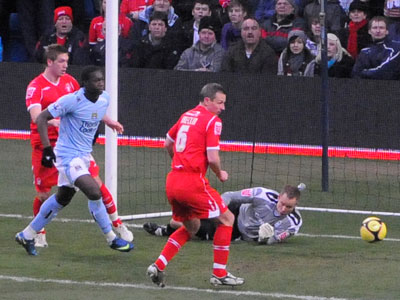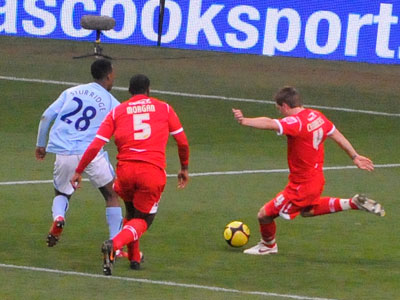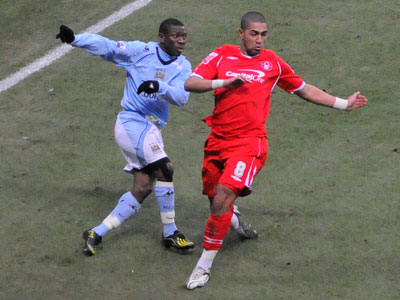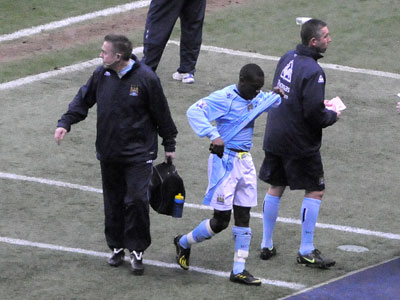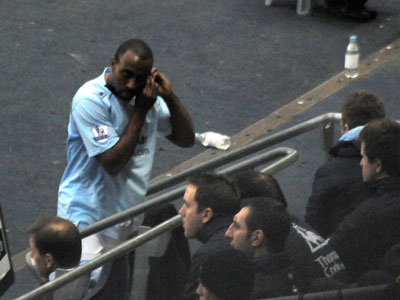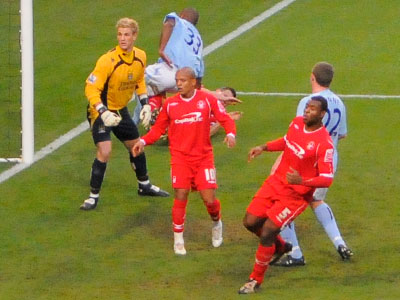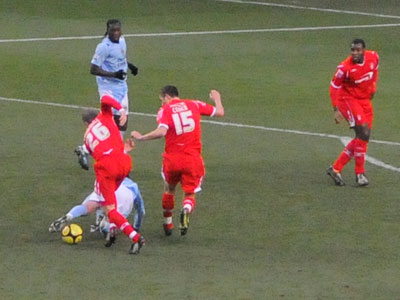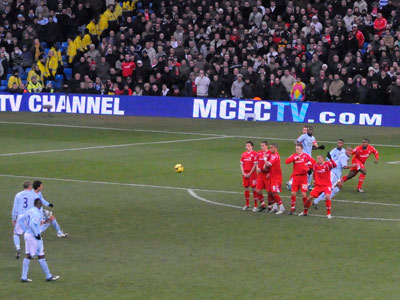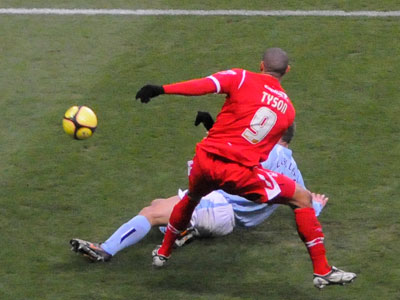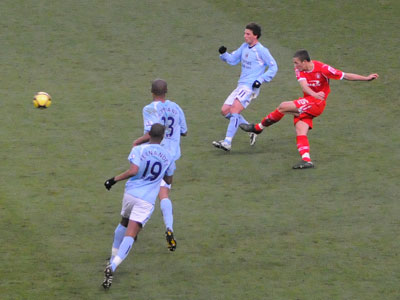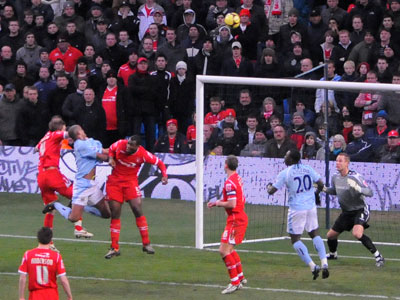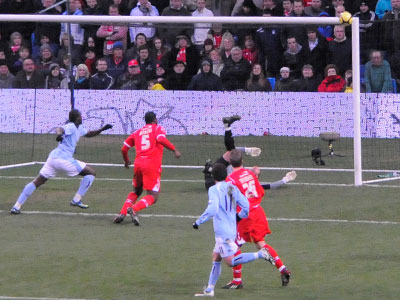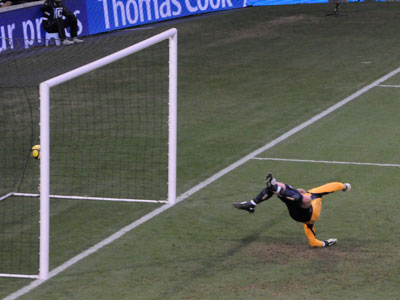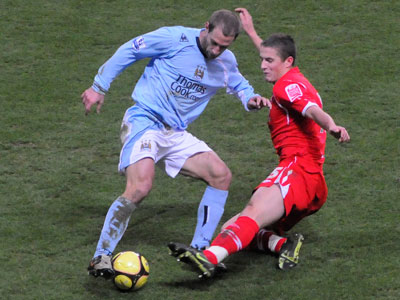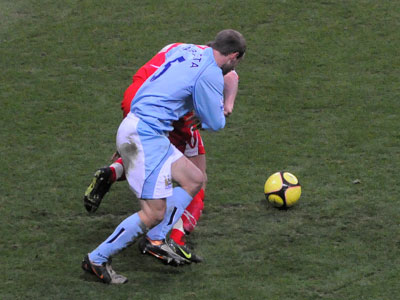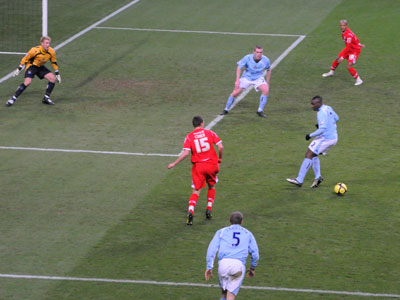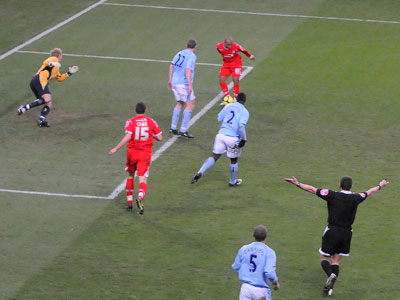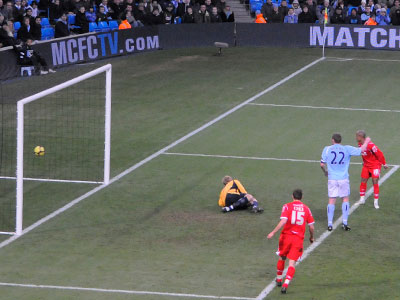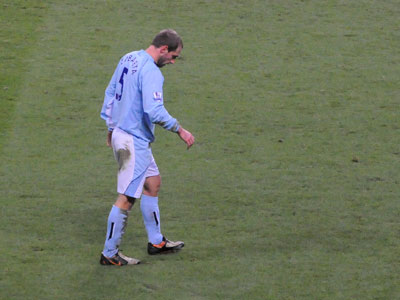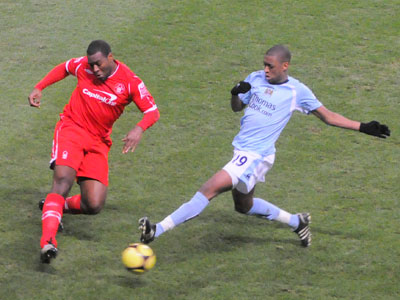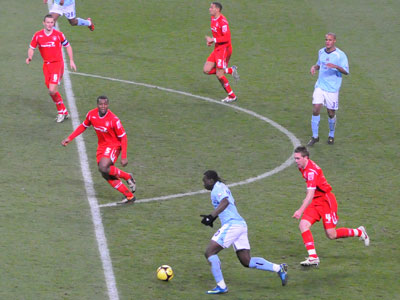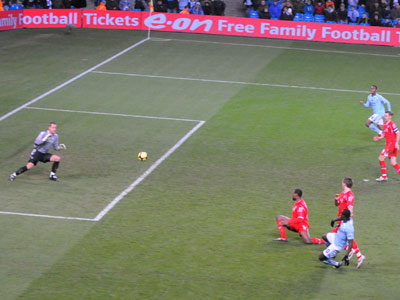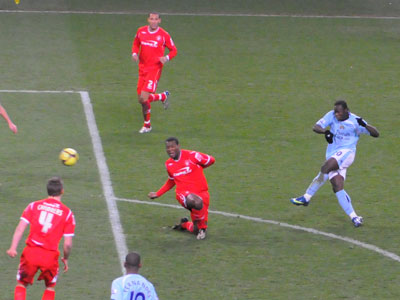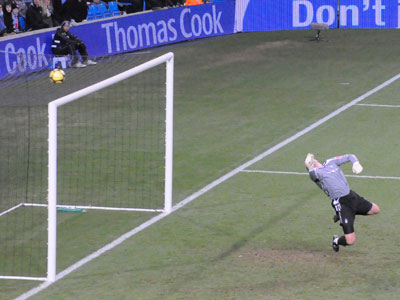 A minutes later and another Caicedo effort is well saved by Smith. It is just not City's day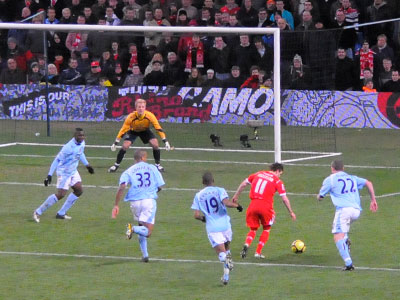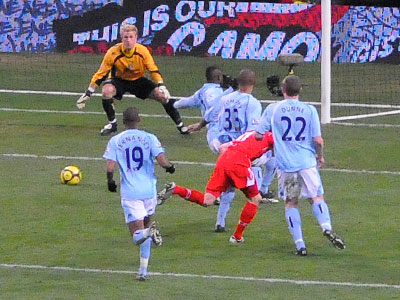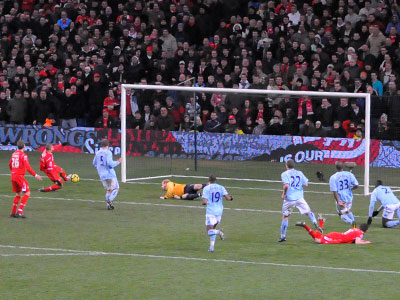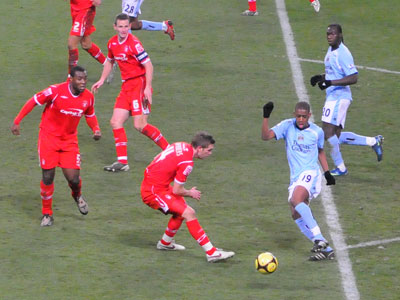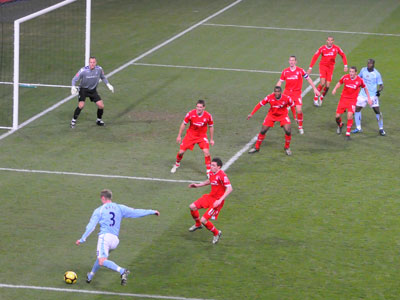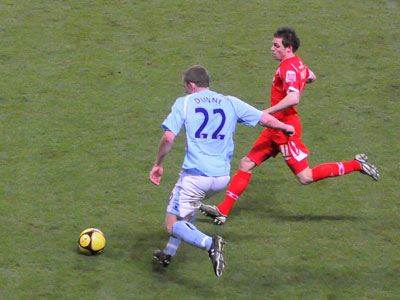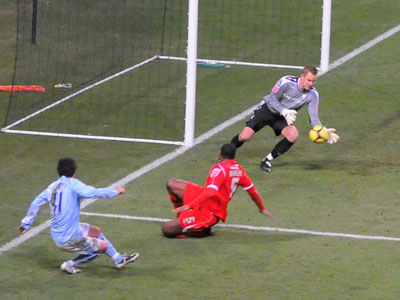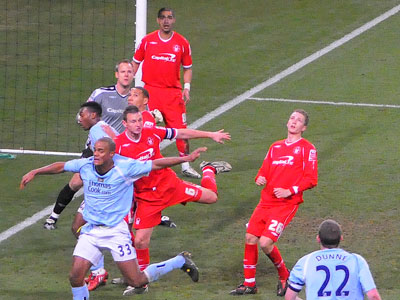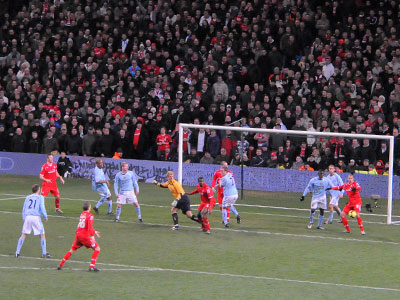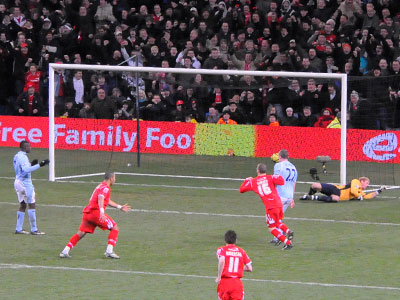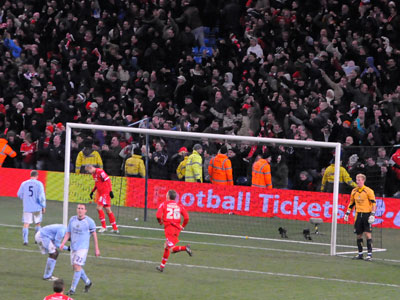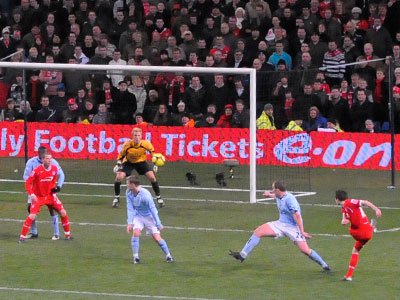 It was a weakened City side with the absence of Robinho and Ireland
New signing Wayne Bridge from Chelsea was introduced to the City fans.
City had a warning of things to come as early as the second minute when a break down the right ended with an unmarked McGugan headed over when well placed
On 7 minutes Thornhill headed over when Fernandes failed to get off the floor though he did appear to be kept down by the Forest player
An Elano shot is deflected for a corner
From the corner a Sturridge header is saved by Smith
SWP in a defensive role.........but...
.......minutes later he left the pitch with a possible hamstring injury . I could not believe my eyes to see substitute Vassell take a minute or so to take off his 'jewelry' ! Disgraceful ! Surely all squad members should have to leave all items of vanity in the dressing room
City continued to be put under pressure by Forest who were playing well above their present league position in the relegation zone of the Championship
After 25 minutes Elano was fouled but his free kick sailed well wide of the post. What a waste of a free kick. His form has deteriorated so much
Zabeleta was having a problem with the tall Tyson who was continually marauding down the wing
Thank goodness for Kompany who was often the savior and one of the few to relish the cup tie
Kompany heads over an Elano free kick
On 36 minutes an effort by Sturridge is saved by the Forest keeper
A minute later Forest went ahead. A poor defensive header by Richards was hit past Joe Hart first time by Nathan Tyson - a knockout blow to say the least!
A jubilant Tyson who had just hit a great goal
Worse was to come. A few minutes later Zabaleta tried to be too clever with his opponent......
...... lost it to Cohen who advanced on goal - passed to Thornhill.....
..... whose mishit shot ran to Earnshaw -put onside by Dunne - and the Forest player -almost embarrassingly placed it past Hart . City two nil down - unbelievable!
No wonder Zabeleta hung his head in shame!
Fernandes manages a tackle for once!
Four minutes into the second half Caicedo forces Smith into a good save.
After 55 minutes City had a let off when an Anderson pass cum shot ........
.......was narrowly missed by an onrushing Forest player
Sturridge failed to make the most of this chance at the edge of the goal box -putting the ball onto the roof of the net
Perhaps a last look at Fernandes who was subbed by Hamann.
and perhaps a last look at Ball who centers......
... straight at the Forest defence!
Richard Dunne tries a run down the wing - Oh how we miss Petrov!
Elano fails to beat Smith
The Forest defence were easily holding a lack luster City
The final blow came in the 75 minute when Hamann took a defensive throw-in and gave the ball away to Garner ( on for Earnshaw) who said thanks very much and slotted the ball past Hart for number three.
This was the first time since 1963 I had seen City lose in the Cup to a lower league side at home. On March 16th 1963 City lost to Norwich 2-1. City team that day - Dowd, Betts. Kennedy, Benson, Lievers, Oakes, Hayes, Dobing, Harley, Hannah and Wagstaffe. Harley scored City's goal and Mannion was went off for Norwich
I also had the misfortune to see the last time City lost at home in a third round game - it was against Southampton on Jan 9th 1960 . Some 42000 were at Maine Road to see a deplorable display by City.
The team that day- Trautmann, Brannagan, Sear, Oakes, McTavish, Barnes, Fagan, Barlow, McAdams, Hayes, Colridge. Reeves scored four for Southampton . The referee on both those occasions was a Mr Jennings!
Team
Hart 6: Zabeleta 5, Richards 5, Dunne 6.5, Ball 5: Wright-Phillips 6 ( Vassell 5),
Fernandes 5 (Hamann 5) Kompany 6.5, Elano 5, Sturridge 6, Caicedo 6.5 ( Jo 5)