Manchester City 0 Liverpool 0
Dec 30th 2007 att.47,321
A record crowd for the City of Manchester Stadium of just under the maximum of 48000 watched this tactical chess like battle between the Blue of City and Red of Liverpool which ended in stalemate. OK it might not have been so great to watch on TV with a distinct lack of goals but there was too much at stake. When a team with the best home record meets the the one with the best away record in the Premiership then a draw was the likely outlook and with City hero Richard Dunne having one of the best games of his career and young Joe Hart playing well Liverpool failed to score. Indeed had Dunne made better contact with the ball at a corner early in the game he might have won it too. City almost relied totally on breakaways so with Carragher snuffing out Elano and Vassell, Reina had a comfortable evening. Corluka once again excelled in midfield - Mr Cool himself. Fullbacks Ball and Onuoha also played their part in a battle that Liverpool largely dominated having the bulk of the possession. Old man ex Liverpool player Dietmar Hamann played his part in keeping Liverpool at bay in front of a back 5 costing less than £4 million - what a bargain defence. Elano was below par and Petrov never reached the form of his previous game against Blackburn.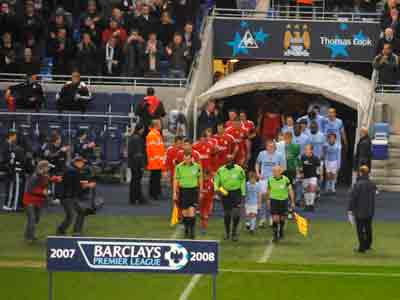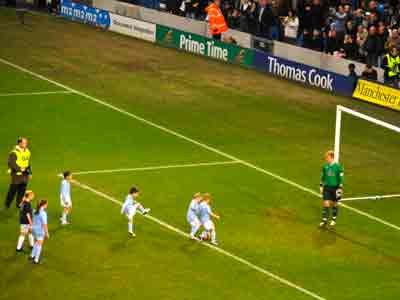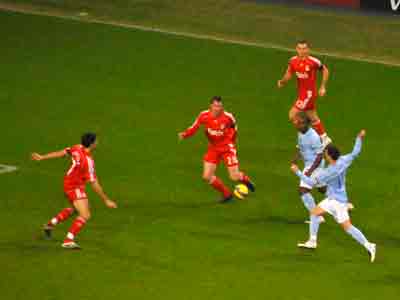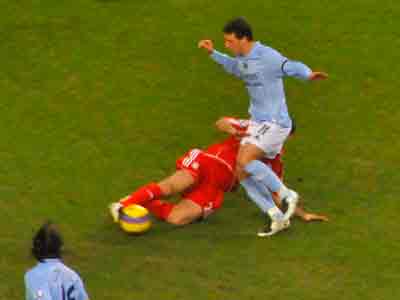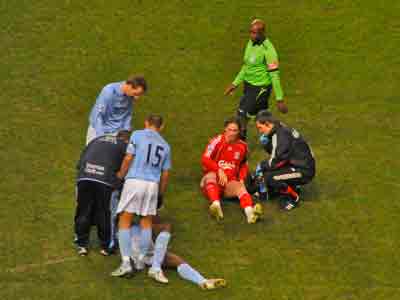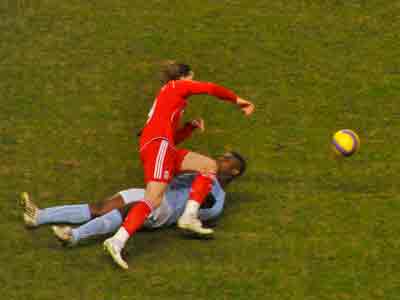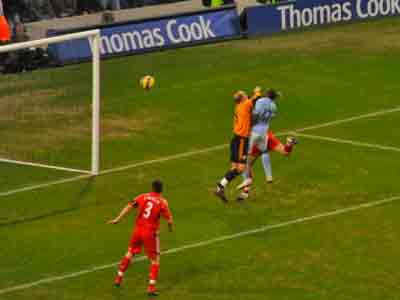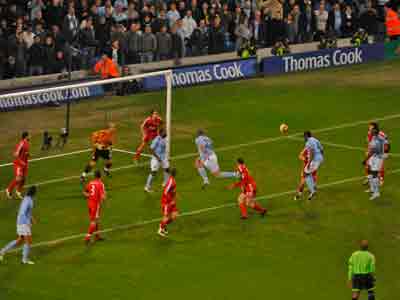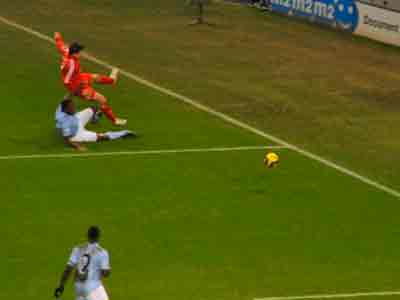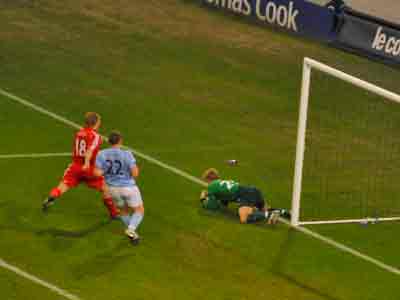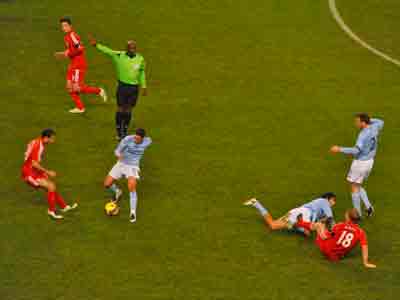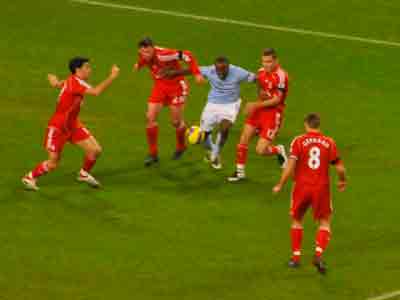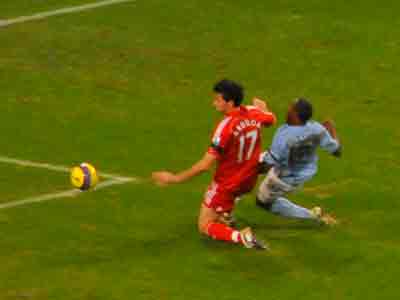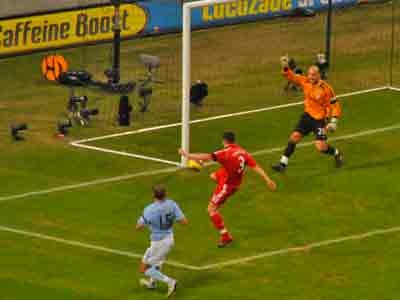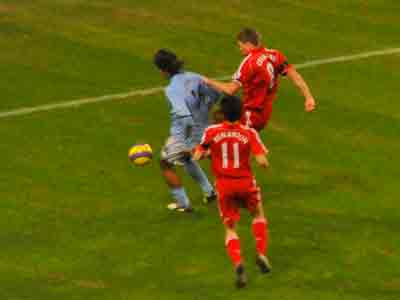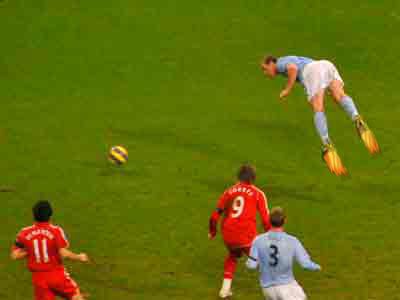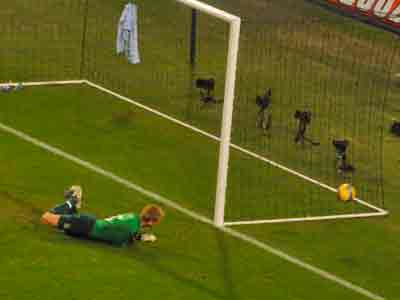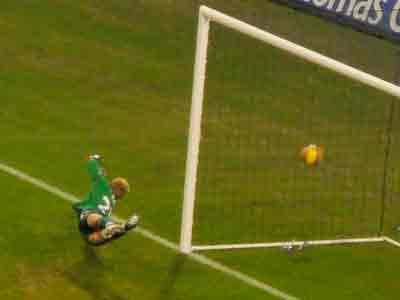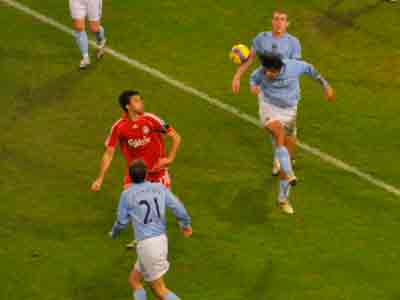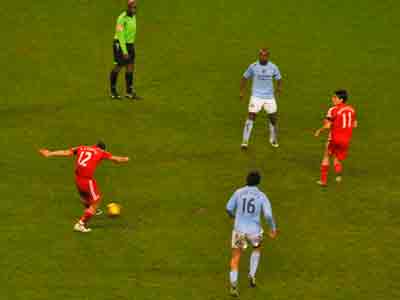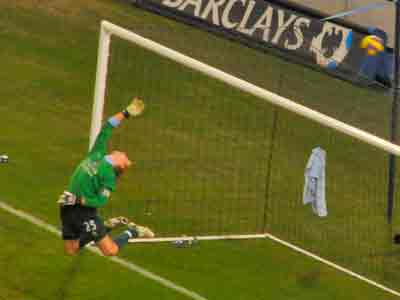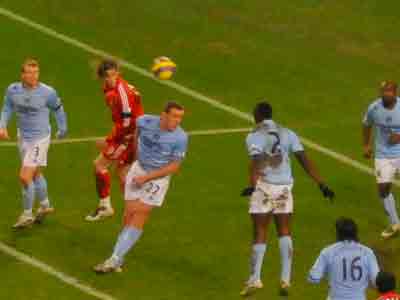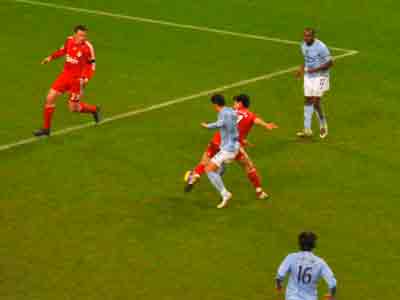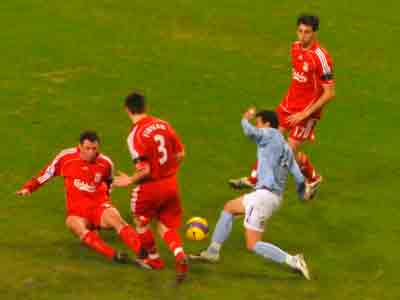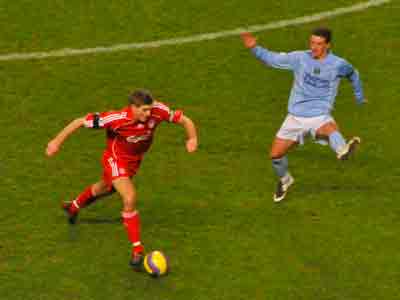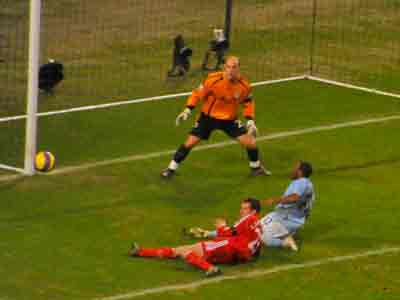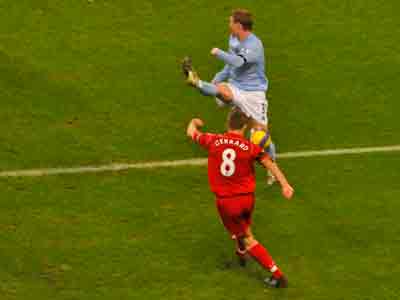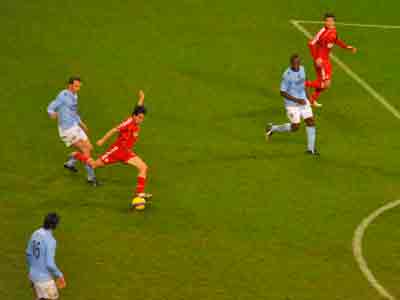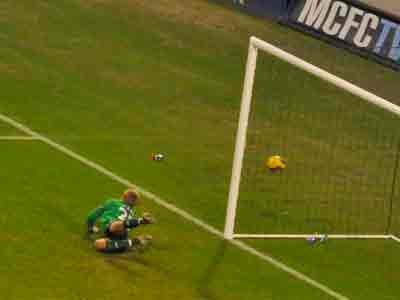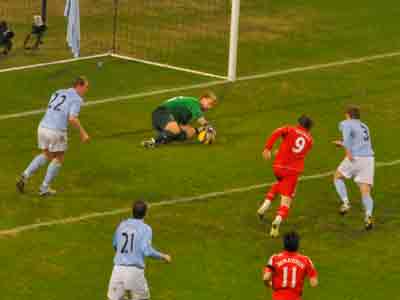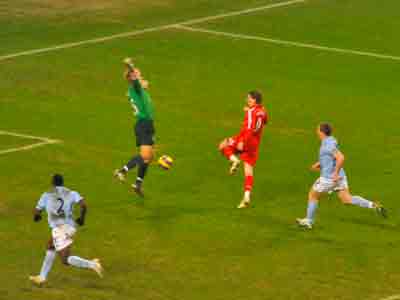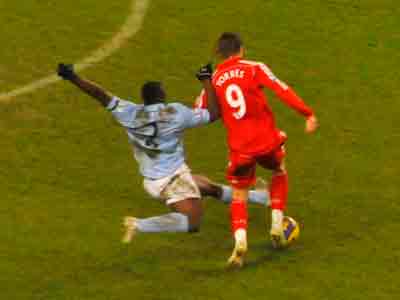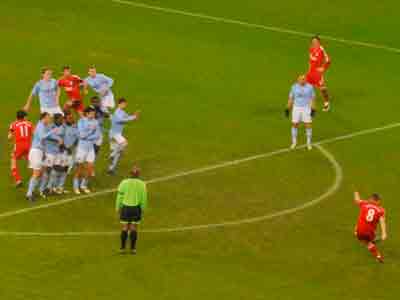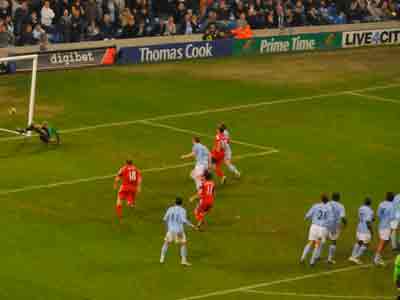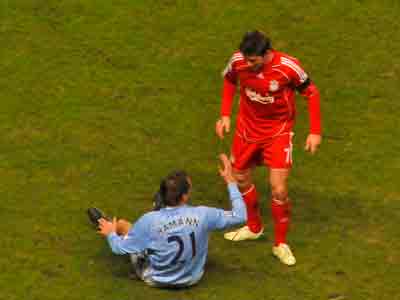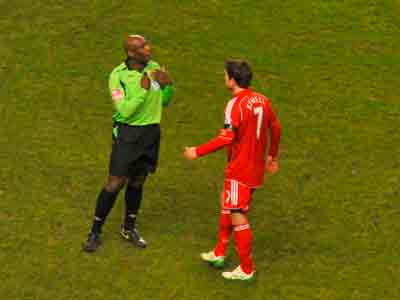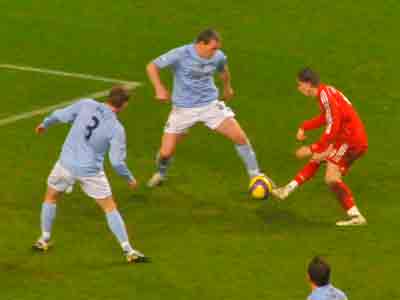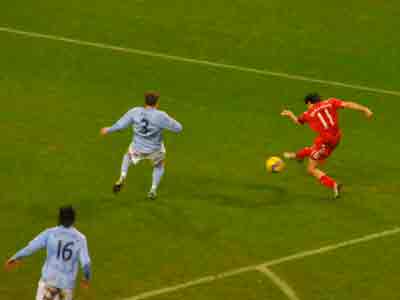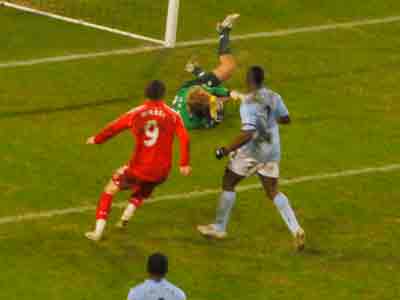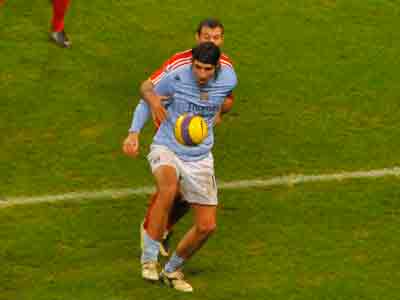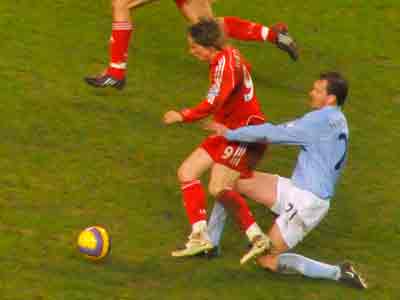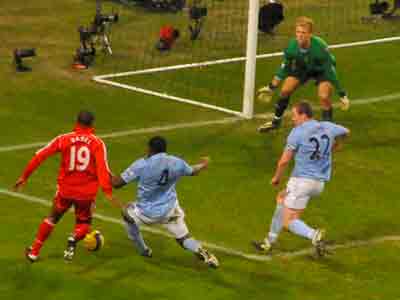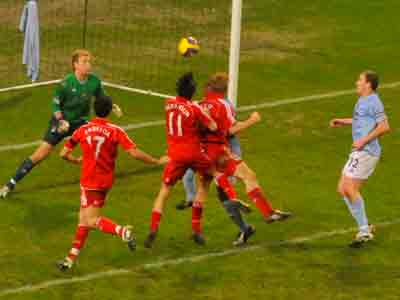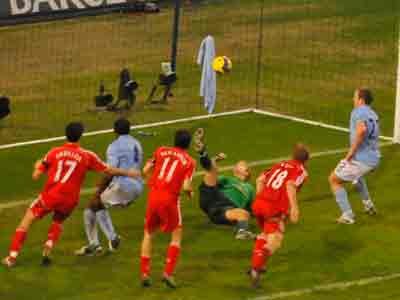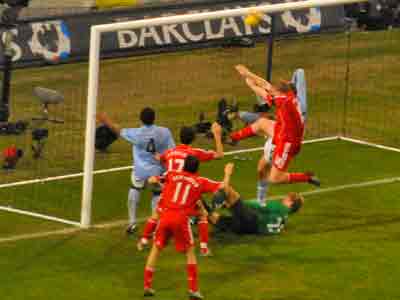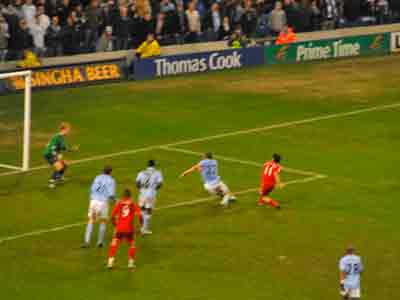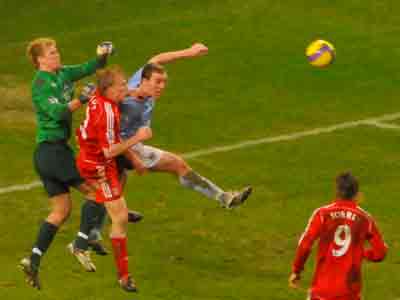 For City Hamann and Elano returned and Vassell was preferred to Bianchi as striker.
City hoped to outnumber Liverpool in the mascot department
Early City attacks by Elano were thwarted by Carragher and Mascherano
A clash between Torres and Richards as early as the third minute ended with both players receiving attention but Richards was fortunate not to get censure from the referee
A cross from Elano caused an early problem for the Liverpool defence but the mishit shot from Ireland was headed behind by Arbeloa with Vassell in close attendance.
From the corner an unmarked Richard Dunne mistimed his header and the ball ran for a throw-in!
After 17 minutes an attack down the left wing ended with Hart saving at the near post
Vassell is outnumbered by the Liverpool defence
Kuyt is penalized for a foul on Corluka
As the first half developed City attacks were becoming rarer and it wasn't often that Reina in the Liverpool goal was made to work
Vedran Corluka who often man marked Gerrard in midfield was proving his all round ability to play in different positions.
Dunne blasts off into space to head clear
A Dirk Kuyt shot is deflected just wide by a defender but Hart had it covered
Another Liverpool effort goes wide.
A long range shot by Aurelio is tipped over by Joe Hart
A brilliant block by Dunne prevents Benayoun from scoring and from the corner Hart punches clear and moments later the final whistle goes - 0-0 and so ends the Alamo defence. At least we will have a Mexican on our side from January!
City defend a Liverpool corner
Arbeloa and Elano battle at the edge of the area
Elano is outnumbered once again
Elano makes a belated effort to stop Gerrard run
Ball blocks a Gerrard effort
Carragher foils a Vassell attempt after a good run by Petrov
Benayoun tries a shot from long range but it goes wide with Joe Hart covering well
Hart saves easily from a poor Torres effort
Hart makes himself large to foil another Torres effort which rolls just wide.
Mascherano's turn to thwart Elano who was unable to show his early season form after injury
Richards attempts to tackle Torres but takes the man rather than the ball and the referee awards a free kick.........
......... which Gerrard takes but the ball goes just wide as the City wall watch anxiously
Harry Kewell and Dietmar Hamann almost exchange handshakes and Allo Allo referee Rennie has to explain to Kewell that he is the referee in the green shirt and harming old men is a serious offence!
Dunne and Torres go toe to toe
Hart pushes another Benayoun shot over the bar
Yet another save by Hart from Benayoun
A Liverpool player checks to see if Corluka is ticklish
A run down the left by Babel (on for Kewell) is stopped by Dunne with a brilliant intervention at the expense of a corner. From the corner the ball is returned into the City box and a header by Kuyt .................
....... is wonderfully blocked by Joe Hart and as the ball bounced dangerously near the line Richard Dunne blasted the ball to safety. What a moment!
Team
Hart 8.5: Onuoha 7, Richards 7.5, Dunne 9.9 ( would have been 10 but for the missed header!) Ball 7.5: Ireland 6 ( Fernandes 7) Hamann 7.5, Corluka 7.5, Petrov 7: Elano 6.5 ( Bianchi 6) Vassell 6.5) Geovanni 6.5)