City v Everton 2-1
January 1st 2007 att.39,836
Three wins on the trot - a very good Christmas for Stuart Pearce and his team - has put City up into tenth position. After two narrow away wins against Sheffield United and West Ham - both tough games - the home New Years Day fixture against Everton gave supporters a chance to relax a bit and enjoy the festive spirit. The first half was not all that enjoyable with City employing 5 in midfield - a system which did well in the recent away games. After half time the manager switched to 4-4-2 and we saw much more fluency and it was a better 45 minutes to watch. Richards did not look too much out of place in midfield and I hope he will not be on his way to Chelski in January or ever. We must hang on to our best players if we hope to move up to the top six group. The January sales is now on so we shall be waiting to see who will join the squad despite the lack of available funds.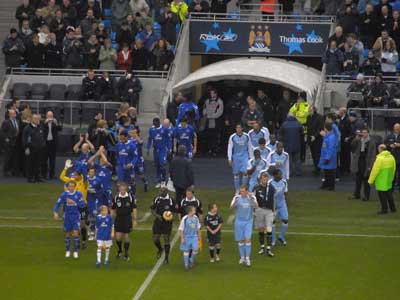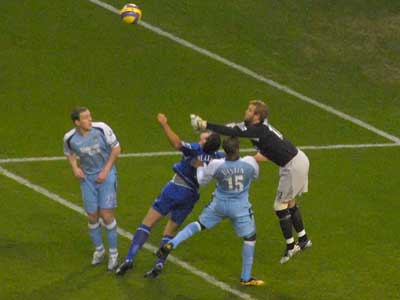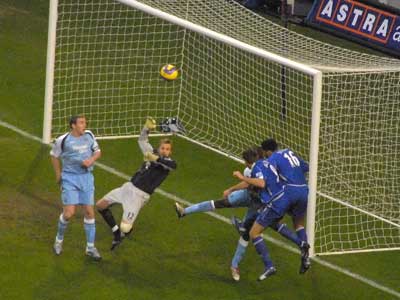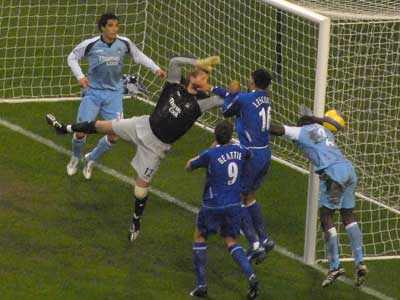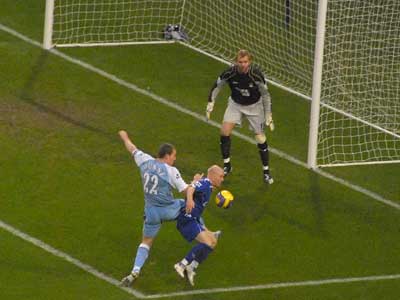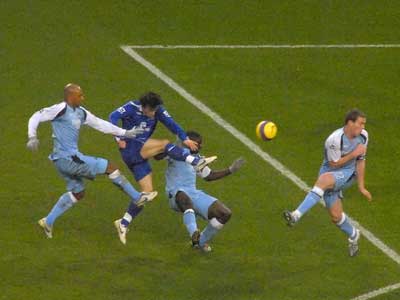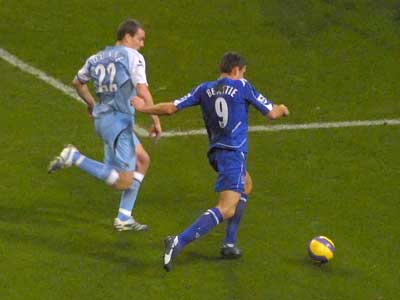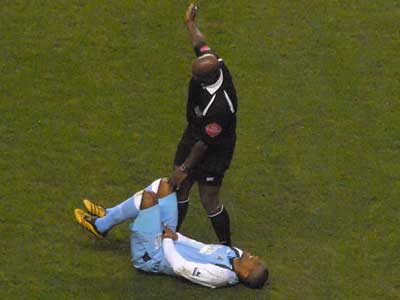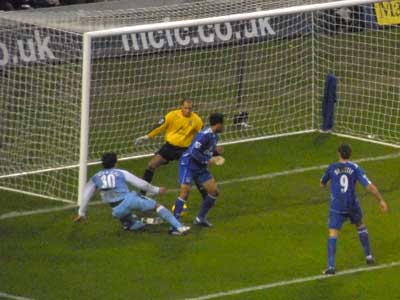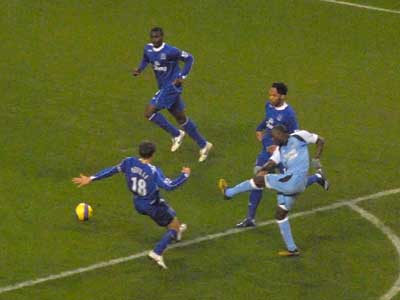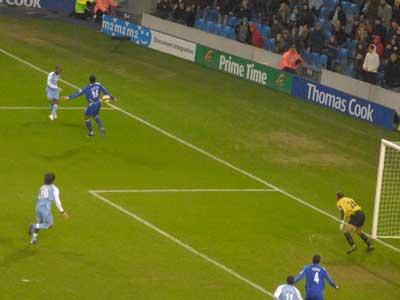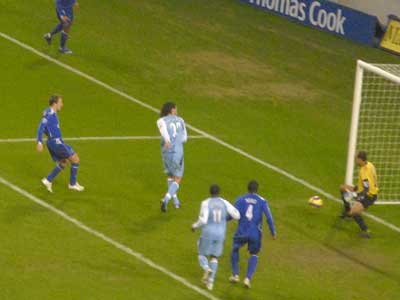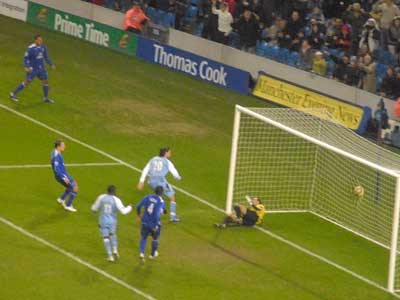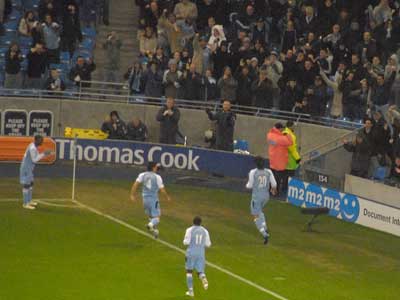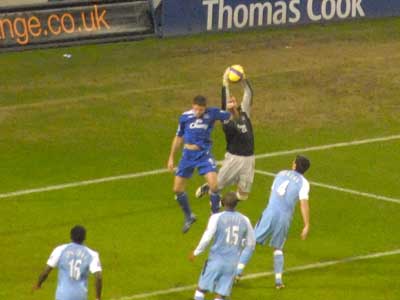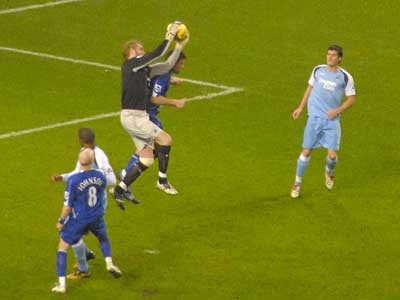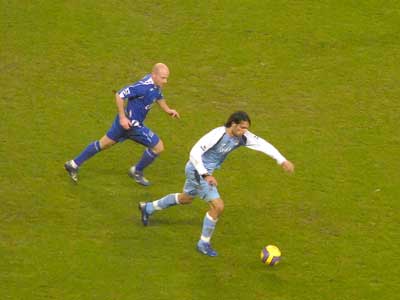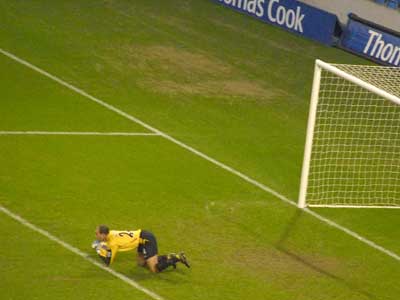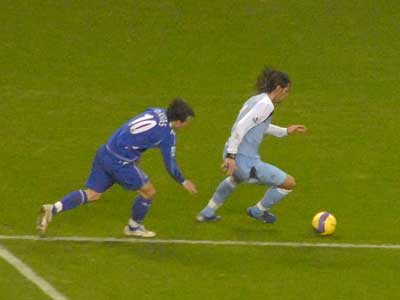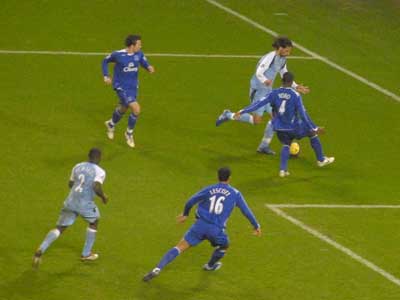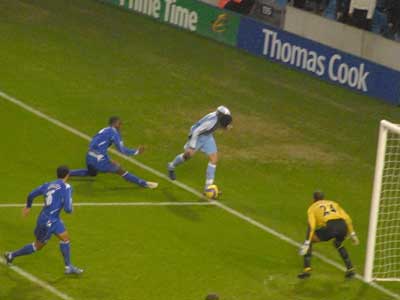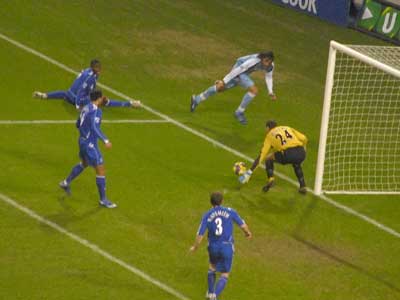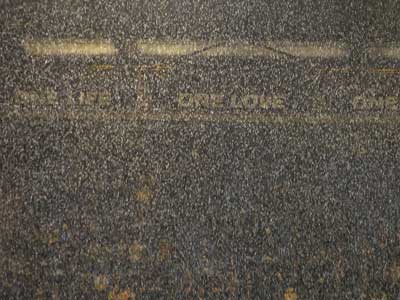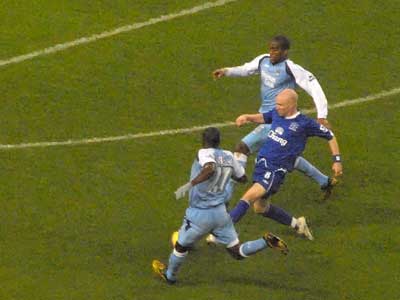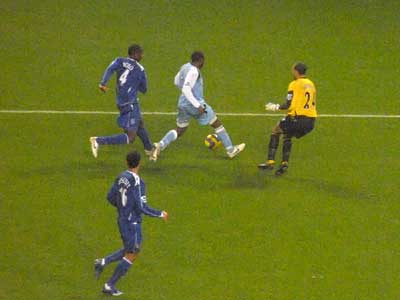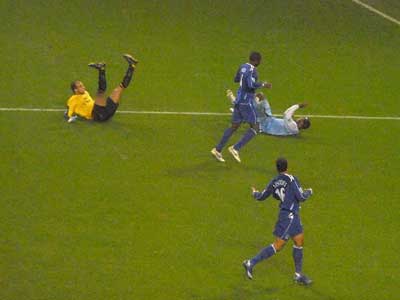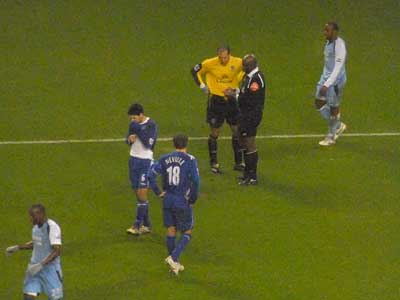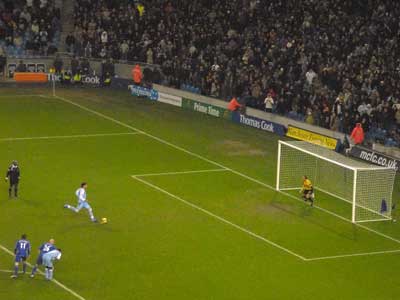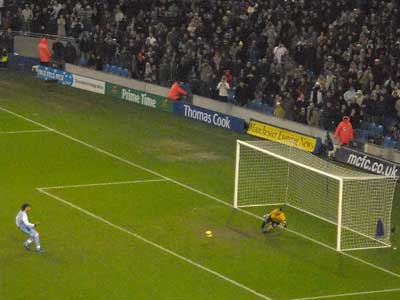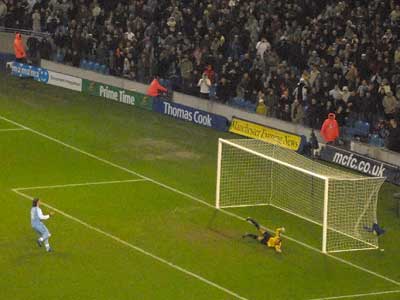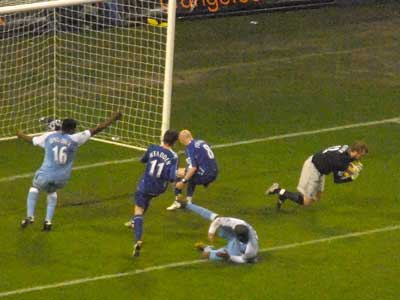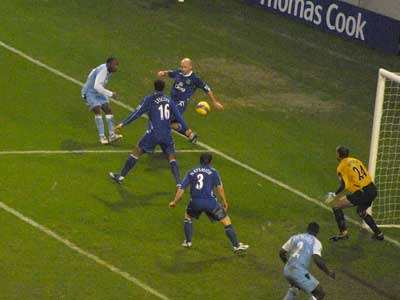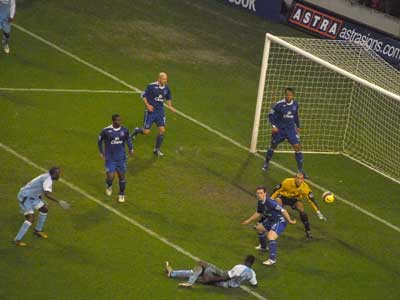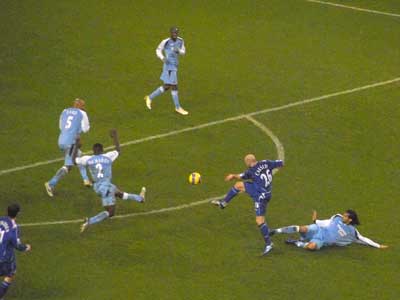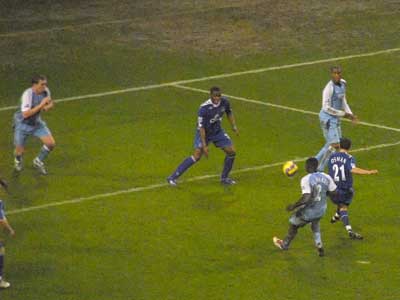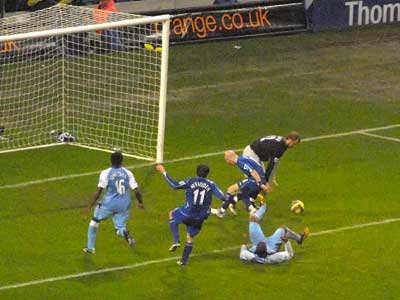 City had Beasley in from the start and Richards played in midfield in the absence of the suspended Barton. Thatcher and Ireland were injured.
Weaver was the first keeper in action having to punch clear after 8 minutes from a Arteta free-kick.
After 12 minutes City almost conceded a goal when an Everton free-kick was first headed away and then returned narrowly missing the post with players of both side failing to make contact.
Dunne was proving to be the master of Johnson as the half went on though he was fortunate to escape conceding a penalty as he once bungled the Everton striker off the ball
Dabo and Onuoha both gloved (obviously Xmas presents) for the occasion try to stem this Everton attack. Dunne takes evading action.
Beattie looks well out of touch and hardly gave the City defence much trouble. He was substituted by the promising Anichebe in the second half
Referee Rennie calls for help as poor old Distin has his Christmas nuts cracked!
City did have their moments in the first half and here Corradi was unlucky to see his shot hit Lescott on the arm
The largely uneventful first half ended goalless as this City effort went un rewarded.
Four minutes into the second half City took the lead. Samaras passed the ball out wide to Beasley who chased it down to the goal line and slid it back to Samaras who side footed past Howard from close range.
It was a well worked and well taken goal and the first by a City attacker since the Villa game away. One nil to City.
Everton responded and Nicky Weaver had opportunities to show how well he is handling the ball these days. His judgment is excellent
After Richards had forced Howard to conceded a corner Samaras had another chance but shot right at the Everton keeper
Samaras after his goal was at last proving his talent and zest for the game. In this attack he was unlucky to have his final pass just caught by the outstretched hand of Howard.
At times the rain came down quite heavily but there was no danger that the game was likely to be called off
Distin and Trabelsi deal with Andy Johnson
Vassell too was in form and when he galloped away down the left flank away from Everton defenders Howard came rushing out of goal and went crashing into the City forward just inside the area. Referee Rennie immediately gave a penalty........
..... and while the City fans howled for a red card it ended with a yellow for the Everton keeper. In the absence of the suspended Barton up stepped Georgios Samaras to take the spot kick
He duly hit it well past Howard's left hand into the corner to give City a well deserved two goal lead.
Stung by these reverses Everton tried to hit back but Weaver made some good saves to keep City in the lead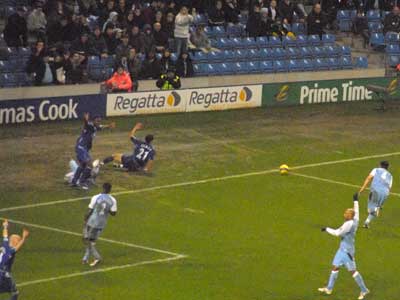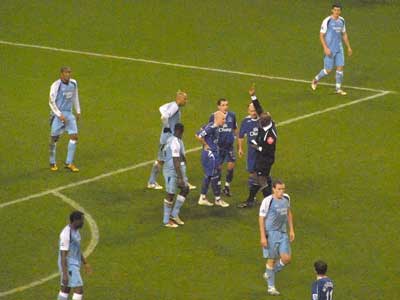 Beasley looked far better in the second half playing wider in the 442 than he did in the first half where he was more in midfield. Here his run and centre nearly lead to number three for City.
After Lee Carsley's effort failed to break the City defence Everton did get a goal back after 84 minutes when a quick free kick caught the City defence napping and Osman shot home to give the City supporters a final 6 minutes or so to worry about.
Just before the end City were lucky not to concede a penalty when Distin slide into two Everton players near the goal line. Johnson protested so much he got booked for his trouble So it ended 2-1 and the one really bright bit of news is that Samaras finally looked the part and deserved his two goals. We want more though!!
Team
Weaver 7.5: Onuoha 7, Dunne 7.5, Distin 7, Jordan 7: Trabelsi 6.5, ( Miller 5) Richards 7, Dabo 7.5, Beasley 6.5: Vassell 7, Corradi 5 (Samaras 8)
City v Blackburn 0-3
January 20th 2007 att.36,590
The hopes of City continuing their unbeaten run were torn asunder by Morten Pedersen who scored two cracking goals and a late gift by Jordan who allowed substitute Derbyshire to score from the narrowest of angles at the death. Despite City having a fair mount of play they created few chances and the tactics of Pearce in filling the midfield in the hope of restricting the opposition worked in that Blackburn gave Weaver little to do save pick the ball from the back of the net. With the exception of Vassell and ireland the rest of the team looked jaded and there was little to cheer the City supporters. This surely must be some of the worst football fare we have had to suffer for years. Dabo is so slow at times and some of his passing is suicidal. It is no good continuing to play a midfielder whose only contribution is the occasional long pass . I am afraid Sinclair does not have much more to offer. His heart may be with City but he lacks the necessary speed and energy for the Premiership. We badly missed Barton in midfield as a driving force. City I think suffered from the after effects of the Tuesday night cup tie.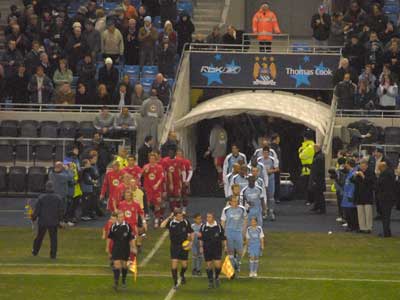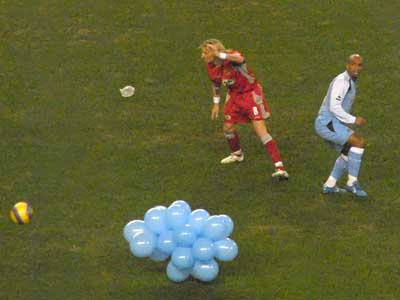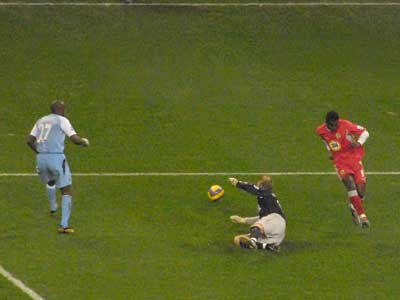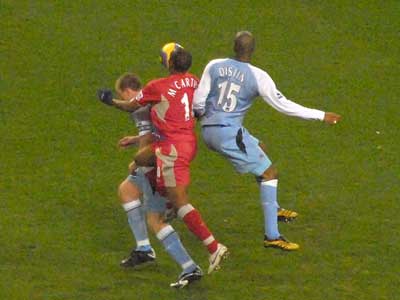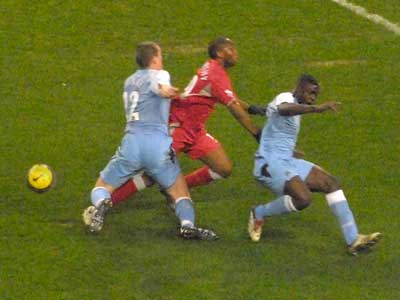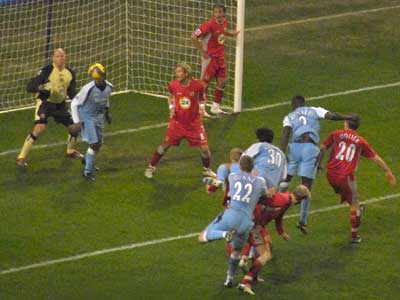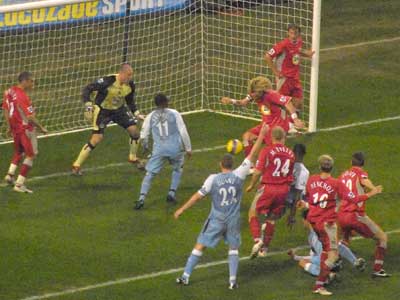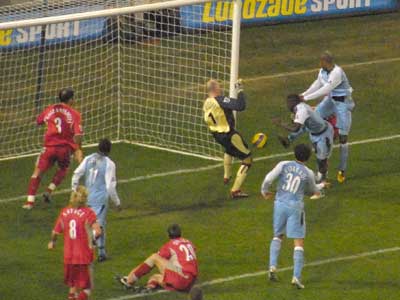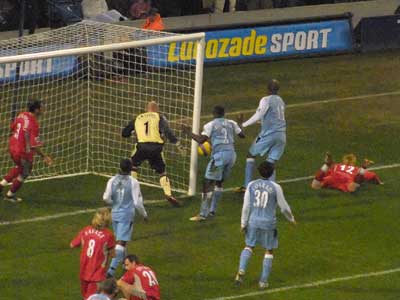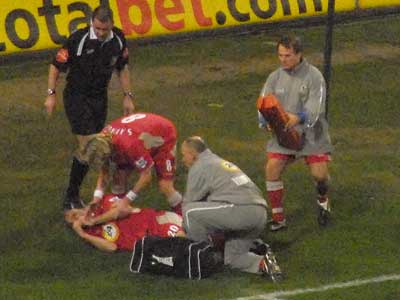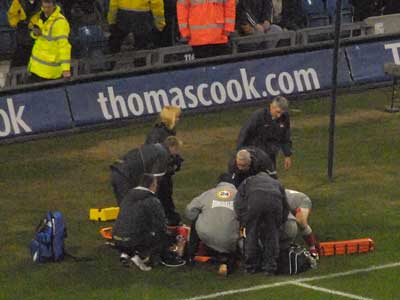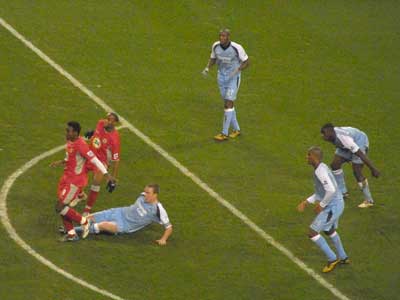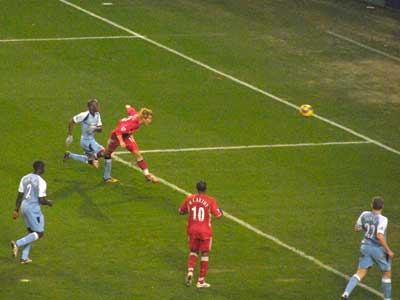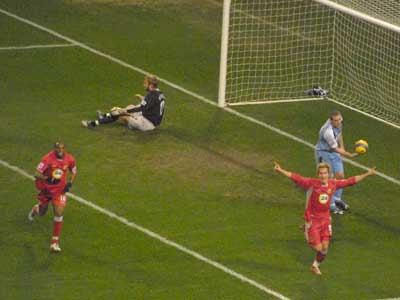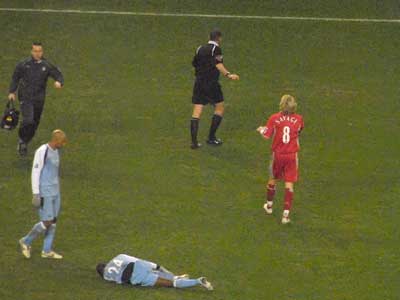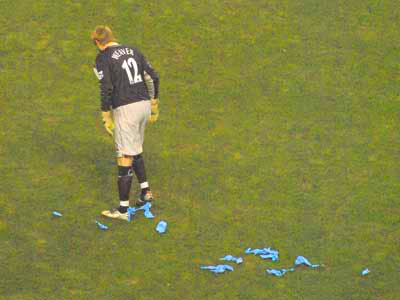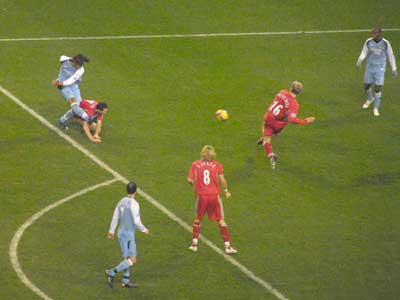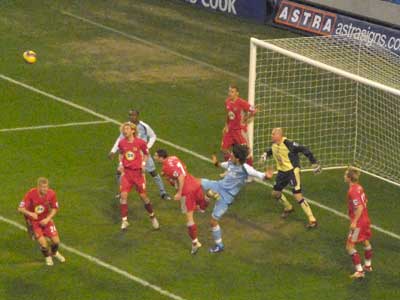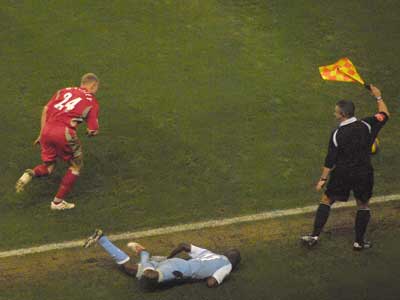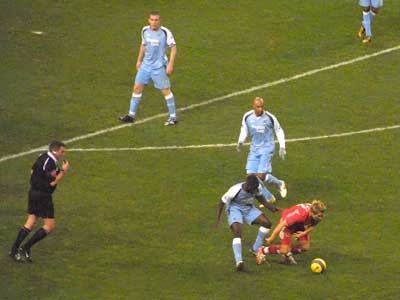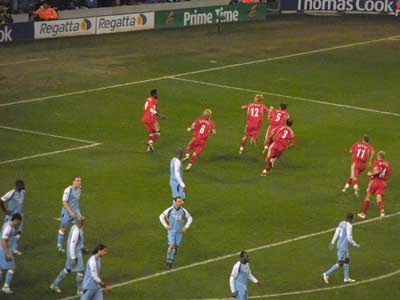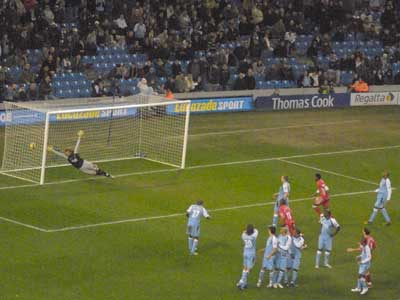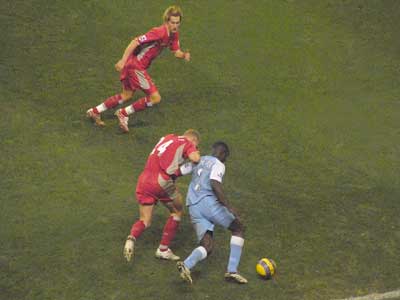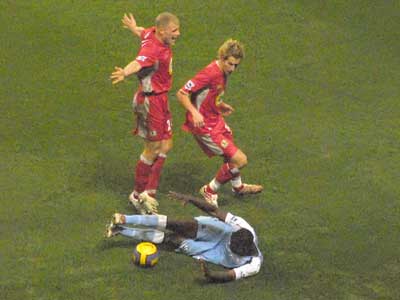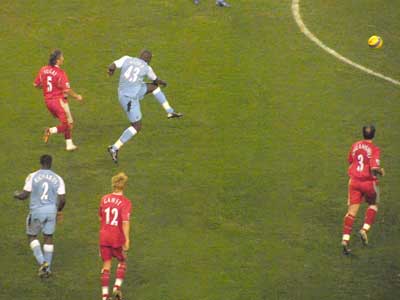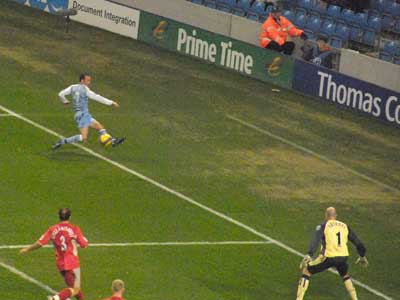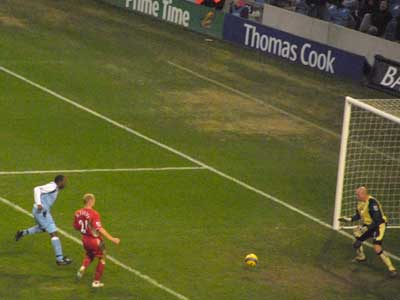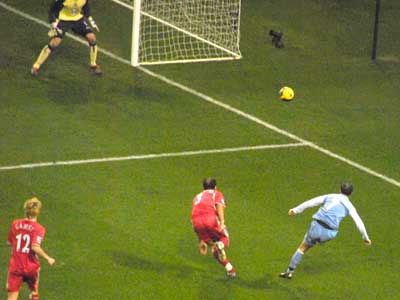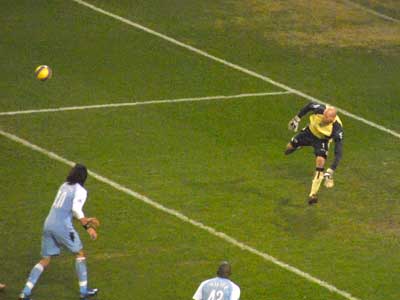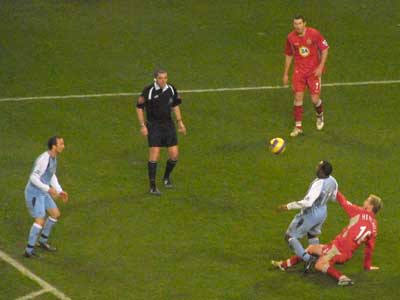 Team:
Weaver 6: Richards 6.5, Dunne 6, Distin 6, Jordan 5: Trabelsi 5 (Miller 6) ,Sinclair 5 ( Beasley 6) Dabo 5, Ireland 7.5, Corradi 5.5 ( Samaras 6) Vassell 7.5
Almost at the final whistle Blackburn really put the boot in. A clearance was picked up by sub Derbyshire who beat Jordan easily and managed to shoot past Weaver from the narrowest of angles.
No City this is not the best way to bring back the crowds. Little entertainment - hardly any creativity - little pace apart from Vassell - poor finishing - so little inspiration - shoddy defending at times, giving the ball away in dangerous areas -
This was a humiliating display and money will have to be spent. Thank god there are even worse sides than ours below us.
I know there is big TV money to be had next season and perhaps the manager is being negative in order to ensure City's inclusion in the Premiership especially if there are investors sniffing around . However for the average supporter entertainment at COMS is minimal . Perhaps we need a specialist attacking coach !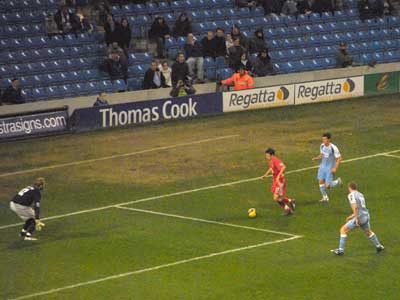 Trabelsi came in for the suspended Joey Barton but I was disappointed that Sturridge was not on the bench after his hat trick for the reserves. He cannot be any worse than Corradi or Samaras!
Little did we know that the City balloon was about to get busted tonight
Weaver had to be smart to clear a Blackburn attack at the edge of the penalty area after 20 minutes
McCarthy who City nearly signed several years ago was proving a nuisance for the combined efforts of Distin and Dunne
Richards came in here to thwart McCarthy on this occasion.
After just over half an hour there was a major incident in the Blackburn penalty area following a corner. Richards put in a powering header.........
...... which Bentley on the left blocked on the goal line ( with his arm perhaps ?).... and in the ensuing scramble Ooijer (sat on the ground)....... was accidentally sat upon by Corradi
As the ball went out for another corner the Blackburn player was taken off and had eventually to be stretchered off. It looked like a bad injury from a distance. Play was held up for several minutes as referee had to email the stretcher bearers to get them on. Perhaps they were on a break!
Eventually the Dutch player was taken from the pitch and the game restarted with a corner.
Dunne clears a Blackburn attack with plenty of covering help
Just on 45 minutes Blackburn took the lead. A long cross from Bentley was perfect for Morten Pedersen to coast past Trabelsi and power head the ball past Weaver into the net. Oh dear! Like most first halves at COMS nowadays, it hadn't been a good 45 minutes.
Savage implores the referee not a book one of his players for the foul on Beasley who had come on at half time for Sinclair. Henchez was booked.
While this was going on Weaver attacked another set of balloons on the other side of the pitch
Samaras on for Corradi after the break tried his luck with this shot from the edge of the area and then tried his best at the corner that came from the deflection of the shot.
City continued to pressurize the Blackburn and resorted to physical methods to foil City attacks - several of their players being booked.
However it was almost an insignificant foul that lead to Blackburn's second goal. Pedersen having been fouled by Richards .........
......... hit a terrific free kick which shot into the City net with Weaver well beaten. The abject looks on the City faces as the visitors celebrated said it all. Blackburn two shots - two goals!
Vassell had a good chance immediately after their second goal but he shot straight at Freidel who managed to keep it out
Richards had several runs at the Rovers goal but this one........
ended with him being brought down.
Ireland who with Vassell was City's best player had a chance from a narrow angle but shot wide.
After 57 minutes Vassell controlled well but his final effort was pushed away by Brad Friedel
Miller on for Trabelsi after 75 minutes had a shot but it was well off target
Ireland had a good run down the left just keeping the ball in but Rovers covered well and the ball was cleared.