City 3 United 1
January 14th 2006 att 47,192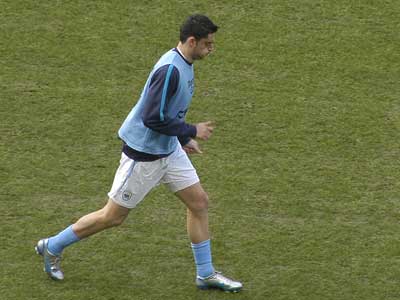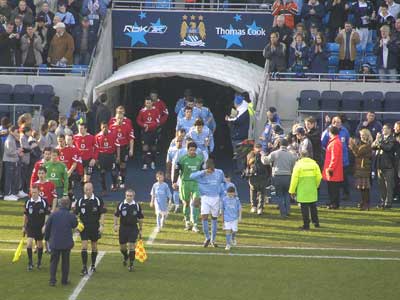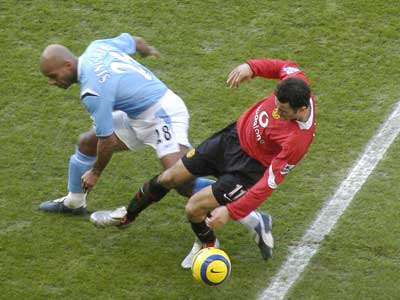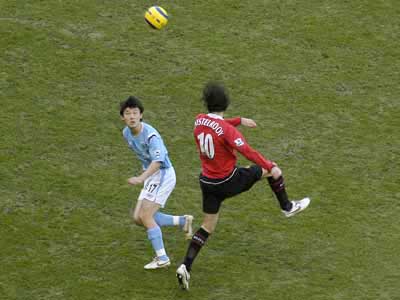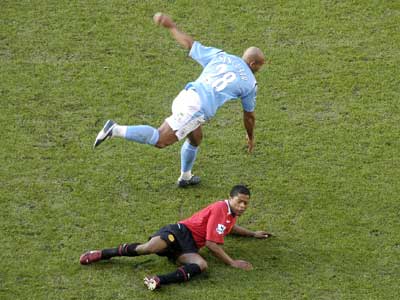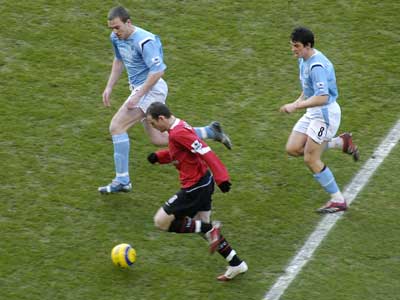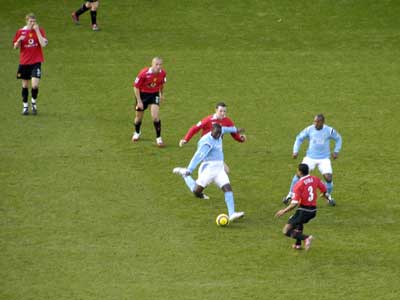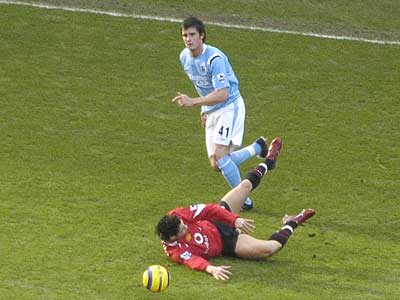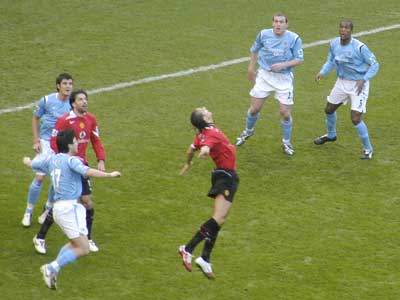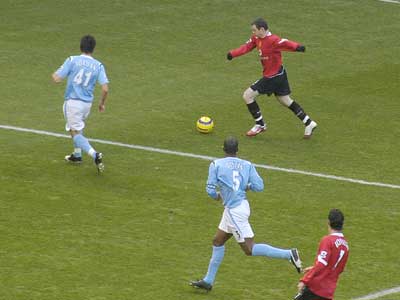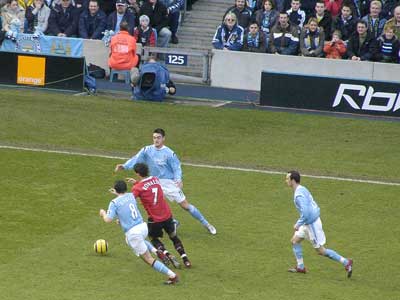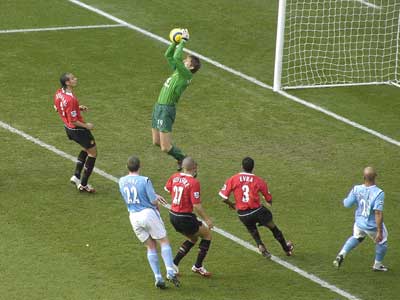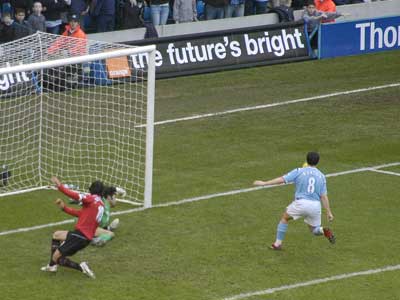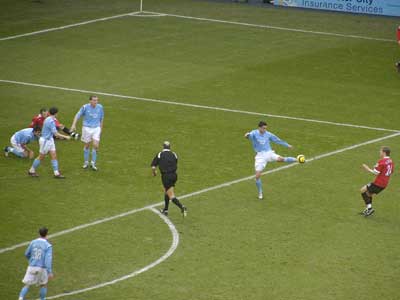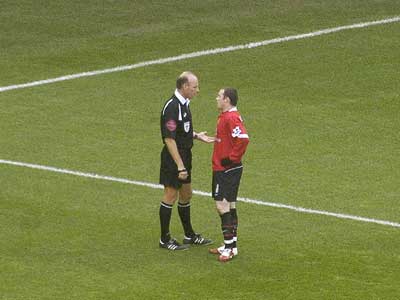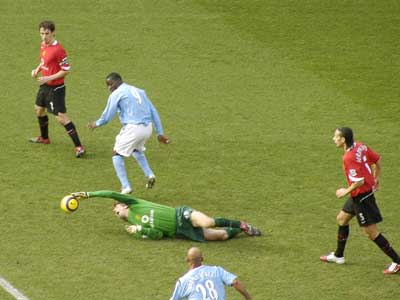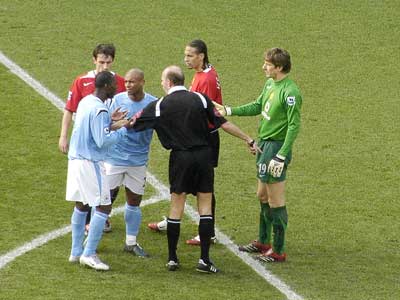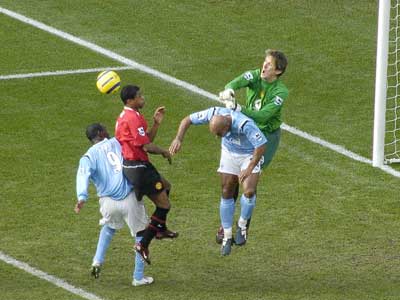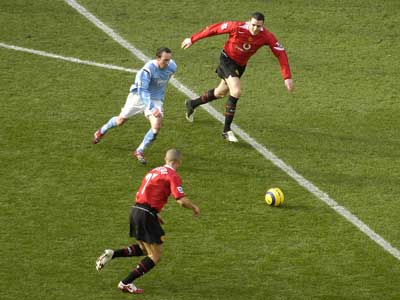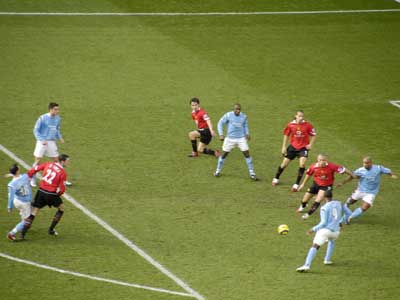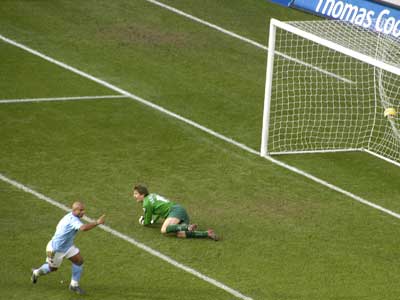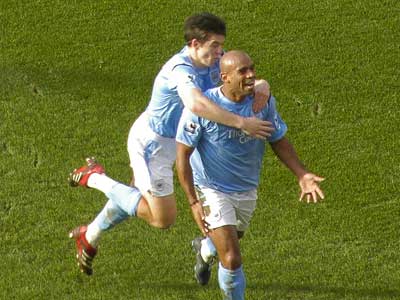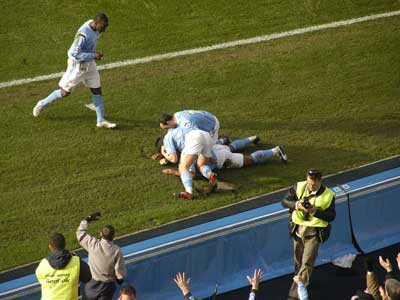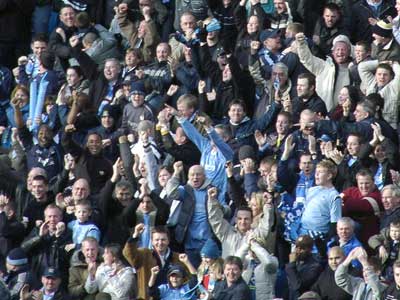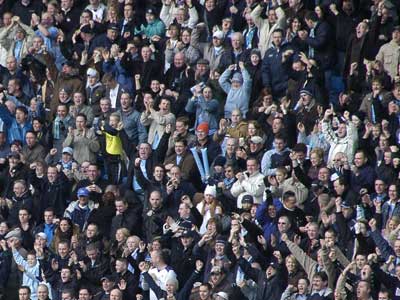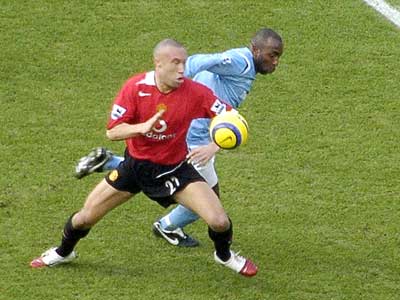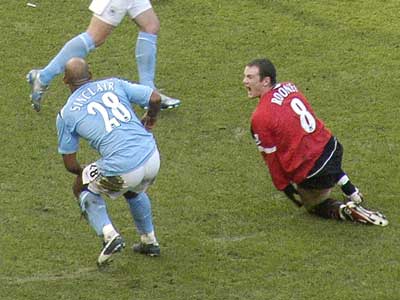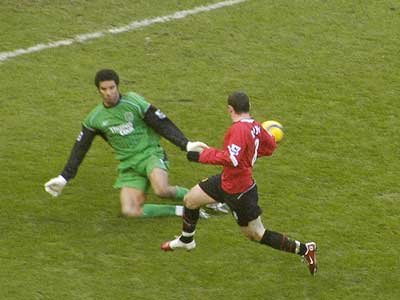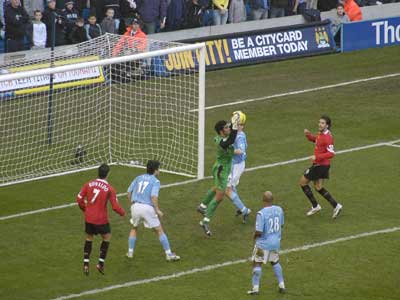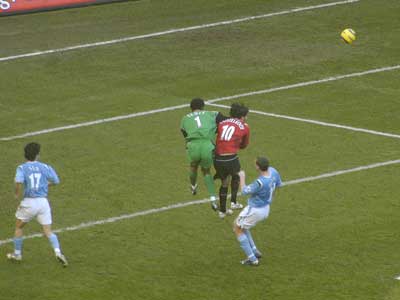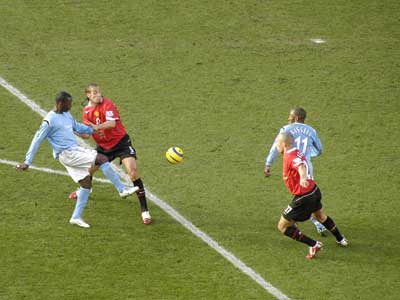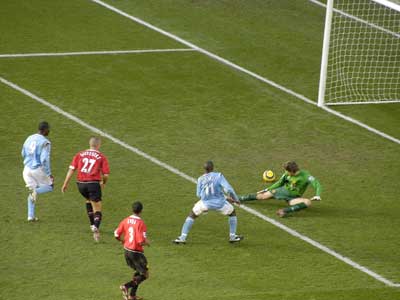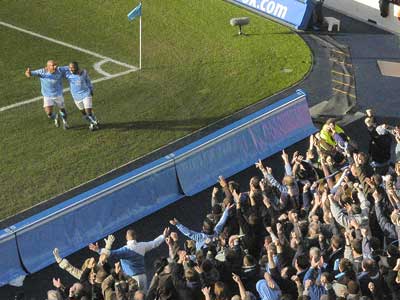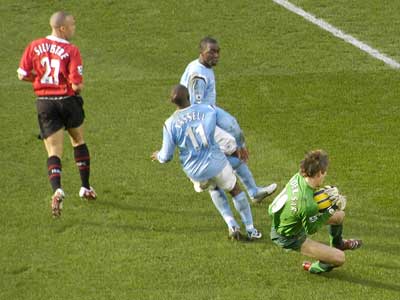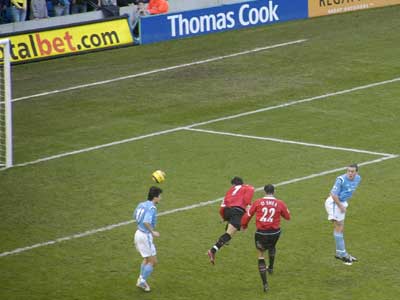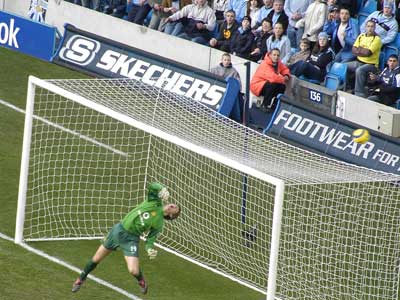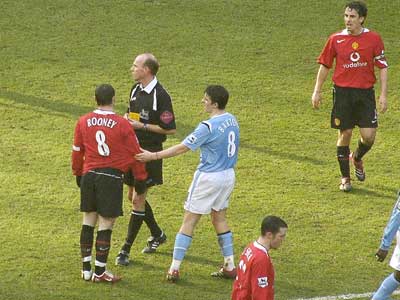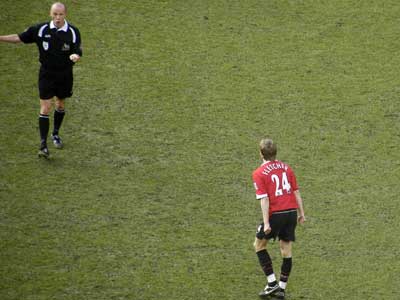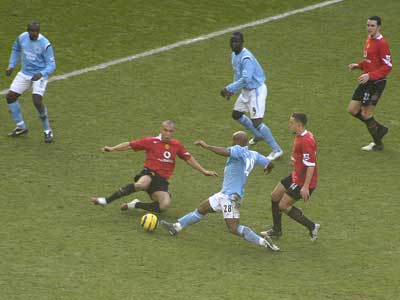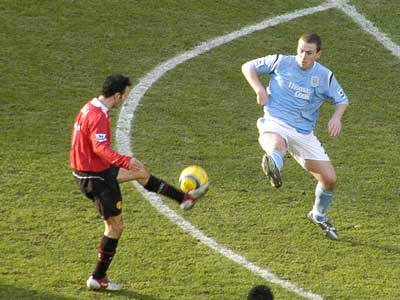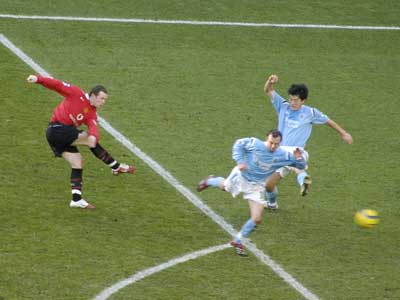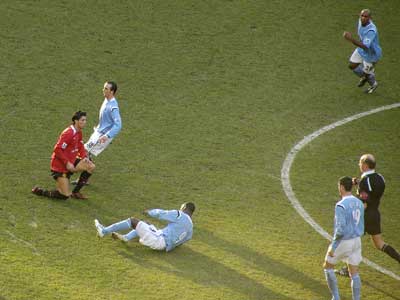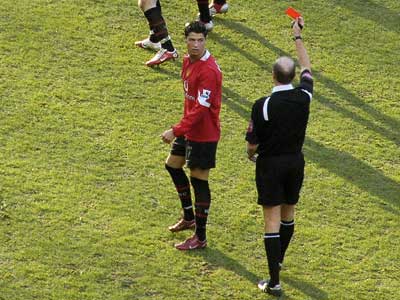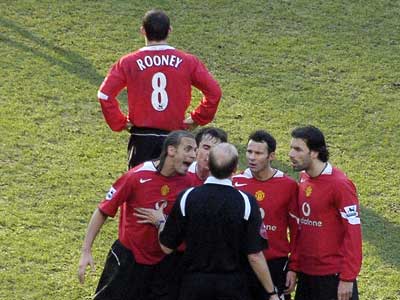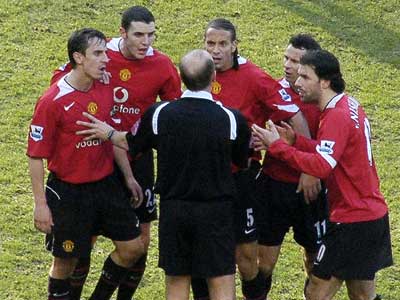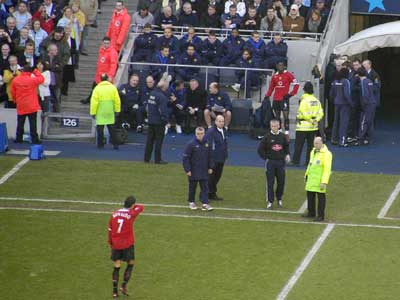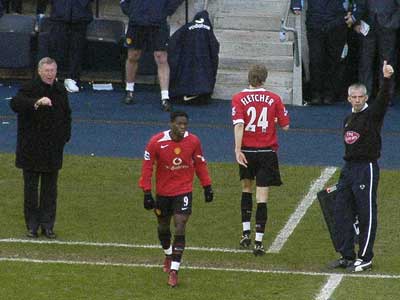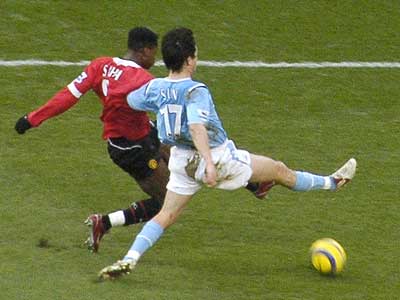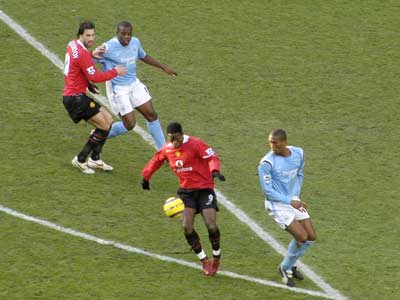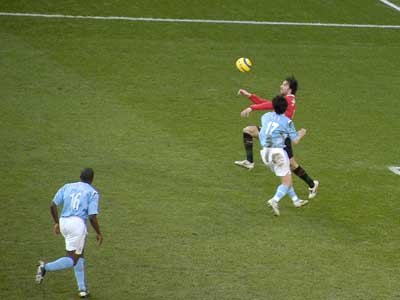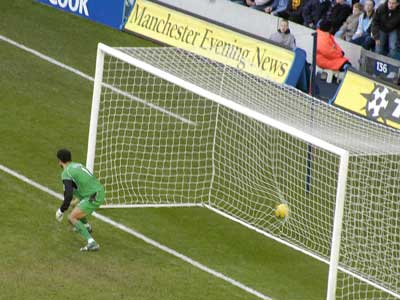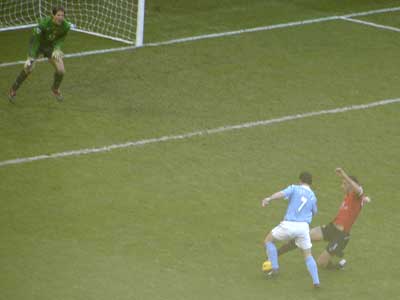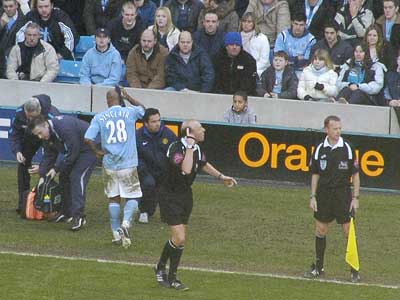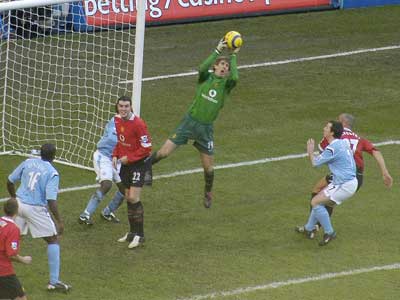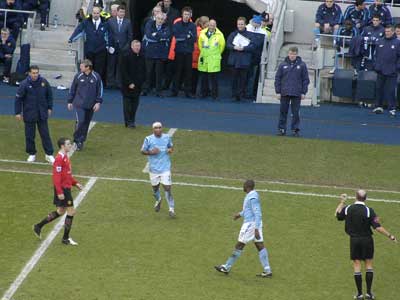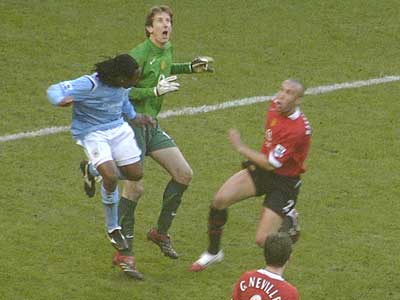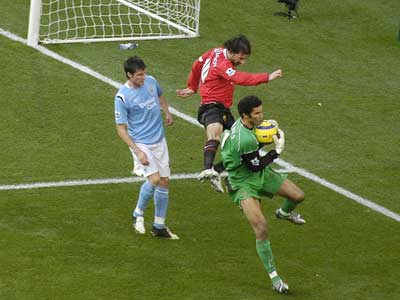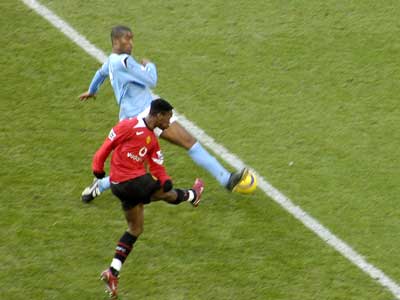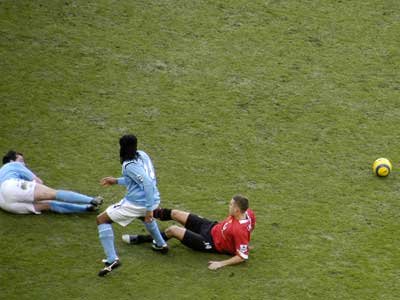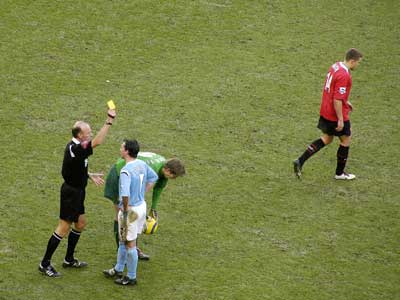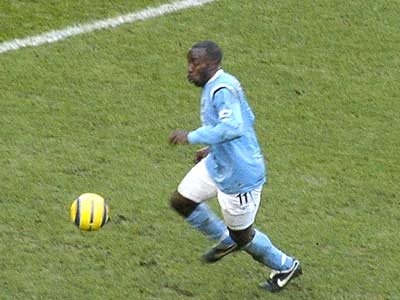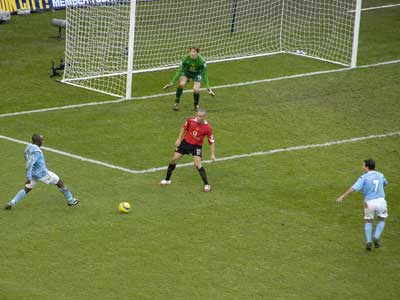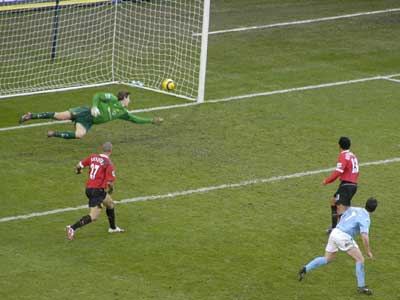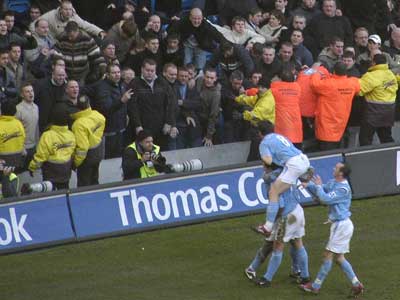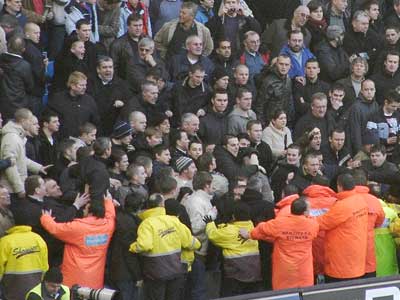 After City's recent indifferent form many would have thought City would have been in for yet another defeat but City-United derby games are a different matter so an air of hopeful optimism hung around the City of Manchester Stadium among the City supporters. United had a strong team out only Scholes being a absentee, while City had a strong attacking bench with Fowler, Musampa Sibierski and Lee Croft all being subs. Nice to see the Stadium almost full and there was plenty of atmosphere and thankfully no Munich chants
City newest signing, Albert Riera here warming up, made his debut. He came from Espanyol an surprisingly is the first Spaniard to play for City
Cole and Vassell returned as strikers and Sun moved to right back and Jordan was at left back
Sinclair whose recent form has been a revelation was soon in action putting Giggs under pressure
Play anywhere Jihai Sun whose energy and enthusiasm are first rate was in action early too heading clear from Van Nistelrooy
United gave their new signing Evra from Monaco his debut but the Frenchman soon realized he was going to be in for a torrid time.
United's danger man was undoubtedly Rooney who was soon running at the City defence.
After 7 minutes City had the first shot on goal but Andy Cole's effort lacked power and direction and was saved easily
Ronaldo was soon to find out that Jordan was not going to let him dazzle him with his fancy tricks
Ferdinand practices one of his ballet jumps
Dunne back to his best form heads clear
Ronaldo under pressure from Barton and Riera
Jordan goes to block a Rooney pass
Van der Sar leaps to catch a City free kick
City had a narrow escape after 19 minutes when a Rooney cross went across the City goal with Van Nistelrooy failing to connect.
As City clear the ball through Riera the referee spots an offense by Rooney who is then talked too by Steve Bennett who had replaced Mr Halsey
Now its Cole's turn for a chat with Mr Bennett after a clash with the United keeper
City were beginning to win the battle of midfield and the United goal came under more pressure.
Ireland was settling in well in midfield with some fine touches.
After just over the half hour City went ahead. A cross from Barton was only partially cleared and Stephen Ireland just stroked the ball forward and Trevor Sinclair evaded Silvestrie and crashed the ball past Van de Sar. United appealed vainly for offside presumably for the original cross.
Well earlier in the week Trevor Sinclair had said that scoring in the 'Derby' for City is better than sex. Well Trevor after that great effort you will no doubt be getting a double amount of emails flogging Viagra!
The City faithful went mad with joy. Scoring first in the 'Derby' is so important
Andy Cole was giving Silvestrie a hard time
Oh dear, Trevor Sinclair has pinched one of Rooney's toys!
Rooney missed a good chance after 35 minutes after he had broken through following a bad error by Barton in midfield, David James saving well with his feet. A minute later James was in action again catching a centre.
David James punches clear from Van Nistelrooy
After 38 minutes City went further ahead. A long clearance by James found the head of Sinclair. The ball came to Cole who nudged it forward to Vassell just onside.
Vassell glided the ball past the United keeper and it was 2 nil for the home side . The whole stadium, except for a small section, rocked with glee.
Cole and Vassell continued to cause problems for the United defence.
An unmarked Ronaldo heads well wide.
An Andy Cole shot is tipped over by the United keeper
Just before half time Rooney is booked by the referee for swearing at him. I heard from a colleague who had seen close-ups on the TV and had lip-read the comments that he was lucky to stay on.
Now it was Fletchers turn to act like a spoilt child
Sinclair -always in the thick of the action clashes with Silvestrie
Giggs and Rooney now reinforced by Smith in midfield ( on for Evra) tried desperately to get back in the game
After 65 minutes United had another blow. Ronaldo,who moments earlier had been fouled by Jordan but only got a throw in, lost his cool. He dived in at Cole studs high right infront of the referee who had no option but to send him off. Emotion had got the better of him and his lack of control was a further blow to the visitors.
The United senior players could not believe that one of their players had been sent off. I noticed that Rooney kept out of it.
So Ronaldo heads for the tunnel and no doubt some words of wisdom from his manager. A few minutes later Manager Ferguson takes off Fletcher and brings on Saha.
Jihai Sun tussles with Saha.
Young Onuoha had come on for the injured Dunne after 60 minutes but fitted it well with skipper Distin in the centre of defence
In the 75th minute United got a goal back. It came from a brilliant turn and shot from Van Nistelrooy who whipped the ball through Sun's legs past an unsighted David James
City then made 2 changes bringing on Fowler for Cole and Musampa for Riera. Fowler was soon in action almost breaking through. It needed a last ditch tackle to stop him
No the ref is not suggesting that Sir Alec Ferguson has gone nuts - no Sinclair has sustained a cut head!
With United, now down to ten men , pushed everybody forward but left themselves open to counter attacks
A well bandaged Sinclair was soon back on. He wasn't going to miss a minute of this game.
Musampa enjoying his first bit of action for a while causes the United keeper some anxiety.
Jordan and James put a stop to Van Nistelrooy's effort
Distin, back to his best, blocks a Saha effort
Fowler clashes with Alan Smith.......
....
.. and gets booked for his trouble.
As the 4 minutes extra time started City broke away with United well stretched. Vassell might have scored himself...
He took the ball towards the left wing and passed to Robbie Fowler who cracked the ball first time with his left foot past Van der Sar to clinch the game at 3-1.
He ran towards the United supporters celebrating - not a good idea and the stewards had a job controlling the visiting fans who had seen their side well beaten.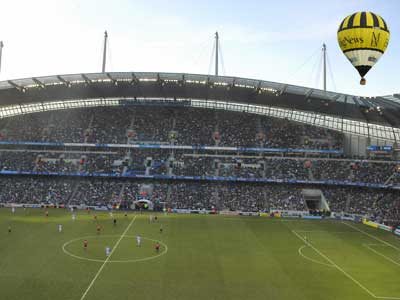 A wonderful result for the City fans and one could almost imagine the Manchester Evening News Balloon floating above the pitch!
It was a fine City team display with everybody playing a part. Star man was Trevor Sinclair who has had bad luck with injuries but has come back to great form. He has never been shy in showing his love for the club and his efforts today were well rewarded. Less spectacular but equally important was the hard work and creativity of young Stephen Ireland. Vassell was back to his best as was the defence with Jordan surely now to keep his place at left back. It was a cracking game with City having the run of the ball for once. Finally a word about the referee. I thought he handled a difficult game well. In the early stages he let the game run when others would have been blowing up every minutes and giving out yellow cards like confetti.
James 7: Sun 6.5, Dunne 7.5 ( Onuoha 6.5), Distin 7.5, Jordan 7.5: Sinclair 9, Barton 6.5, Ireland 7, Riera 6.5 (Musampa 6.5): Cole 7.5 ( Fowler 7) , Vassell 8