February 2008
City1 Arsenal 3
Feb 2nd 2008 46,426
Well City's unbeaten home record went after being well beaten by Arsenal who looked as though they could have upped a gear if City had managed a second at 1-2. Their accurate passing and movement looked streets ahead of City and it was easy to see the gap between the top three and the teams below. City were just outplayed from the first whistle and with games against United and Everton coming up it is going to be tough going to keep in the top 7 let alone 4th spot. The early season form is now becoming a distant memory and it's going to take some hard graft from management and players to recover the early days.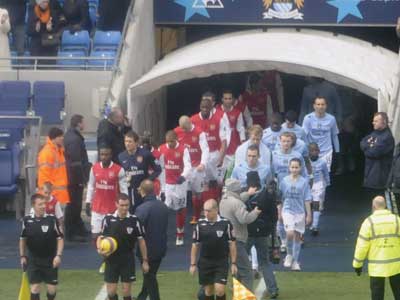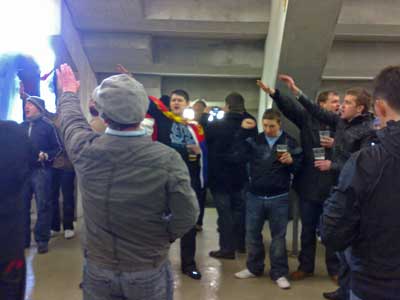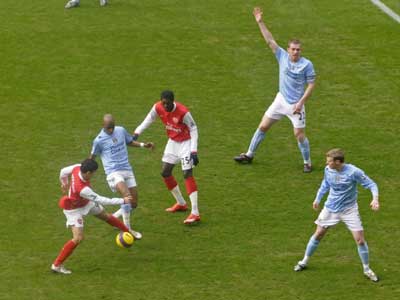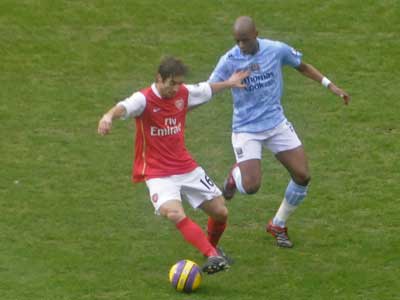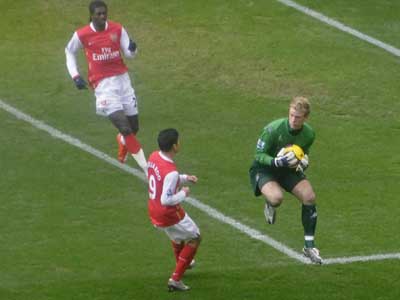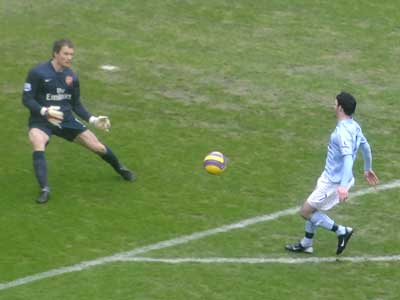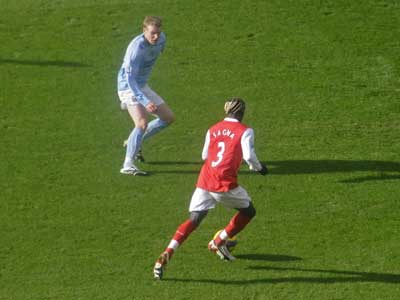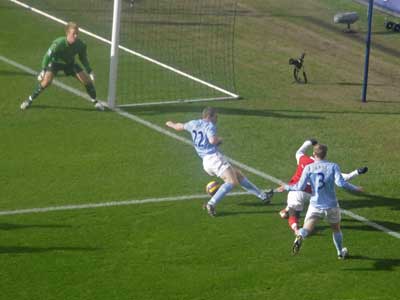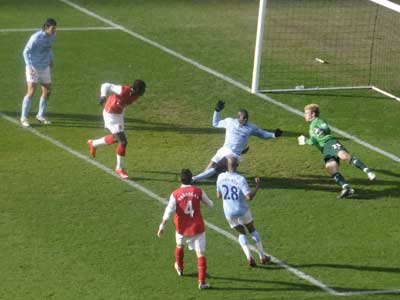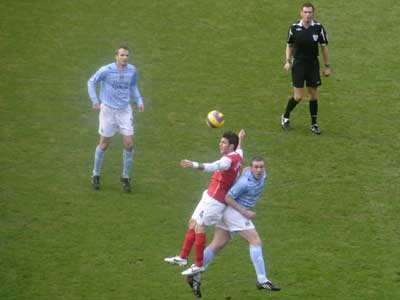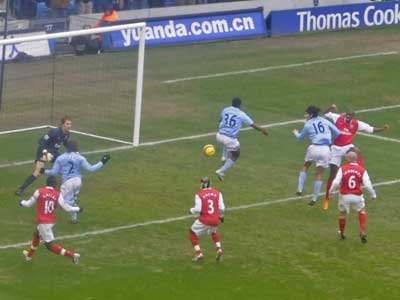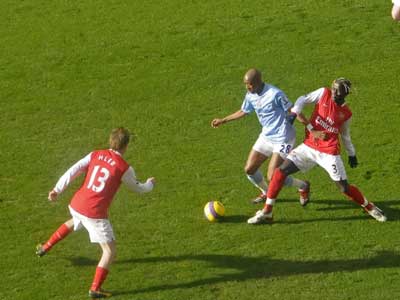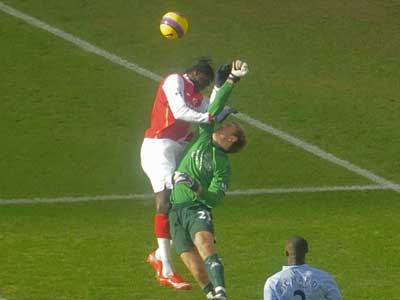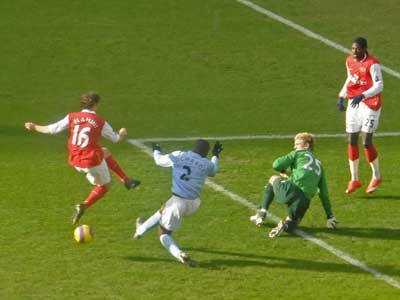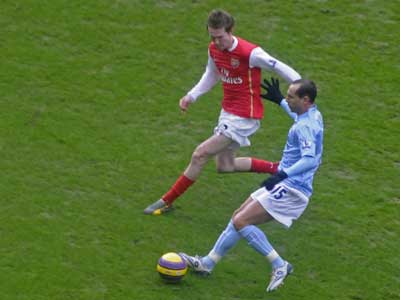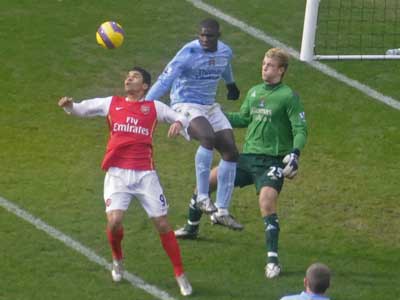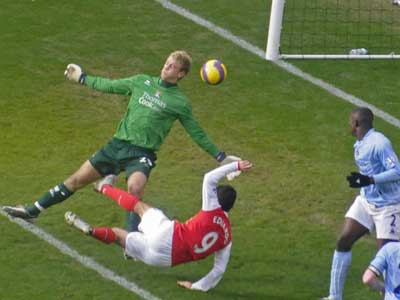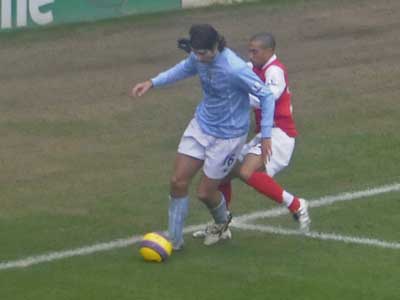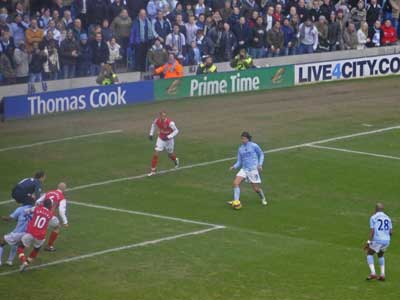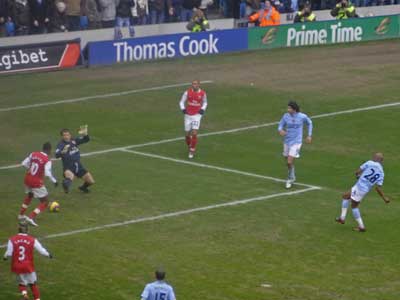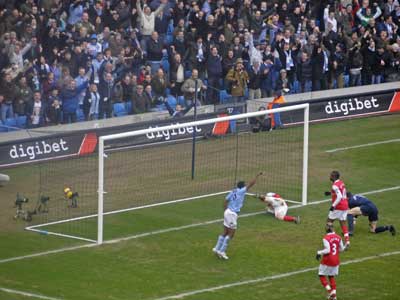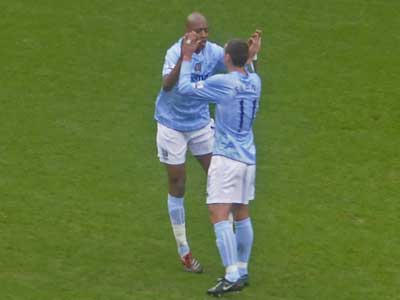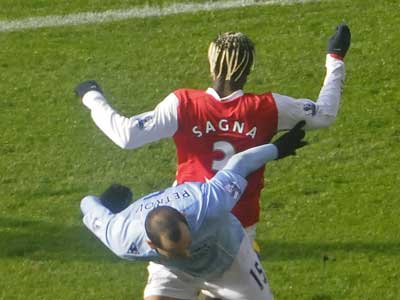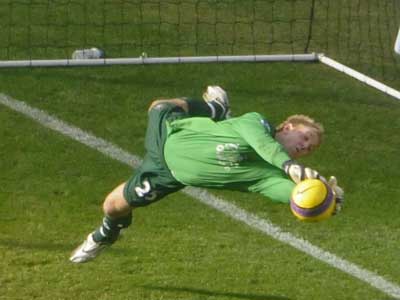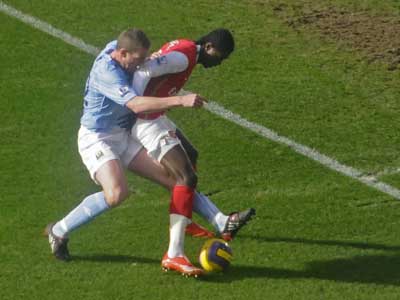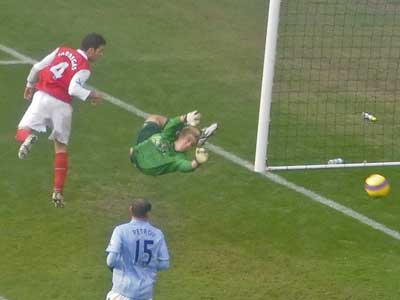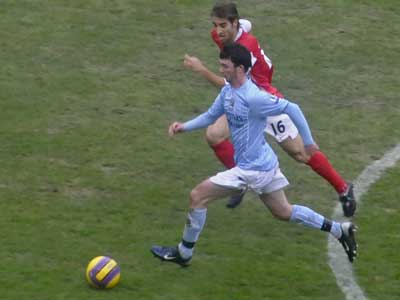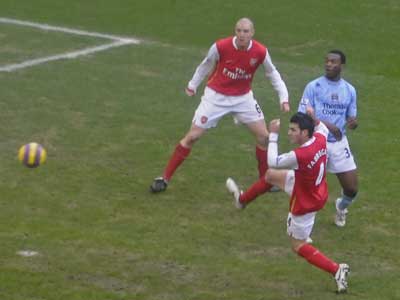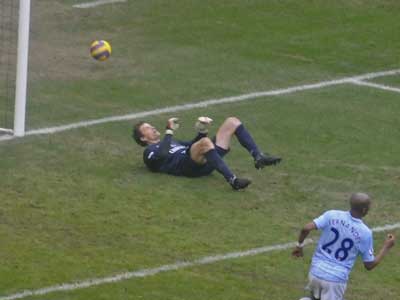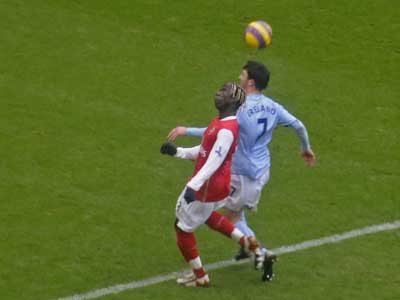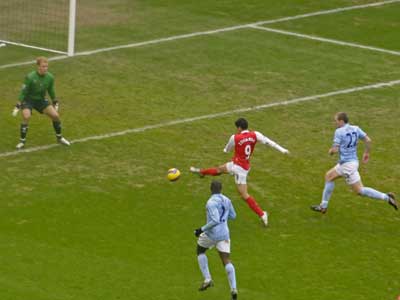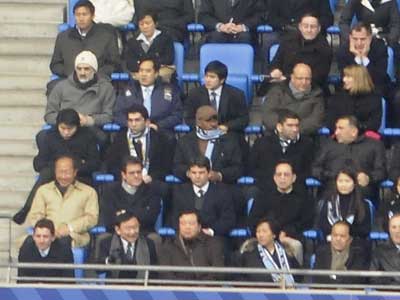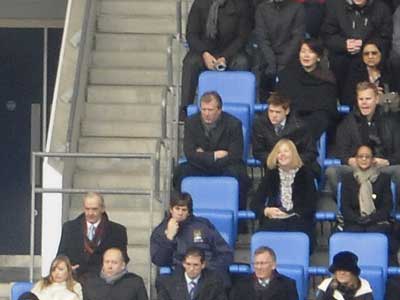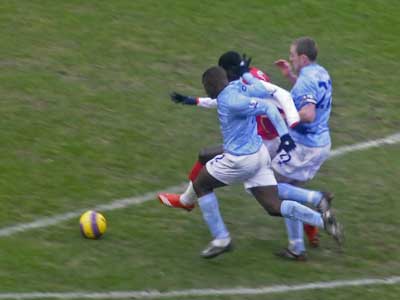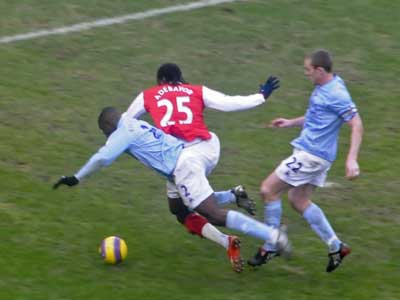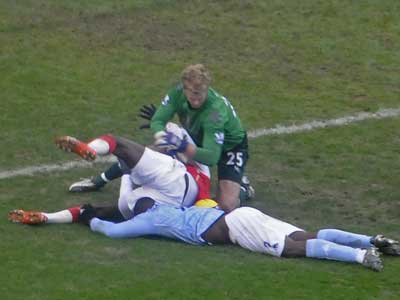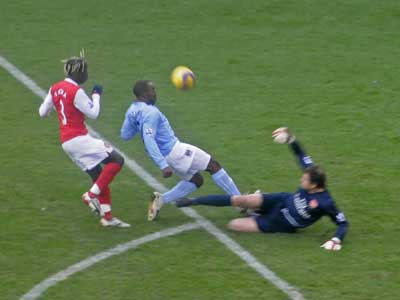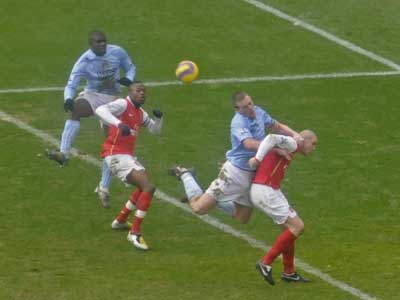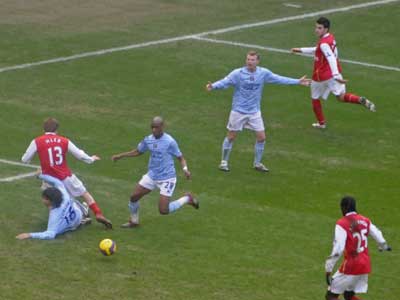 It was surprising to see a group of Glasgow Rangers supporters enjoying themselves in one of the tier 3 bars . They brought a welcome touch of atmosphere to the occasion
City gave a home debut to Danny Sturridge after he had scored in the last two away games. Richards returned from injury
The early moments of the game saw Arsenal well in charge with City hardly able to get a touch of the ball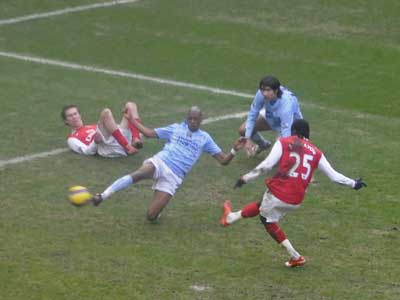 I wonder why all the photographers were at the City goal while Lehmann had no one to chat to!
Sitting behind our chairman was new England manager Capello whilst a few rows back was ex England man Steve McClaren Couldn't find Benjani !
Hart looked confident in his early handling of the ball and then Ireland had a golden chance after 6 minutes when put through by Elano. Ireland opted out of a clash with Lehmann when more determination might have seen him beat the German keeper.
City were to rue that missed opportunity after 10 minutes. Petrov gave the ball away in midfield with a sloppy pass. The ball came out to Sagna who somehow evaded the attentions of Ball and Dunne to cross ...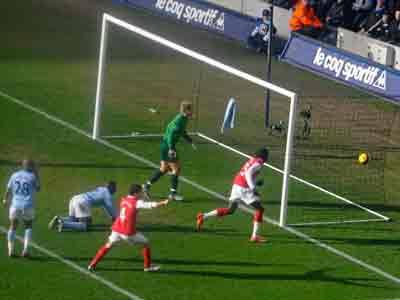 ....... and Adebayor scored with ease to give Arsenal the lead.
Dunne and Abreast jump in a heading duel
A rare City attacking moment following a free kick.
Hart tries to clear but is impeded by Adebayor
Fernandes tackles Sagna with Hleb waiting in the waiting
Petrov had only one good run all game and frequently gave the ball away
Richards was having a tough time on his return but here managed to clear from Flamini
After 26 minutes Arsenal struck again. A centre from the left was headed back by Adebayor to Eduardo who took it on his chest before brilliantly hooking it past Joe Hart to make it 2 nil
a minute later City struck back. The persistence of Corluka down the right and a mistake by Clichy who was robbed by Corluka enabled the City right back to push the ball back to the waiting Fernandes.......
...... who calmly shot past Lehmann to give City a fighting chance.
Ferdinandes celebrates his first home goal with Elano
Great save by Joe Hart from a header by an unmarked Adebayor
Dunne battles with Adebayor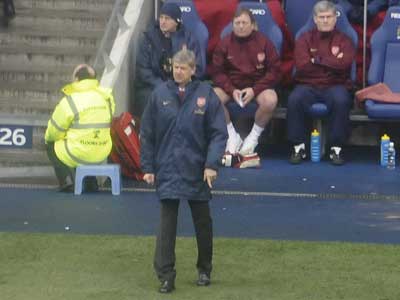 Arsene Wenger easily the most successful of Arsenal's managers.
Fabregas almost scored when a Gallas shot cum cross following a corner screamed past a diving Hart
Ball was having a hard time dealing with the dashes of Sagna down the wing
Ireland's form has gone down since grannygate
Sturridge on his home debut rarely was in the game and he was subbed after 55 minutes by Vassell
A Petrov shot goes well wide as Lehmann watches it lying down and at half time it was 2-1 to Arsenal
Sagna and Ireland tussle for the ball
Eduardo misses a chance with Richards and Dunne nowhere.
Arsenal felt they had a good shout for a penalty when Dunne and Richards combined to hinder Adebayor's progress as he dashed towards goal. Joe Hart emerged eventually with the ball
A through ball by Hamann put Vassell through but Lehmann just managed to beat him to the ball
Dunne misheads the ball at a rare City attack
Team
Hart 6.5: Corluka 7, Dunne 6, Richards 6, Ball 6: Ireland 5.5 (Mpenza 6), Hamann 6.5 (Geovanni 6), Fernandes 7.5, Petrov 5.5,Elano 7, Sturridge 6 (Vassell 6)
In the last minutes Arsenal clinched the points with a third goal. A swift counter attack and excellent passing left Adebayor the easy task of scoring from 12 yards.