February 2007
City v Reading 0-2
February 3rd 2007 att.38,676
Reading duly completed a double over City despite having less of the play and less chances. Once again our finishing let us down with Joey Barton ( now part of the England squad) guilty of two bad misses ( no help from his grandfather I am afraid - ref a recent Question of Sport) . The roller coaster world of being a City supporter adds credence to unsubstantiated rumors that the Samaritans are opening a local office and rope sales are going up. Supporters must wonder how much the Football Association are to blame with their wonderful timing of the Under21 England manager selection just before the end of the transfer window. Was it a case of the left hand not knowing what the right hand is up to or just sheer stupidity. How much did it affect the City efforts to get another striker. In addition surely the efforts to obtain reinforcements should not have been left so late by City. It was been apparent now for several months that our strikers are just not good enough and if we go a goal down the chances of getting something out of the game are slim.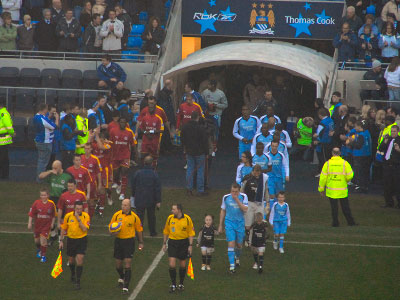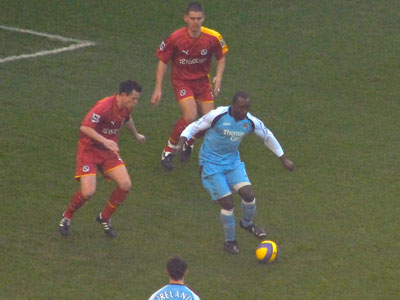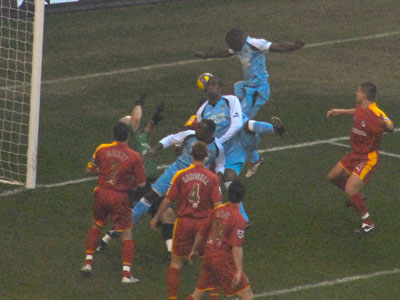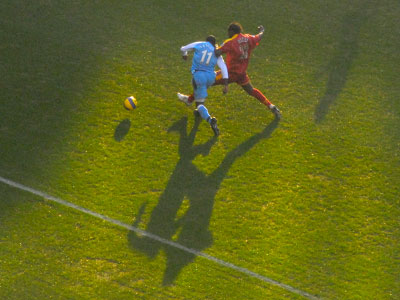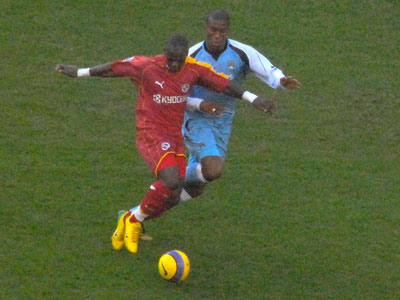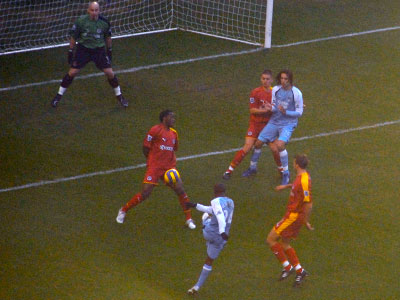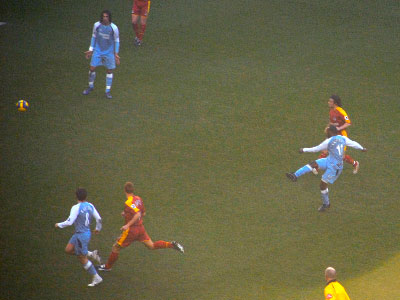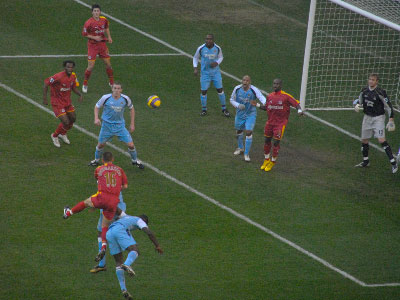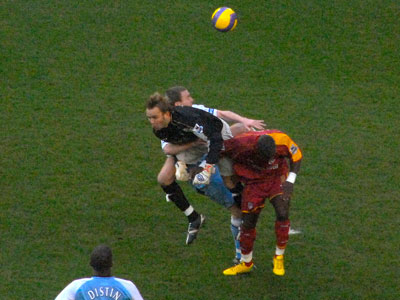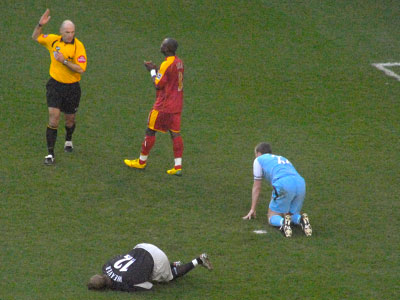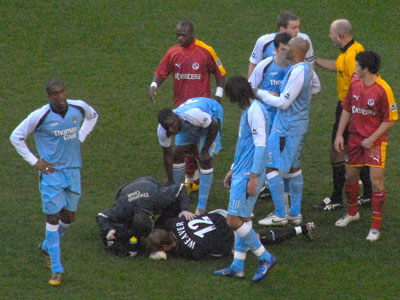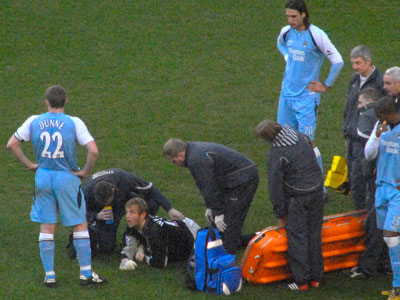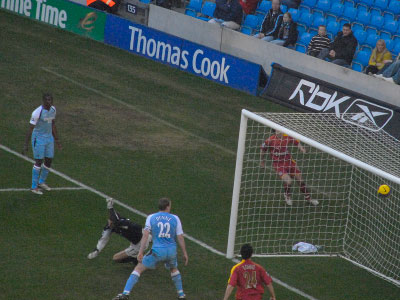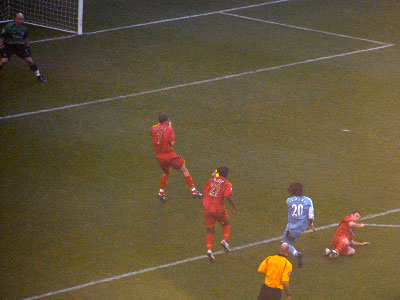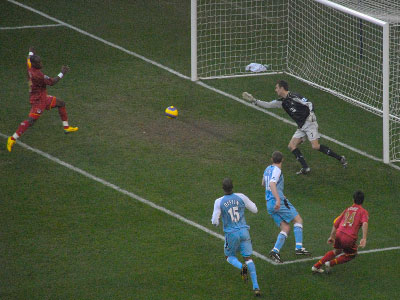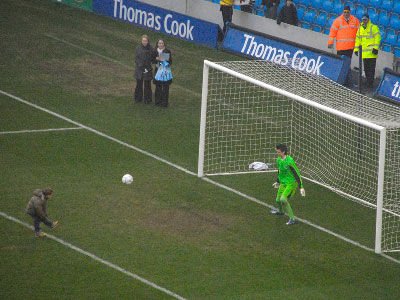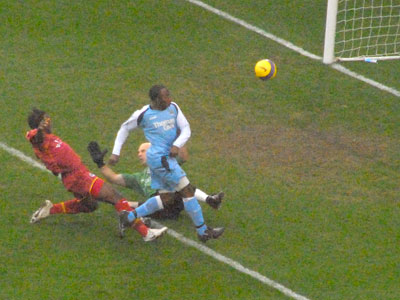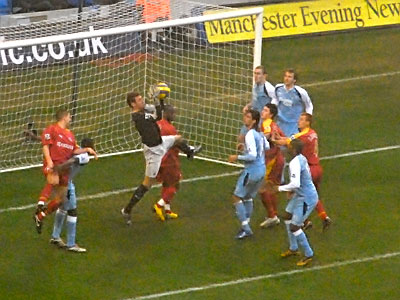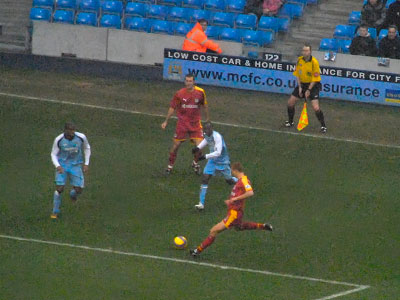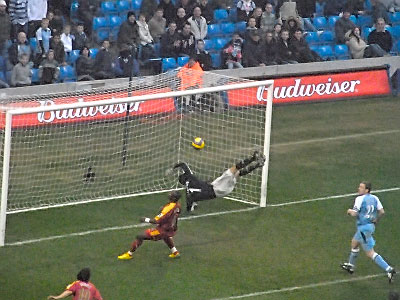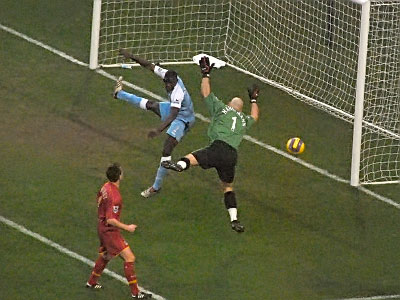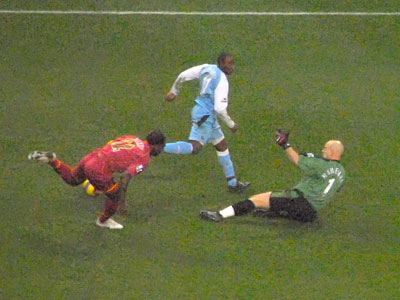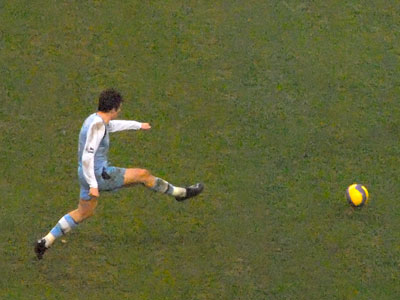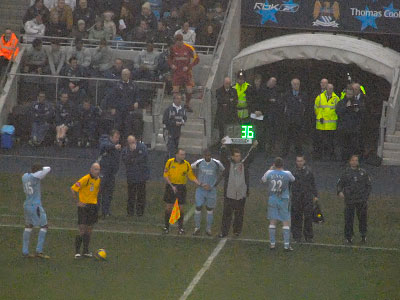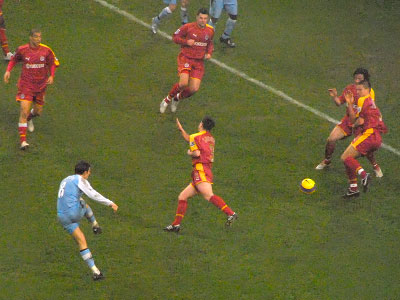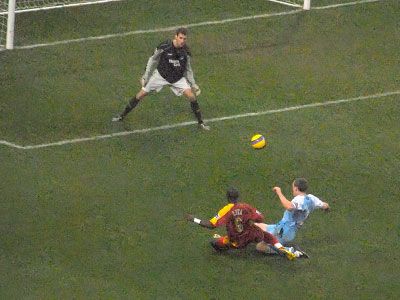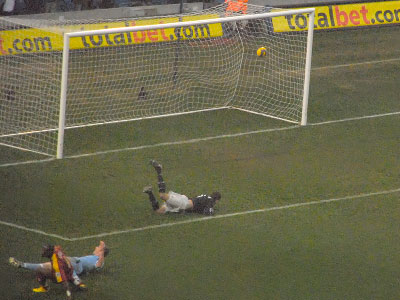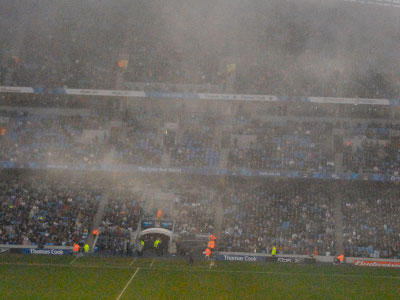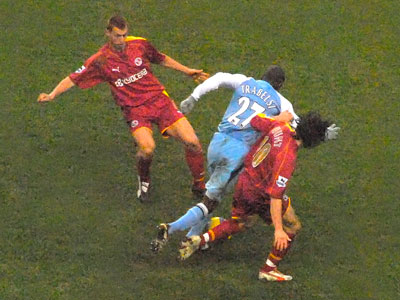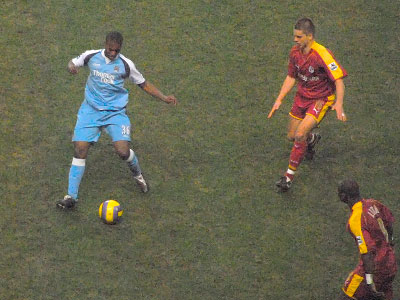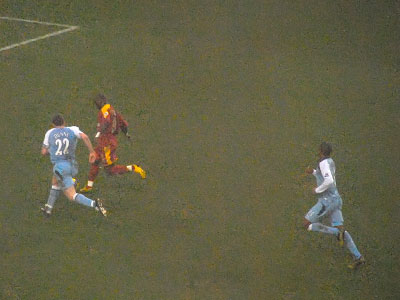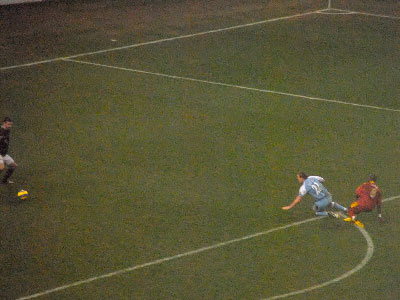 City relied on a 3-5-2 formation but there was a welcome cheer for the inclusion of Sturridge on the bench
.
Vassell who had been showing plenty of effort recently was soon in action
Distin heads a corner from Barton just wide
Though the afternoon sun can contribute interesting shadows it can be a real pain to avoid flare
From the start it was obvious that danger mad for Reading was Leroy Lita from the Congo.
A Beasley effort is blocked after 20 minutes.
A minute later Vassell has a long range effort but it goes over the bar
A little later Reading have a corner and Ingimarsson has a heading chance
After 26 minutes Weaver collided with skipper Richard Dunne and he looked badly injured at first......
.......after several minutes it looked as though he had made some kind of recovery but after 35 minutes he was substituted by Isaksson, making his home debut.
6 minutes from half time City had a lucky escape when a long cross was headed back to Lita who scored but a linesman had flagged for the ball going out. It must have been a very near thing with the City defenders just standing around watching.
Richards had to be alert to win a header against Lita
After 43 minutes Samaras cut inside and shot well and his shot was parried by Hahnemann but Baron following up put the ball right back to the keeper with the goal at his mercy. Chance missed!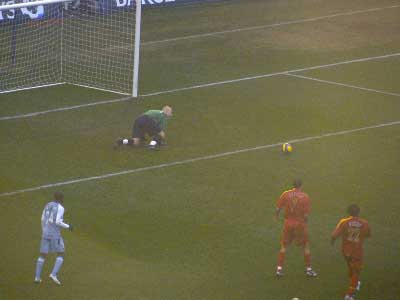 In added time Reading missed an opportunity following a cross
At half time this toddler showed how to score to win a Thomas Cook holiday. Hope Pearce was watching!
Right at the start of the second half Trabelsi for once put in a good cross but Vassell doing well to get to the ball first put it over the bar from close range.
Isaksson showed good handling and his quick distribution put City on the attack A welcome feature.
When Beasley lost possession on the right wing a shot cum cross by Sidwell was deflected by Hamann ( on for Dabo)and hit the bar
The Reading keeper was easily the busiest of the keepers and once again Vassell missed a chance put through by Ireland.
There was a big cheer when Sturridge came on for Samaras after 75 minutes
For him Barton was not having such a good day missing several opportunities and his passing was a little off. The pressure of being picked for the England squad no doubt
!
Barton shoots just wide from a good position
The mist started to come down but never really settled.
The dreaded moment came after 79 minutes. A quick break by Reading ended with Sidwell slotting a pass past Dunne and Leroy Lita shot well past Isaksson to give the visitors the lead. It was a well worked goal.
Trabelsi was guilty of too many poor crosses whilst we hardly saw Beasley on the left.
Sturridge showed a few nice touches but had little chance to really show us what he is capable of.
Reading sealed the game in the final minute when Hamann held the ball too long and lost possession and once again it was Lita who showed City how to score goals. Reading without any stars played well as a team and were well organized from back to front. City threw chances away. Something will have to be done to put this right.
Team
Weaver 6 (Isaksson 6): Richards 6.5. Dunne 7.5, Distin 6.5: Trabelsi 6, Barton 7, Ireland 6.5, Dabo 5 ( Hamann 5.5) Beasley 5: Vassell 6.5, Samaras 5.5 (Sturridge 6.5)