Manchester City 5 v Hull 1 December 26th 2008
Premier League att.45,196
As Wallace said to Gromit at half time " By 'eck Gromit that was a cracking first half!" . Typical City - rubbish at West Brom then magnificent in the first half against Hull. Three up in half an hour it was game, set and match over by the interval and even then we had the incredible spectacle of visiting manager Brown giving his team a rollicking in front of the visiting supporters on the pitch! I had never ever seen that before in a football league game.At a local Sunday game perhaps - but not in the football league. That must be a first and those nearest who could lip read would have had a field day! In the second half Hull managed to put up a bit of a fight but City soon had the ball in the net after Hull had the temerity to score. There were several stars in this City performance but top billing must go to Stephen Ireland who was magnificent. Caicedo took his goals well and looked very promising. He was rested second half. Robinho showed he can be a match winner when fully fit and even Elano despite his recent 'feud' with Hughes put in a good performance.
There were some really good football today and I guess we will be on first on 'Match-of-the-Day
!
Lets have it more often please!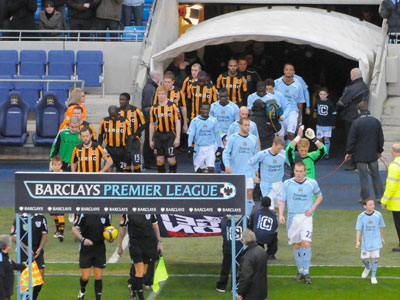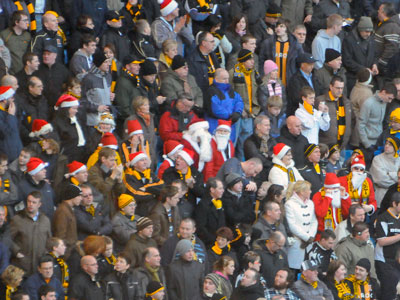 Elano returned to the team as did Robinho and Caicedo led the line
T
here were several Father Christmas's among the visiting supporters and their team gave us lots of gifts!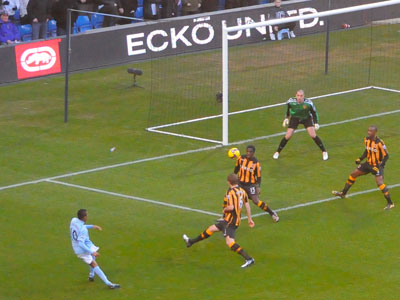 A curling side footed shot from Robinho just went over the bar after he was fed by Caicedo
Richard Dunne clears with ex City player Geovanni (who has done well for Hull) watching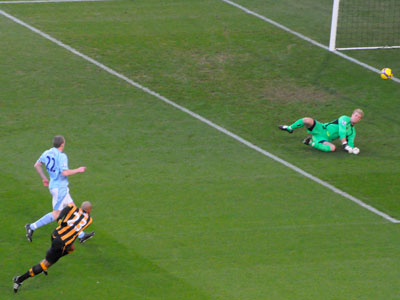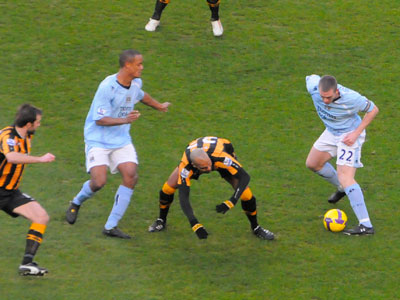 Marlon King seems to be admiring Richard Dunne's boots!
A King shot is saved by Joe Hart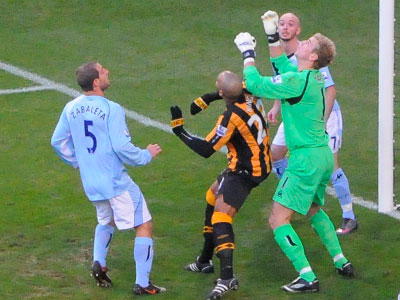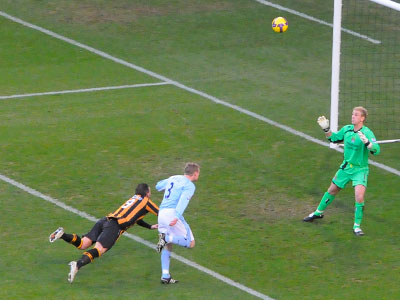 Joe Hart waits for the ball to come down with King making it difficult for him
A header by veteran 39 year old Dean Windass goes over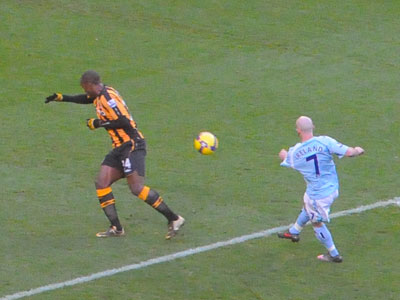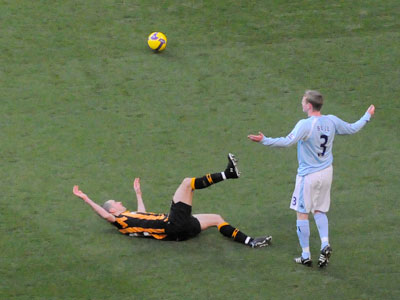 Ireland volleys over the bar following a short corner - City's new tactic!
What me ref - never touched him !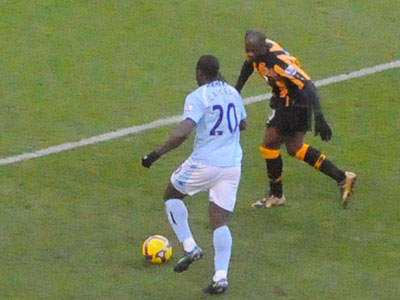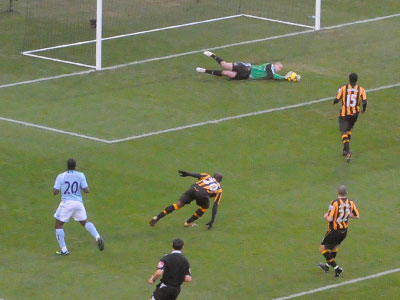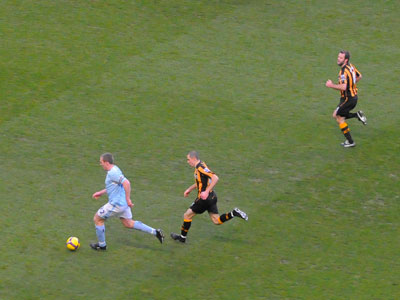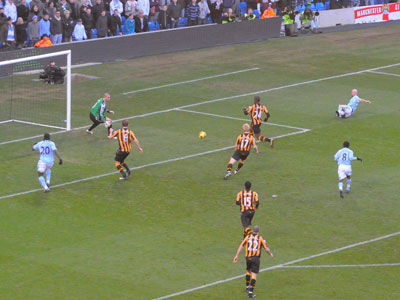 After 14 minutes skipper Dunne took the ball out of defence with a run from his own penalty area into the opposing half. He passed to Robinho on the left who swung over a great cross field pass to Ireland who had rushed up on the right. The resultant cross..........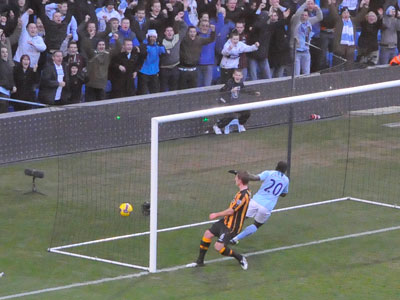 ........was swept into the net from close range by Caicedo from close range - his third in three games.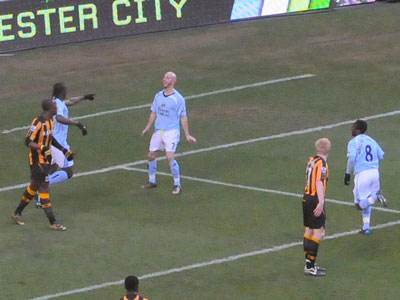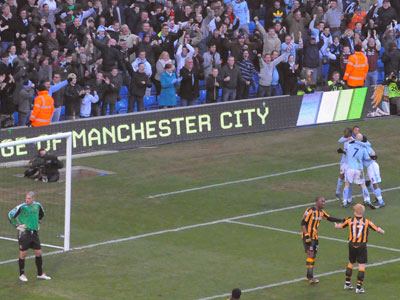 Caicedo points at goal-maker Ireland who is in top form
While Myhill wishes he was at home two, defenders argue
City players celebrate and the home supporters show their feelings
Joe Hart beats Windass to the ball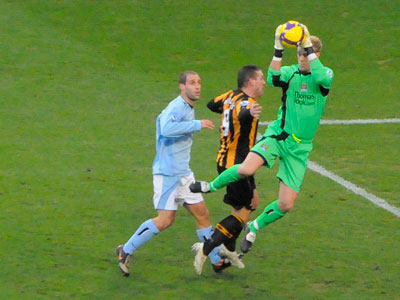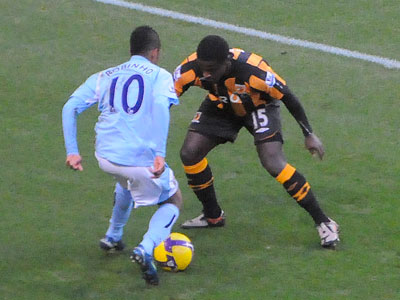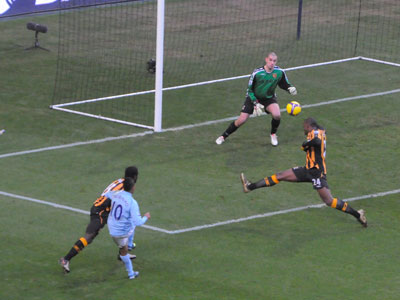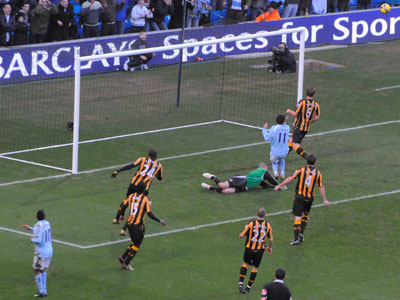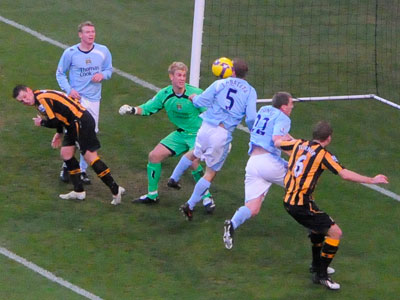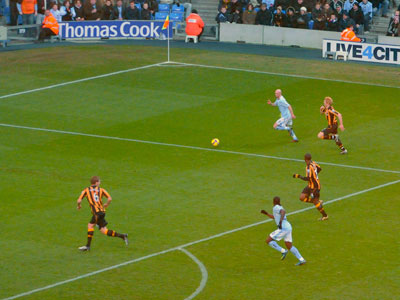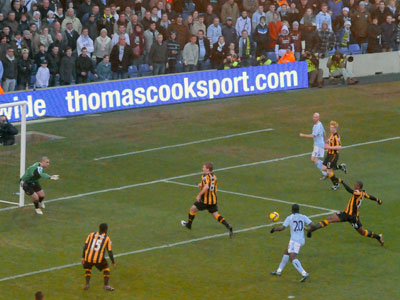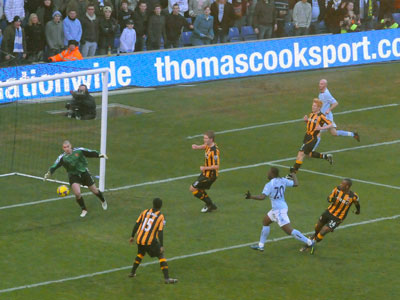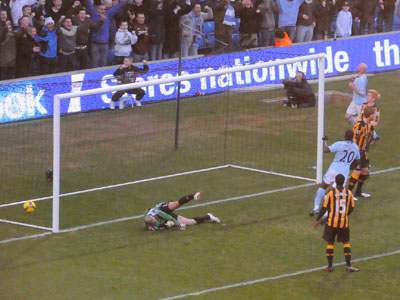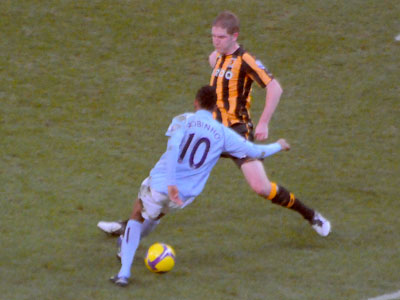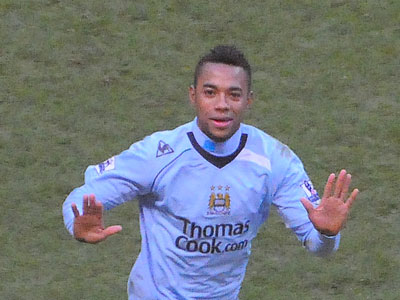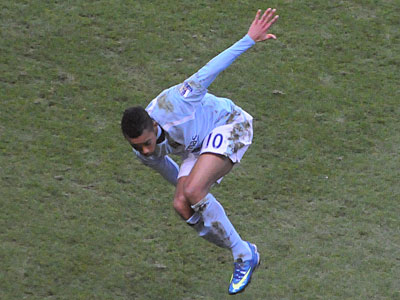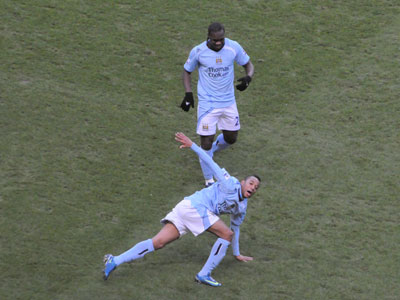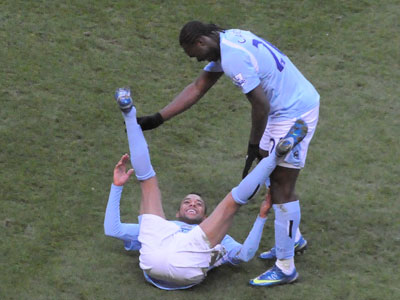 Mendy has a tough time coping with the tricks of Robinho back to better form
A Robinho shot is palmed away by Myhill to save Hull City
A tricky cross evades everybody in the goal box
After 26 minutes a mistimed defensive header let in Ireland down the right .......
.... who squared the ball for Caicedo........
... to slot the ball home for number 2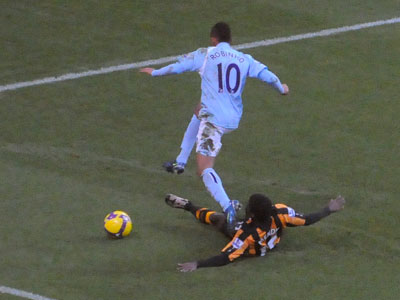 After Ireland won the ball in midfield and passed to Robinho, the Brazilian came inside the defender......
......... and shot past Myhill into the corner to make it 3-0 after 28 minutes
His celebration was a bit usual even for him and 2 minutes later he almost broke through again -only a last ditch tackle by Mendy saving Hull for further humiliation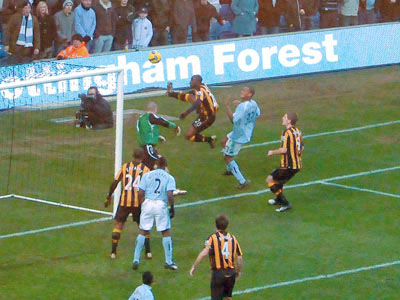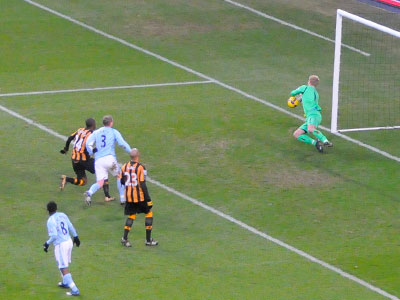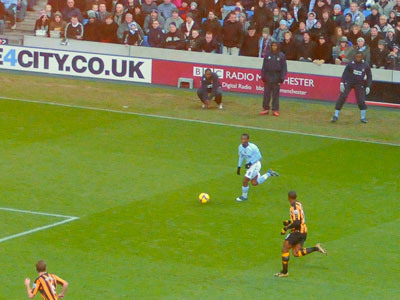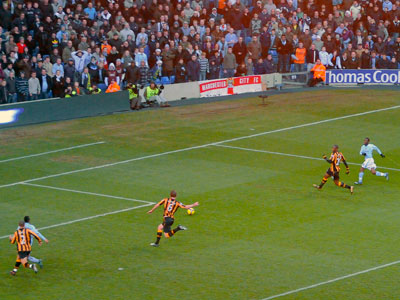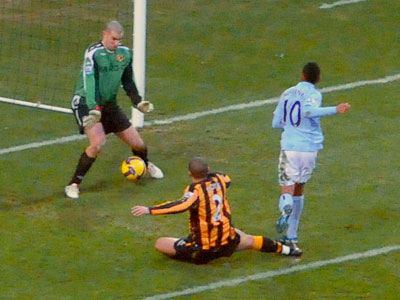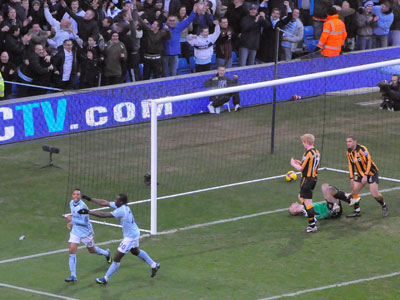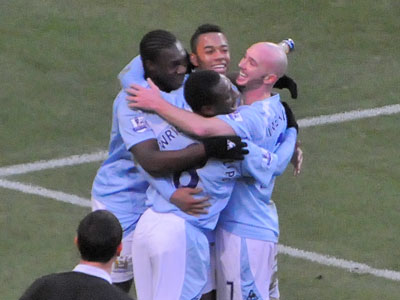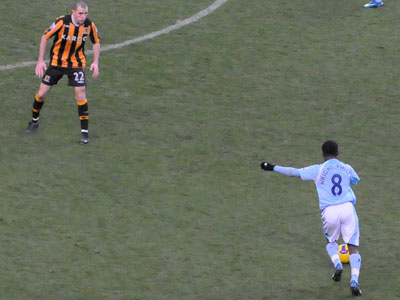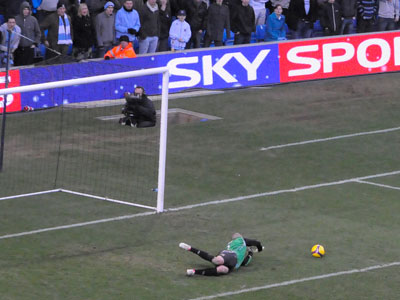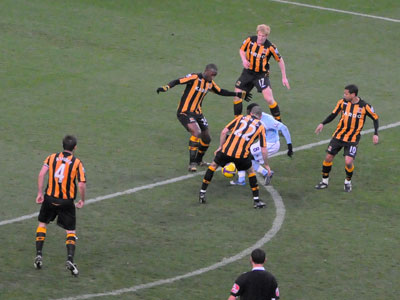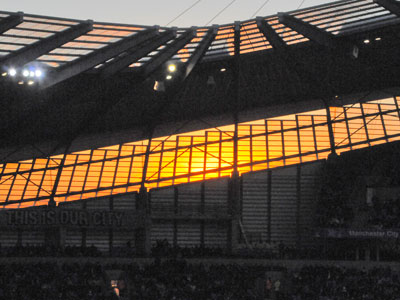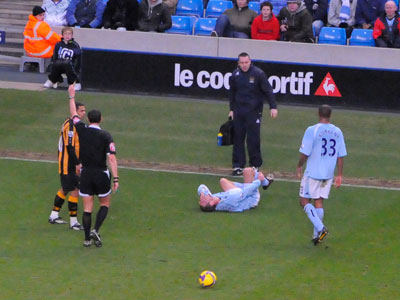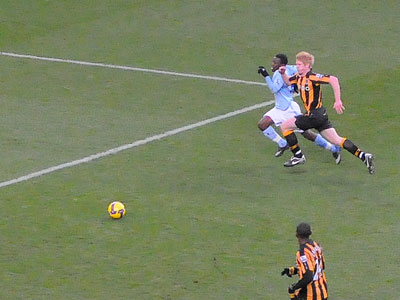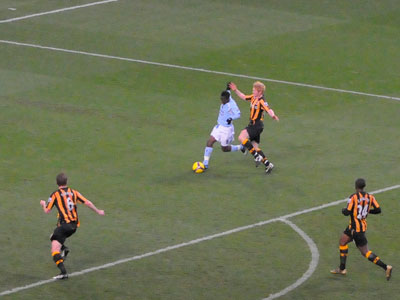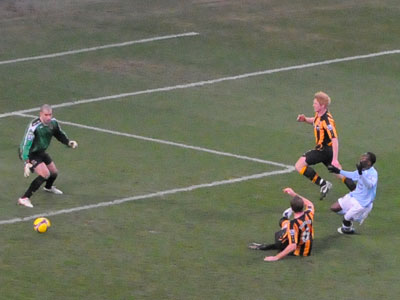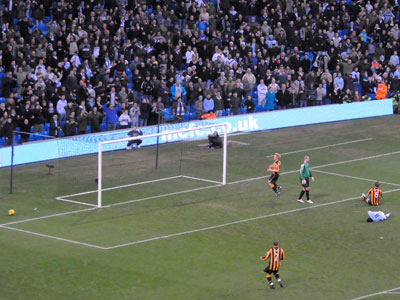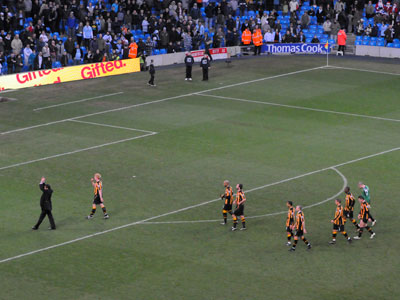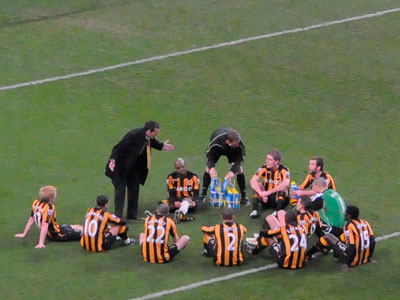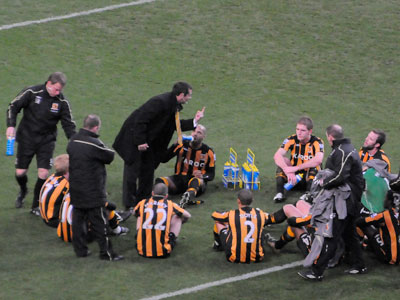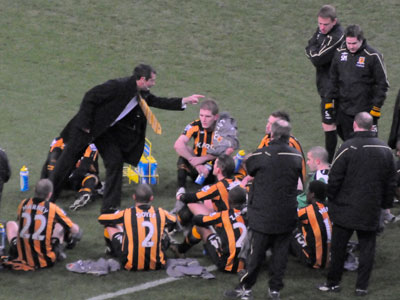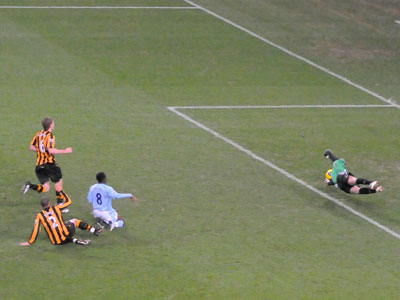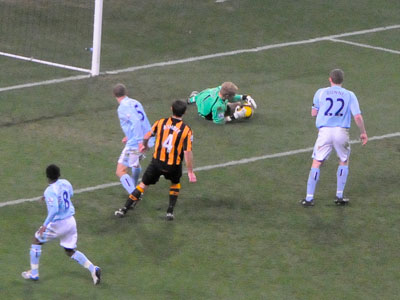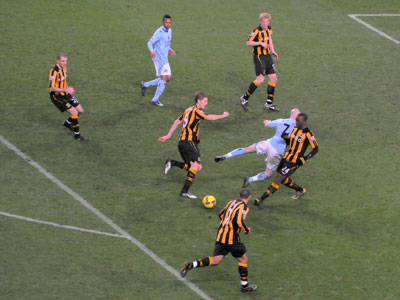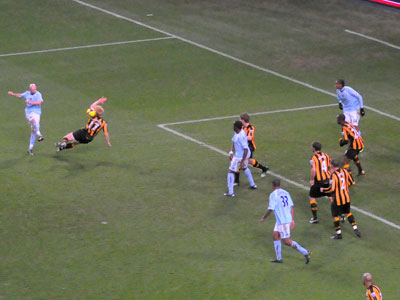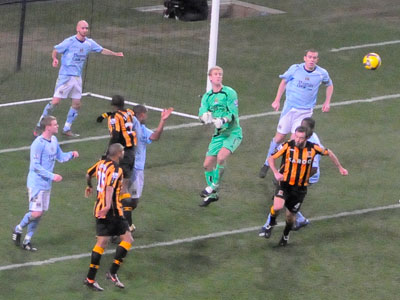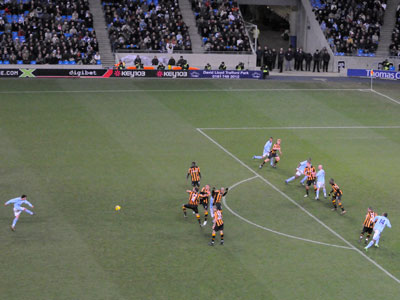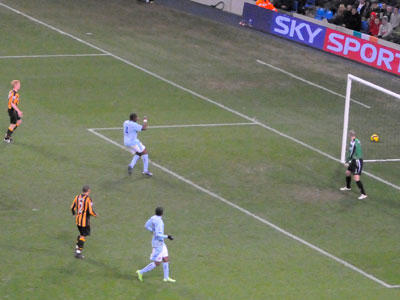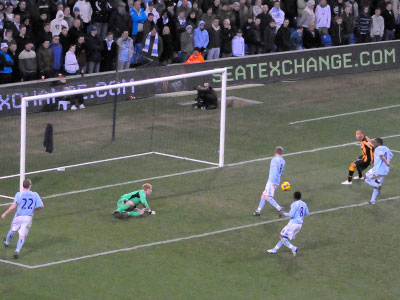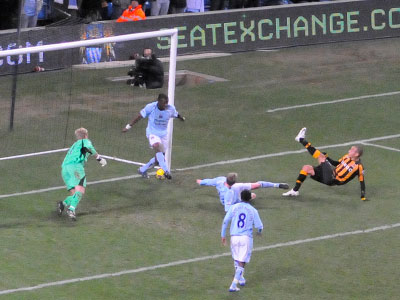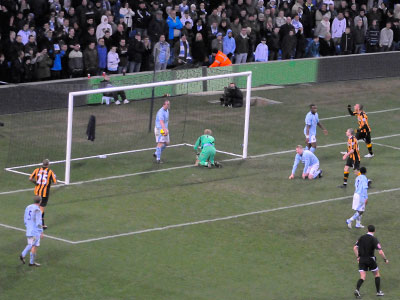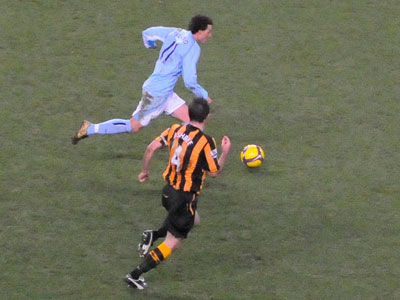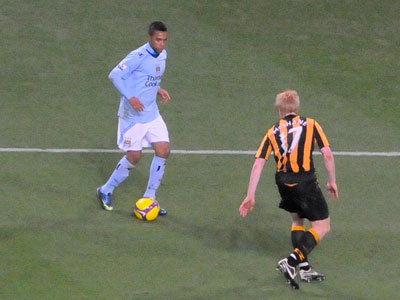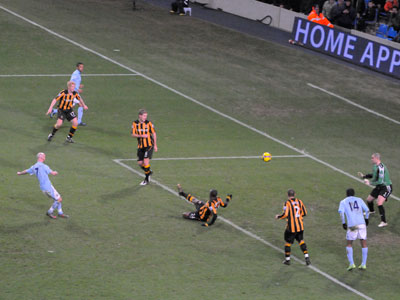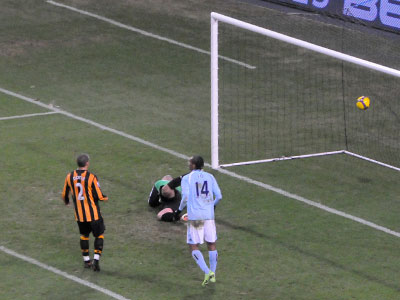 Hull have problems clearing a corner
Hart saves a Geovanni free kick
Put onside by a defender on the other side of the pitch SWP is clear down the right wing and his perfectly placed cross......
....found Robinho who shot through Myhill's legs to make it four nil - wow what a display
So this was a team in turmoil and in a relegation place!!!!
Shortly after SWP tried to get in on the act .......
......but his shot was saved by Myhill
SWP almost vanishes with mass marking
As half time approached there was a warm glow among the City faithful
Geovanni got the first yellow card just before half time
City almost made it 5 just before half time. Put through by Ireland ........
..... SWP miss-hit his final effort and the ball just went wide of the post
At half time we could not believe our eyes when Hull manager Phil Brown brought his team back onto the pitch -applauded his supporters and then started to berate his players
'You make just one more mistake'.......
.... 'As for YOU words fail me'
After five minutes humiliation in front of their fans they went back to the dressing room
Yet another great pass from Ireland put SWP through but he just failed to score
Ireland just fails to breakthrough the Hull defence
Hart is called into action for once
Ireland volleys over the bar following another short corner
An Elano free kick after a foul on Robinho flicks off the post for a corner after a deflection
On the break a shot by Cousin ( on for Geovanni after 70 mins) is pushed aside by Hart.....
....... but it ran to Fagan ( on for Windass at half time) who managed to force it home for a consolation goal
Almost immediately City scored a fifth. Ireland passed to Elano who raced forward -passed to Robinho and squared .......
....for Ireland to cap his wonderful performance with a perfect finish.
We now wait to see who will be joining City in a week or so as the January transfer window opens. I would imagine that Santa Cruz will come from Blackburn, Bellamy from West Ham, Bridges from Chelsea, Senna from Villarreal and perhaps David Villa from Valencia. That would be the big one! I will be eagerly following the news - read it on
City 2008-2009
.
team
Hart 7: Zabaleta 7, Dunne 7, Richards 6.5 ( Onuoha 7.5) Ball 6: Kompany 7, Ireland 9.5 (Fernandes) Wright-Phillips 8, Elano 8, Robinho 8.5, Caicedo 8 (Jo 6)