Manchester City 0 v Everton 1 December 13th 2008
Premier League att.41,344
Now just hovering above the relegation zone City once again failed to score. City did not deserve to lose to the last minute Everton header by Cahill and we did have a few chances in the first half but if you fail to take them then woe betide you in the Premiership. Everton were well organized and we just did not have enough guile to break their defence down . The failure to penetrate visiting defence's is now becoming very worrying. How we miss Petrov down the left wing! The lack of punch up front and failure to increase the tempo when needed is becoming a habit and there is a general lack of positive thought when the ball is passed sideways or backwards as the often forwards fail to either run towards a pass , run into space , or run into positions to deceive defenders. I just hope we can sign quality players in January - I feel we need 5 or 6. I doubt whether we will sign all we want though.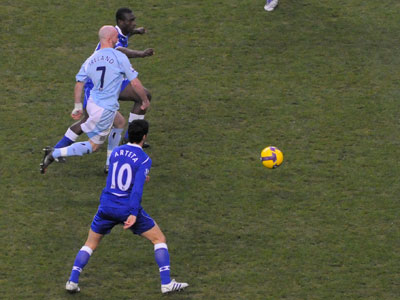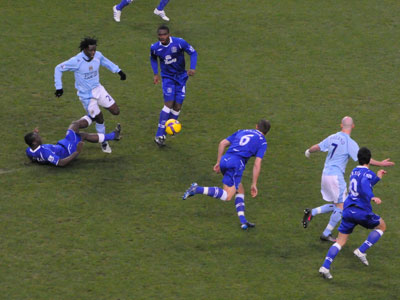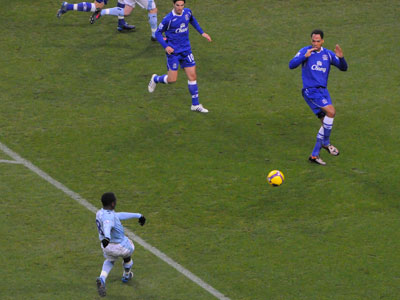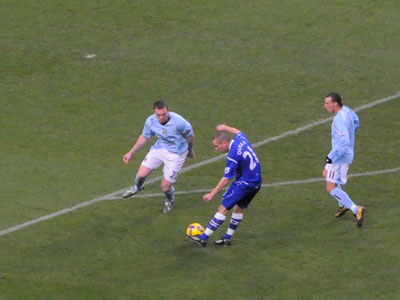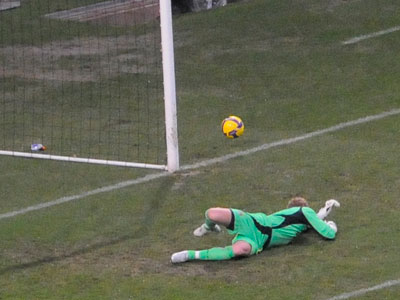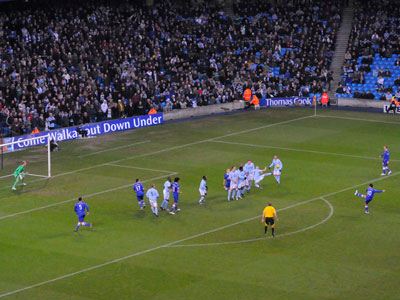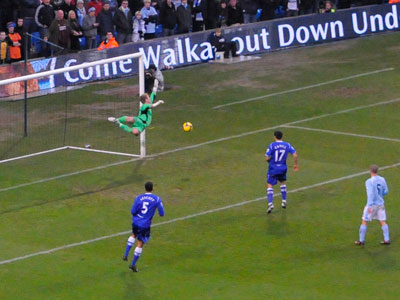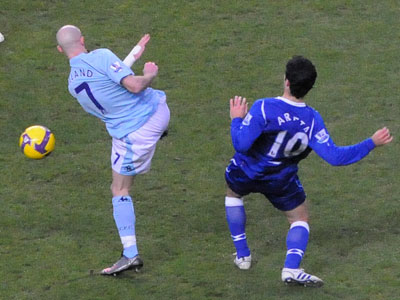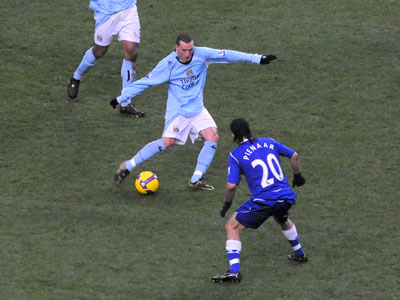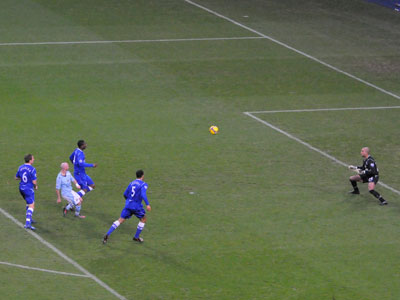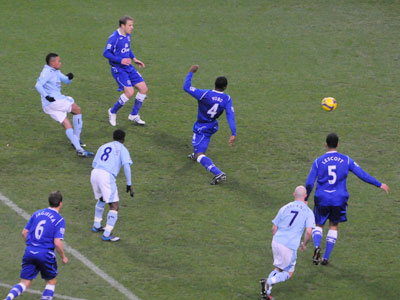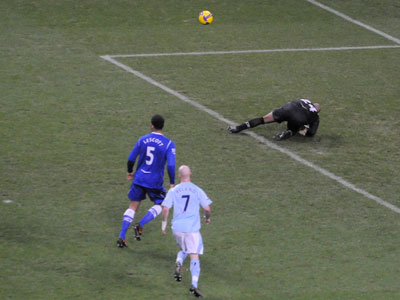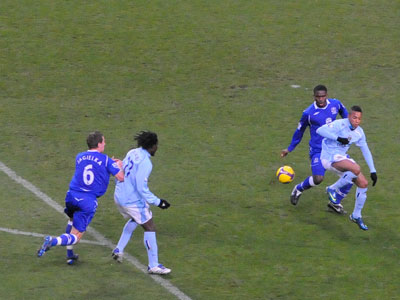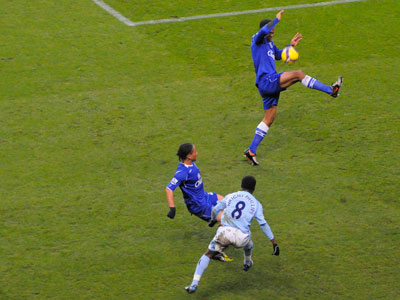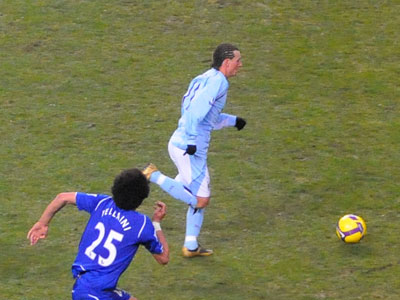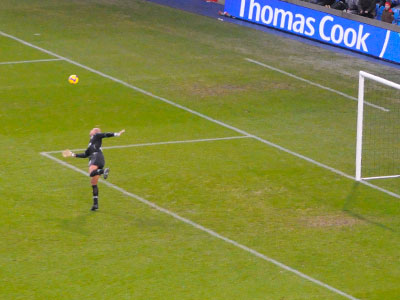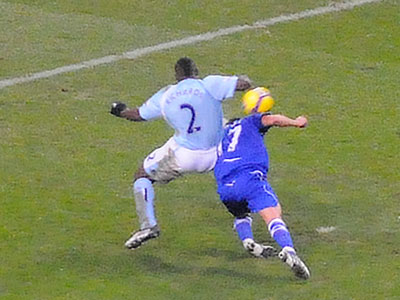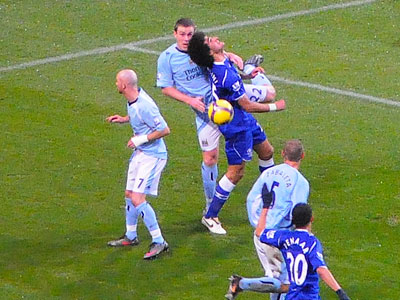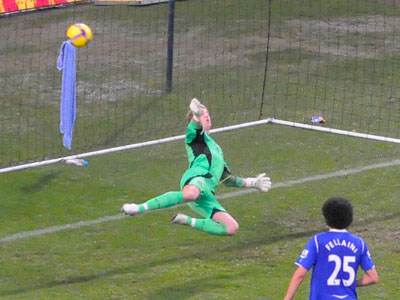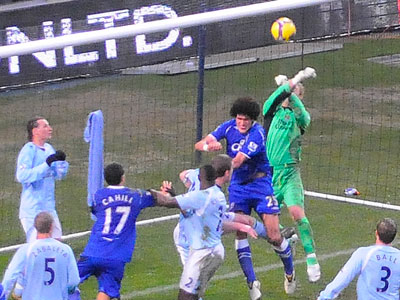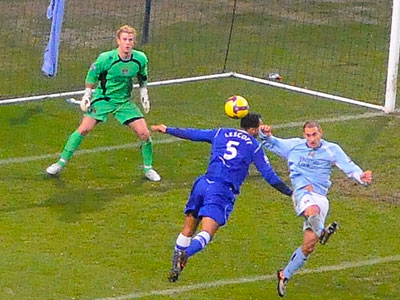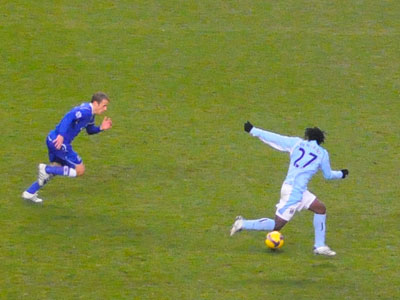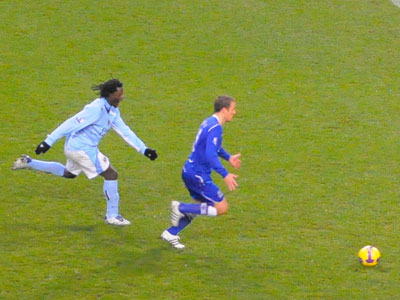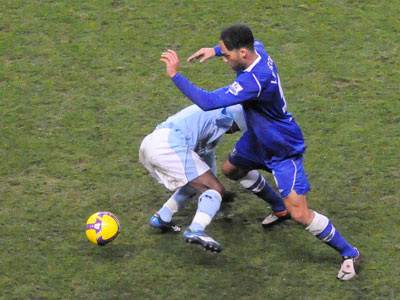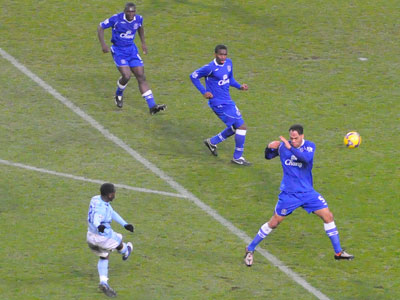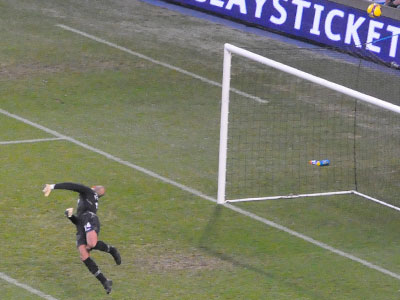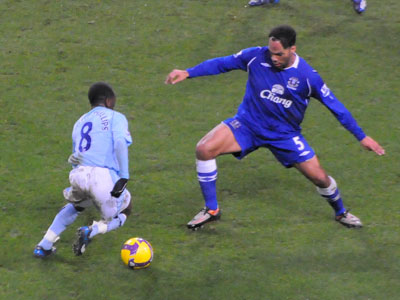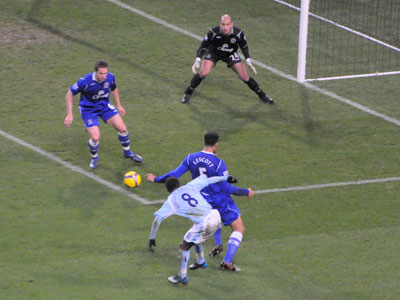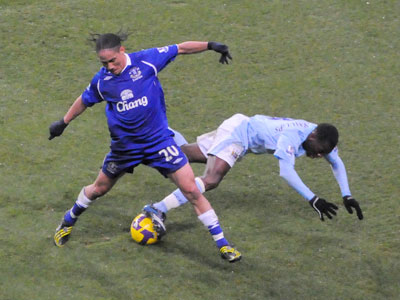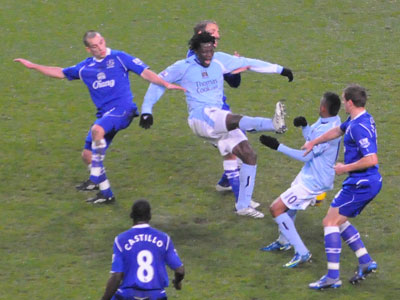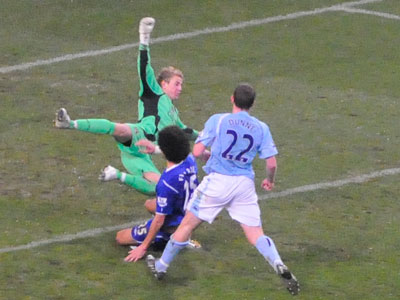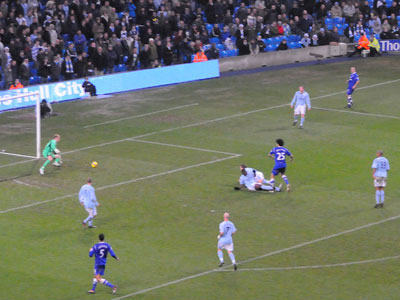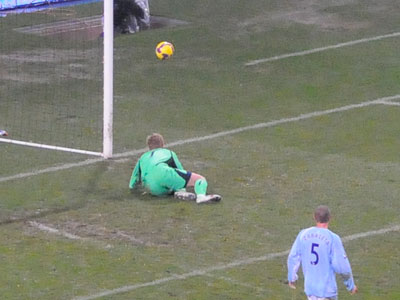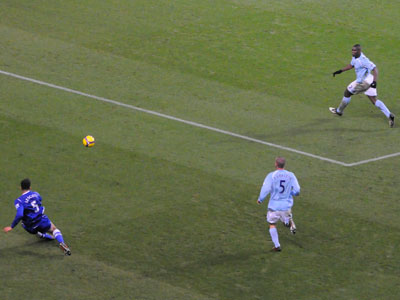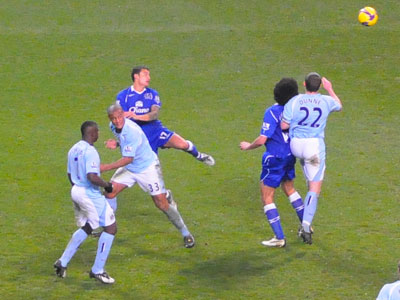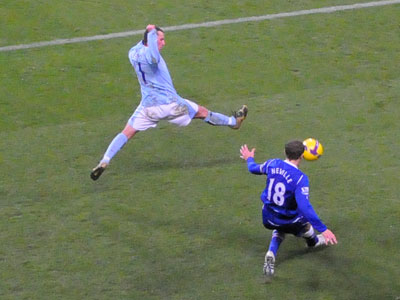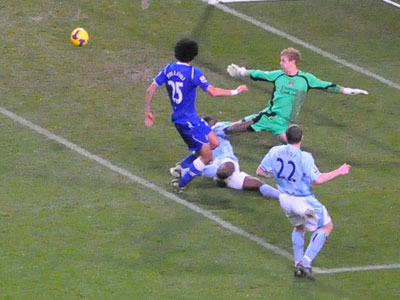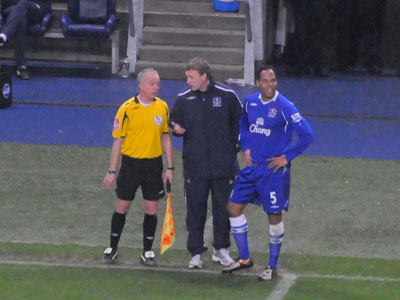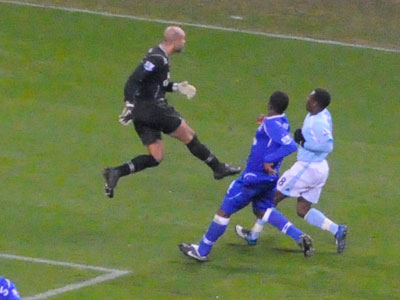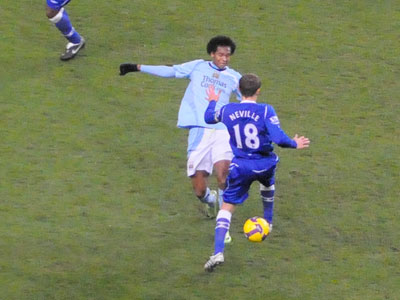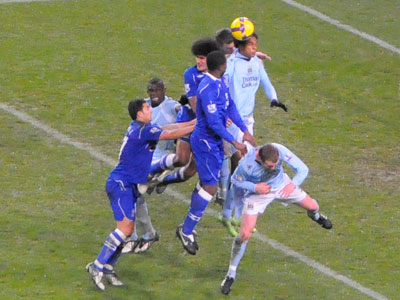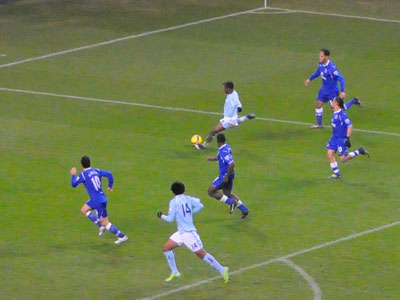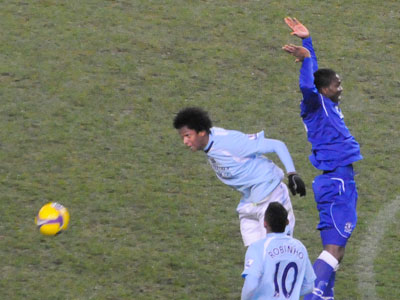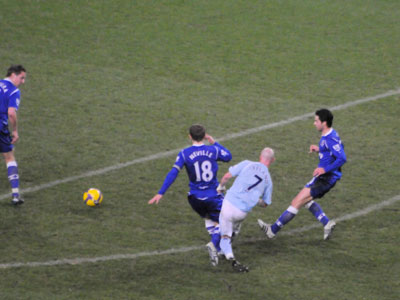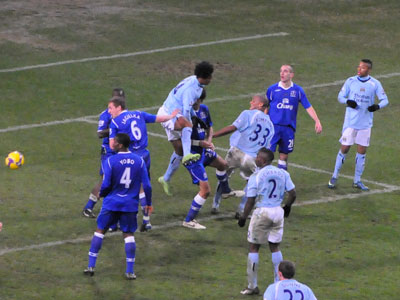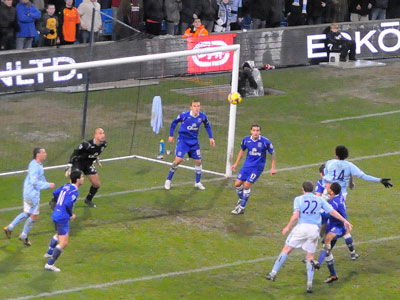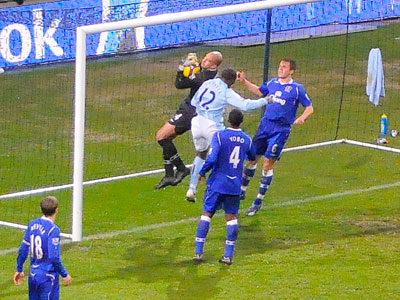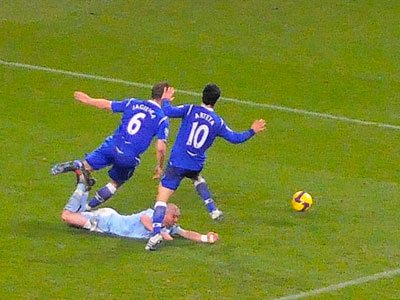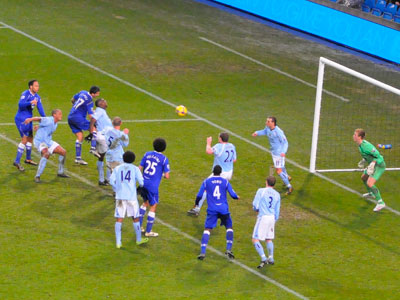 Robinho returned from injury and Elano was preferred to Vassell
.
City started brightly with Ireland breaking through....
.... and interpassing with Benjani left SWP with a chance which went wide.
Everton were quick to reply and Osman just shot wide though Hart had the effort covered.
A dubious free kick given against Richards almost paid off for Everton as Arteta's effort hit the crossbar
Despite his new haircut Elano was looking in better form
Ireland and Arteta tussle for the ball
A good interchange between Robinho and Elano set up Ireland for a shot but his effort was too high and Howard was not troubled
A pass from Benjani gave Robinho a good chance but his effort was clawed away by Howard
Neither Benjani nor Robinho were having a strong influence on the game
Everton block an effort by SWP
Elano who was looking City's best attacker gave Howard something to do after 25 minutes
A late Richards tackle robs Cahill
Fellani and Dunne battle for the ball
A rocket shot from Arteta from distance almost caught out Hart but he managed a great save
Hart was in action again from the ensuing corner
City manage to clear another Arteta free kick
Just after the half hour mark Benjani had a great chance.....
With half time approaching Shaun Wright-Phillips hit the Everton bar with Howard beaten
....but he got his feet mixed up and in moments the chance was gone
SWP was having a battle with Lescott
SWP continued to trouble the visitors defence
SWP in action again this time trying to beat Pienaar
Just before half time City had a couple of escapes -first a cross from Lescott is nearly touched home by Fellaini
...then moments later Hart saved well from Fellaini
Everton manager David Moyes is chatting to the linesman about the credit squeeze or is he still moaning about the penalty is wasn't given!
So half time came at 0-0 and Benjani was replaced by Jo.
After 58 minutes a cross by Neville evades the players near the goal and only a glancing header by Zabaleta saved the day
A break by City caused Howard to coming surging out of goal and kicking the ball almost into the third tier.
A mass of bodies colliding at this corner
A run by SWP ends in a corner as the cross is scrambled away
Jo attempts a header while an Everton defender signals a six!
On 72 minutes Ireland put through by a Jo header has his low shot pushed for a corner by Howard
A City corner comes to naught
With four minutes to go a Jo header goes over
Ireland goes to ground but nothing given
Vassell on for Robinho after 82 minutes is penalized for charging Howard while he off the ground
Two minutes into extra time Everton won a corner from a miss-header by Dunne and as the ball came in Richards failed to jump for the ball and Cahill placed his header into the corner and Everton went away with a 1-0 victory
Team
Hart 7.5: Zabaleta 7, Richards 6, Dunne 7, Ball 6: Wright-Phillips 8, Ireland 7.5, Kompany 7, Elano 7, Robinho 6 ( Vassell 6) Benjani 6 ( Jo 6.5)