November 2008-2009
Manchester City 0 Manchester United 1 November 30th 2008
Barclays Premier League att 47,320
This was a disappointing performance against United . We were outplayed in the first half hardly putting more than a few passes together and rarely getting into their penalty area. The second half showed an improvement by the sky blues and with luck we might have equalized in the final moments but it would have been a lucky point. This game emphasized the gulf between the top three and us. By this time next season I very much doubt whether more than 6 players in todays team will still be in our first team squad. The only players to really shine today were SWP and Kompany. Robinho clearly was not up for it and Ireland was almost anonymous. Vassell and Hamann only lasted the first half and Richards a shadow of his former self was substituted following an injury. Even Joe Hart spilled a couple of saves. How much the midweek game affected players is difficult to tell but certainly a bigger first choice squad is essential if we are to compete in Europe.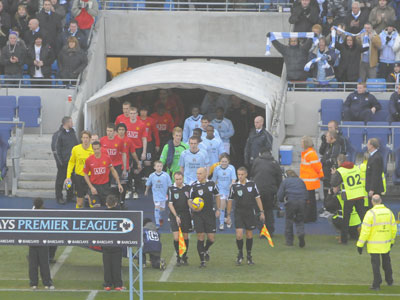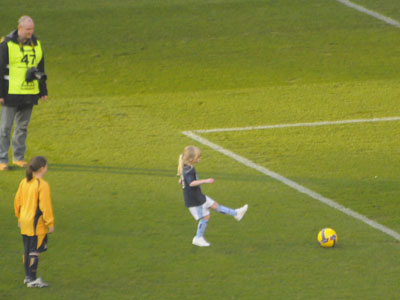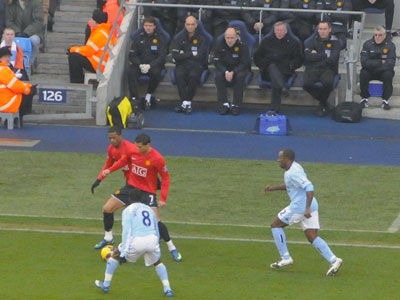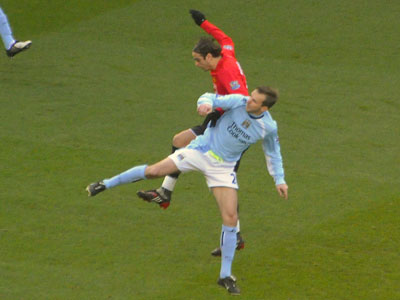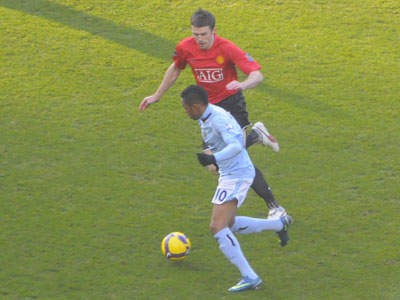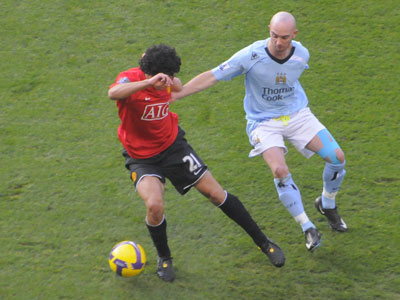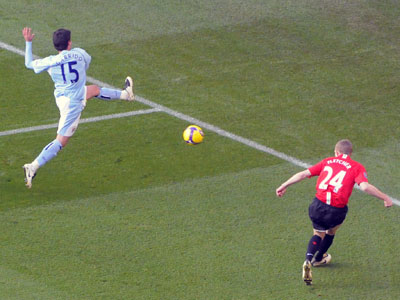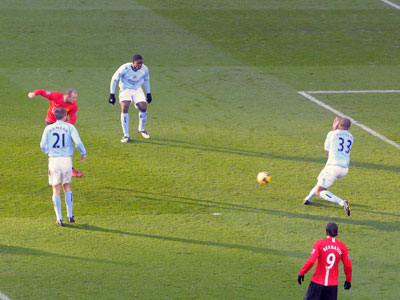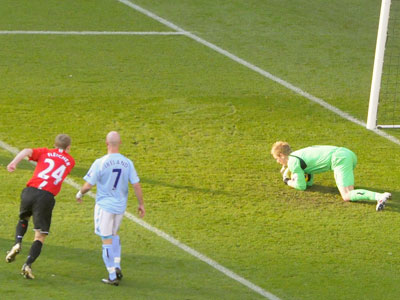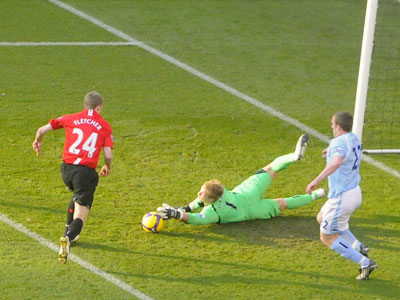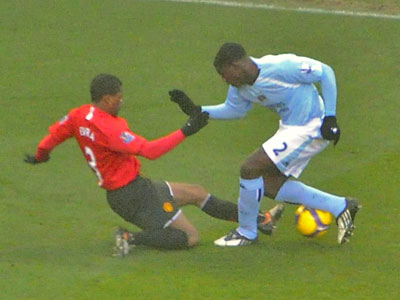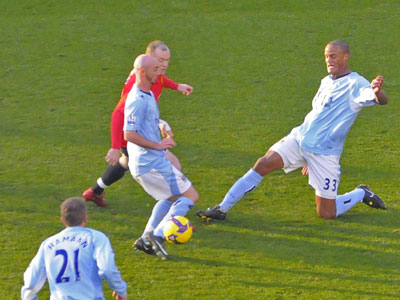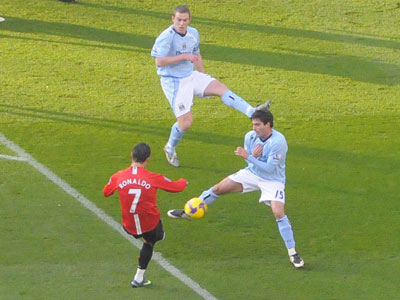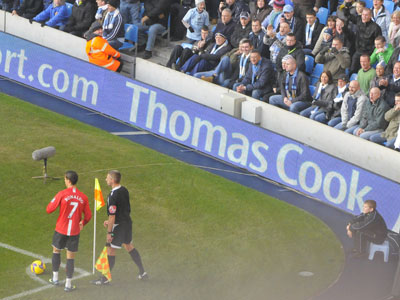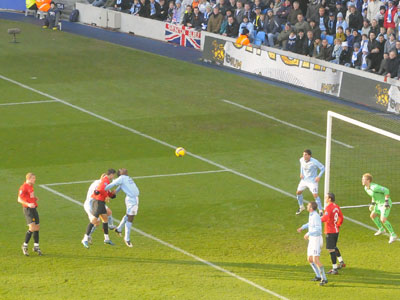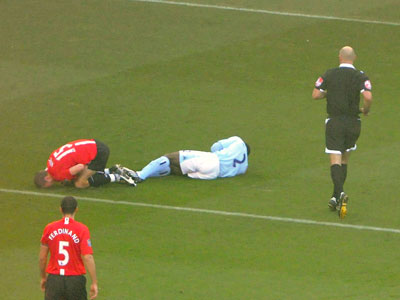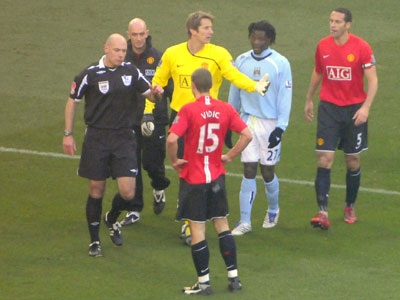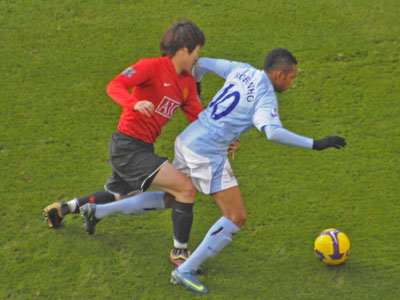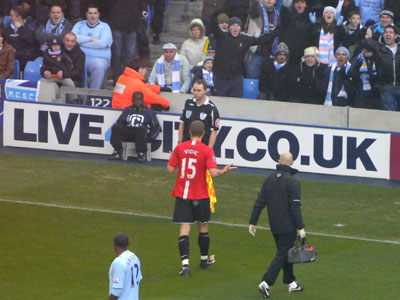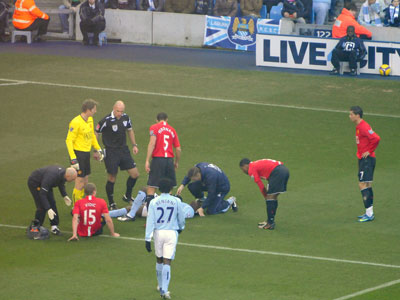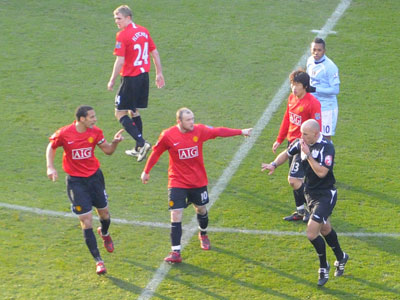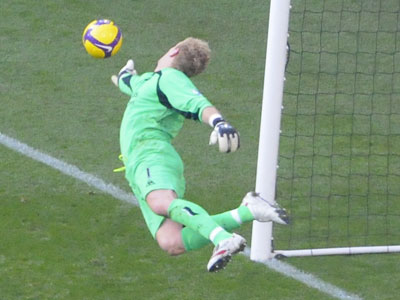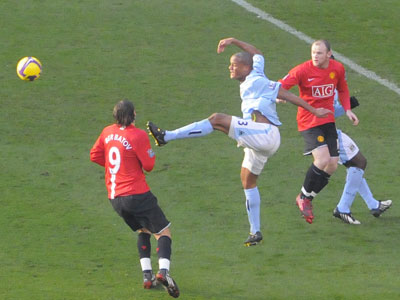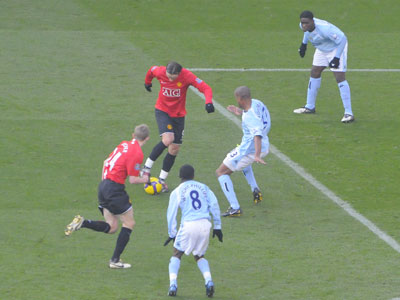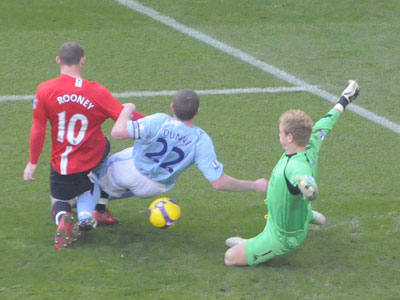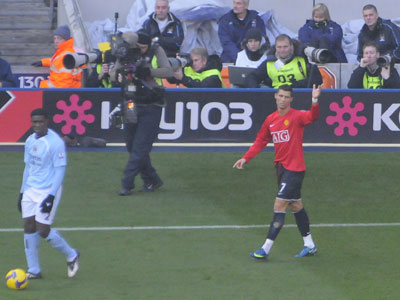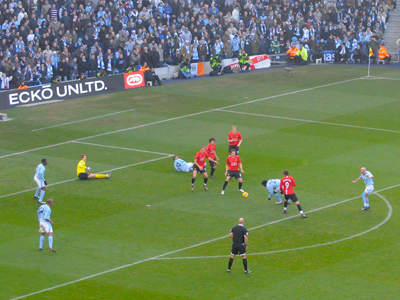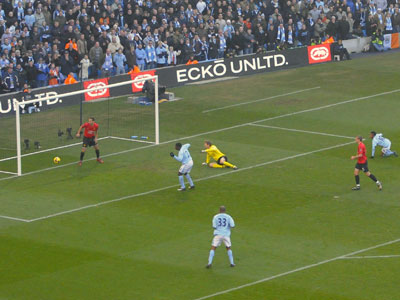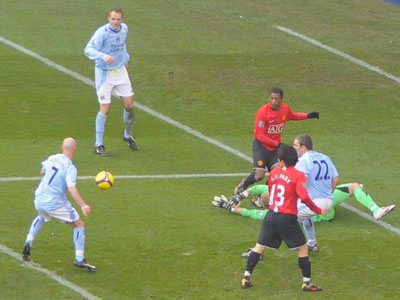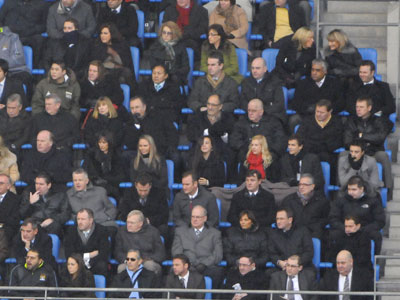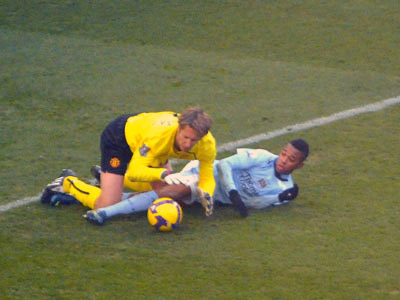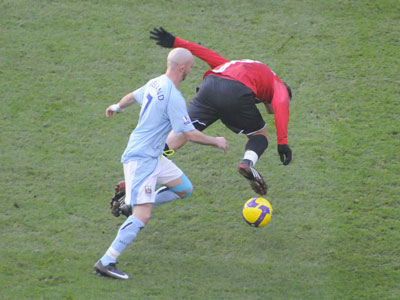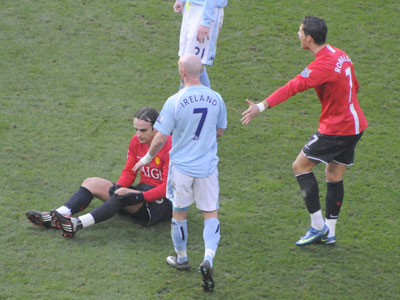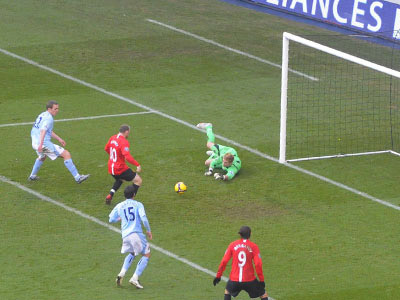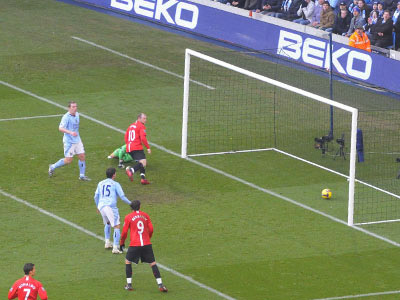 Kompany and Park take cover as Carrick lets fly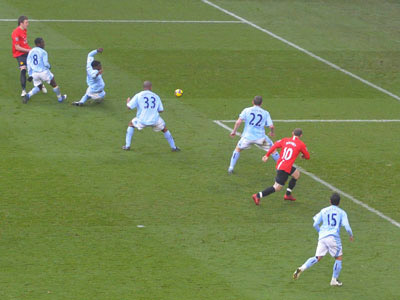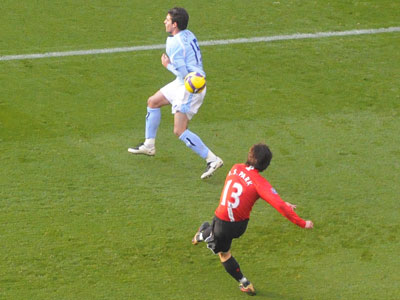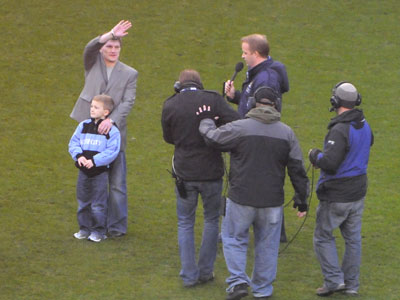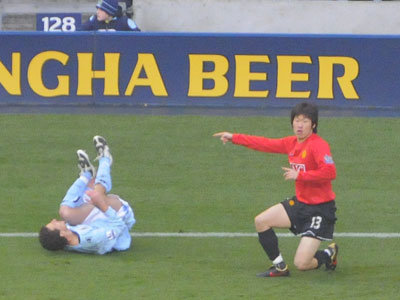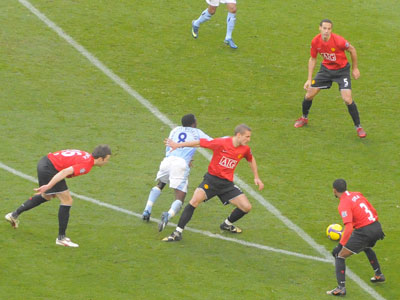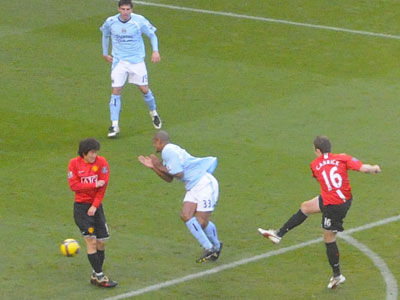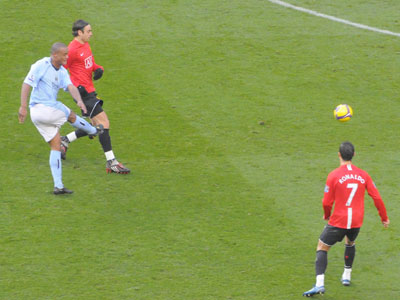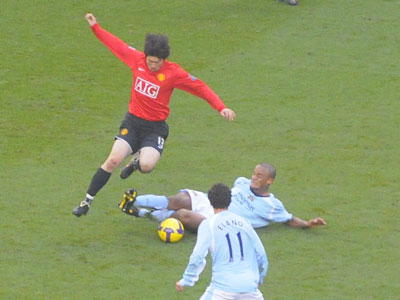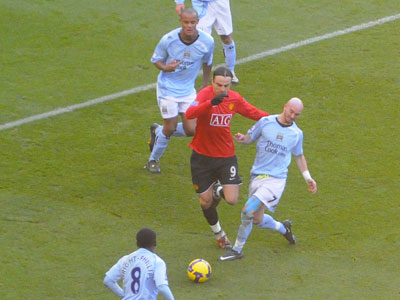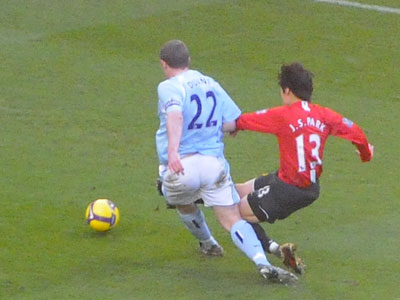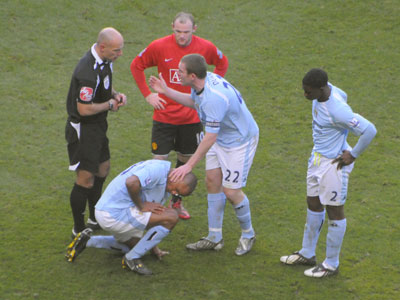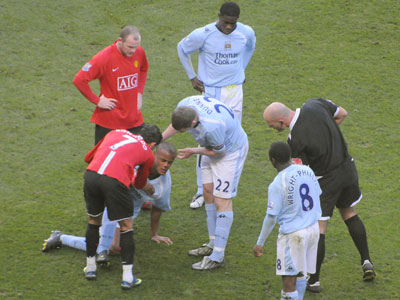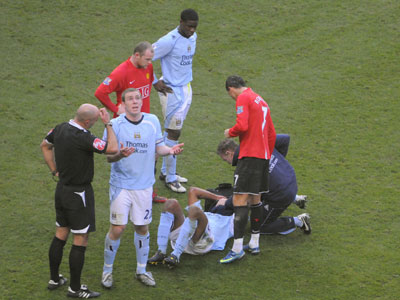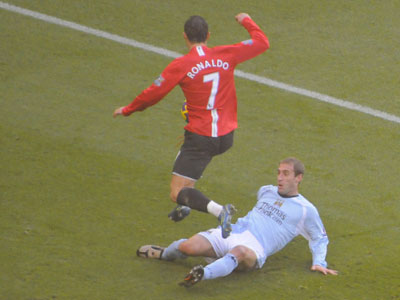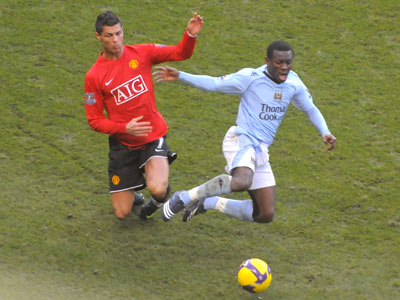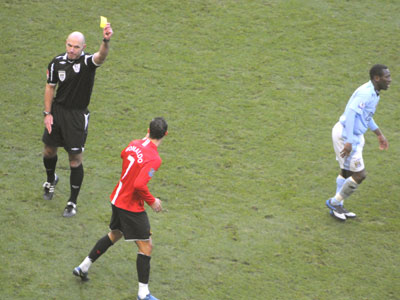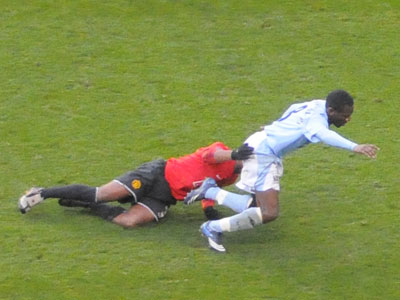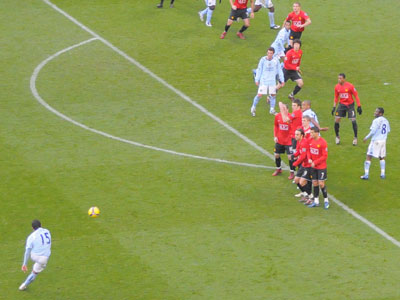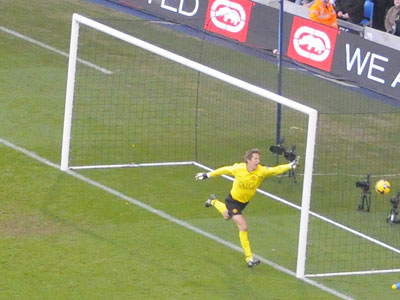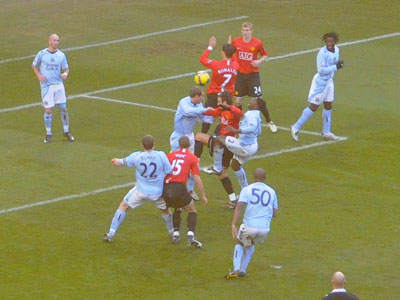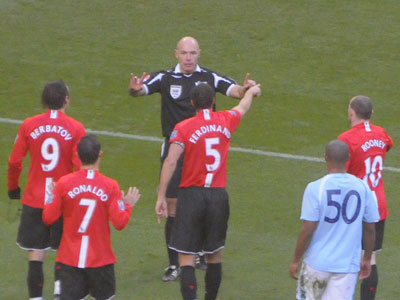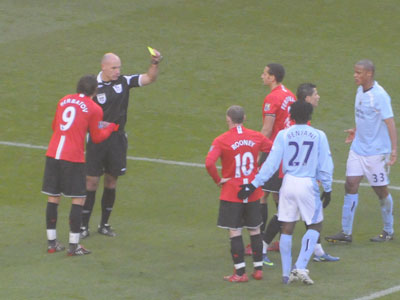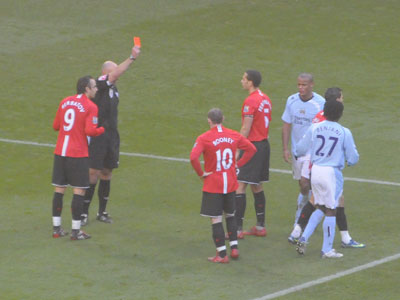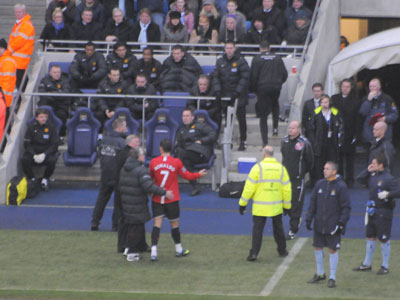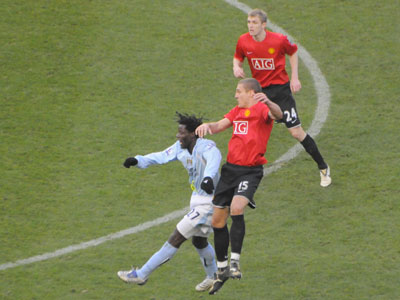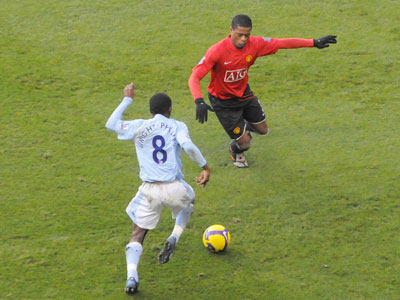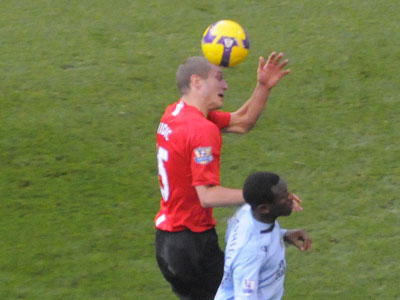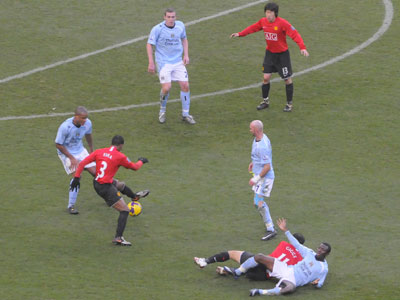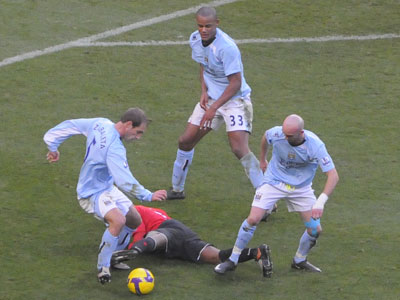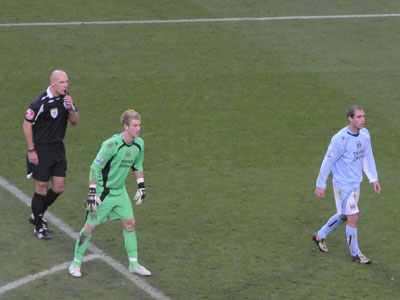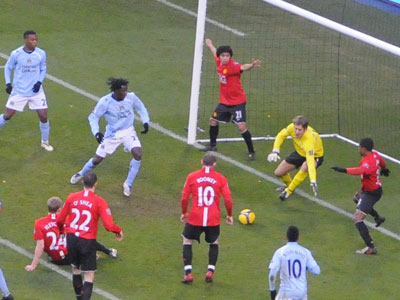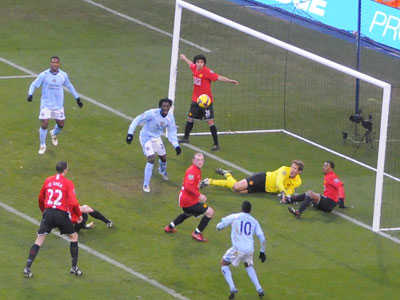 In the dying seconds City forced a corner and only a save by Van der Sar saved the day for United but to be honest it would have been rough justice had City scraped a draw from this game.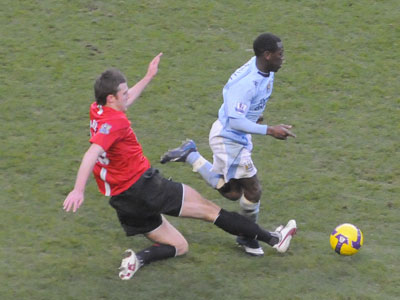 City had one change - Robinho coming in for Sturridge
Lucy who came on with Robinho tries her best to score before the game
Hamann and Berbatov contest the ball
Vassell and SWP watch Ronaldo
A rare moment early on - Robinho with the ball!
Da Silva shields the ball from Ireland
One of the many blocks Garrido had to do from right wing crosses.
As Kompany takes cover a Rooney shot.......
........is saved by Hart and though he appeared to have the ball covered it squirmed out of his grasp and the onrushing Fletcher almost had an early Christmas present. Fortunately Richard Dunne was at hand to clear.
Richards tries to stop an Evra cross
Kompany playing in the centre of defence looked very accomplished.
Garrido blocks a Ronaldo effort
Ronaldo had a minor spit with the ball boy who accidentally hit him with the ball when he threw it to the United player
From the corner the ball is headed over the bar
Richards and Vidic go down injured after a clash
Van der Sar puts his oar in as Richards recovers
Vidic complains to the linesman. I can't think why.
Park Ji-Sung and Robinho clash
Ferdinand and Rooney show lots of respect as Da Silva gets a yellow card for kicking the ball away.
Hart had to make a good one handed save to keep out a header from Berbatov after 22 minutes
Kompany is kept busy at the heart of the City defence
Kompany in action again trying to tackle Berbatov
An Evra cross is cleared with difficulty
Ronaldo is not convinced he is offside
After half an hour City had a rare chance. A poor clarence from Van der Sar following a free kick ran loose........
....to Ireland whose shot went just wide. Richards seemed to leave the ball perhaps thinking he was offside forgetting about the United player on the line so he could have turned it in. A lost chance.
Stuart Pearce ( centre far right)was among the visitors today
Hart and company have problems clearing a cross from the left
Put through by Hamann Robinho had a half chance but was just beaten to the ball by the keeper. Mmm did he opt out of the challenge at the last second?
After 41 minutes Ireland brings down Berbatov in midfield...
....... and Ronaldo gets him booked but there was worse to follow.....
Following the free kick, City failed to clear the ball in the penalty area and the ball ran to Carrick and his shot....
... was pushed out to Rooney who accepted the gift to put United one up
Garrido blocks attempts to block a centre from Park Ji-Sung
At half time Ricky Hatton and his son are introduced to the crowd after Ricky's latest triumph in Las Vegas
I didn't foul him ref! He's just doing his exercises
SWP continues to get the treatment from United players
Evra tries to stop a Zabaleta ( on for Hamann) cross
A powerful shot by Kompany goes just wide
Kompany in defensive mode
A late tackle by Dunne thwarts Park
Ireland gets the ball off Berbatov
Kompany appeared to have a head injury and had to leave the field for treatment and change his shirt
Is the skipper praying for the fog to come down !
Ronaldo skips over an attempted tackle by Zabaleta
One of the many fouls that SWP had to suffer and for this one Ronaldo was booked.
Evra who has been watching too much rugby tackles SWP and gets booked. From the free kick Garrido swerved the ball past the wall ........
....... and just past the post
After 68 minutes Ronaldo stupidly handled the ball in the area.......
...to earn him a second yellow card.....
... and then a red card. It beats me how a player with his disciplinary record can become European Footballer of the Year.
Benjani who hardly won a ball in the air is once again beaten by Vidic
SWP was easily City's only chance of creating anything
Vidic feels the pain as he heads the ball
A City trio manage to get the ball from Evra
City bring Hart up for a last attack on the United goal
Carrick attempts a late tackle on SWP
SWP appeals for a foul by Giggs
Team
Hart 6.5: Richards 6.5 ( Sturridge 6.5) Dunne 7.5 , Kompany 8, Garrido 7: Ireland 6.5, Hamann 6 ( Zabaleta 6.5) Wright-Phillips 8,Vassell 5.5 (Elano 6.5) Robinho 6.5, Benjani 5.5

It was almost a full house at Eastlands for the derby.