City v Watford 0-0
December 4th 2006 att.35,915
This was awful ! Another poor crowd turned up at COMS on a wet and windy evening to witness this so called Premiership game. I suppose it was too much to expect City to show the form they had against Villa last week but they knew that Watford would make it difficult for them so true to form City sank to the ' Sunday morning pub football style' of their opponents. It wasn't until the latter stages of the game that City strung some passes together and created more space for themselves. Watford play like the old Wimbledon side and are horrendous to watch. I was amazed that even 300 or so of their supporters traveled up to see them. I shudder to think what it was like watching this on Sky . With the 'Derby' coming up at the weekend I wondered whether Sir Alec would be in the stand but I failed to spot him. I thought I saw Matt Busby sitting next to Glen Miller but I guess I was mistaken as I was when I arrived expecting to watch a Premiership game!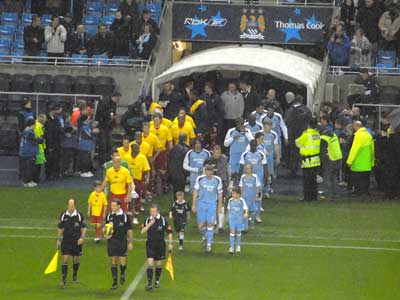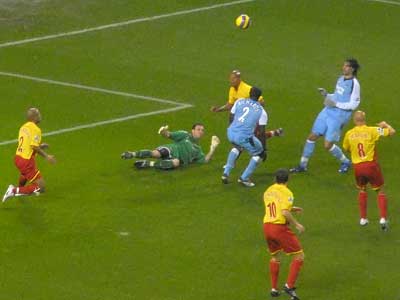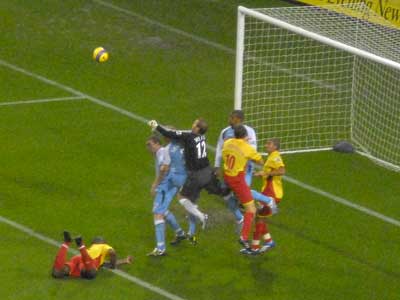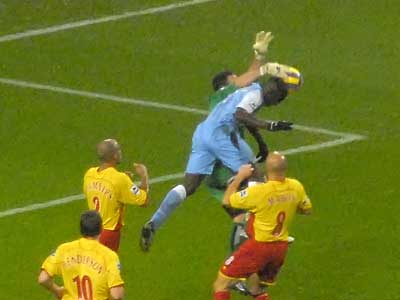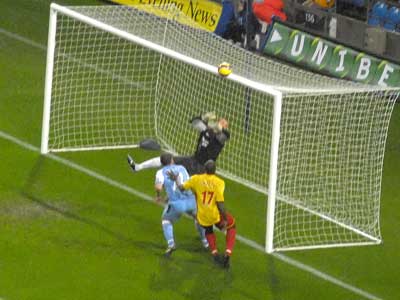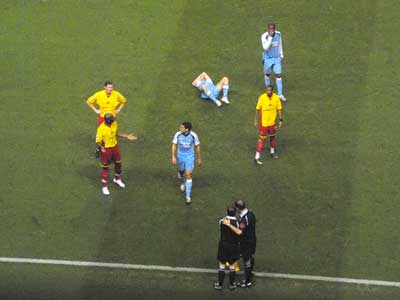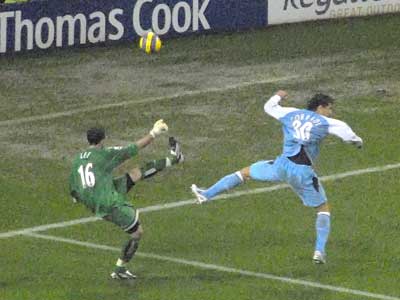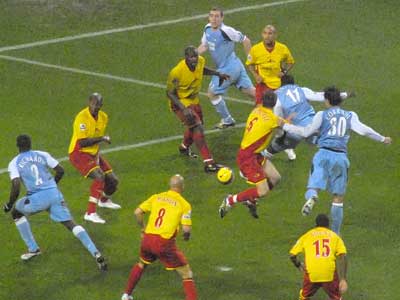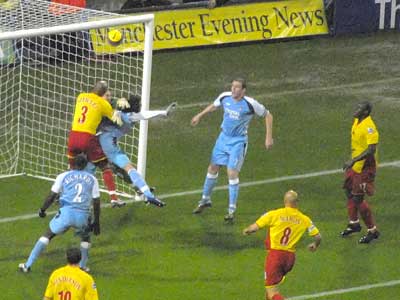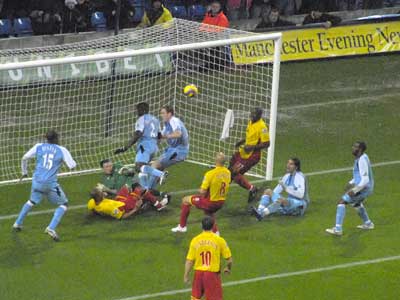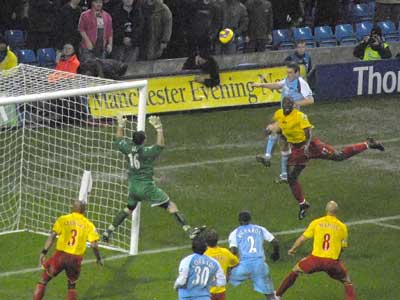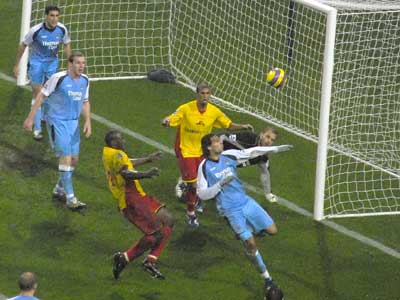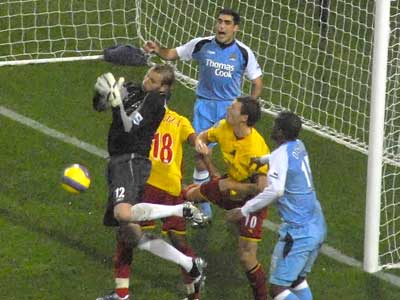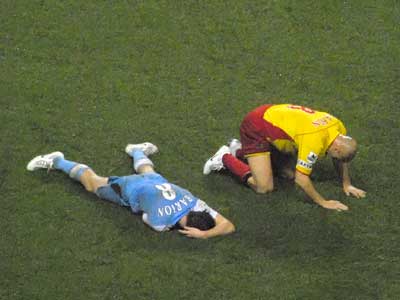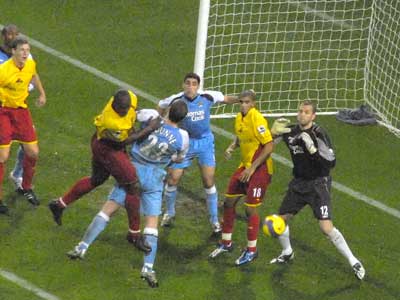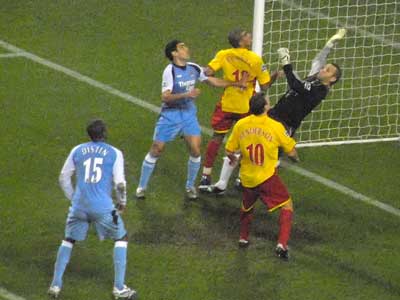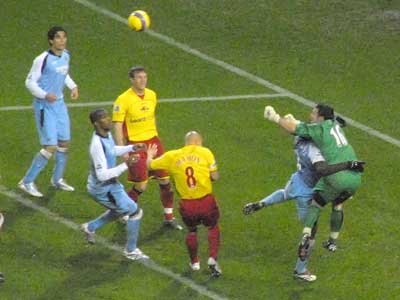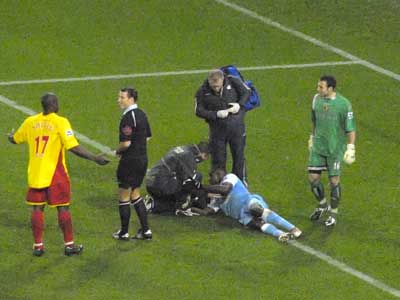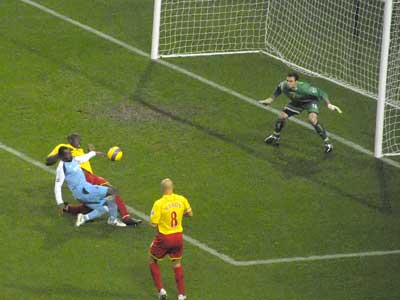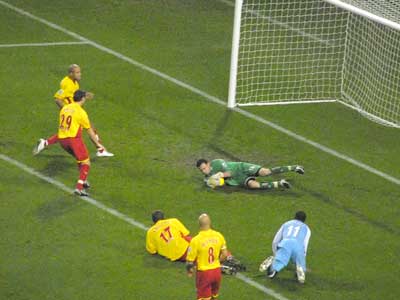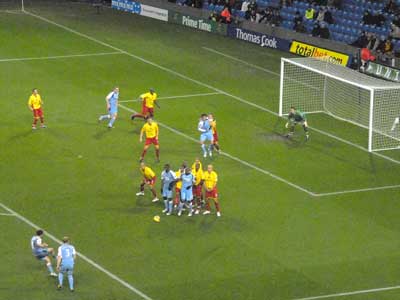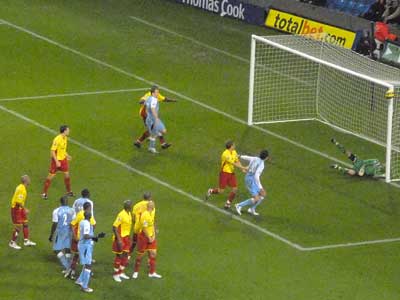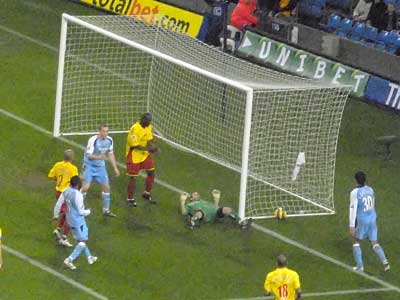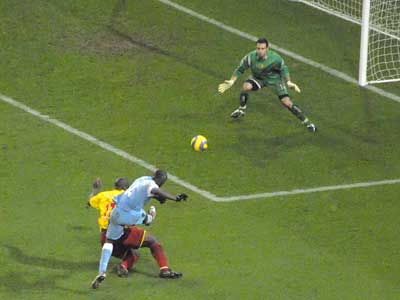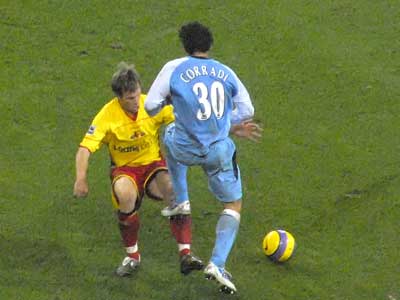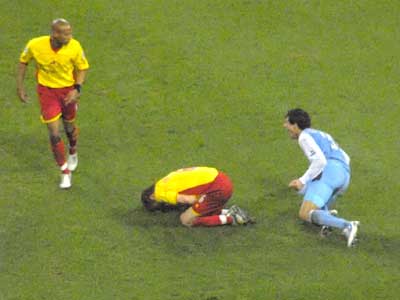 City were unchanged from the side that played Villa
Instead of taking charge City allowed Watford to dominate the early play and the visitors forced several corners
Eventually City managed to get into the Watford half and young Richards put deputy keeper Lee under some pressure
After 8 minutes Weaver had to make a good save from a dipping header from Francis but the Watford player was booked a few minutes later after a bad challenge on Barton.
Lee is forced to concede a corner under pressure from Corradi
City continued to apply pressure but could not beat the Watford defence
After 14 minutes the Watford goal had a lucky escape when City looked certain to force the ball home in a goal mouth scramble but somehow the ball was cleared
Nicky Weaver is fouled at a corner
Barton is clattered again this time by Mahon who somehow escapes a booking
There were plenty of corners at both ends but very little good football
Just before half time the City goal came under some pressure and in injury time Weaver was grateful a header by Shittu glanced off the crossbar.. Strange that Watford player hasn't changed his name
Richards gets quite pally with Lee and gets hurt in the process.
After 53 minutes Vassell had a half chance but the keeper saved .... again
A Barton free kick around the wall almost caught Lee napping but he managed to save
......
.....
. and then parry the follow-up from Corradi.
Richards broke through after 86 minutes but once again the Watford defence managed to keep a clean sheet.
With just three minutes to go Corradi broke through on his own and though he was brought down in the area no penalty was given. You can see from the image above left that it looks like Demerit caught Corradi's left leg and his arm is already out to stop the City player. But the fussy Mr Clattenburg gave nowt!. A lucky escape for Watford.
Team
Weaver 6: Richards 7: Dunne 6.5, Distin 6, Thatcher 6: Trabelsi 4, Reyna 4, (Hamann 5) Barton 7, Vassell 6 ( Miller 5) Samaras 4, Corradi 6
City v Spurs 1-2
December 17th 2006 att.39,285
I am afraid this was another abject City display lacking pace, creativity, spirit and desire. The first half was dire and once again it was only in the final stages did we see anything like decent form. Our start to a game lacks fire and energy and a much more positive attitude is needed from the first whistle. It needs a Churchilian type l pep talk before the game. Against United at Old Trafford the teams played quite well at times the only problem being the three defensive errors that gave the game away. The defence today was vulnerable too so more organizing to do here. Samaras looks so out of sorts I am beginning to wonder whether he is going to turn out like Vuoso! I hope not. The Premiership has not got the cosyness of the Dutch league so he will have to get his act together quickly if he wants to play.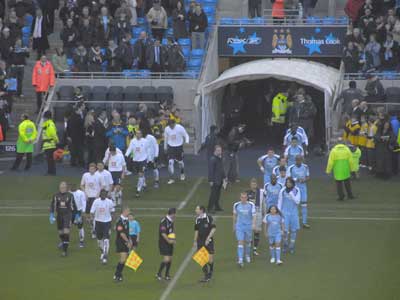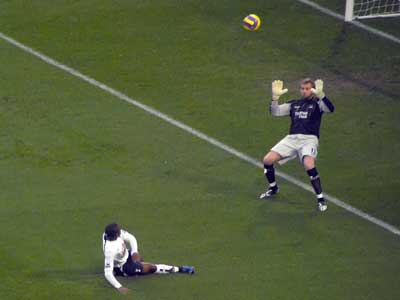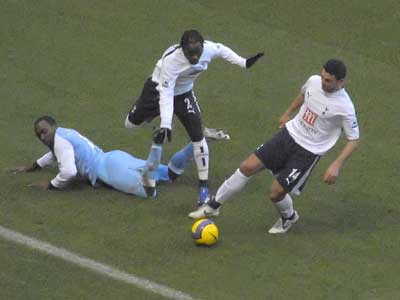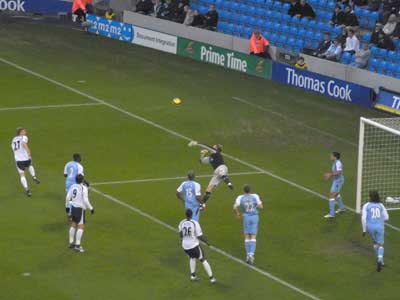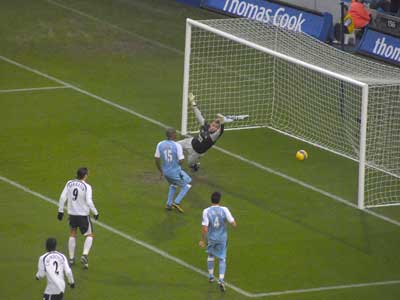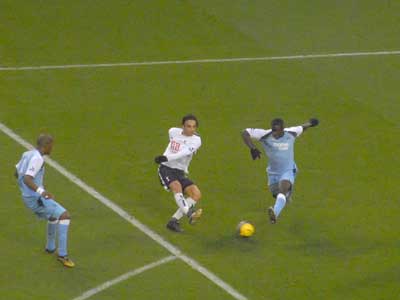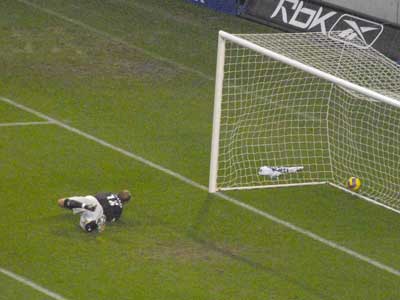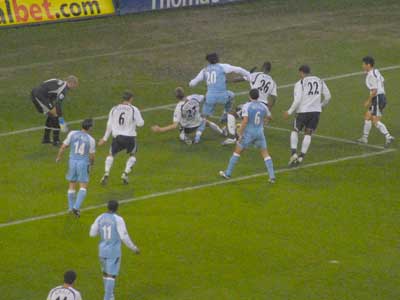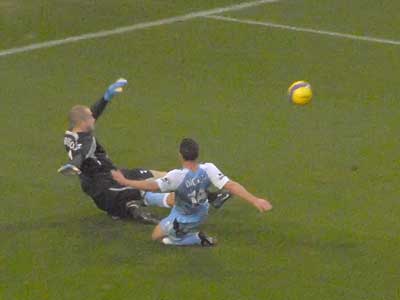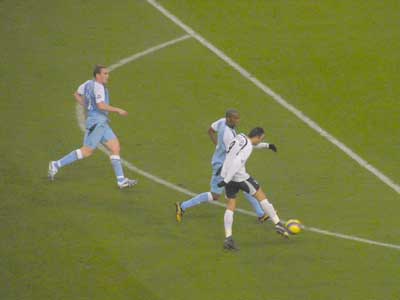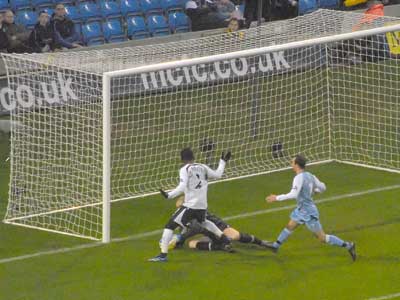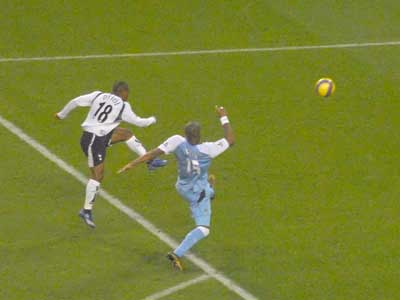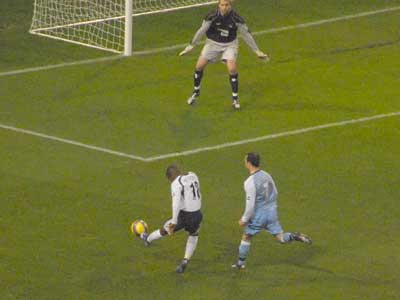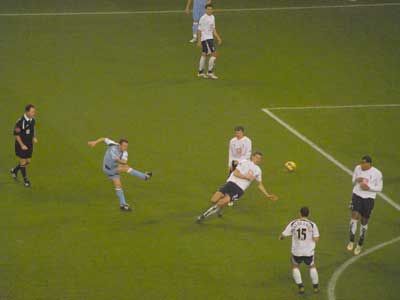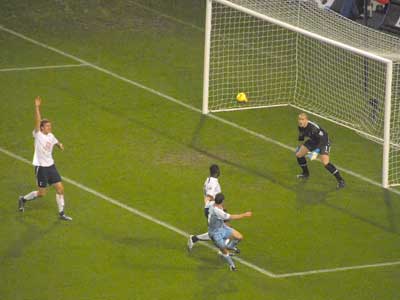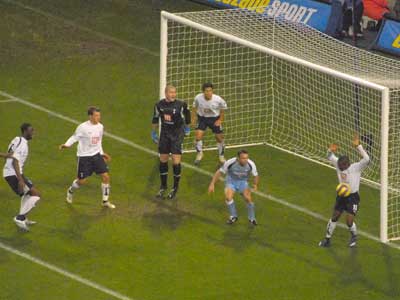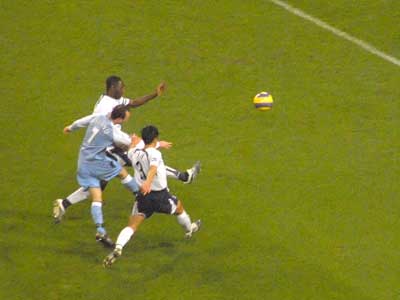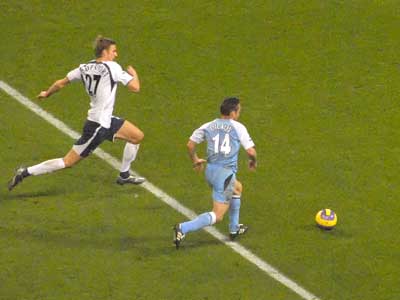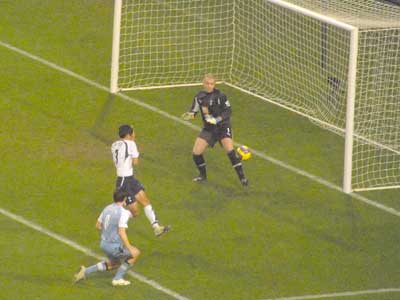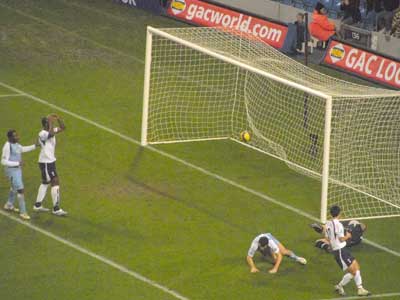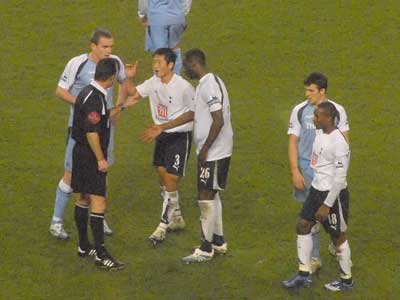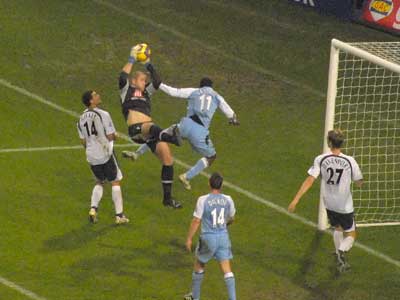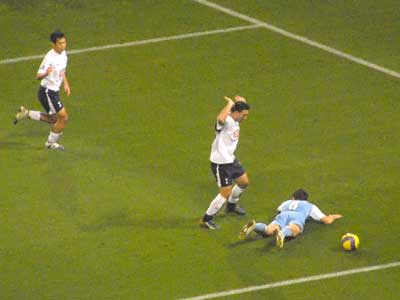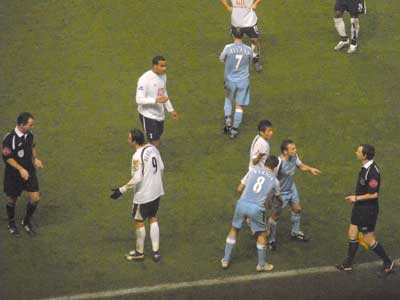 Team
Weaver 6: Richards 5 ( Ireland 6.5). Dunne 6, Distin 5, Jordan 6.5: Trabelsi 6, Barton 7, Reyna 5.5 (Dabo 6), Vassell 6: Samaras 4.5, (Onuoha 6) Dickov 6.5
City had Dickov partnering Samaras upfront with Corradi suspended and Jordan returned for the suspended Thatcher.
On form Spurs were first to attack and after a Berbatov miss, Defoe shot well over from an offside position
Vassell is foiled by Chimbonda and Ghaly
Weaver clears a Spurs attack who were taking over the game.
Spurs took the lead after 16 minutes when Weaver was beaten by a Davenport header. Poor marking was to blame.
Richards goes in to tackle Berbatov. Richards was substituted after 30 minutes by Ireland. He obviously had not recovered from his injury against United
It got even worse for City after 24 minutes when young Tom Huddelstone crashed the ball past Weaver to make it 2-0. It was looking embarrassing as City failed to make any impression
City rarely threatened the visitors goal and Samaras looked well out of his depth.
Dickov tried hard and as usual kept their defence on their toes but chances were few and far between
Dunne and Distin who earlier this season had looked unbeatable at the centre of the City defence looked more vulnerable - here Berbatov failed to add to the Spurs score.
Spurs keeper Robinson had little to do aside from the odd through ball but at the other end Spurs could have scored several times and City were lucky to be only two down at half time. They were loudly booed off at half time, no doubt to receive an earful from Manager Pearce
It was not surprising that Onuoha replaced Samaras at half time but Spurs were first to strike Defoe hitting the side netting immediately after the restart.
Three minutes later Dickov had a go for City but his shot didn't trouble Robinson
After 54 minutes Dickov flicked a centre just over the bar. City were now improving and having more of the play but good chances were at a premium but at least the Spurs defence had something to do!
After 58 minutes Ireland had a half chance but wasted it by shooting well over
We had a minor miracle after 62 minutes when Paul Dickov ,seen here being chased by Davenport, dashed down the left ,centered......
...
.....
.. the ball landing perfectly for Joey Barton who had crept in at the back post to volley the ball home with a great finish. 2-1 and now we had a chance!
Spurs lost their composure a little and started to argue and City began to believe they could get something out of the game. A bit too late though I am afraid.
With five minutes to go it looked as though City had a good case for a penalty as Barton was brought down by Malbranque in the area but referee Rob Styles ( far too picky today) looked to his linesman who didn't want to know. Paul Dickov continued to harass the lineman though - no doubt trying to find out his car number so he could let his tyres down!
This was City's first home defeat this season and if we are not careful we will be starting the New Year perilously near to the relegation zone. The defence which has been so good is now looking a little fragile and it is now essential we get more creativity in midfield and a new fast striker in the January transfer window. There are some tough games to come in the next few weeks so action needs to be taken.
City v Bolton 0-2
December 23rd 2006 att.40,157
City's Christmas nightmare continued with another gutless display against an average Bolton side on a cold day at COMS. The only player on the field to shine was.... guess who.... Anelka who scored two effortless goals against his old side. To make matters worse Joey Barton was harshly given a red card in the final minutes so City will be without him for several vital games and he was the sole City player on the day to pull his weight. No doubt they will have to draw lots to see who will take corners and free-kicks!
I am afraid that unless something drastic is done we will be in a relegation fight for the rest of the season. There are all sorts of rumors flying around regarding the future of SWP at Chelsea and even talk of a swop for Richards The manager will now have to show great strength of character to pull through this situation and with the January sales on hand there are some signing needed quickly before desperation takes over. All has gone quiet on the possible input of money to the club and I doubt whether anything will happen until the summer .
The failure to make chances let alone put them way is worrying and now the defence is starting to leak at home so as is normal in these circumstances many are calling for the head of the manager but just who is available... Alan Ball!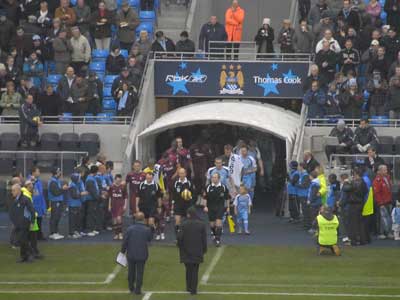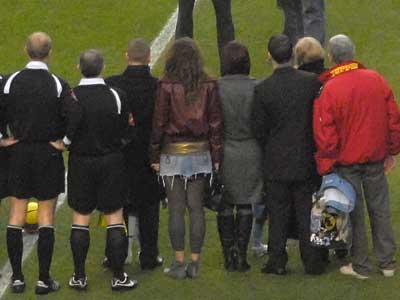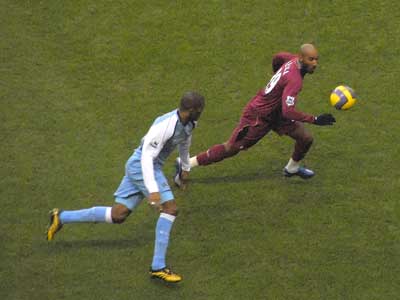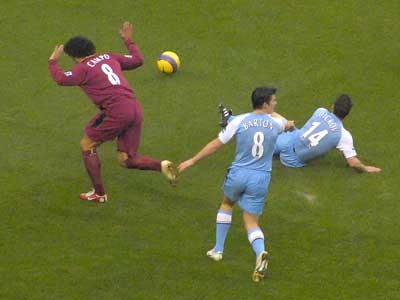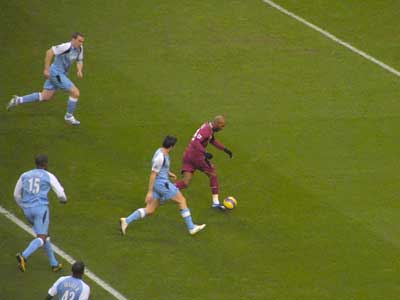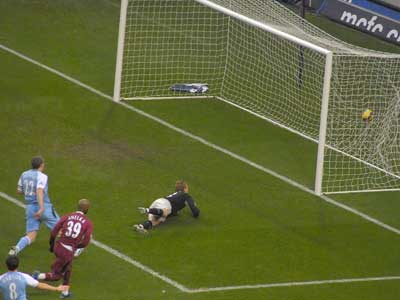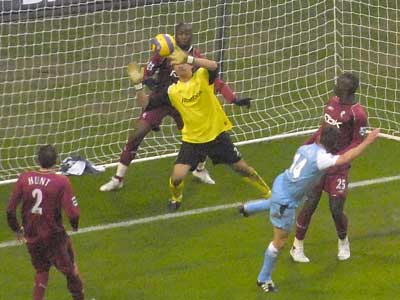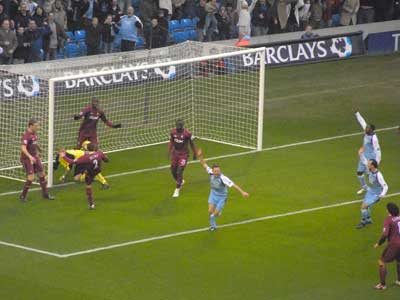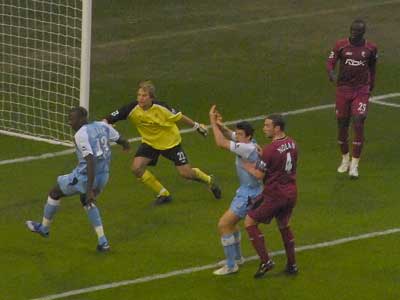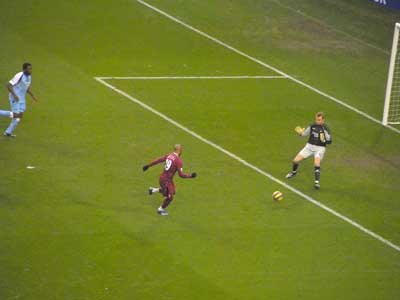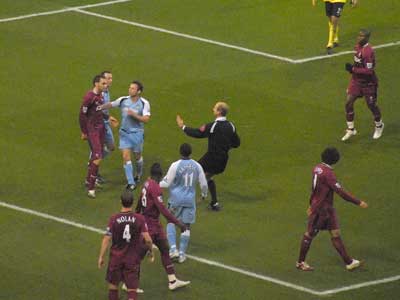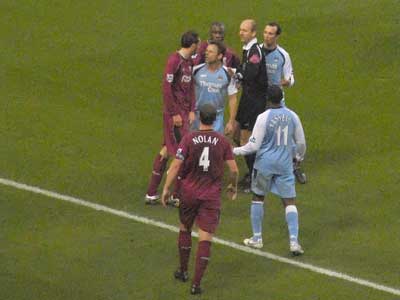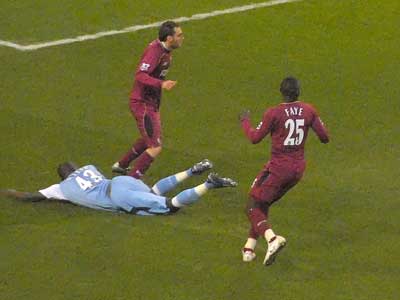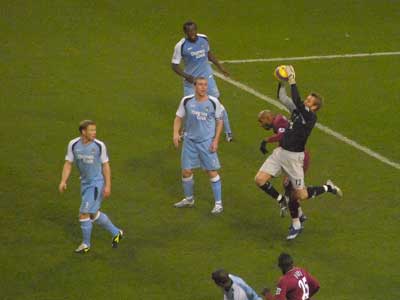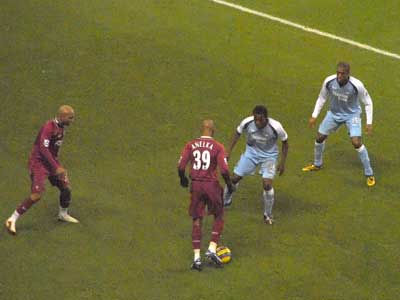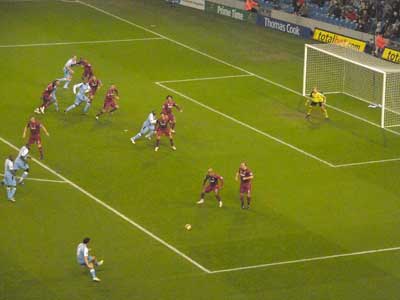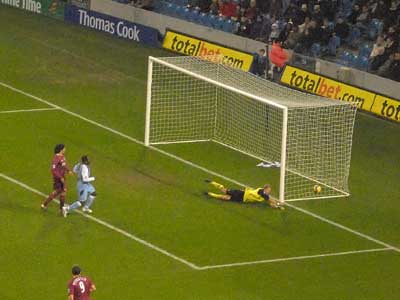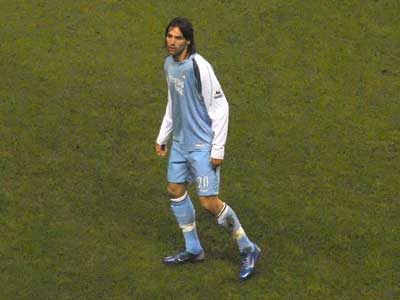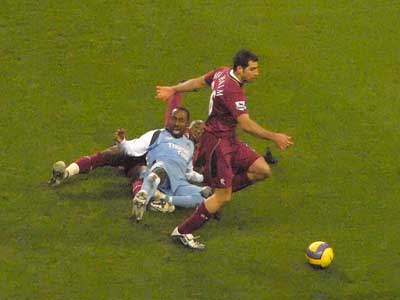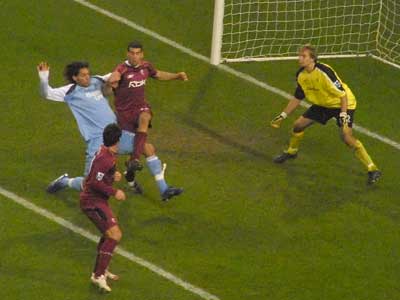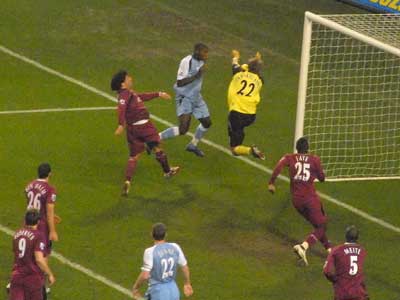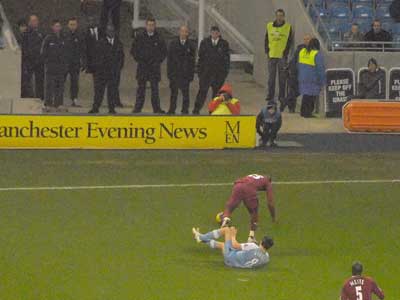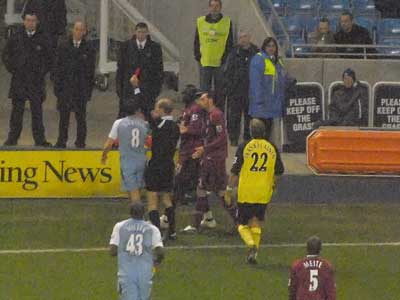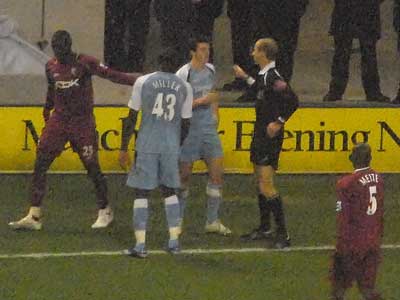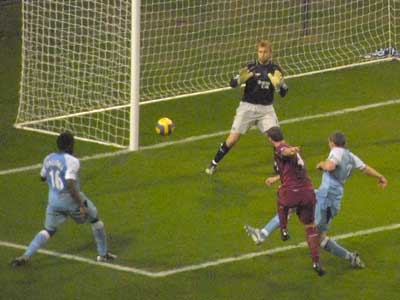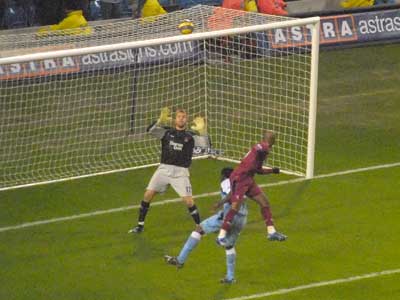 In the latter stages of the game both Nolan and Anelka had chances to increase the score and as the stands rapidly emptied it looked as though it was going to be a poor Christmas for City supporters with a tough battle at Sheffield United to come on Boxing day.I wonder when Stuart Pearce will give either Grime or Sturridge a go upfront. They cannot be any worse than what we have at the moment.
City made several changes - Onuoha in for Richards and Thatcher returned from suspension. Ireland was in for Reyna. Miller made a rare start.
Someone's braving the weather!
Distin was soon to learn that he was going to have a busy afternoon looking after Annelka.
Campo surrenders after fouling Dickov
It didn't take long for Annelka to strike. After just eight minutes a Bolton move ended with Hunt passing the ball forward to Annelka who clinically finished to put Bolton ahead.
Just two minutes later City might have equalized. Trabelsi crossed and a header by Paul Dickov was clawed on the line by Jaaskelainen. City claimed that it had gone over but I don't think all the ball crossed the line alas.
Another City effort fails
After 25 minutes things got worse as an unmarked Anelka had the easy task of placing the ball past a helpless Weaver to make it two nil
There was a minor dispute after just half an hour involving Ireland and Hunt but Paul Dickov soon got himself involved. He obviously failed to get a Christmas card from the Bolton player
Miller gives a poor imitation of a Corradi dive. Nul Point.
Apart from the odd catch and picking the ball from the back of the net Weaver had little to do
The first half ended with Bolton 2-0 up and it was looking bleak with City failing to make any impression on the Bolton defence.
Barton tried to catch the Bolton keeper out at this free-kick early in the second half by hitting a shot to the right of the wall...
....
.....
. but Jaaskelainan was alive to the situation and pushed the ball behind for a corner.
Thatcher went off to be replaced by a gloveless Samaras ten minutes into the second half. But he did have his sleeves right down!
Vassell and Samaras tried without much success to get City a scoring chance but with balls being constantly being pumped in the air to them they failed to make much impression despite City going to just three at the back
A rare moment of action for the Bolton keeper.
.....
ended with him getting a red card form Old Mother Riley who was obviously in Panto mode. Barton was upset by the decision and perhaps a yellow card might have been more appropriate.
Team
Weaver 6: Onuoha 5.5. Dunne 5.5, Distin 5, Thatcher 5 (Samaras 5): Trabelsi 5.5, Barton 6.5, Ireland 4.5, Miller 4.5: Dickov 4.5 (Dabo 6) Vassell 5
With only three minutes to go Barton made an individual run towards goal and eventually was forced out to the left wing where he lost the ball. His rather crude tackle to retrieve the situation...
....