City v Spurs 0-1
December 11th att 45,805
Xmas is coming but there were no early presents for City supporters at this drab listless error strewn game between City and Spurs. Spurs under Bill Nicholson were well known for their attacking policy but times have changed and defensive tactics have dramatically changed since those great joyous footballing days. Now Spurs came for a point and defended in depth. City's last game at Middlesbrough was a disappointing affair with poor passing and one was hoping for an improvement - there was .... for 15 minutes!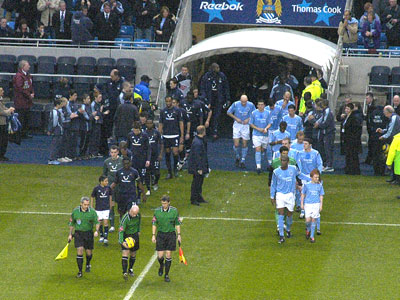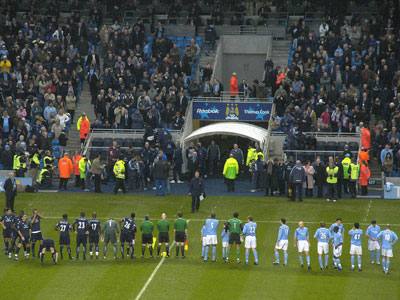 City were unchanged from their last game yet again despite the return to the squad of Anelka from injury. Anelka, who had made the news with extracts from an interview giving the impression he wanted a move, was on the bench. With the January sales almost upon us the sale of Anelka would require a transfer fee in access of 10 million as we already owe 6 million from his original move to City. It would be pointless selling him unless there was some spare to buy a new striker and creative midfielder .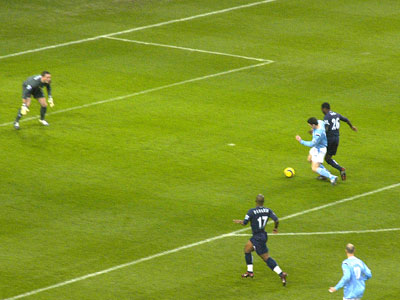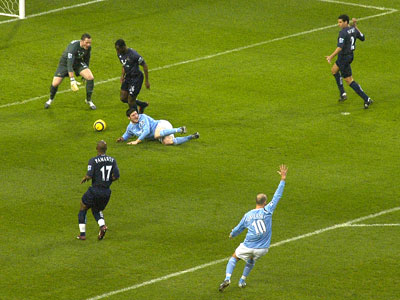 Within the first minute or so of the start City should have had a penalty which would have changed the course of the game. Fowler put Macken through and as the City striker was about to shoot Ledly King trod on his foot (above left) bringing Macken down. The referee , well behind play waved play on. As King was the last defender he would have been sent off. It would have been a brave referee indeed to have given a penalty and sent a player off in the first minute. Alas Dermot Gallagher was not a brave man.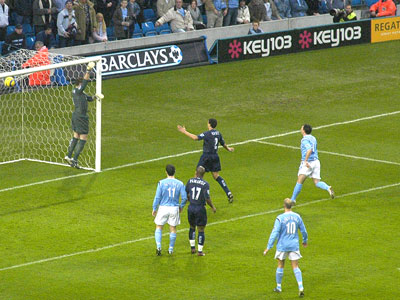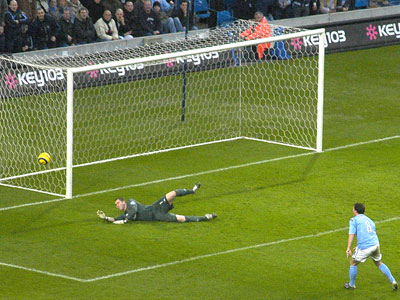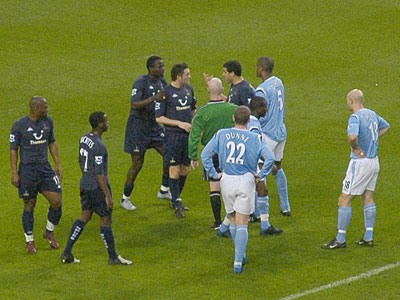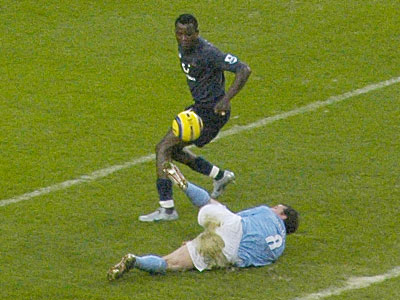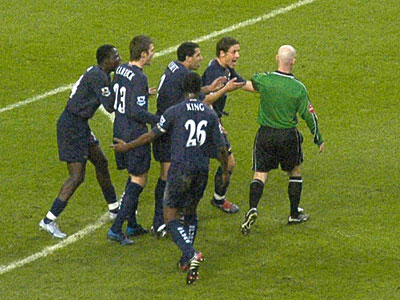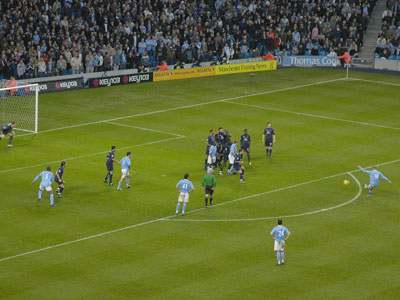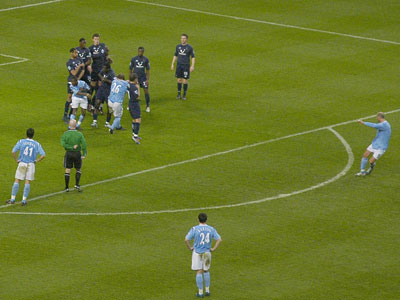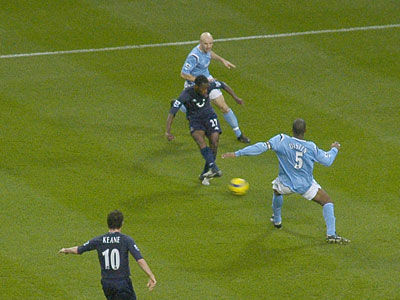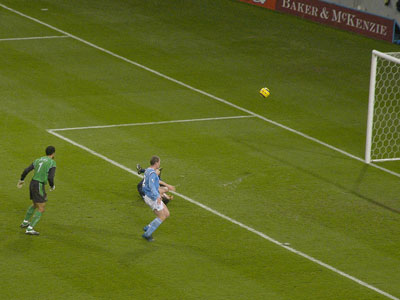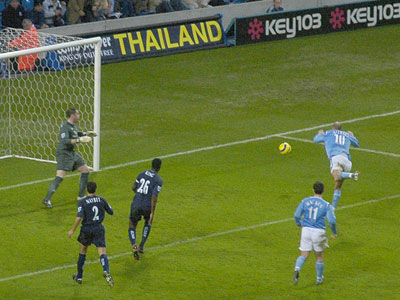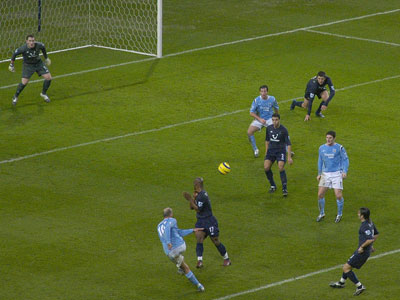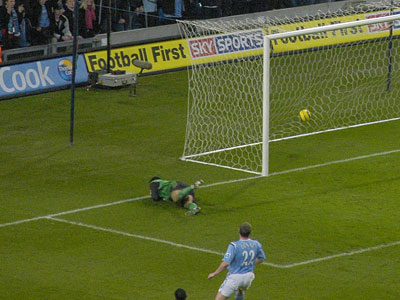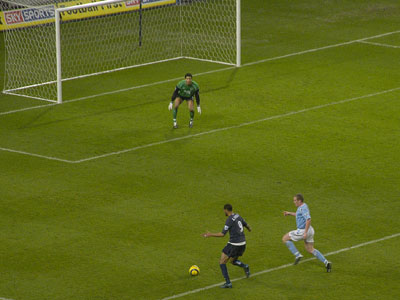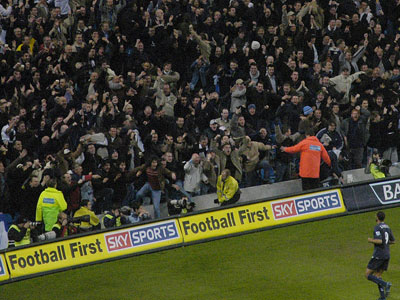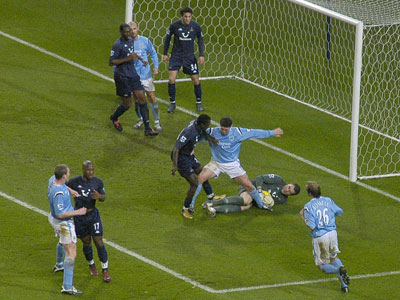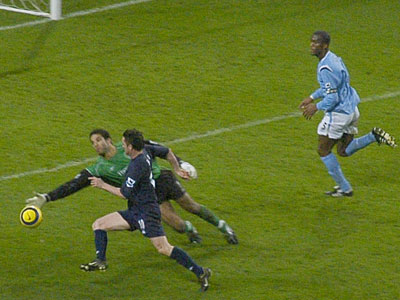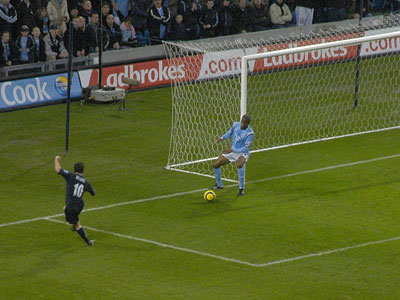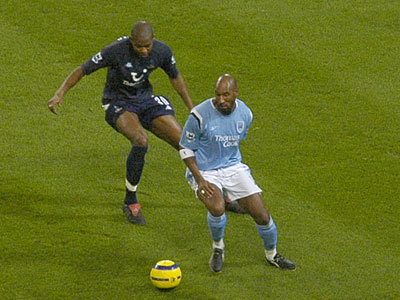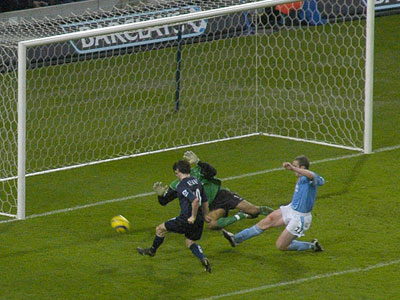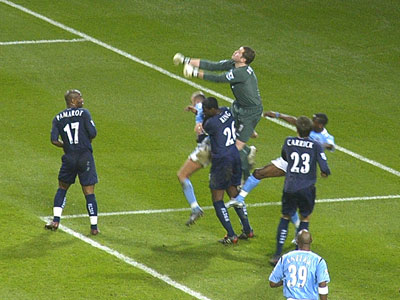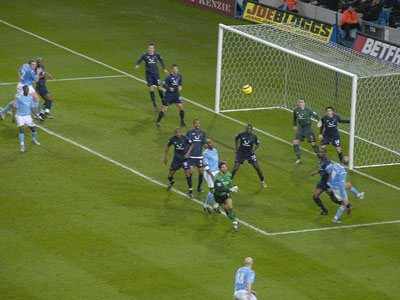 For the first 15 minutes City passed well , hassled the Tottenham players and gave a good overall impression that the goals would come.
Robinson was called into action on the 15 minute mark when he saved a good effort by Joey Barton.
Rohan Ricketts nearly gave Spurs the lead when he broke down the left and shot just past the post.
After 25 minutes Fowler was brought down at the edge of the area and despite the protestations of the Spurs players the referee gave a free kick
Alas Sibierski's kick rebounded off the wall and City's efforts then really began to deteriorate.
5 minutes before half time and the City goal had another narrow escape. A long ball found Robby Keane clear of Dunne and as James came out his shot went just wide.
Just before half time we had the miss of the season. A long cross from Jordan found an unmarked Sibierski on the edge of the six yard box. With the goal at his mercy he headed well wide. Unbelievable!
He failed to make any impact shortly after so the first half ended goalless.
After 57 minutes Spurs struck. A City attack broke down and a long clearance found Kanoute who had done little earlier. He made a run into the area and just as Dunne reached him he let fly an unstoppable shot that just flew like a rocket into the top corner.
The visiting supporters went mad with joy. As the poor relations of North London any success is a triumph!
City fought back and Robinson just held onto this shot from Fowler despite the attentions of Macken.
City had a narrow escape when Carrick found Keane who evaded the attentions of James but his final shot was stopped on the line by Distin
After 70 minutes Keegan made a double substitution bringing on Anelka and BWP for Fowler and Macken. It failed to make any impression on the Spurs defence.
Keane missed another chance when put through by Brown.
City piled on the pressure in the final moments and even David James came up to help at a corner but it was to no avail. Again City's inability to carve out chances was there for all to see. The lack of creativity is worrying. With Sibierski playing out of position the lack of a left footed creative midfielder is causing problems. Even Sibierski's heading ability is coming into question and as he often slows down as the game progresses we need new blood here. There is no plan B if SWP is off the boil and he certainly was in both the Middlesbrough game and this. His crossing today was very poor at times. Macken and Fowler had their moments together but they need support. Much of City's passing after the first 15 minutes lacked conviction. I will be paying a first visit to Boltons new stadium next week. Its a long time since I last visited Burnden Park. A tough game is in prospect.

Team
James 5: Mills 5 , Dunne 6, Distin 6, Jordan 5: Shaun Wright-Phillips 5, Bosvelt 5, Barton 5, Sibierski 4: Fowler 6 (Anelka 5) Macken 5 (Bradley Wright-Phillips 5)
Spurs were always eager to put their point of view to the referee
Bolton 0 City 1
December 18th att. 27,271

This was my first visit to the Reebok Stadium and having mortgaged three holiday homes and the cat for the ticket it wasn't a bad view! The last time I watched City play at Bolton was way back in November 1962 when a young 18 year old winger scored twice against us in a 3-1 Bolton win. He was a thorn in the side of City that day - his name - Francis Lee . How time flies. The City side that day was - Dowd, Kennedy,Sear: Benson Lievers Oakes: Young,Dobing Harley,Hannah and Wagstaffe. Alan Oakes scored for City.
Well the Reebok is certainly a change from Burnden Park. Bolton were on a bad run but are a difficult side to beat so City would have to improve on their last performance to get a point today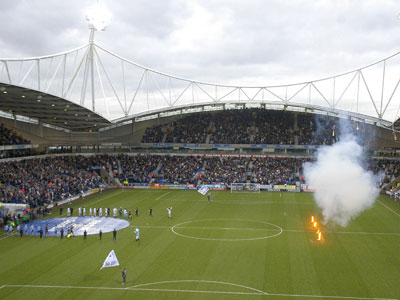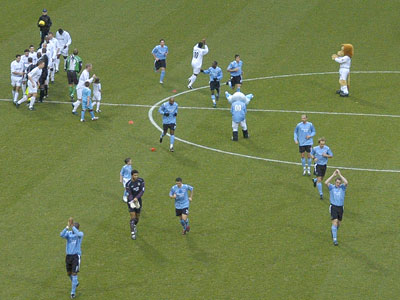 As the teams came out they were greeted with fireworks and as we shall see they were the only fireworks to be seen all day. City made one change - Anelka returning for Makin.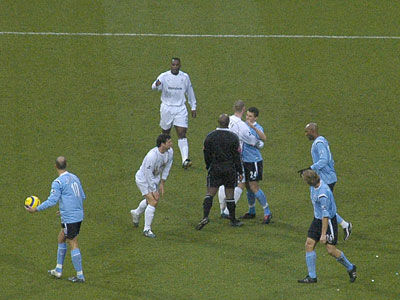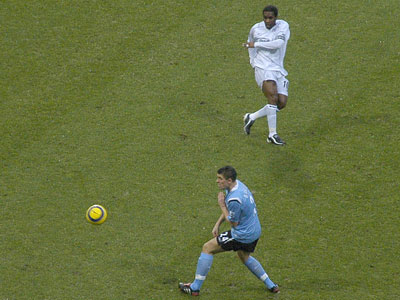 Joey Barton and a Bolton player practice for 'Come Dancing'
Jay Jay Okocha lets fly but the ball goes wide in the first five minutes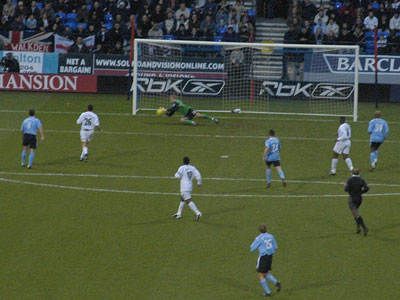 Kevin Davies gets a word of warning from referee Rennie after a hefty tackle on Barton
After 18 minutes Jaaskalainen makes a good save from Robbie Fowler who was continuing his improved form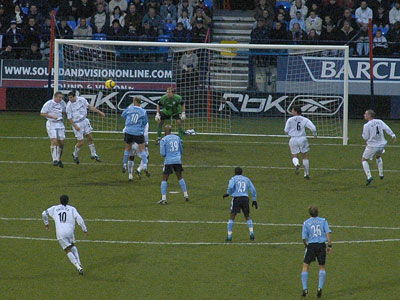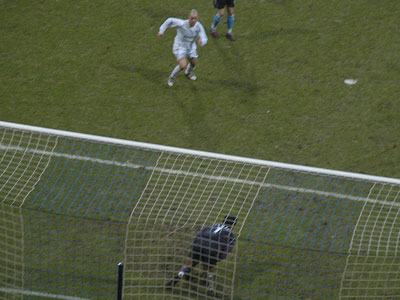 After 20 minutes James is forced to save low down from a long distance shot by Cesar
A City corner comes to naught as the Bolton defence clear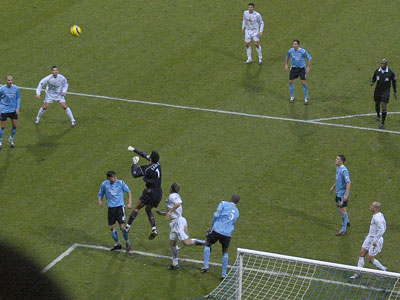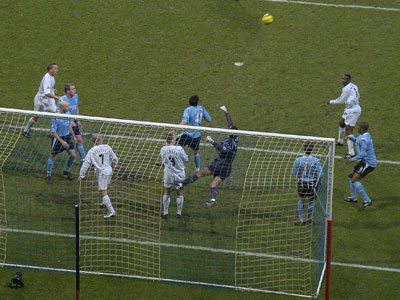 Bolton are always dangerous from dead ball situations so David James had plenty of practice perfecting his punching technique. I hope a certain local Bolton Olympic boxing hero who was introduced to the crowd was taking notes!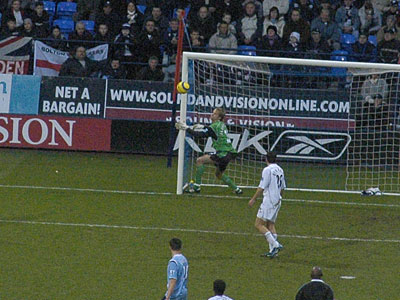 A Barton shot goes just wide.
Kevin Nolan practices his goalkeeping skills as City clear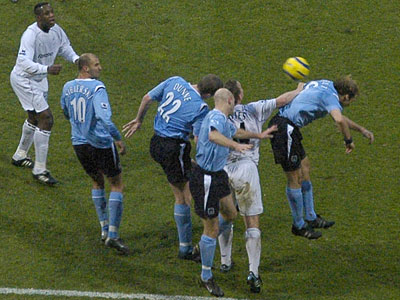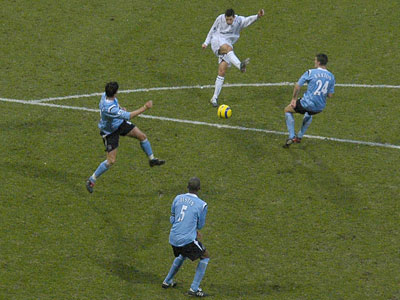 Its all hands to the pump as the City defence strive to clear another corner
For the most part City kept Bolton at bay and James was rarely troubled and it was obvious one goal would decide the issue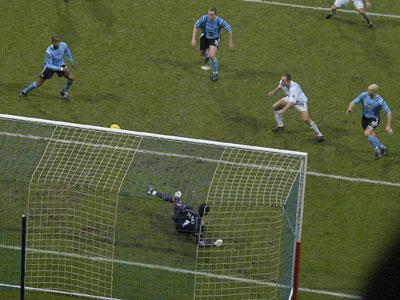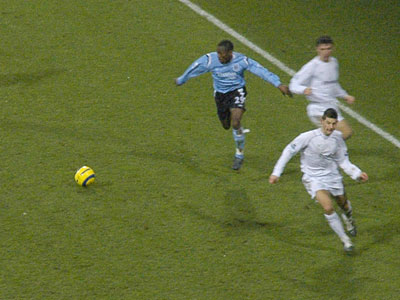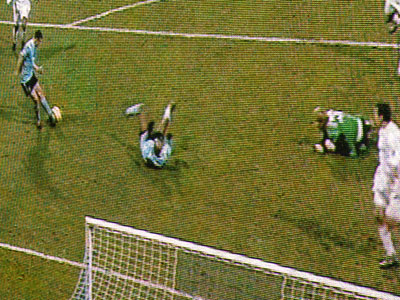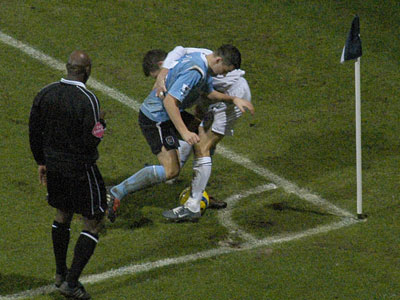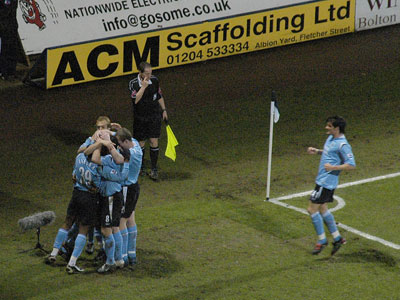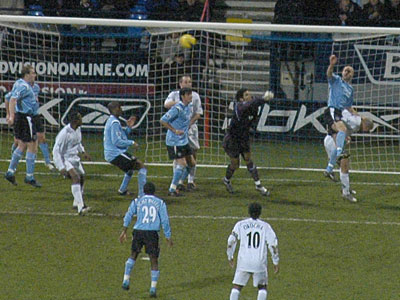 Bolton tried to put the City goal under pressure after they had gone behind but the City defence held firm and showed just why we had conceded so few goals
With ten minutes to go before half time David James made a brilliant stop to deny Barness Fortunately his block ran out to Distin who cleared
Shaun Wright-Phillips who had been pretty anonymous in attack had a run down the left shortly after the break but the move broke down
One minute later- in the 52nd minute City got what proved to be the winner. Fowler started the move putting the ball through to Anelka who beat the keeper only to be brought down. Before the referee could blow for a penalty the loose ball ran to Barton who easily scored .Alas my images of the event were blocked by an arm and a body infront of me! So the image on the left is from the Bolton replay screen. Why can't we have one of these at COMS!
With the last seconds ticking away Joey Barton took the ball to the corner flag to keep it safe.
This was not a pretty game to watch but I didn't think it would be. Though Mills didn't have one of his best games, Distin and Dunne were magnificent at the centre of defence and young Jordan should now hold onto his place with his displays. The midfield though not all that creative defended well with Barton and Bosvelt excellent. Shaun Wright-Phillips was earned his keep today as a defender leaving Sibierski to try and link up with Fowler - now playing much better and a rather lazy Anelka ( perhaps dreaming of a Sangria on the Ramblas in Barcelona ). So it was a good start to the Christmas period with City moving into the top half of the table with games against Everton and West Brom to come. This was a tough game certainly not for the purists and most likely well down the 'Match-of-the-Day' list but full marks to the referee for once who kept the game flowing - talked to playing instead of dishing out yellow cards willy nilly and used his discretion well.
Team
James 7: Mills 5, Dunne 8, Distin 7, Jordan 6: Wright-Phillips 5, Bosvelt 6, Barton 7, Sibierski 6: Fowler 7, Anelka 5:
City 1 West Brom 1
December 28th att. 47,177
It could only happen with Manchester City. A team with ten men who had no shots at goal at all score to take a point. Unbelievable - well not really. If you have supported City as long as I have, you know nothing is certain. It was the highest home crowd of the season but there was a stange lack of atmosphere. Perhaps it was the cold weather or the spectators just knew what was going to happen. What is certain is that Chairman John Wardle must give KK some cash to add to the bare bones squad hit by the long term injuries to key players.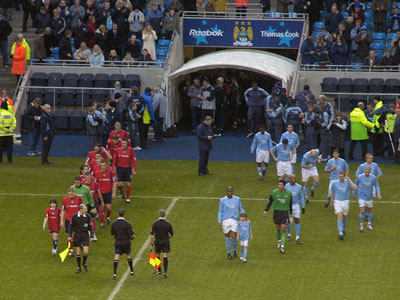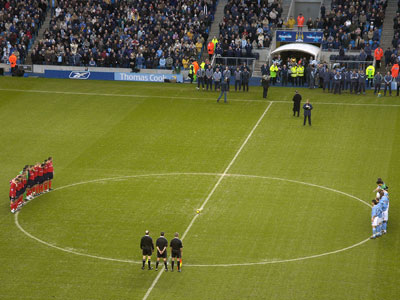 City made one change from the Everton game - naughty boy Barton returning for Mackin
The end of years minute silence was as usual impeccably held.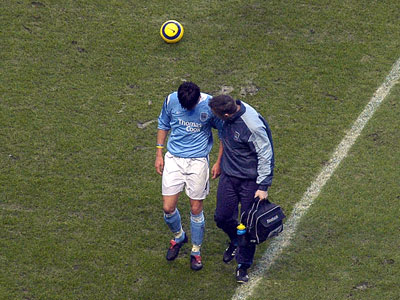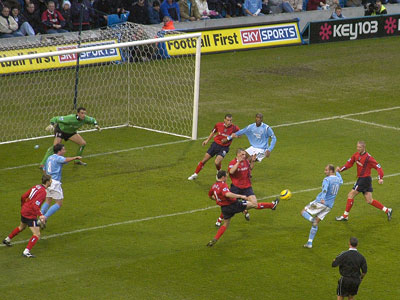 Jordan was clobbered by Johnson early on and though he returned after treatment and managed to play until half time he was later substituted.
City took control from the start and it looked as it was only a matter of time before we would score - here Sibierski having an effort blocked.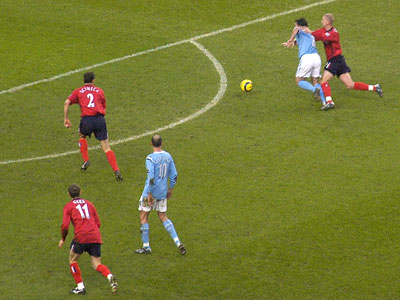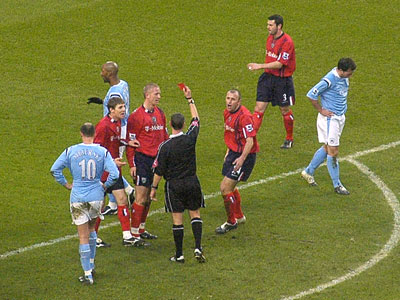 After !7 minutes Anelka put Fowler through on goal. He was impeded by Gaardsoe just outside the area -above left . Referee Andy D'Urso gave a free kick and a red card for the Albion defender who was deemed the last man. A somewhat harsh but rulebook correct decision.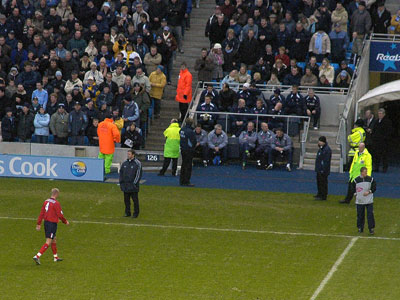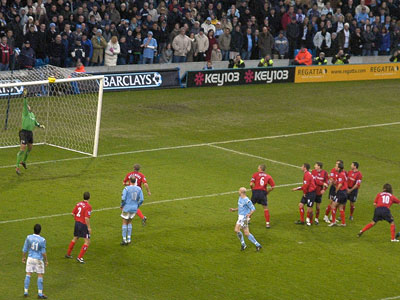 Anelka curled the free kick just over the bar
As Thomas made his lonely way off the field, manager Bryan Robson looks away from the player!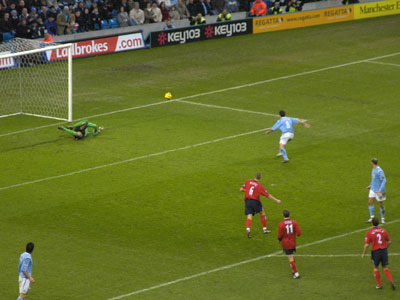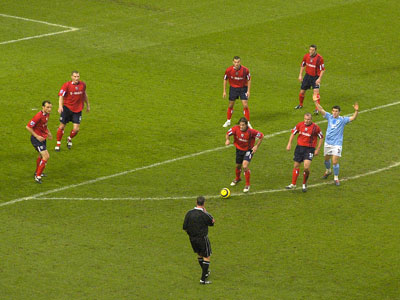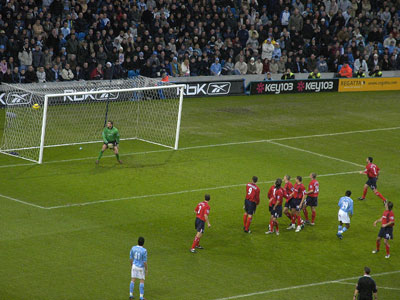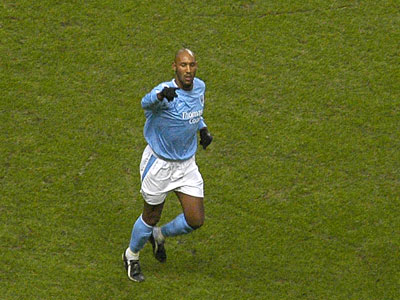 This time Anelka ,off a short run curled it beautifully into the top corner to put City into the lead after 33 minutes.
Anelka celebrated his first goal since the Chelsea game in October
A hand ball by Andy Johnson was right in front of the referee and Anelka had another chance to score
A good shot by Anelka is heading for the corner but is well saved by Russell Hoult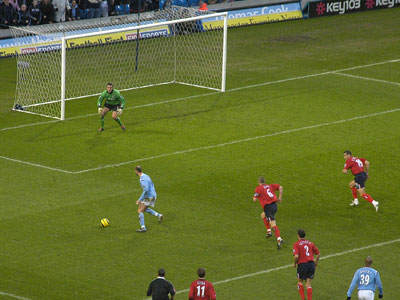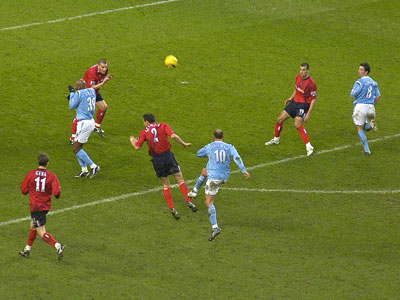 City continued to dominate with Fowler and Anelka combining well and Sibierski had several efforts blocked or saved.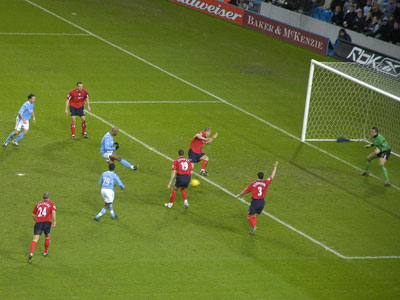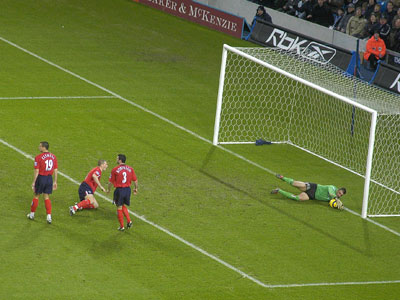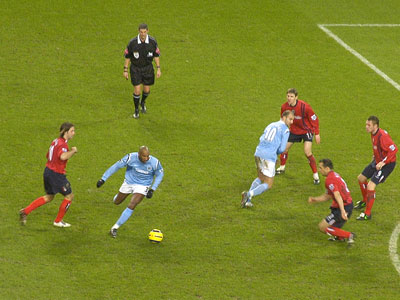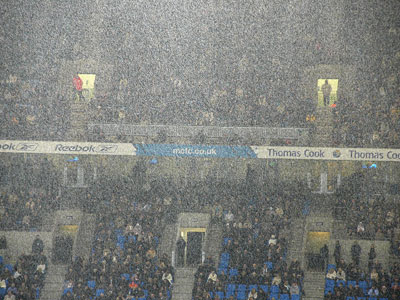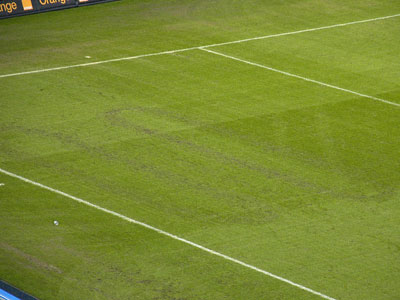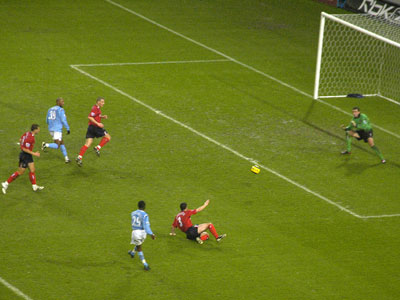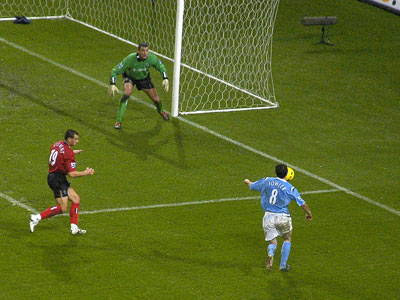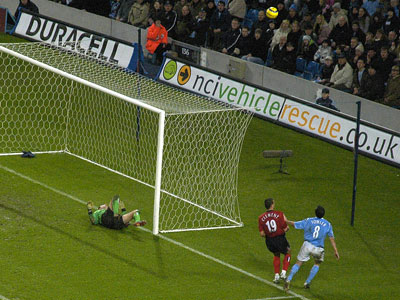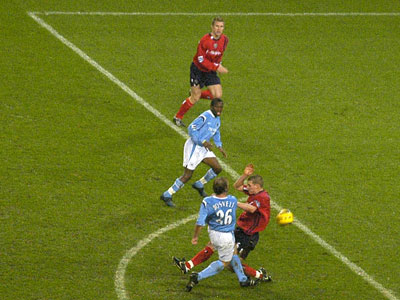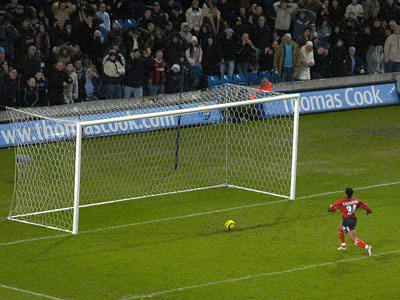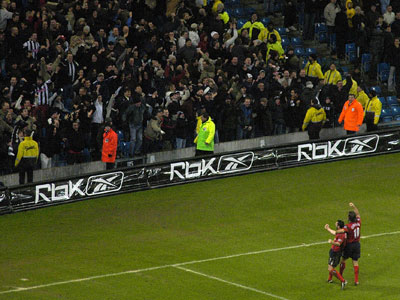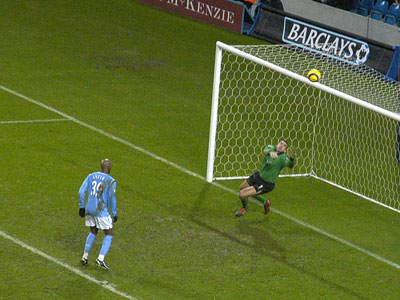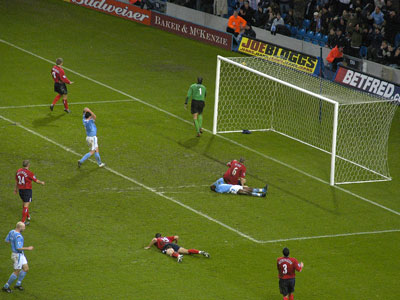 Another effort by the City attack ends with heroics from goalkeeper Hoult who once again saves the day for West Brom
Several heavy wintery showers failed to interrupt play in the second half
For the first time I noticed the under- turf heating on the pitch. You can just make out the dark outlines.
Anelka tries all his skills to try and break through the massed West Brom defence.
Shaun Wright-Phillips put through by Barton has his effort saved .
Robbie Fowler who was in great form had this chance from a narrow angle but his fierce shot was brilliantly blocked by Russell Hoult
With only a single goal ahead against the ten men of Albion City had most of the play but failed to kill the game off. The West Brom goal had a charmed life at times and the longer the game went on the more frustrating it got.
After 85 minutes West Brom equalized with a bizarre own goal. Earnshaw who had just come on for Greening chased a long ball down the middle. Dunne and James lost communication and the ball hit Dunne and rolled past the advancing James to roll over the line with an exultant Earnshaw in attendance.Oh what a Christmas present for the visiting supporters who had earlier called for Robsons exit. Unbelievable ! West Brom without one shot on goal had scored.
In the closing minutes City piled on the pressure but Hoult once again saved well from Fowler and yet another two points were thrown away at home. If we had won the games at home we should have City would be in the top 6. As it is we are likely to finish in the middle. Full marks to the Albion keeper who had a blinder but the lack of form by Shaun Wright-Phillips is a mystery. Since his 'rise to fame' defences have been more aware of him but he appears to have lost the confidence to run at defences with purpose. Questions must be asked of the tactics. Keegan was asked at the AGM why Anelka was taking corners - the answer was that Anelka was the best dead ball taker and he was not renowned for his headers so why are we now having Fowler taking some. Why did Onuoha who came on for Jordan in the second half play at left back when he is best in central defence and Distin could easily play at left back. With the midfield so packed with West Brom players why could we not use the width of the pitch more.
Team:
James 5: Mills 5, Dunne 6, Distin 6, Jordan 6 (Onouha 6 ): Wright-Phillips 5, Bosvelt 7, Barton 5, Sibierski 6: Anelka 7, Fowler 8: