Manchester City 3 West Ham United 0 August 24th 2008
Barclays Premier League att 36,635
This was a good win not only for the score but for the way it was achieved. When Richards was taken off on a stretcher early in the second half heads could have gone down but Kompany slotted into the centre of defence perfectly considering he hardly knew his colleagues. A well below par West Ham were lucky to be on level terms at half time and being down to ten men didn't help their cause. Johnson had one of his best games for City and with Petrov doing well down the left it was left to 'stand-in' strikers Elano and Sturridge to do the business with their goals. It leaves Hughes with a problem. With Jo coming back for the cup tie in Denmark does he keep Elano just behind a lone striker , putting Sturridge on the bench ? I expect Dunne will return for Richards whose injury is not as bad as initially feared and Johnson and Ireland should stay in midfield. Shame the crowd was well down for this fixture (live on TV) . Hopefully continuation of this form will bring back the ' not so sure'.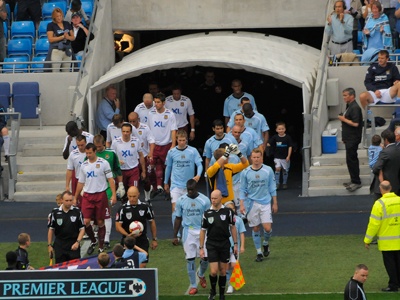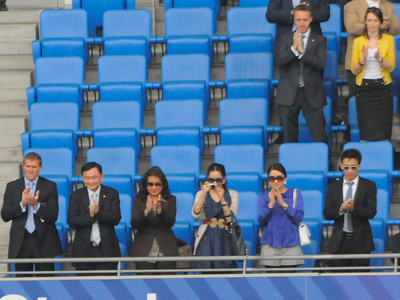 Making his debut for City was Vincent Kompany who came in for Fernandes Sturridge was the lone striker
Despite rumors to the contrary Dr Thaksin Shinawatra and family took their places next to Garry Cooke in the stand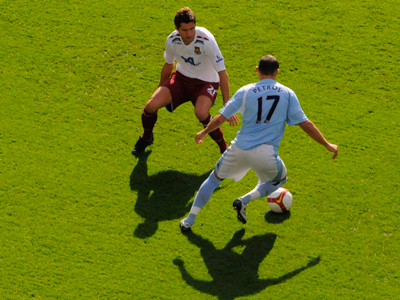 From the opening moments Petrov gave right back Behrani a foretaste of what was to come as the Bulgarian tormented the defender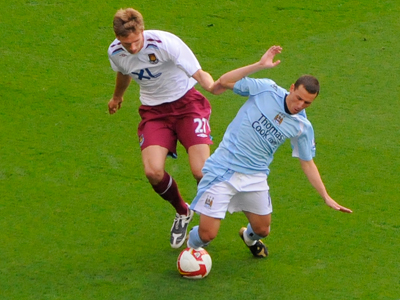 Elano too gave indications of a return to last seasons early form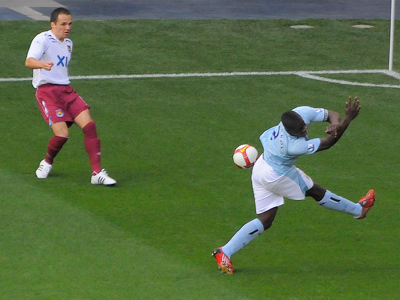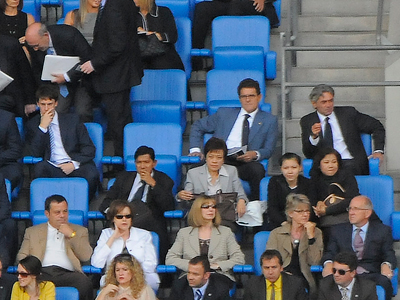 Richards, blocking this cross from Etherington, would have been on the list of players being watched by England Manager Franco Capello (centre right)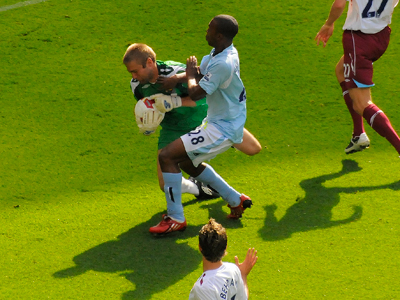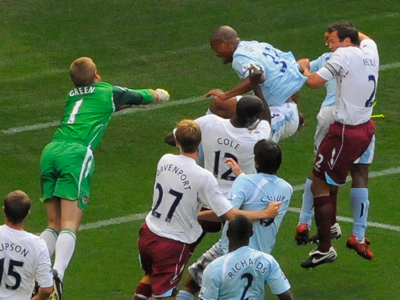 Daniel Sturridge given a rare chance to prove his worth in the striker role was soon letting Green know his physical presence.
Vincent Kompany was giving the West Ham defence some anxiety at this corner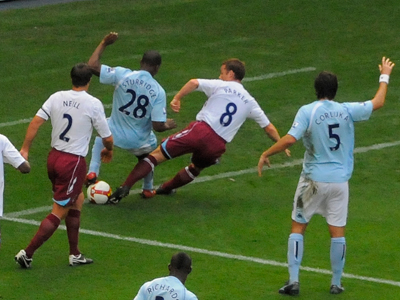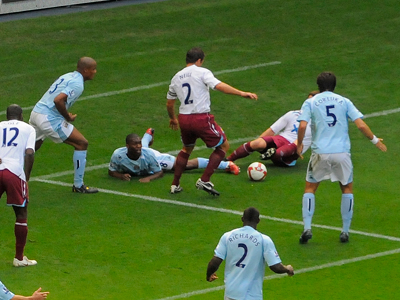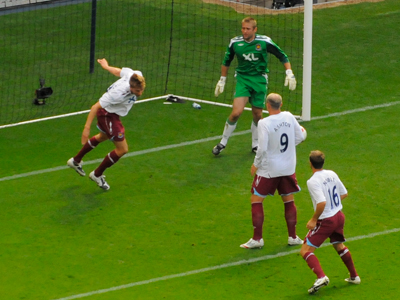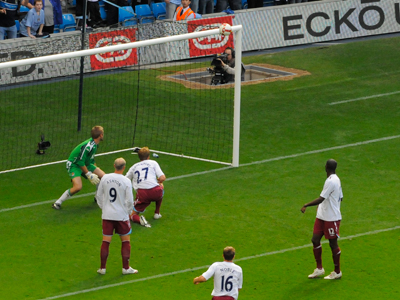 Drama in the West Ham box after just 12 minutes. After West Ham failed to clear a corner properly Sturridge claimed a penalty as he was tackled by Scott Parker.............
...... then Davenport saved on the line from Ireland....
..... and finally Ben Haim's shot is deflected onto the bar by Davenport. Lucky West Ham!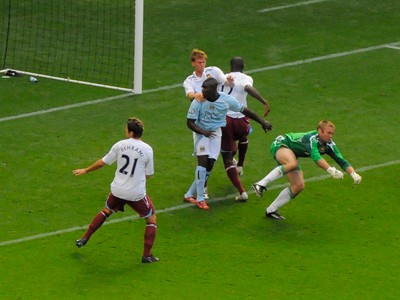 Finally the ball comes back into the danger area and was missed by Green but goes for a goal-kick.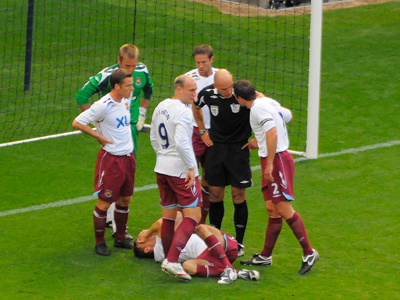 All this excitement was too much for Davenport who needed a lie down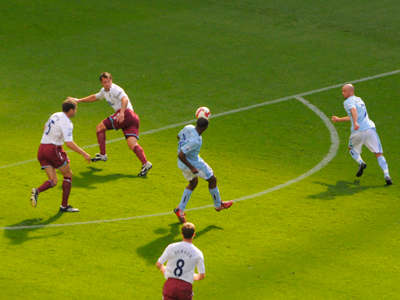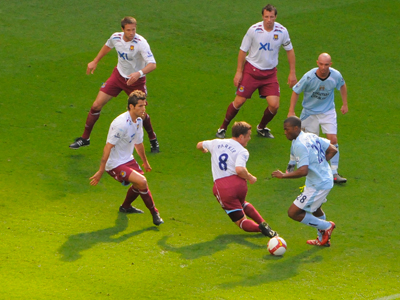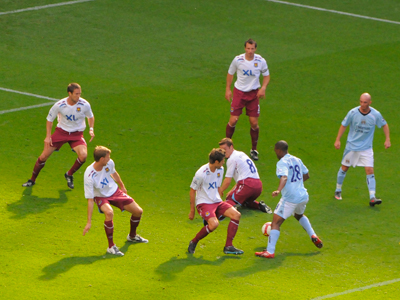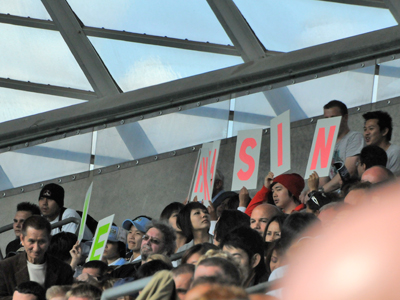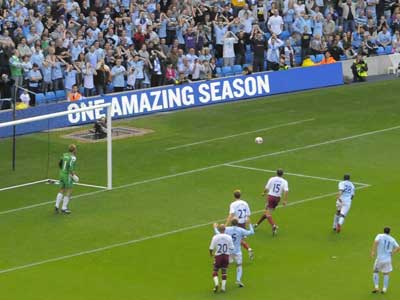 Another escape for the visitors when a free kick by Petrov hit the post and went safe much to the chagrin of the City supporters
Sturridge tries to put through Ireland who was having one of his best games for City
Sturridge was often faced with 4 and 5 defenders as he tried to dribble through the penalty area. Perhaps he tended to hold on a bit too much sometimes when a quick one two would have had more positive results.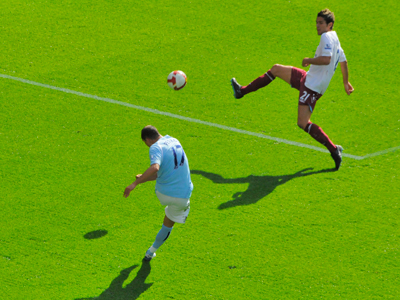 A group of pro Thaksin Thai supporters were at the back of the third tier
Petrov's runs and crosses were an ever source of danger to West Ham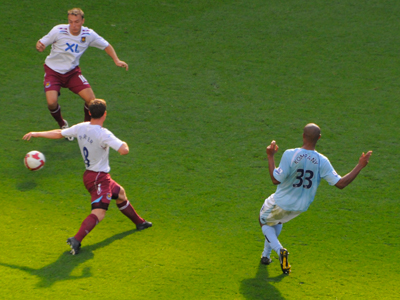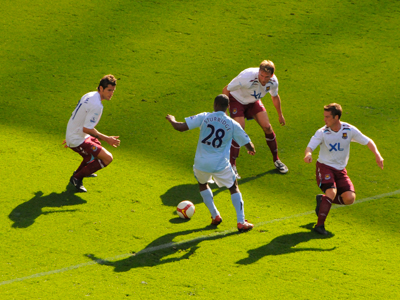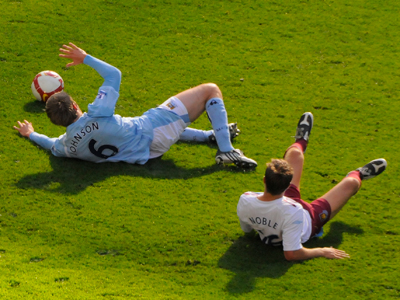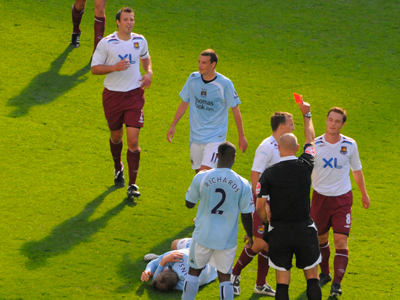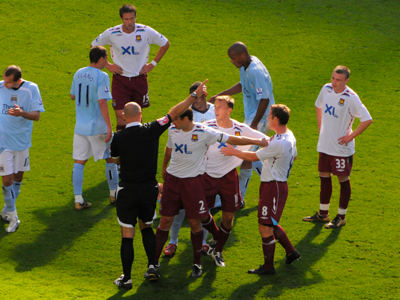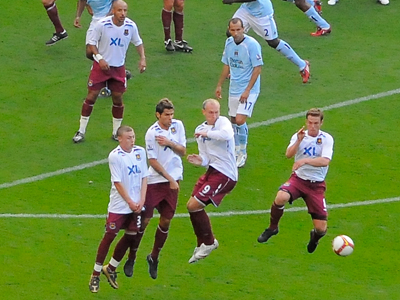 New signing Vincent Kompany looked at home from the first whistle. It looked like he had played for City for years!
Danny Sturridge continued to keep the West Ham defence on their toes
After 37 minutes Noble, who had been booked for deliberate hand ball 4 minutes earlier, brought down Johnson and the West Ham defender looked distraught as referee Webb went into his pocket to bring out the dreaded card
Despite some protestations Mark Noble had to go and had to be persuaded to leave by his colleagues.
An Elano free kick is charged down by the defensive wall.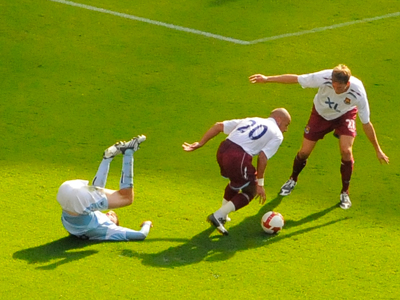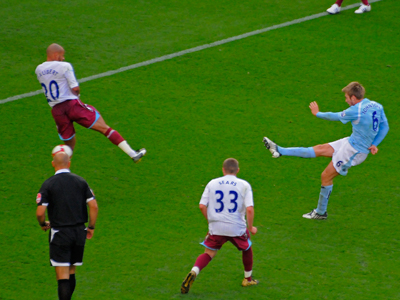 Johnson claimed a penalty as he crossed into Upsons upper chest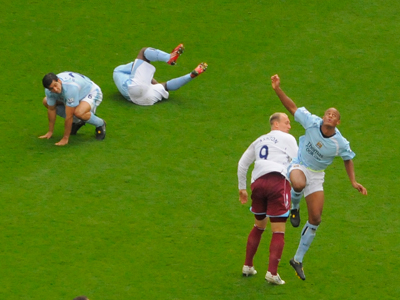 Johnson powers in a shot which is well saved by Green and at half time is was goalless.
Johnson practices his gymnastics - getting ready for the 2012 Olympics?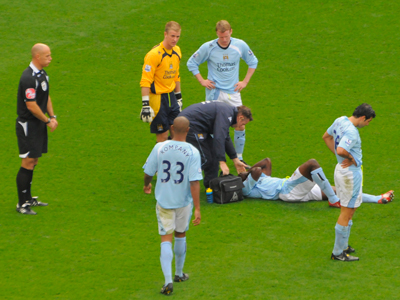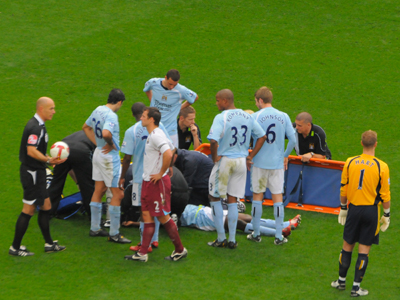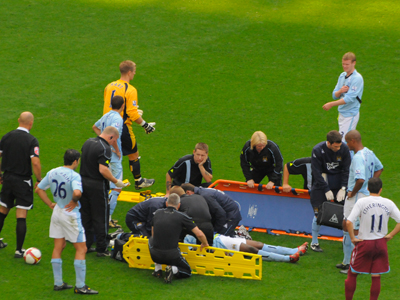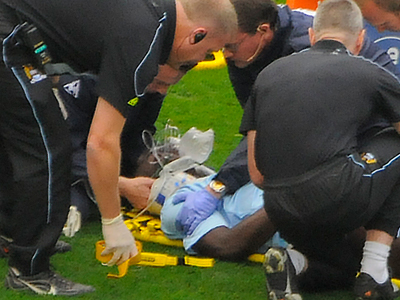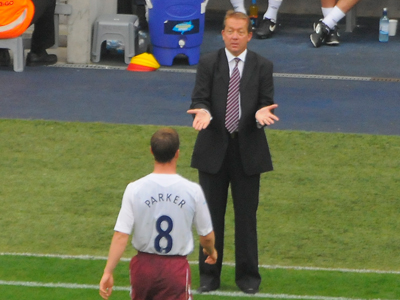 Two minutes into the second half City suffered a bad blow. Ben Haim and Richards collided when going for the same ball. It was not a dangerous situation and could have been avoided with a call! Referee Webb stopped play immediately he saw that it was a head injury. it looked bad from the start
Richards looked to be in a bad way and appeared unconscious. The rescue team had to be careful in getting the player onto a stretcher
Close-ups showed that his head was in a neck brace and an oxygen mask was being used. He was taken directly to hospital for a scan
West Ham manager Alan Curbishley has similar injury problems to City and while Richards is being treated he communicates his worries to Parker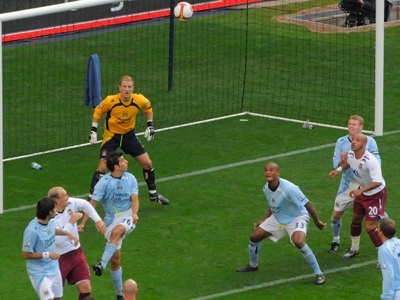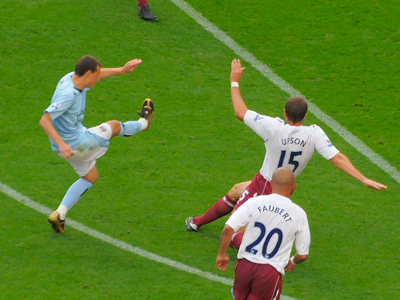 Such was City's dominance that Hart had little to do. Kompany slotted brilliantly into the central defence role after Richards was taken off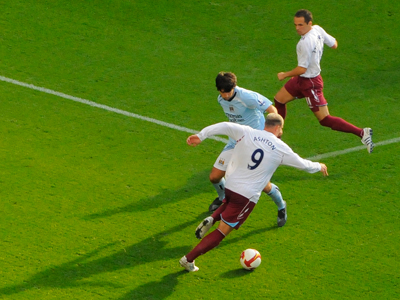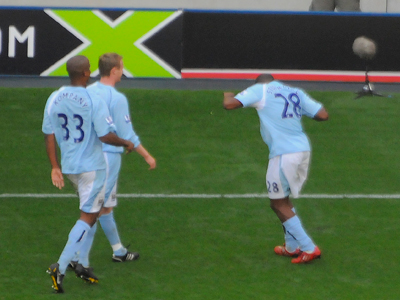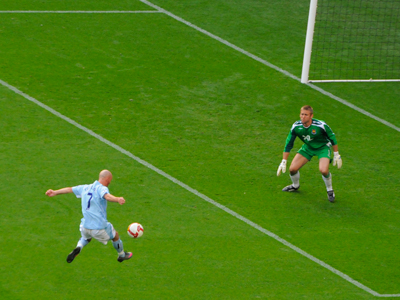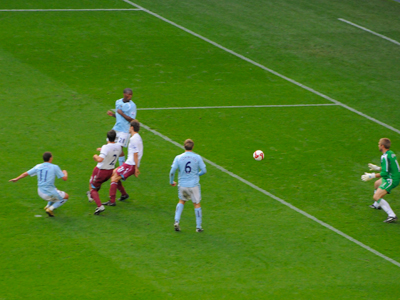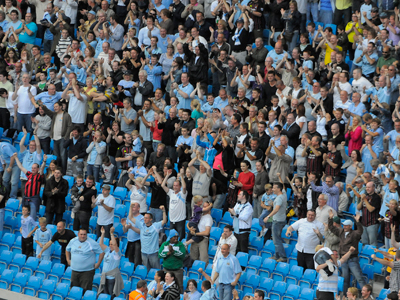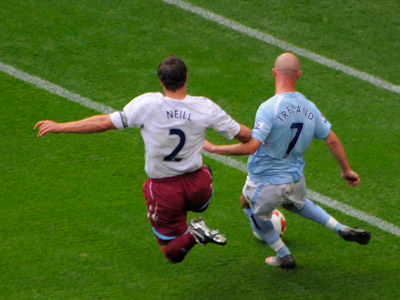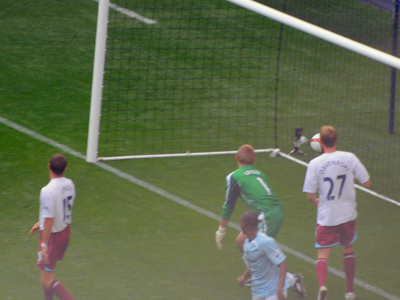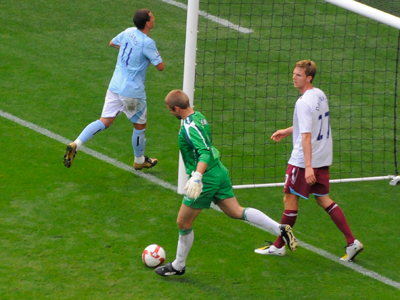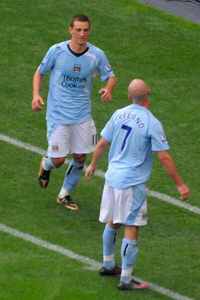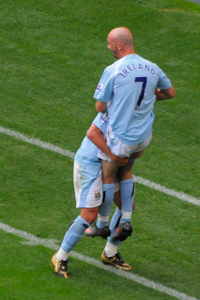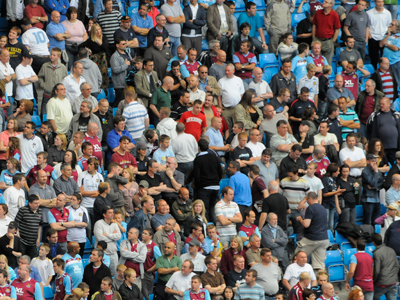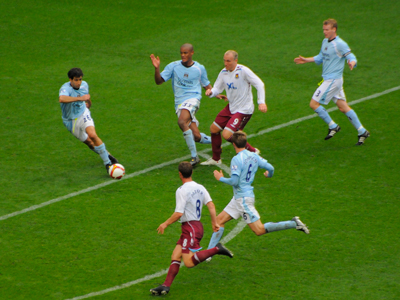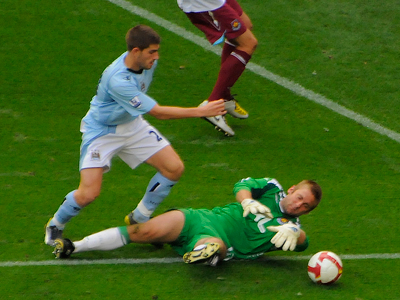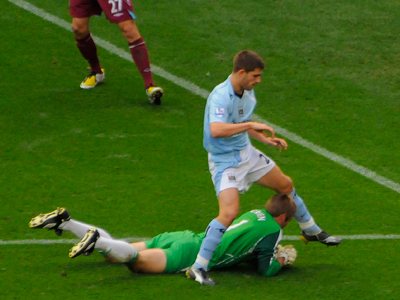 Team
Hart 6.5: Corluka 7, Richards 7 ( Hamann 7) Ben Haim 7, Ball 7: Kompany 8 : Ireland 8 , Johnson 7, Petrov 7.5 (Etuhu ): Elano 8 (Evans) , Sturridge 7.5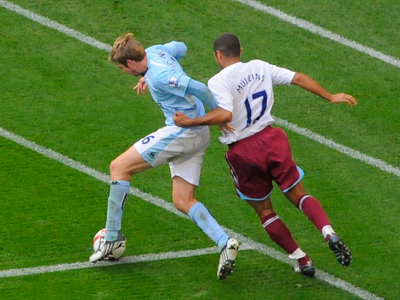 Elano failed to hit the target as City tried to make their territorial advantage tell.
Dean Ashton failed to disturb the City defence a great deal. Here he is stalked by Corluka who did good work down the right flank
After 65 minutes City took the lead. A Petrov cross was poorly cleared by the West Ham defence and Danny took one touch before crashing a left footer past Green
Sturridge celebrated with a dance routine
Five minutes later a great ball from Corluka finds Ireland who controlled the ball well and clips it back .....
....... to Elano who beats Green with his left foot ..... to send the North Stand into raptures
Six minutes later and City went three up. A great ball inside the full back by Corluka was taken to the goal line by Ireland and his cutback was swept into the visitors net by Elano
This was Elano at his best and full marks to Stephen ireland who had set up his two goals with help by Corluka
The West Ham supporters had had enough and they started to leave
West Ham rarely troubled the City defence who were keen to keep a clean sheet.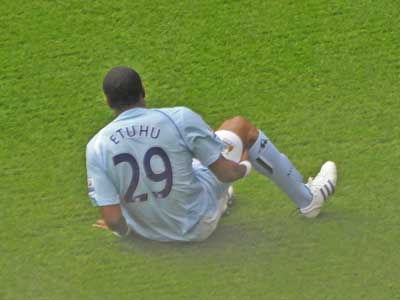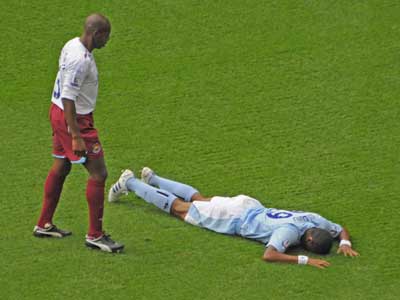 Evans came on as sub for Elano after 77 minutes and soon tested Green
City's bad luck with injuries continued after 84 minutes when Etuhu who had only been on the field as sub for Petrov for 7 minutes dashed down the wing. He had only gone a few yards when he pulled up holding his hamstring . So the game continued with both sides having ten men as City had used all their subs.
I cannot remember seeing extra time as long as ten minutes before but with the injury to Richards it was not unexpected.
One last dash down the wing by Johnson almost ended with a penalty when he was pulled back by Mullins
The way both sides played in the extra time I think they would have preferred to have gone off after 90 minutes.
West Ham had been well below par and City looked hungary for goals and points so a good win overall.