City v Lazio 3-1 pre-season friendly
August 7th att. 23,132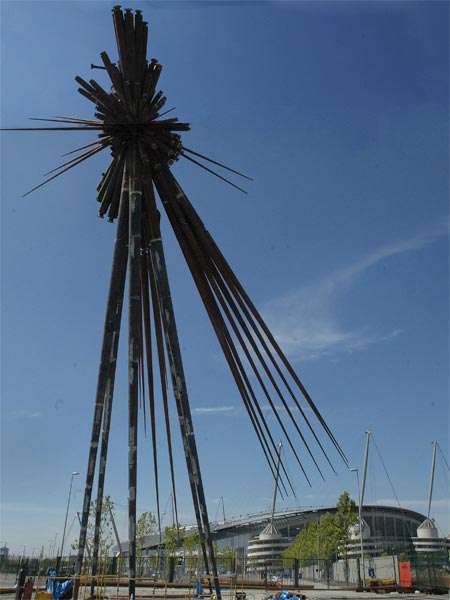 There was a new look to the skyline for City supporters as they made their way to see the last of City's pre-season friendly's. Manchester's answer to Newcastle's man of the North was finally up. Mmmm the jury is still out.
Back to football and it was certainly a hot day with the temperature in the high seventies and I was glad to see the groundsman had not mowed the grass in circles as he had for the internationals a month or so ago. Didn't he know the TV pundits and linesmen (OOPS sorry, referee assistants ) need the straight lines for judging offside!
When I bought the programme there was good news and bad news. The good news -it was a quid cheaper than normal. The bad news - there were no numbers printed for the Lazio team - great stuff - and as the announcer never took this into consideration as he read out the teams before the game this was not a good exercise in communication. It would also be a good idea to have an audible warning when important information is about to shown on the electronic scoreboard. Unless you just happen to be looking at it you are likely to miss the information.
As to City's team new man Mills was missing and Shaw Wright-Phillips dropped back into the right back position in the absence of both Sommeil and Jihai Sun. Fowler and Anelka started upfront and Thatcher made his debut at left back. Reyna, Bosvelt, McManaman, Reyna and Sibierski had midfield roles and Dunne and skipper Distin were the central defenders.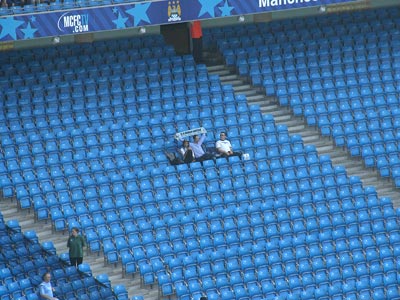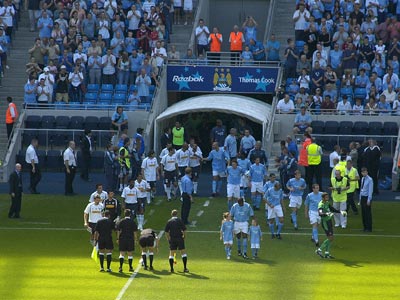 Lazio supporters were there in strength. Initially there were just these three but by kickoff there must have been at least ten!
I think City must have misread the possible support for this game with only about 20,000 turning up by the time the teams came out.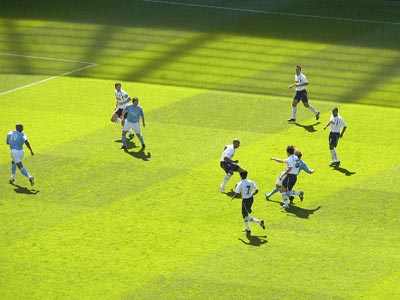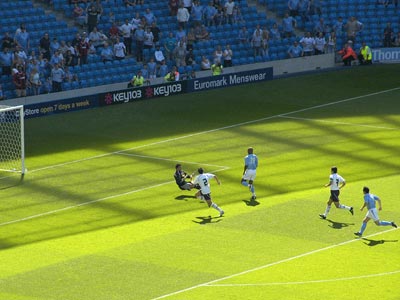 Within the first minute City took the lead. Sibierski fed Bosvelt who found Anelka in space and onside - above
Nicolas Anelka took the ball towards the advancing keeper and shot past him - above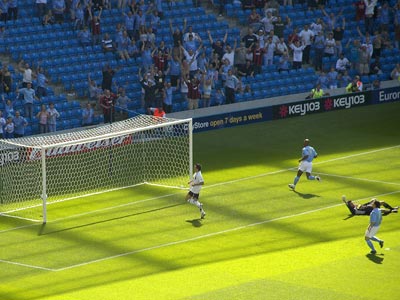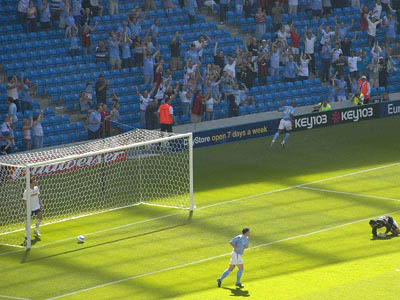 The ball found the back of the net within fifty seconds. What a start! City 1 Lazio 0. Against a defensive Italian side this was just what was needed.
Anelka celebrates his goal - the quickest ever at the new City of Manchester Stadium.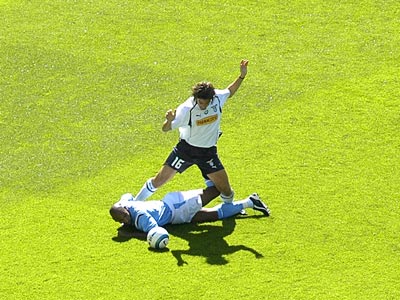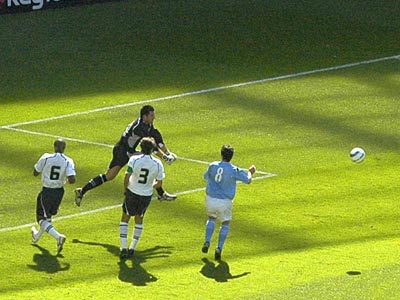 Anelka was proving to be a thorn in the Lazio defence with his runs at goal.
The Lazio keeper did not exactly inspire confidence when he punched out this low shot instead of catching it.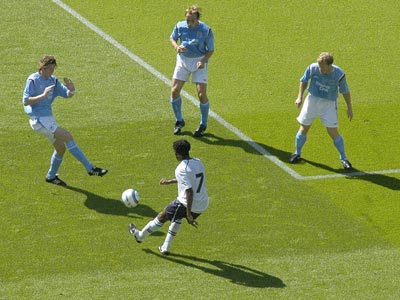 New face on the block was Ben Thatcher who played at left back for the first half before being subbed by Jordan. It is too early to say whether he will be an improvement on Tarnat or Jensen.
The only Lazio player to give the City defence any problems was Dabo a French international player - here faced with a City trio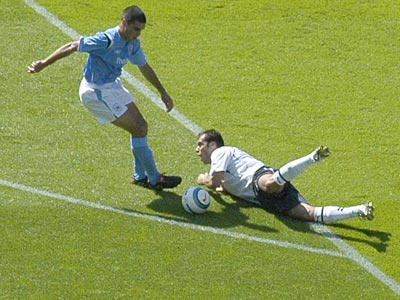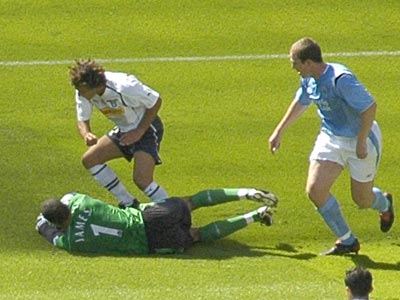 There was some diving and histrionics from the Lazio players but not as much as I had expected.
David James had little to do but watched by Dunne he saved here at the feet of Muzzi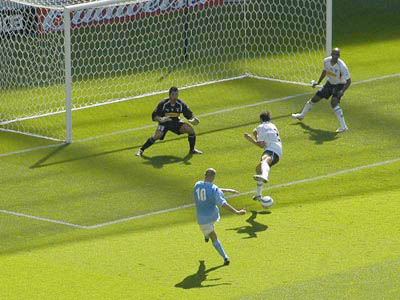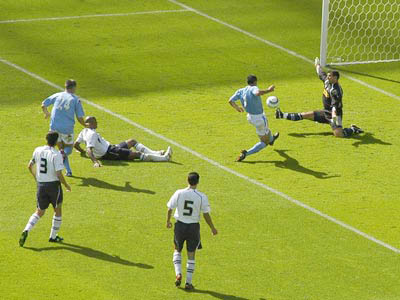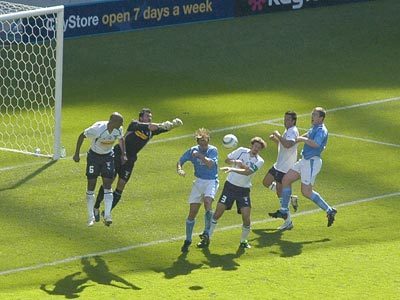 Another punch by Sereni ( ex Ipswich) who was substituted in the second half by first team choice Peruzzi.
Just after the half hour mark City should have made it 2-0 but this shot by Sibierski was cleared off the line by Dabo.
There were some changes . Already Barton had replaced McManaman who had received a cut near his eye after 20 minutes and at the interval Sinclair came on for Wright-Phillips and Jordan replaced Thatcher. In the second half it wasn't long before City nearly scored again - Reyna broke through and only the outstretched leg of Peruzzi saved the day for Lazio - above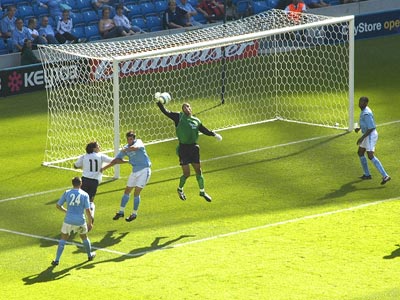 James had little to do and this cross was easy meat for England's number one. He needed just one hand to gather it in. Macken and Wanchope replaced Anelka and Fowler after 56 minutes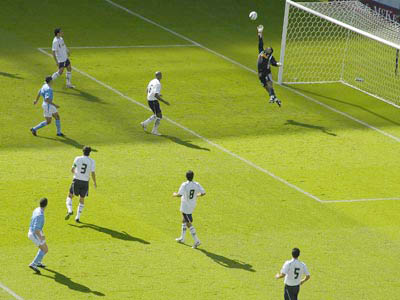 After 68 minutes City scored a second. Sinclair ( I had just been moaning about him) received a great cross field ball from Sibby, passed to Macken (bottom left) who curled a great shot over the jumping Perruzzi.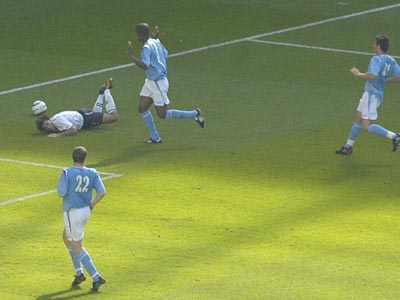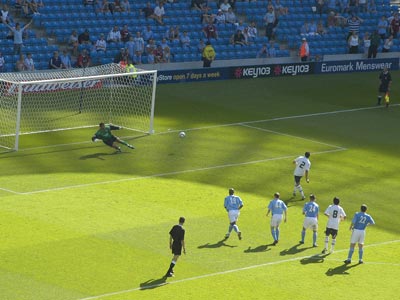 Two minutes later City had a setback. Distin was judged to have fouled Muzzi and the resultant penalty was slotted home by Oddo as David James dived the wrong way.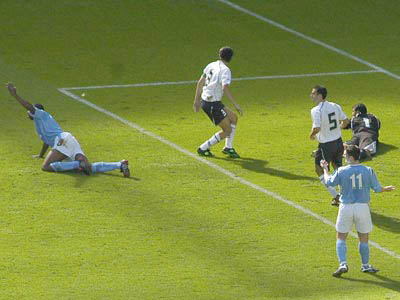 Another two minutes on the clock and City's two goal lead was restored . Wanchope who was in good form won a penalty and Sibierski coolly scored from the spot.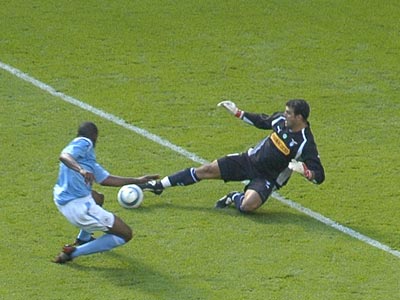 As Sibby turned away in celebration after finding the net the game was all but over and KK made further changes to give youngsters Bishoff, McCarthy and Flood a run for the final minutes.
Peruzzi foils Wanchope in the final minutes to keep the score to 3-1
team:
James 7: Wright-Phillips 7 ( Sinclair 6), Dunne 6 (McCarthy 6 ), Distin 6, Thatcher 6 ( Jordan 6) :Reyna 7 ( Bishoff 6) McManaman 6 ( Barton 6) Bosvelt 7 ( Flood 6) Sibierski 8 : Anelka 8 (Macken 7) Fowler 7 ( Wanchope 7):

I suppose it was a good run out for the team and a confidence booster but City will find teams in the Premiership will be trying harder than this listless Lazio team.
---
City v Fulham 1-1
August 14th att. 44,026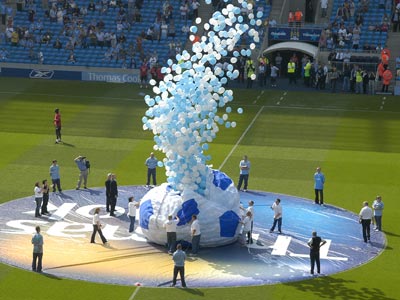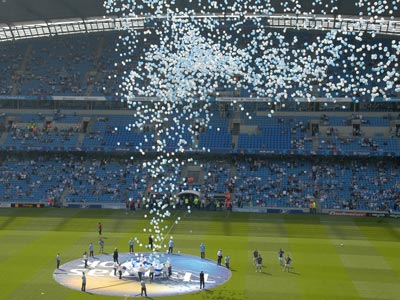 After a slight delay Mike Summerbee released nearly 5000 balloons into the air above Manchester to mark the start of St Annes Hospice Annual Balloon Race.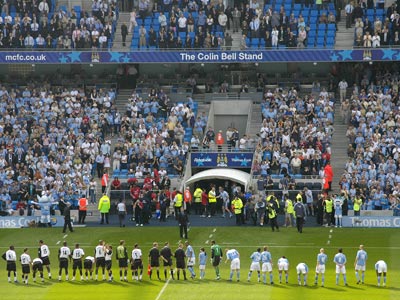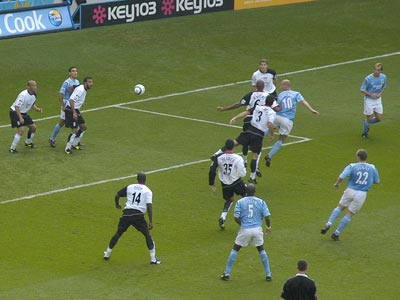 The start of yet another premiership season and after the disappointments of last season City supporters were once more full of optimism though no doubt they had already checked the location of the rope and chair in the attic!
Mills made his debut at right back and Fowler partnered Anelka upfront in the absence of Wanchope. Above an early City corner is cleared by the Fulham defence.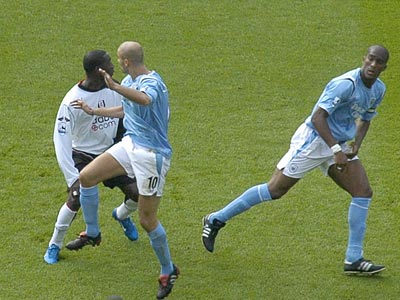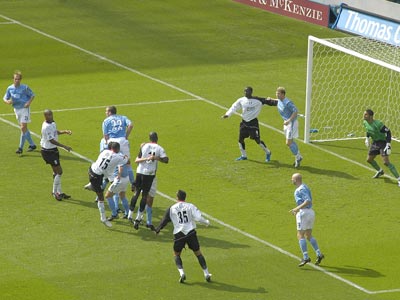 Sibierski and Distin deal with a certain Andy Cole a recent Fulham signing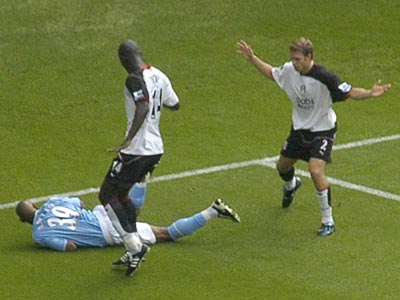 There was a new look to the City defence with Mills and Thatcher having the fullback roles. In the early stages Fulham rarely gave James any problems.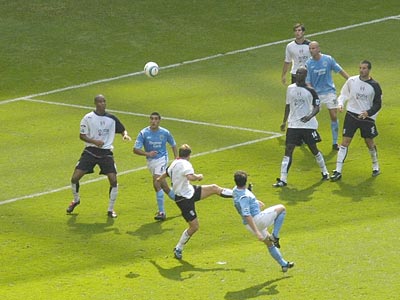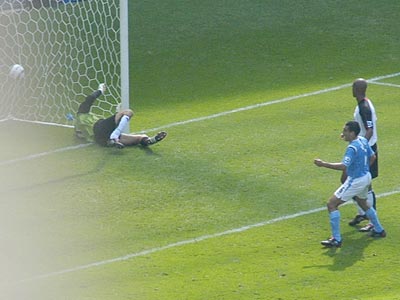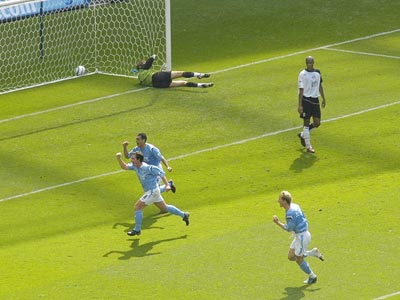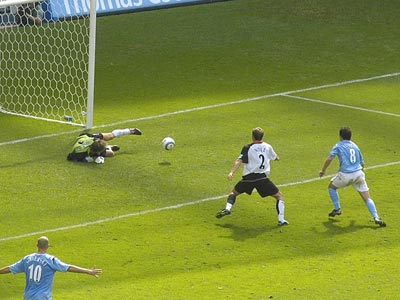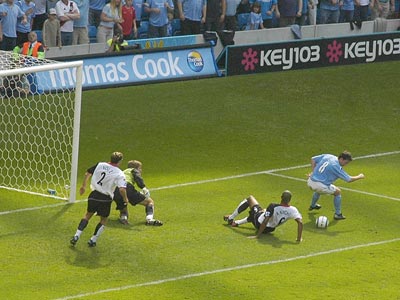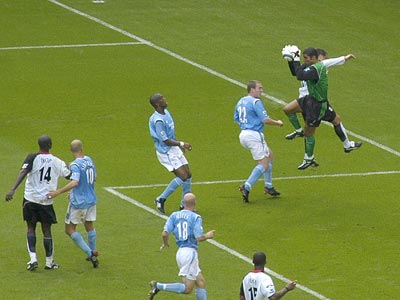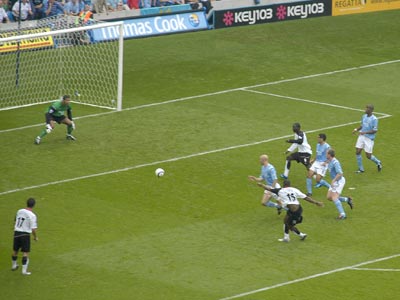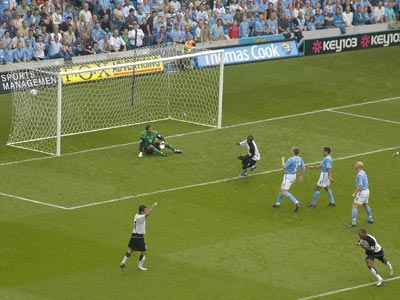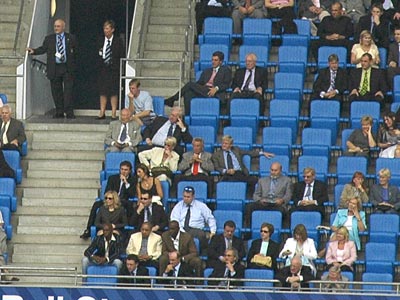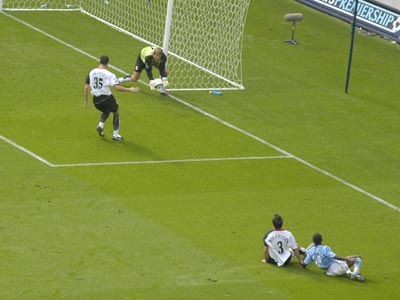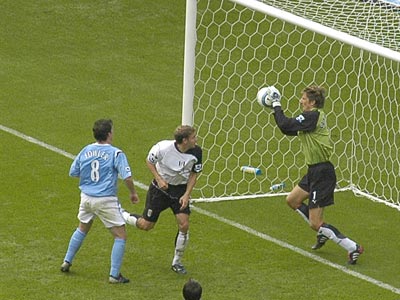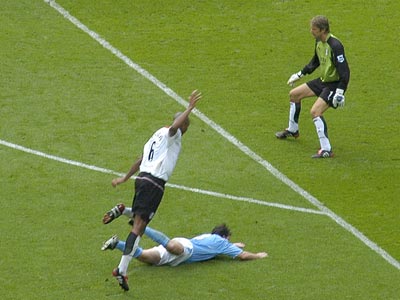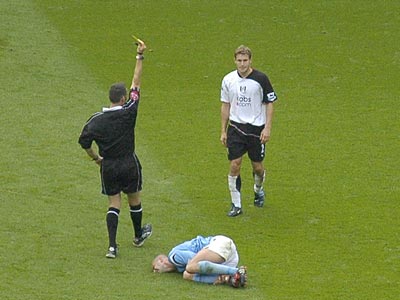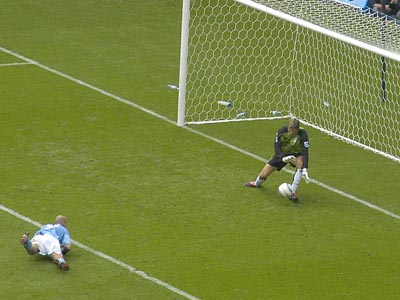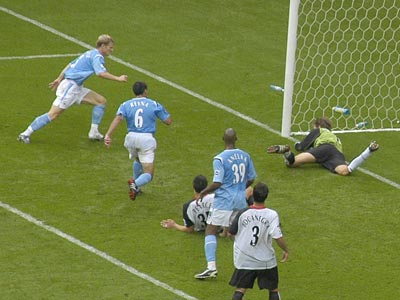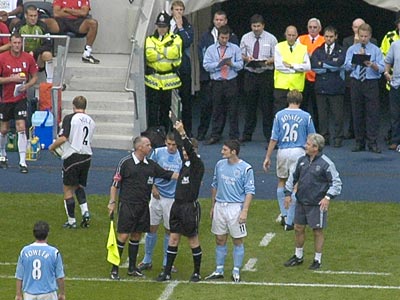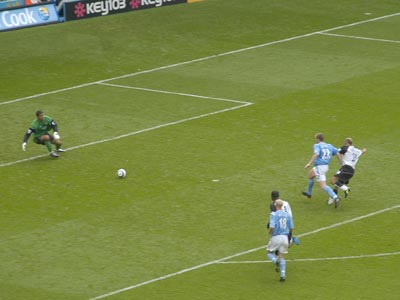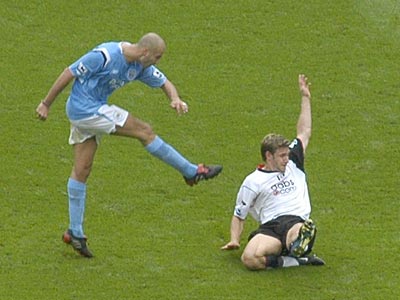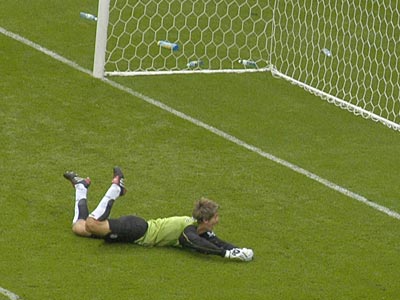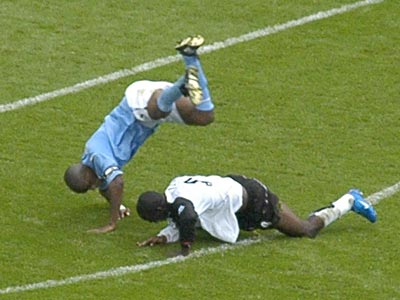 Anelka's running caused the Fulham defence lots of trouble this incident ending in a freekick for City
After 28 minutes City scored. A throw in by Mills was headed on by Sibierski and though marked Robbie Fowler hooked the ball into the goal - above
Van der Sar was well beaten. Sorry about the blur on the left. The chap on my left was rather excited!
The City players were quite excited too as were the rest of the City supporters.
City continued to attack and Van der Sar was kept busy with Fowler now full of confidence was putting himself about a bit.
David James had little to do save for the odd catch
Just before half time Andy Cole got himself booked for a foul
Eleven minutes into the second half Fulham drew level . An attack down the right caught the City defence napping and Collins John (no.15) shot past James . It was against the run of play and City were to rue the chances missed in the first half.
Shawn Wright-Phillips watched by a certain parent (bottom left) continued his good form, several times outrunning the Fulham defence and also playing his part in defence. He has been chosen to be part of the England squad to play the Ukraine shortly and today he also signed a new four year contract. Good news indeed for all City supporters.
Within a short space of time Van der Sar had to make two saves following corners -both from headers.
Mills is fouled by Voltz who gets booked.
Fulham used every device to keep City at bay.
Sibierski should have given City the lead late on when his header from close range was just diverted by Van der Sar
Van der Sar continued to defy the City attack saving on the line.
After 78 minutes City made two changes - Macken for Fowler and Barton for Bosvelt
Yes, its that man again saving the day for Fulham.
City could have gone 2-1 down when Claus Jensen broke through but James made a great save - above.
With the Olympics on in Athens there was bound to be some athleticism to be seen
Final chance for City came to Sibierski who drove just wide.
Team
James 6 : Mills 6, Dunne 7, Distin 6, Thatcher 6: Wright-Phillips 8, Bosvelt 7 (Barton 6) , Reyna 8, Sibierski 7: Fowler 7 (Macken 6) Annelka 7:
But for Van der Sar City would and should have won this game comfortably . You just cannot afford to miss chances in the Premiership. There are rarely any defensive errors so you have to work hard to make any goal chances . It will take several games for Mills to settle in and I am sure he will get sharper in the next few weeks. Bosvelt and particularly Reyna looked a good midfield pairing and though Sibby tired as the game went on with luck he might have scored at least two. Wright-Phillips speed was phenomenal at times but he didn't get enough of the ball.
---
City v Charlton 4-0
August 28th att. 43,593
I had a dream that City would win 4 nil so after two away losses against Liverpool and Birmingham and our home record against Charlton I wondered whether my dream would turn in to a nightmare. I should not have worried. Charlton look like a Jekyl and Hyde side. Good at home -awful away. Already having conceded four at Bolton It was no wonder the Charlton support was well below par. What was more worrying were the gaps in the rest of the ground. After this result I think those places will be filled for the Everton (minus Rooney) game.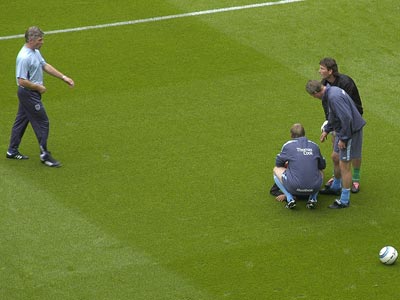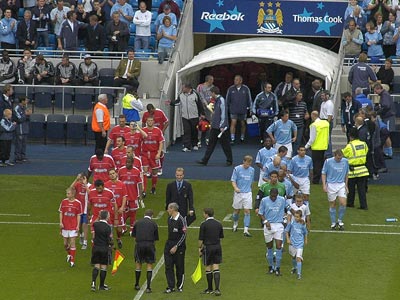 City had a scare an hour before kick-off when Reyna was injured apparently by new sub keeper Waterreus.
City made two changes in midfield with Barton replacing Bosvelt and Sinclair came in for Sibierski who did not even appear on the bench.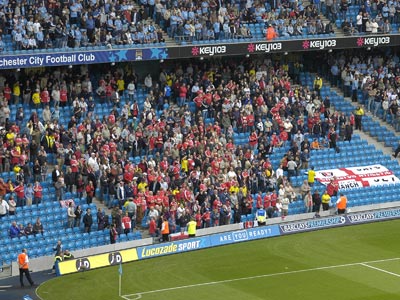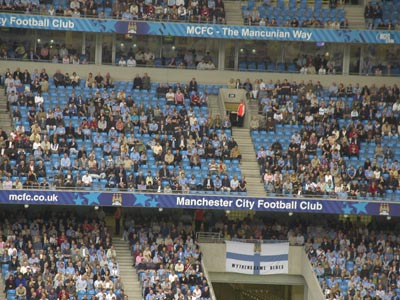 The official attendance of 43000 odd looked a bit suspect when you looked at the empty spaces in the visiting supporters section and in other parts of the ground .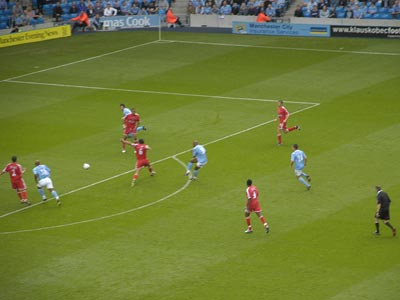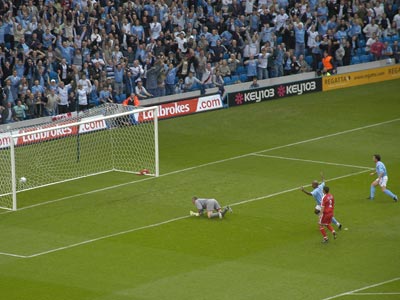 After a poor start to the game with misplaced passes from both sides City took the lead after 13 minutes. Wright-Phillips started the move in which both Mills and Fowler played a part. It ended with Anelka shooting from just on the D, the ball beating Kiely and going in off the post. Full marks to Fowler for the dummy that let in Anelka. One nil to City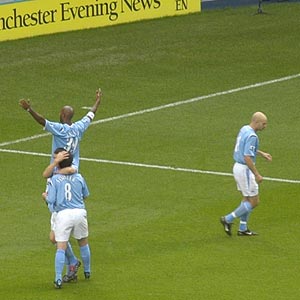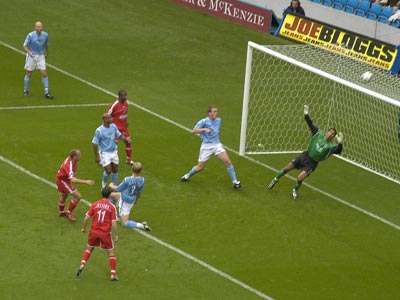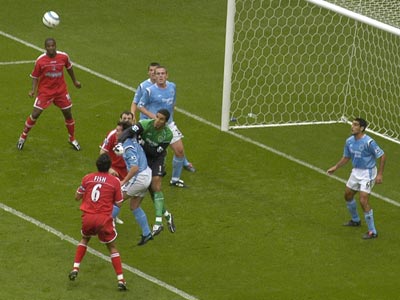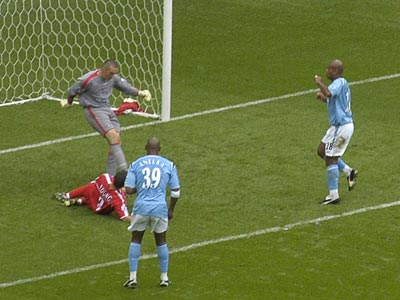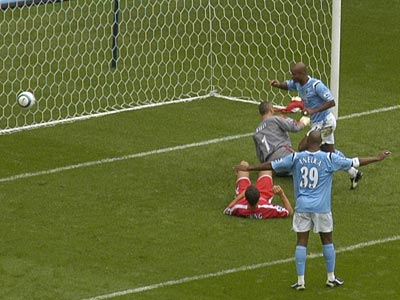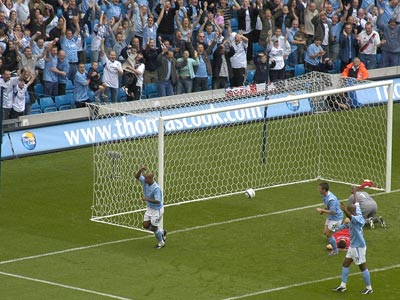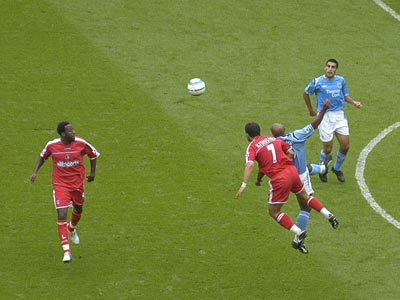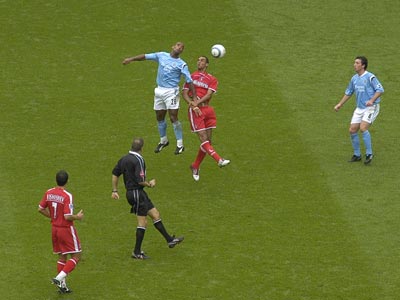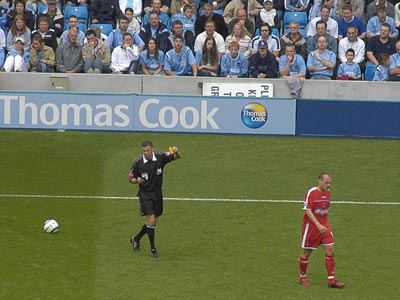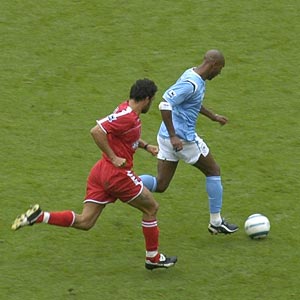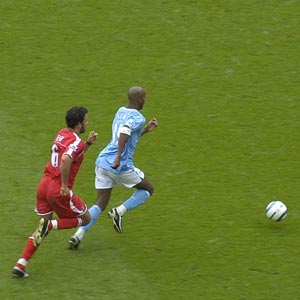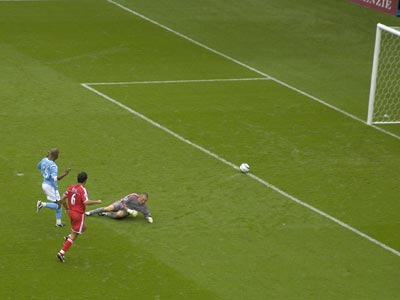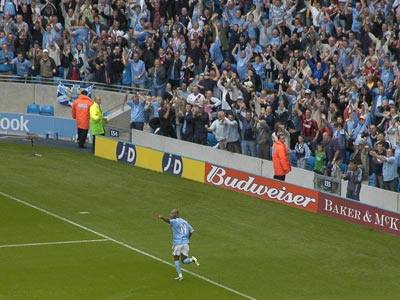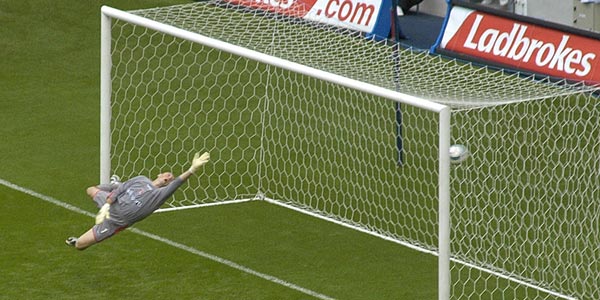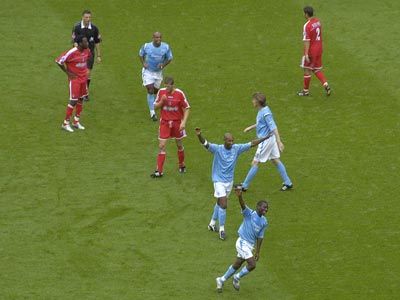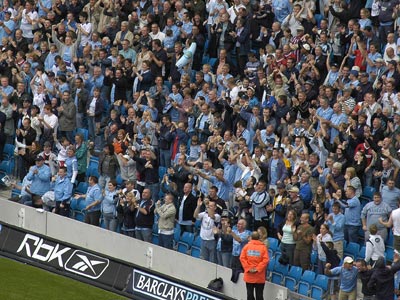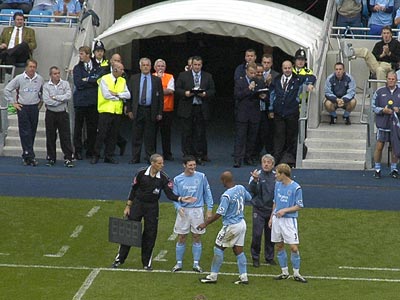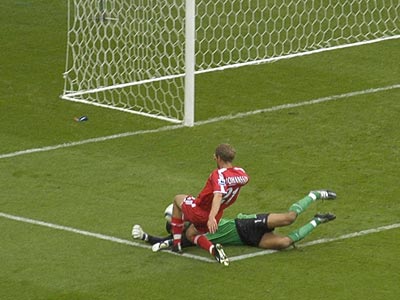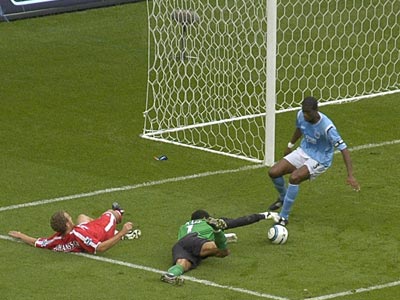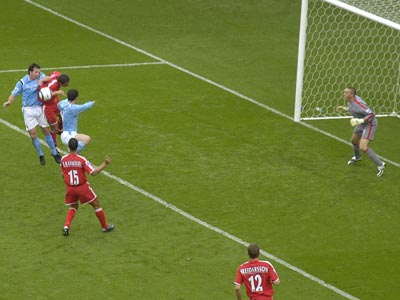 While Anelka turned to the crowd in celebration one Charlton defender walked away in tears!
Charlton's initial response was easily dealt with by the City defence here Dunne marking Jeffers.
Danny Murphy missed a sitter following a long throw and header on, the ball going well over.
David James emulated the right hand punch of Amir Khan to clear this Charlton corner. I wonder whether he is a City supporter like fellow boxer Hatton.
34 minutes had ticked away when City doubled their lead. Wright Phillips started a run down the right. He passed to Fowler who returned a great ball and SWP dashed to the line and whipped over a low cross that caused havoc in the Charlton defence. Luke Young got his feet mixed up and poor old Kiely in attempting to clear banged the ball against Sinclair and into the net. A gift for Sinclair who was playing well.
The City crowd were overjoyed. Such bliss -a two goal lead -the dream was coming true.
I had expected more opposition from Charlton but they had little to offer for once. We had not beaten them at home since 1996
Though it was never announced there was a change in referees - Peter Walton being substituted by Mark Halsey - a good omen. He did not much to do apart from one yellow card against the luckless Murphy - not his day. Mind you goods job the referee did not give yellow cards for bad passing! I can't remember when I have seen periods of such atrocious passing by both sides. There were times when I wondered whether they were all colour blind.
Fifteen minutes into the second half and the game was made safe. It was a wonderful example of defence into attack. A clearance by Distin was picked up by SWP who placed the most brilliant of passes outside Mark Fish and Anelka was on to it in a flash and sprinted towards the visitors goal with Fish in his wake!
Anelka placed his right foot shot past the helpless Kiely the ball again going in off the far post -such precision - and he joined in with the City faithful to celebrate a three nil lead.
There were more horrors to come for Kiely. Shawn Wright-Phillips capped another excellent display with a stunning shot from well outside the area. By now City's passing was more precise and a move of 4 or 5 passes ended with Anelka setting up SWP with his chance after 78 minutes.
It was a real cracker of a goal and if my eyes don't deceive me isn't that Anelka smiling - above left. The City crowd were in raptures - four nil - a dream come true and even City could not turn this dream into a nightmare!
KK would have been very pleased as Macken came on for a late substitution of Sinclair, McManaman already having come on for Barton to a mixed reception.
City continued to press and Kiely was kept on his toes to restrict City to four goals.
David James had little to do in the match but he kept a clean sheet by saving here from substitute Johansson in the final minutes.
I would have liked to have raved about this City display but such was the poor opposition it was difficult to judge. Certainly the changes in midfield with Barton and Sinclair coming in worked well. Sinclair had his best display since coming to City - about time too many will say. Barton worked hard and his passing was not as bad as usual. I am not yet convinced about Mills and Thatcher. They both made bad defensive decisions that could have cost City dear against another side. Anelka was superb today. His allround performance made offers from French clubs a joke. SWP scored a great goal and made another and he got in some good tackles as well. Fowler had a mixed day. He missed a sitter in the first half but made Anelka's first goal. Dunne and Distin kept Jeffers and company quiet. Reyna had a quieter game than usual but I wondered how much his pre-match injury affected him. City will play a lot better and lose but that is football. Today we took the chances well and won easily. Roll on Everton.
Team
James 6: Mills 6, Dunne 7, Distin 6, Thatcher 6: Wright-Phillips 8, Barton 7, Reyna 6, Sinclair 7: Fowler 6, Anelka 9