City 1 Fulham 3
April 12th 2009 att.39,841
It was almost 12 months ago when Fulham last visited Eastlands. On that occasion they came back from being 2 goals down to win through defensive errors by the home side. This time they came back from being just one goal down to win easily against a listless, tired and error prone City. Last time they needed the win to escape relegation. This time they moved into 8th position and broke City's run of 6 home league wins. This was a poor performance by City. Fulham are not the most gifted of teams - just really well organized. After the defeat in Hamburg it is easy to blame tiredness and several players were coming back from injury but this was a disappointing effort. In the first ten minutes or so Fulham might and should have scored twice and looked like the home side. This was a six pointer for the coveted 7th position and hopes of the Europa Cup next season are now fading fast. The absence of Robinho from the starting line-up was a hot topic of conversation before game started - was he rested or just dropped after some lack luster away performances! The return of Petrov was welcome but it will take time for him to get back to his best after his long absence. Stephen Ireland's splendid goal was the only thing to cheer on this Easter Sunday.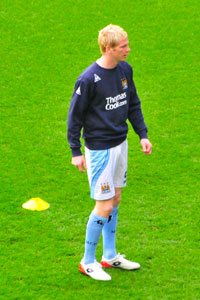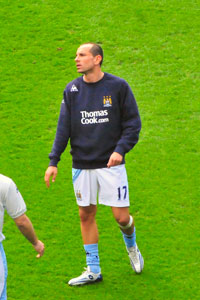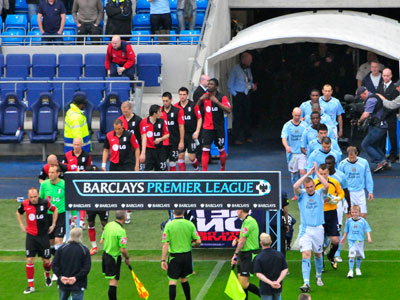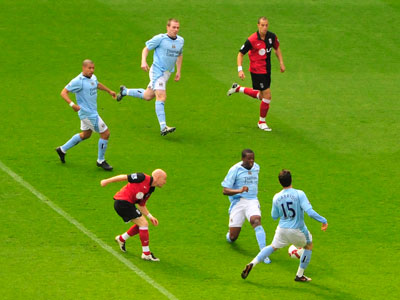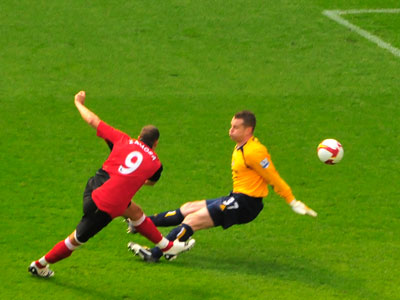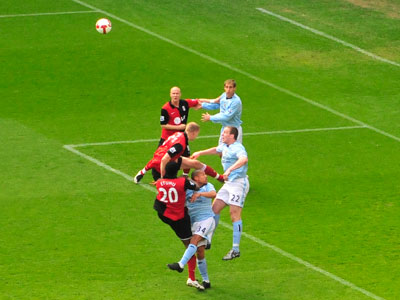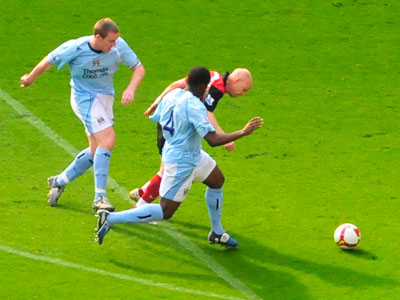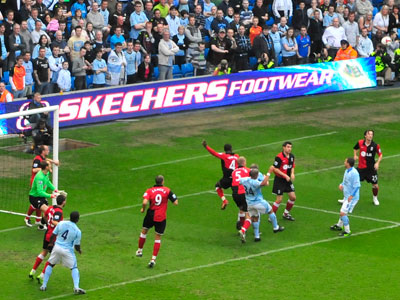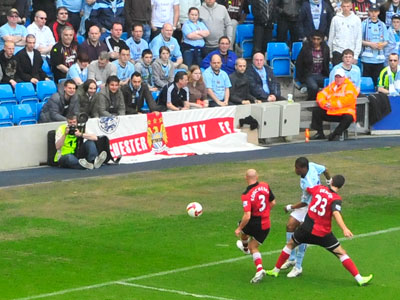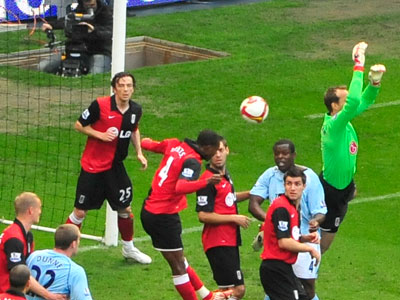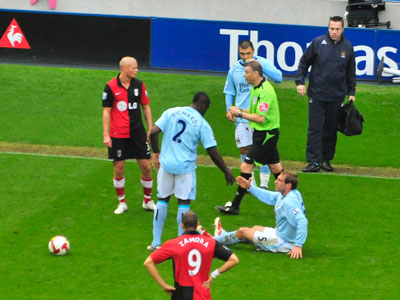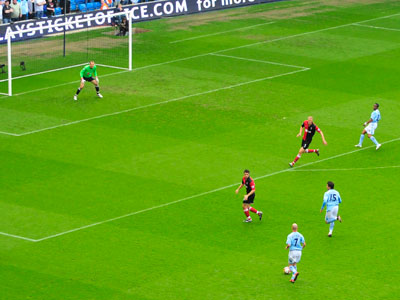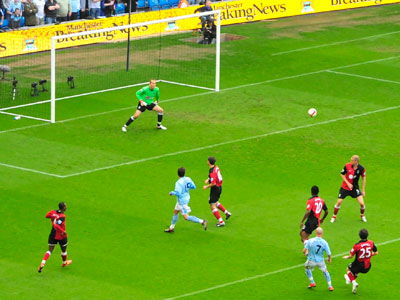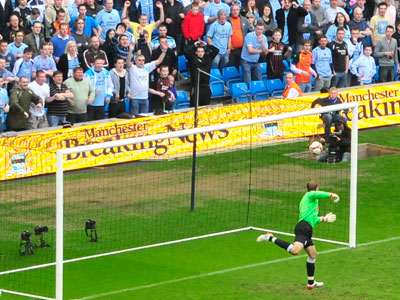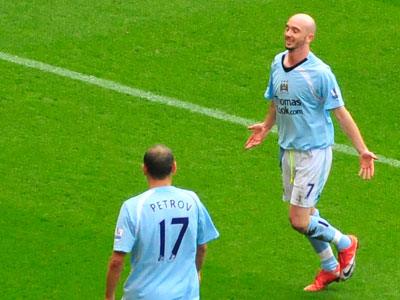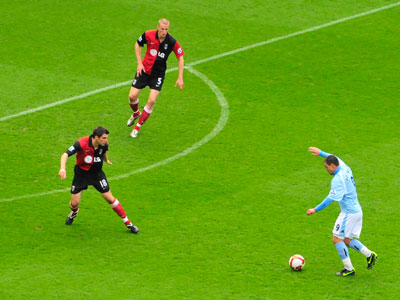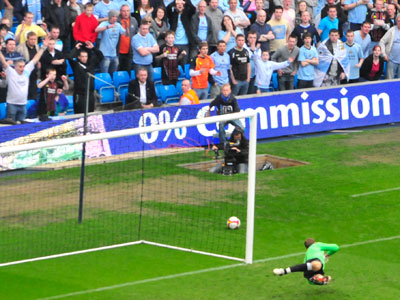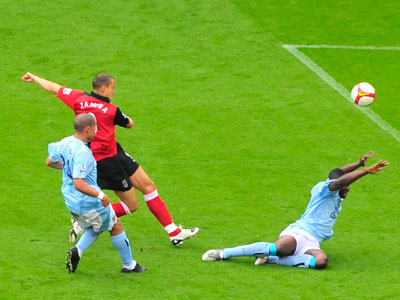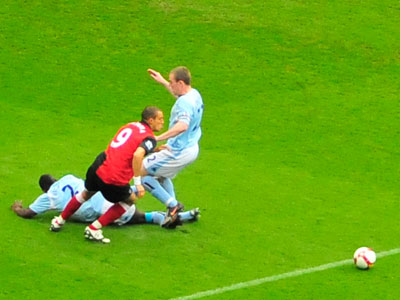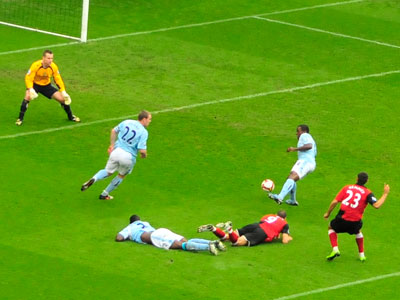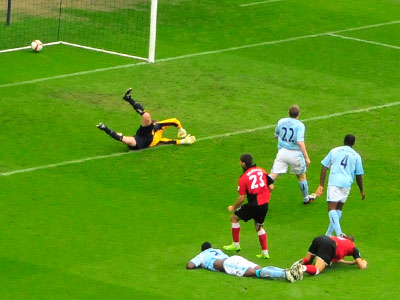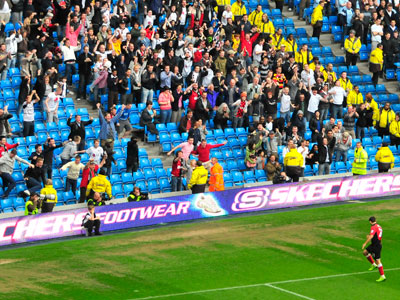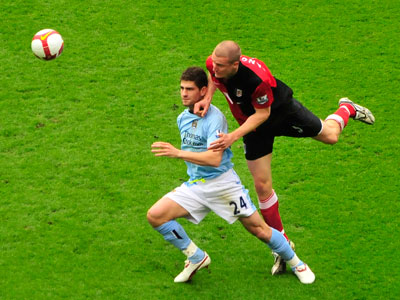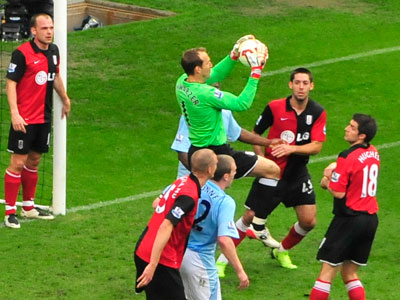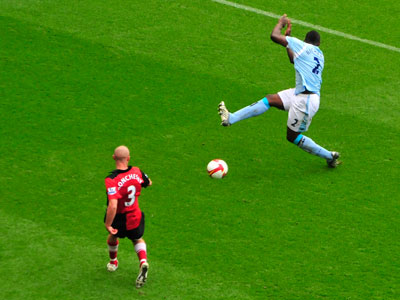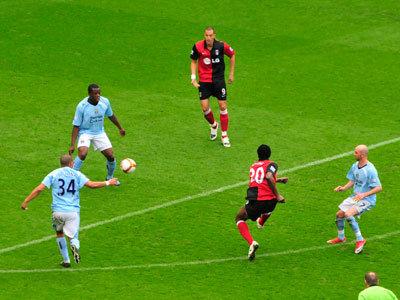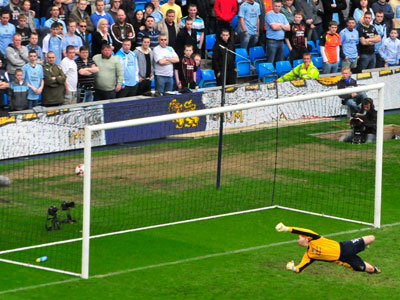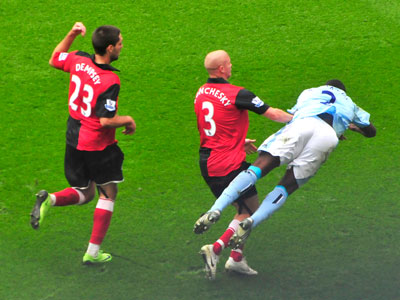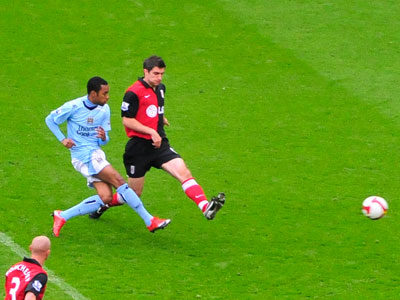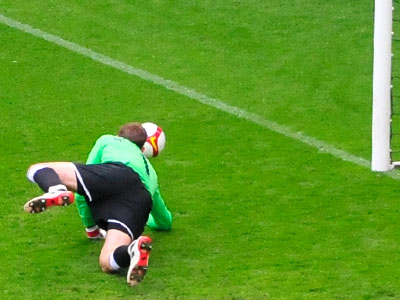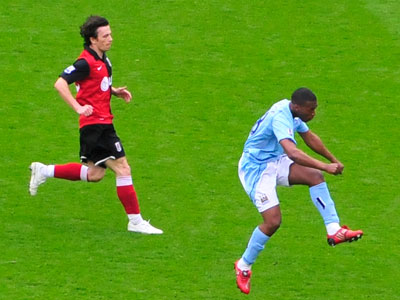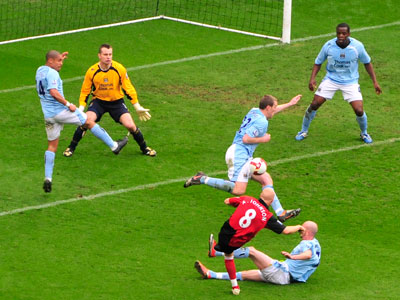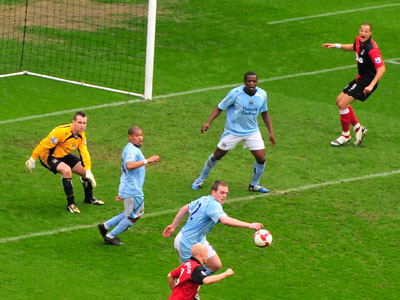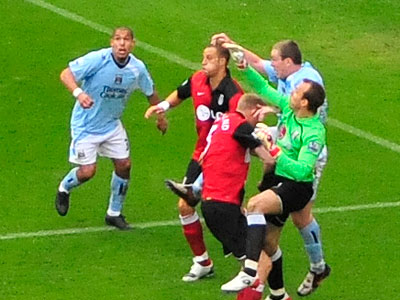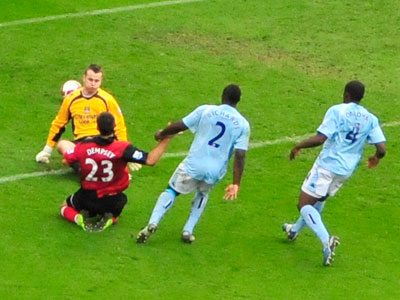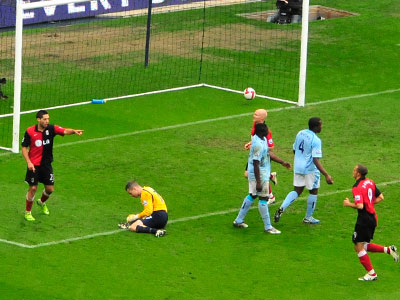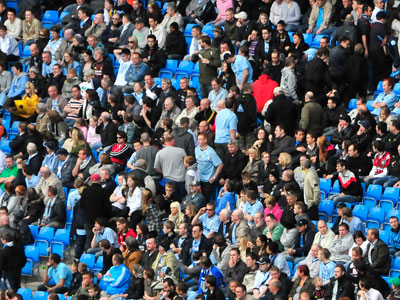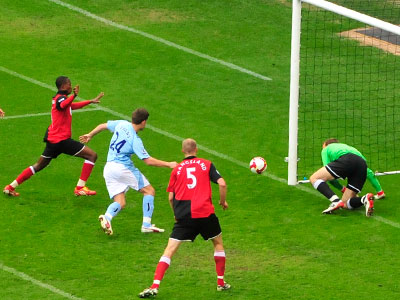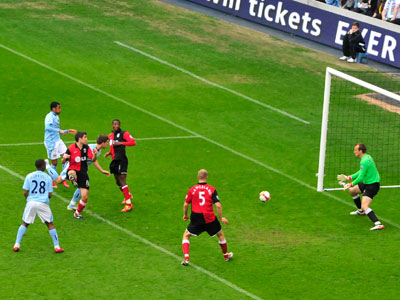 Among the subs was Ryan McGivern -
Good to see Martin Petrov back
Injuries to SWP, Kompany and Bellamy and the 'resting' of Robinho meant quite a few changes - Kelvin Etuhu being given the chance of playing against his elder brother Dickson
Fulham attacked early on and both Johnson and Zamora ( after a slip by Dunne) had good chances to put the visitors ahead
Fulham continued to press and the City defence were just about holding out.
City did manage to win a few corners and Kelvin Etuhu had the odd run down the right wing but to no avail
Another City corner is cleared
Konchesky is booked after flattening Zabaleta
After 27 minutes Ireland took the ball towards the Fulham goal unchallenged. Just before the edge of the penalty area he let fly as Dickson Etuhu came to challenge.........
The ball flew beyond the reach of Schwarzer into the top corner to give City the lead.
Four minutes later Bojinov tries his luck from distance but the ball goes just wide
Fulham came back through Zamora but failed to trouble Given
Petrov's in swinging corners failed to trouble the Fulham defence and half time came with City holding a slender one goal lead
Four minutes into the second half Fulham equalized. Zabaleta lost the ball in midfield - a careless error and the rebound from Richards trying to clear fell to Dempsey who passed the ball.........
...... past Given and into the goal to make it 1-1 much to the delight of the small group of Fulham supporters
After 55 minutes Evans came on for Bojinov and he showed plenty of energy.
Richards attempts to block a Konchesky cross but I don't like the idea of the way he uses his arms! It's becoming a habit!
After 58 minutes Fulham went ahead. Dickson Etuhu smashing the ball past Given after City failed to clear a cross
Given 6.5: Richards 6, Dunne 5.5, Onuoha 6, Garrido 6: De Jong 6, Zabaleta 6: Etuhu 5 ( Sturridge 5.5) Ireland 7.5, Petrov 6.5 ( Robinho 6.5) Bojinov 6.5 ( Evans 6.5)
Fulham clear a City corner
Richards hurls himself forward but fails to get a free kick
Robinho who came on for Petrov after 63 minutes shoots for goal....
but his shot is not good enough to beat the keeper
Sturridge on for Etuhu fails to trouble the keeper with this effort
The City defence were not having one of the best days and were missing Kompany
With 8 minutes left Fulham got their third goal following a mistake by Dunne and Dempsey toe ended it past Given .......
..... to make it 3-1 and end City's run of home victories. The home supporters left their sets in hundreds as there was no way back for City
City did have the odd half chance to get a goal back but I am afraid it just was not City's day and a good crowd considering it was on TV went home very disappointed. Lets hope for better form on Thursday evening.