Manchester City 3 Portsmouth 1
April 20th 40,205
This was a much better display by City -- their second win on the trot to give the end of the season a lift and give City an outside chance of an UEFA Cup place providing other results go their way. At last we were making more chances and though Pompey might have the Cup Final on their mind it was a good open game with chances at both ends. There were periods when City's passing was back to early season form. Rather worrying is the increasing defender injury list. When City have to play their most creative player at right back it is not good news so it looks like Logan will have to return from loan. Thank goodness Corluka and Ball have shown their flexibility to switch positions. Benjani worked really hard today and might have had two more goals while Vassell seems to have cemented his place in the team with another 100% showing. Hart made some good saves but might have been at fault for the Pompey goal. Stephen Ireland had his best game for a while but Johnson was a trifle below par. Full marks to Elano for taking on the fullback roll and he made some excellent long passes. I just hope all the talk of our manager departing in the summer ends!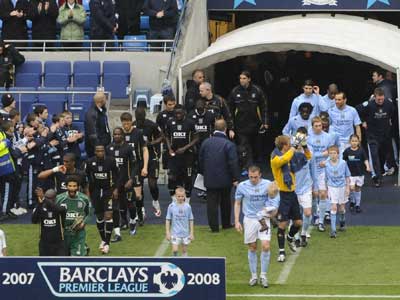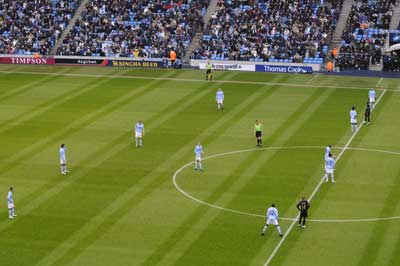 The late withdrawal of Jihai Sun at right back gave City supporters at the line-up when they saw Elano feature at right back. Had he drawn the short straw or was it because he had played there before for Brazil and Santos ? With so many City defenders on the injured list we also had young Sam Williamson from Macclesfield on the bench a regular for the reserves.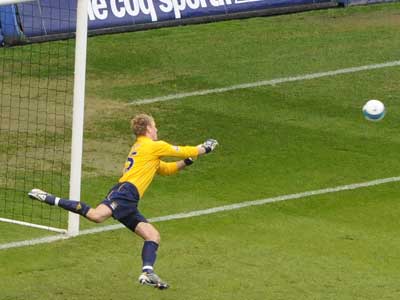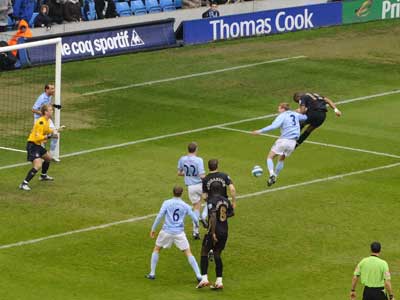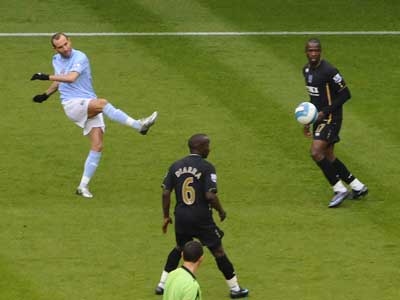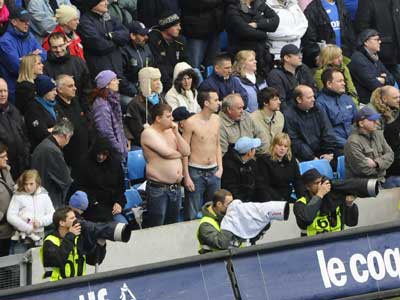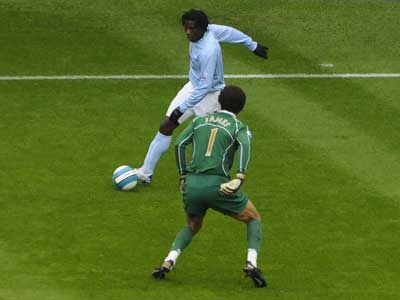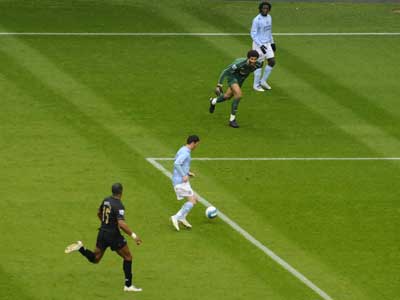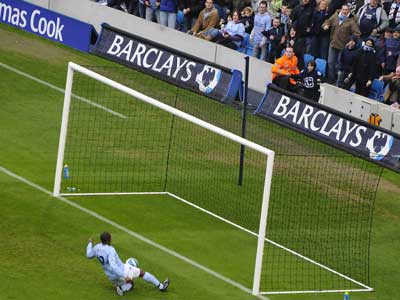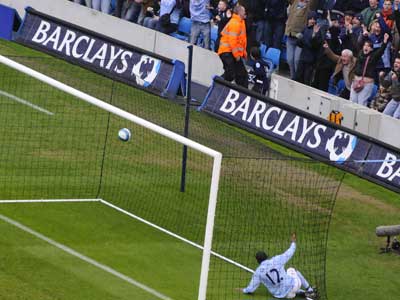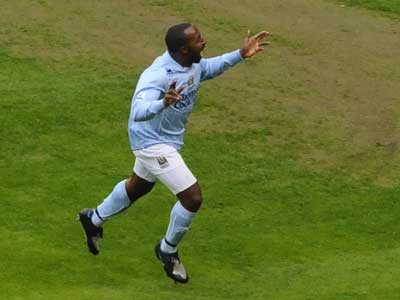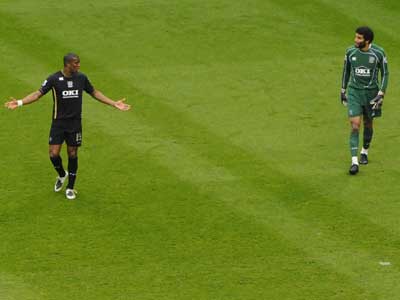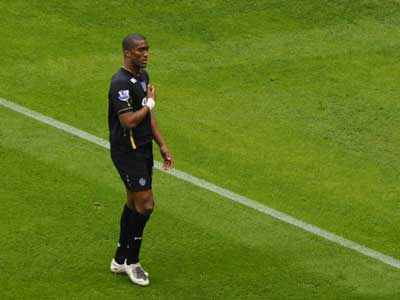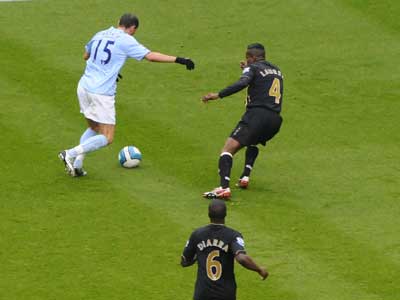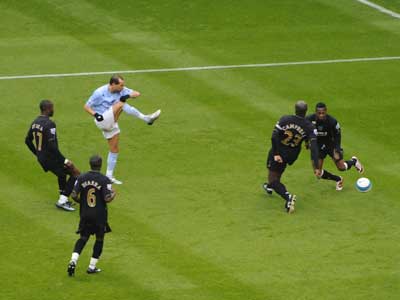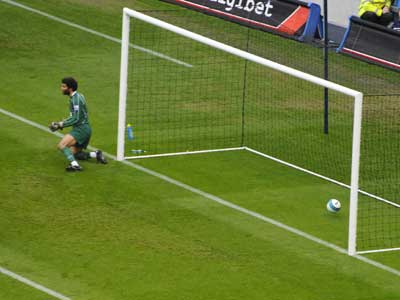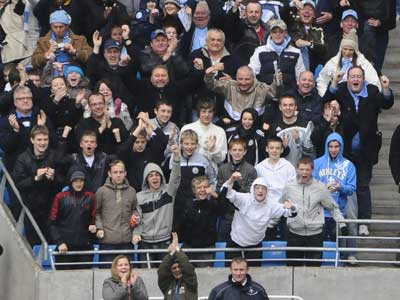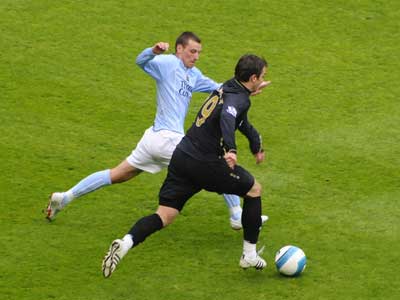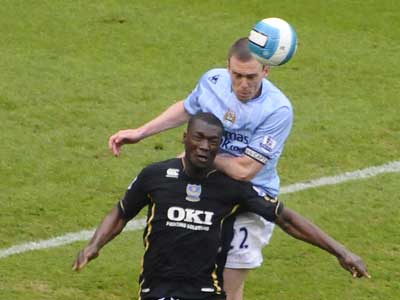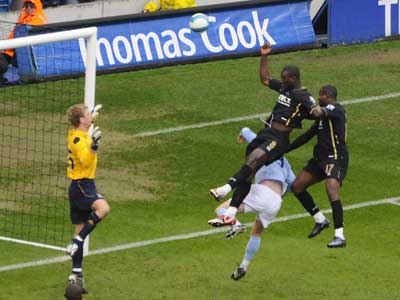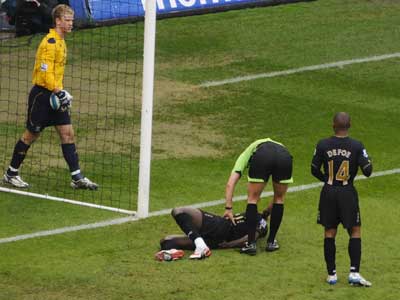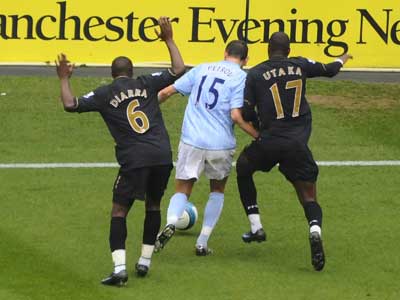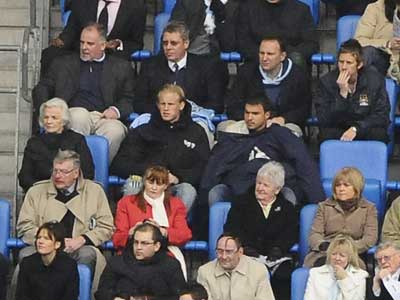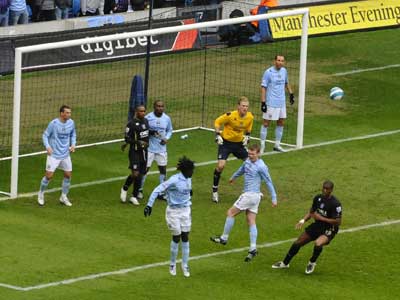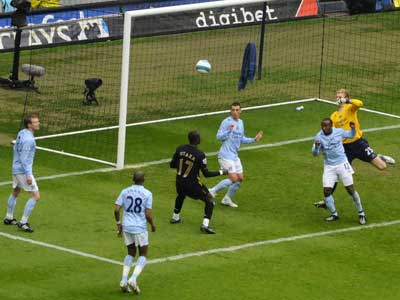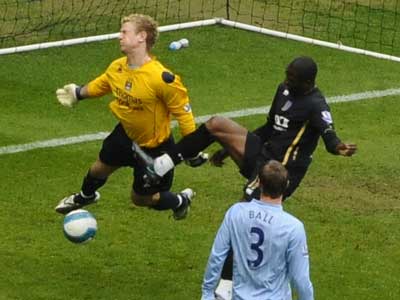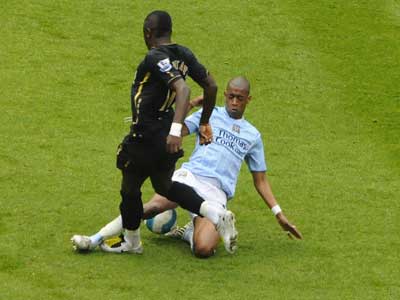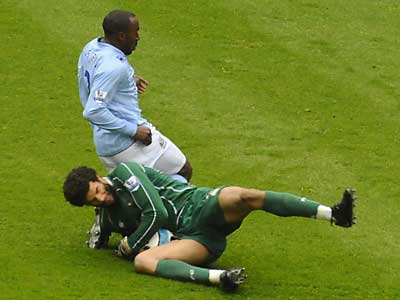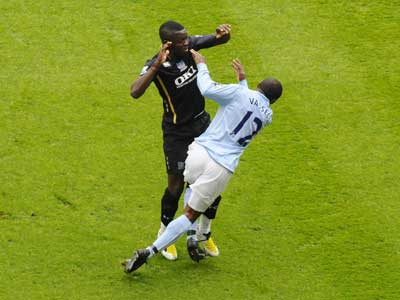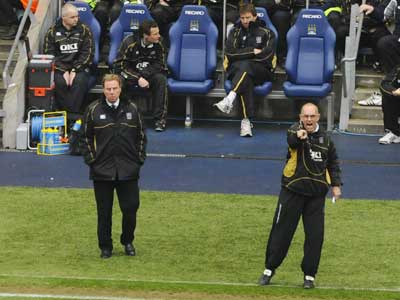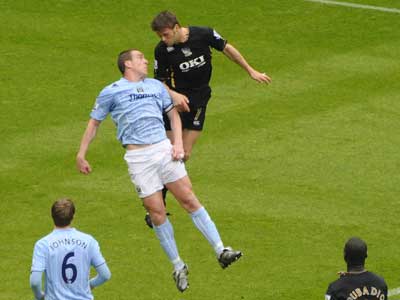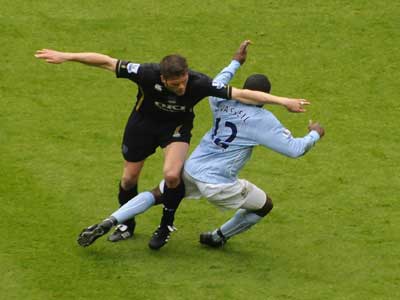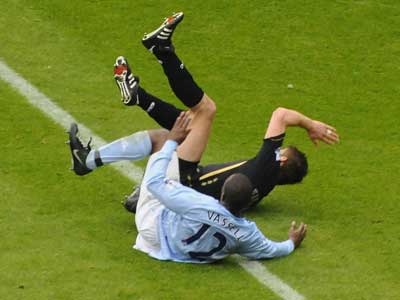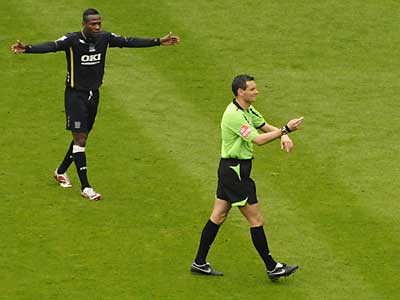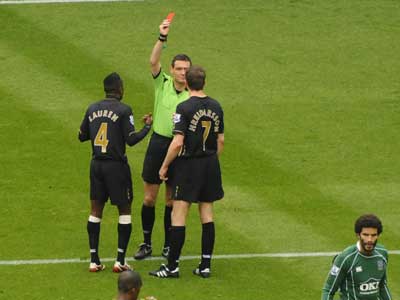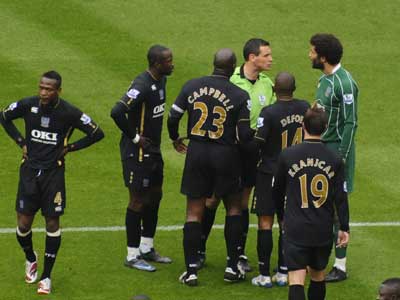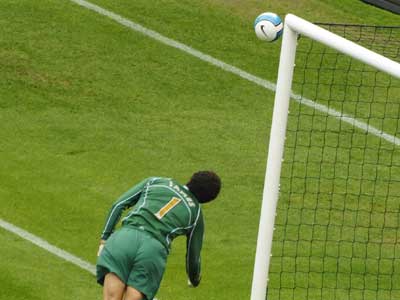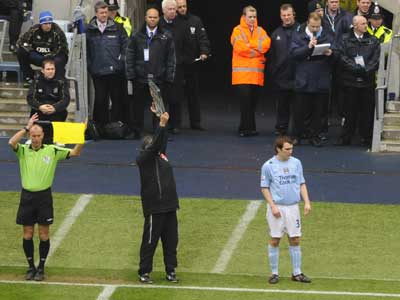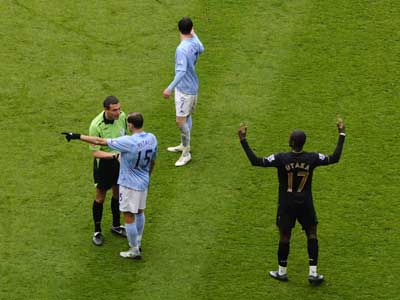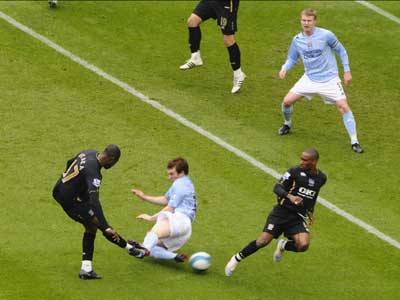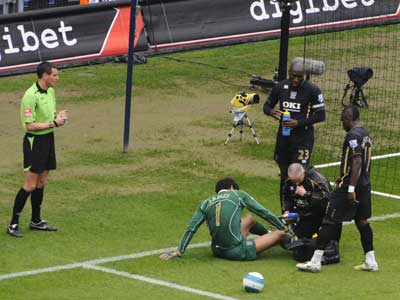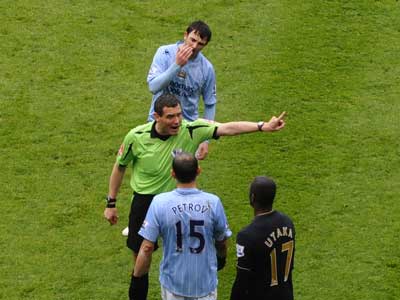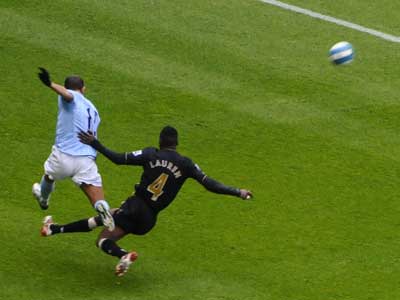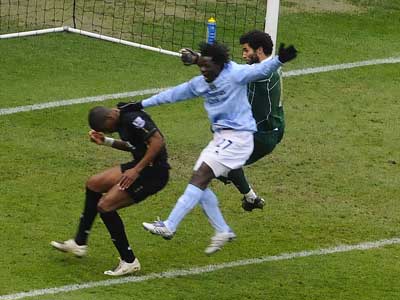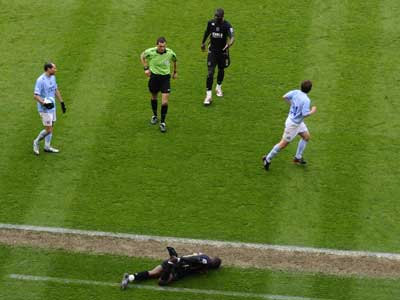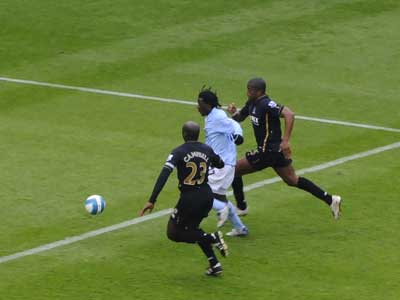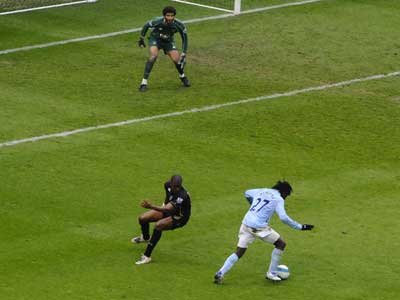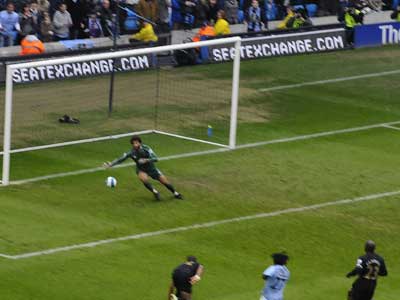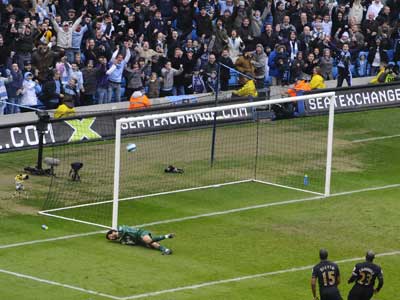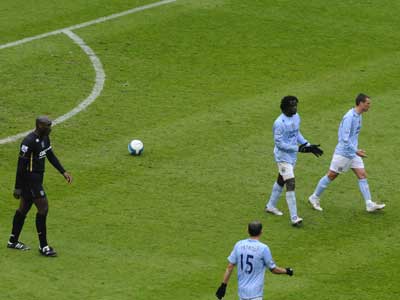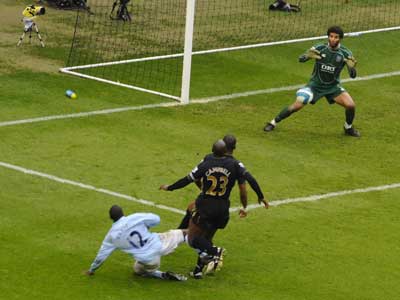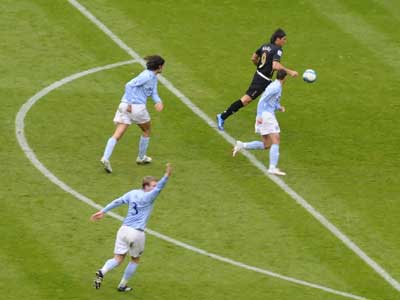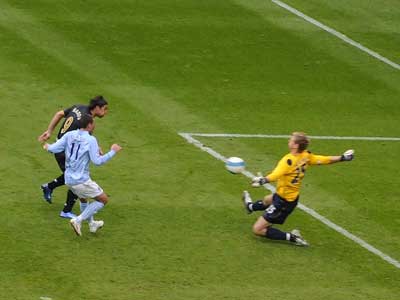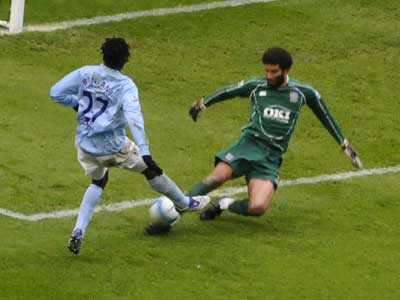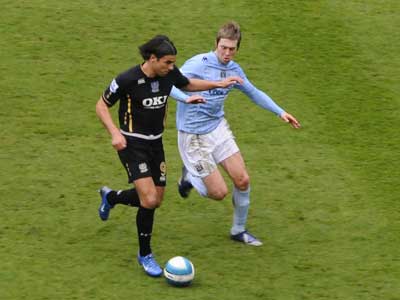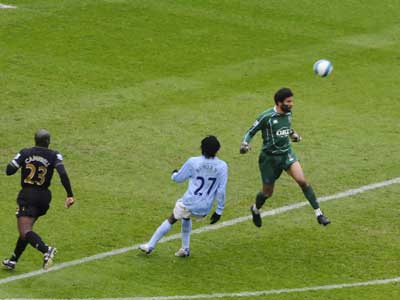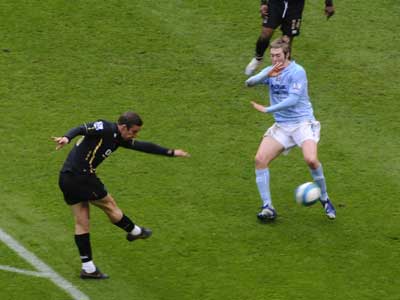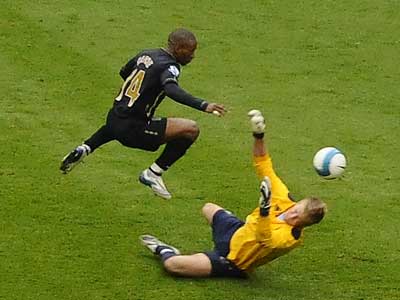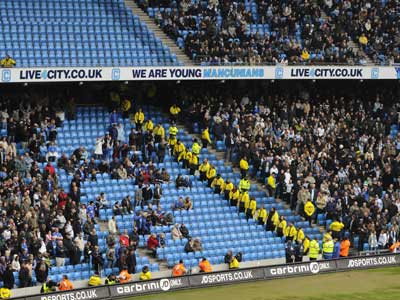 Portsmouth were early on the attack and Johnson and Corluka had to shepherd Muntari to safety
An early long range shot from Papa Bouba Dip nearly caught Joe Hart napping but he managed to push the ball aside for a corner
From the corner Distin failed to connect properly
An early effort by Petrov
A small but noisy contingent of supporters from Portsmouth had a couple of brave souls pretending to be Newcastle supporters
After a goal kick by James was headed clear by Ball the ball ran towards the visitors goal. James came out and a mix-up between him and Campbell led to Benjani getting possession ..
....... Benjani fed Ireland who had an open goal. Ireland scuffed his shot.....
.......but fortunately for him Darius Vassell had followed up and was able to put the ball into the empty net. City one up after just 11 minutes
While Vassell celebrated David James and Distin exchange pleasantries after such a defensive lapse - but full marks to Benjani who had persevered and won the ball off James
Distan was getting some stick from the crowd and as he pointed to the badge he got even more. From that moment on cries of 'Distin Distin what's the score ' echoed round the ground
A minute or later City scored again. A deep cross from Elano found Petrov who first tormented Lauren then feinted to come inside......
.....and then he shot early and with James at the near post, the ball deflected past the keeper into the back of the net
So 13 minutes gone and City two up! The City supporters were in blue heaven.
Elano was having a good game at right back much to the surprise of many City supporters.
After 16 minutes Diop headed over from close range and fell awkwardly afterwards
Watching in the stand was Kasper Schmeichel and Valeri Bojinov
Petrov kept the Pompey defence busy with his attacking runs
After 23 minutes Pompey got a corner which was not cleared properly by Hart who only punched the ball out to the wing
It was returned to Defoe who headed it forward to Utaka who managed to edge it past Hart. He should have been offside had a City player ( I think it was Petrov- slow to come away from the post) wide on the left not put him onside
Fernandes goes in to tackle
James gets the better of Vassell
Vassell tries to break through
While Harry Rednapp keeps his cool coach Joe Jordan gives his team a piece of his mind. Meanwhile Adams tied to keep warm on the bench.
Dunne and Hreidarsson in a heading duel ......
....... and a minute or so later he was involved at the other end bringing down Vassell put through by Ireland.
Just outside the area and the last defender the omens did not look good for the Icelandic defender as the referee walked towards him......
Out came the red card from referee Mariner and off he had to go despite a word from David James. Whether Vassell would have scored had he not been fouled is another matter and did not come into the equation. The resultant free kick from Elano went into the wall
Just before half time David James made an excellent save from a curling Vassell shot that was bound for the top corner.
9 minutes into the second half City had another defensive blow when Richard Dunne had to leave the field with a hamstring injury giving Sam Williamson his debut chance
Williamson was soon in action and seemed quite at home at left back- Ball moving to the centre of defence.
It's over 50 years since City had a Williamson playing for them, the other being a centre forward (1949-54) - Saw him play many times in the 50's
David James had to get some treatment after 12 minutes in the second half
A clash between Petrov and Utaka ended with the referee and the City winger disagreeing about the direction of Sofia
!
A great cross from Petrov sailed past the Pompey goal but Benjani was not able to make contact.
Benjani shot over from a good position
Williamson got a yellow card for a tough tackle as he settled into the Premiership
After 75 minutes Benjani made the game safe. He took the ball from Ireland who was having a better game than usual and beat David James at his near post to make it 3-1
.... but as he had scored against his previous club Benjani did not celebrate at all and the other City players did not a meal of it.
Baros -on for Utaka - has a chance but Joe Hart makes a good save
.
As the ball flashed into the Pompey net the City supporters gave the ex Portsmouth player a huge cheer........
Johnson about to tackle Baros
James heads clear in a City attack
Just before time Davis ( on for Kranjar) shoots but Hart made a good save
Defoe did get the ball in the net but he was well offside and the City supporters went through their mock cheer routine to make the visitors journey home even more dismal
Team
Hart 6.5: Elano 7 ( Caicedo) Corluka 7 Dunne 7 ( Williamson 6.5) Ball 7: Ireland 7 (Geovanni 6.5) Johnson 6.5, Fernandes 7, Petrov 7.5, Vassell 7, Benjani 8