Manchester City v Liverpool 1-0
April 9th 2005 att 47,203
Such was the time gap since the last home game it almost seemed like the first home game of the season and for new manager Stuart Pearce it was his first game at Eastlands. After two credible displays at Spurs and Charlton this game against stiffer opposition in Liverpool would be a better indication of his potential to continue as City manager next season. There can be no doubt as to his passion and general attitude to the game. His experience over the years is second to none but not all good ex England players necessarily make good managers ... an ex City manager easily comes to mind. We were not be disappointed. After today's game the board should have no doubt in their mind as to their decision . There will be few in the crowd unwilling to give Stuart Pearce his chance. City at last are playing as a TEAM in the Premiership. Sponsors Reebok and Thomas Cook will no doubt be glad that there is now interest for the rest of the season.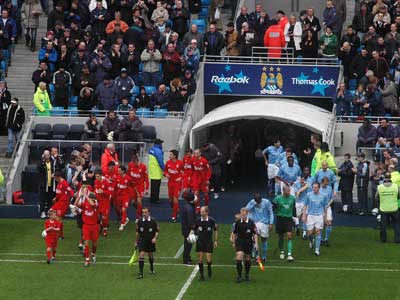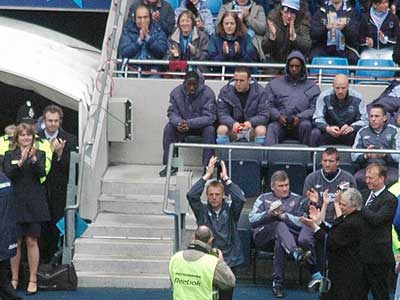 Despite the bitterly cold weather there was a full house for the visit of Liverpool who had beaten Juventus in midweek.
There was an extremely warm welcome for Stuart Pearce the new City manager on the occasion of his first home game as the City boss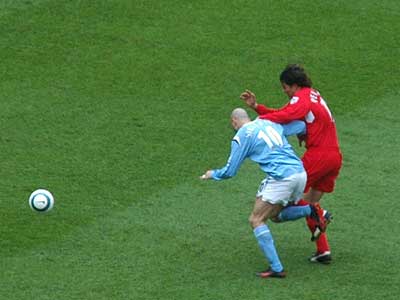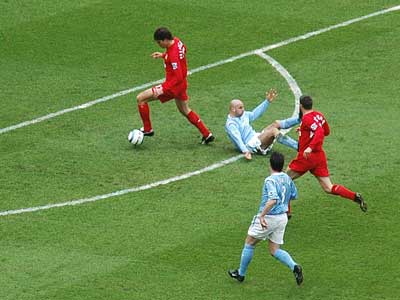 City were unfortunate as early as the 4th minute when Sibierski was pulled back at the edge of the area by Pellagrino but Old Mother Riley -yes it was him again - would have none of it.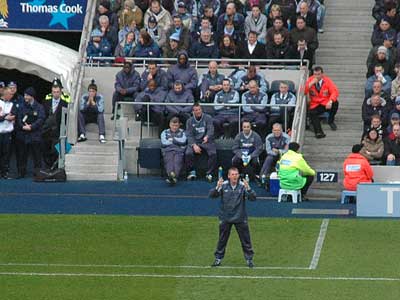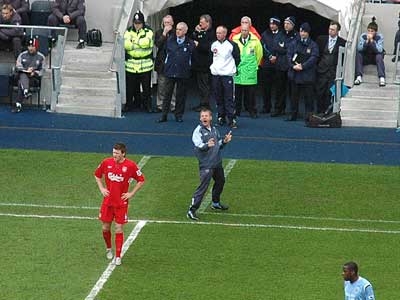 Stuart Pearce was action man on the line - cajoling, motivating and occasionally castigating his players with actions and words throughout the game. He must have been emotionally drained at the end of the game.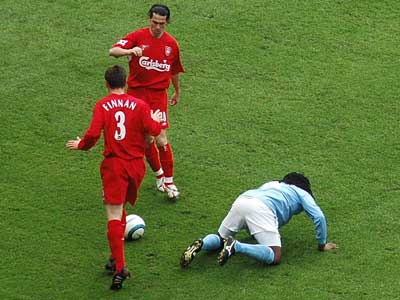 Kiki Musampa is pulled down by his dreadlocks and the ensuing freekick swung into the area is headed down by Distin but young Liverpool keeper Scott Carson makes the save.
David James however makes a great double save -first blocking Biscan's shot and then as the rebound was about to give Morrientes and LeTallec a chance to score, James swung his foot to clear the ball to safety.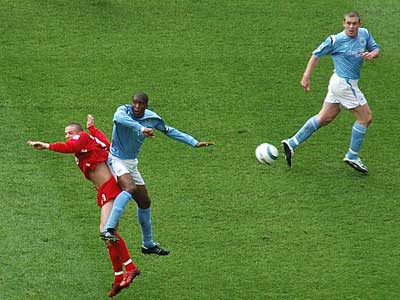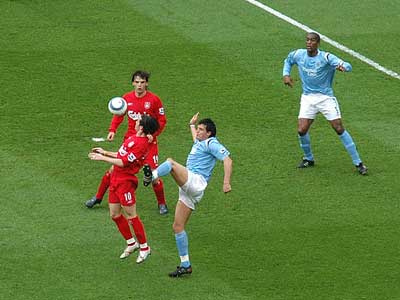 Distin in action again this time defensively against Le Tallec who looks like losing his shirt. Get it tucked in lad -you don't know who's watching!
Young Stephen Jordan duels with Luis Garcia for the ball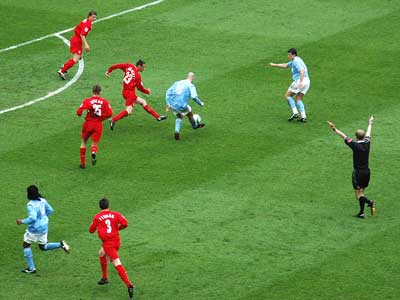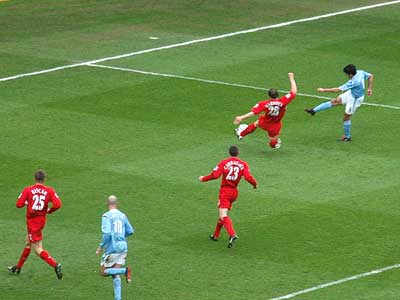 Jamie Carragher blocks another Sibierski effort while Mr Riley signals a six - Heh ..Freddie Flintoff's not playing!
Reyna's attempted cross is blocked by Warnock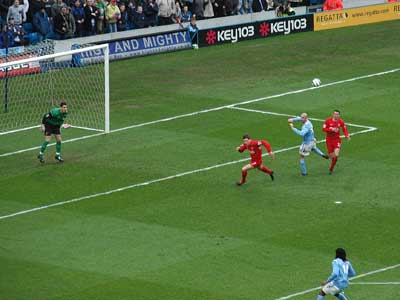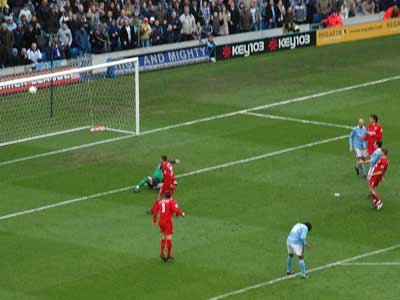 After 20 minutes a Barton cross sails over Sibierski to the waiting Musampa but his first time volley flies well wide much to the City players despair.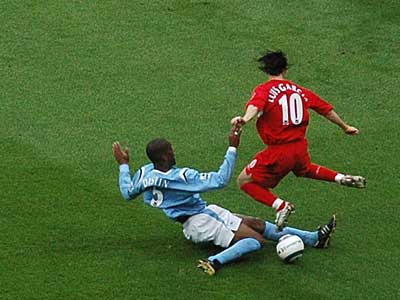 A good tackle by Distin on Luis Garcia
With Bosvelt slow to close him down Biscan prepares to shoot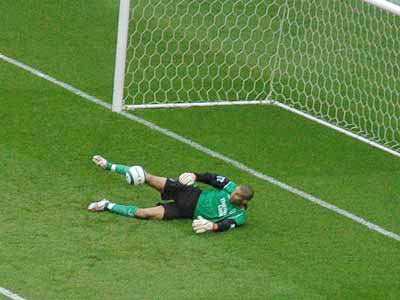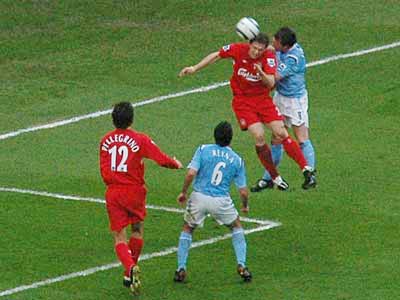 Kiki Musampa was causing some problems in the Liverpool defence with his dribbling and was often multi-man marked.
I cannot understand why players injured so close to the touchline have to receive treatment on the field instead of being taken off.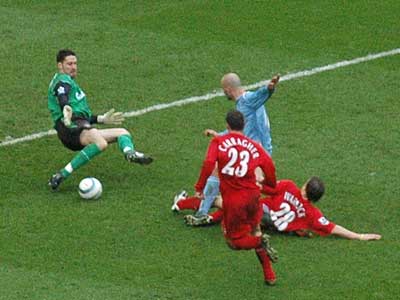 Near to half time and Fowler puts through Sibierski who is foiled by a last ditch tackle by Warnock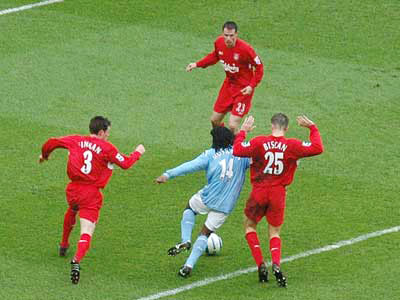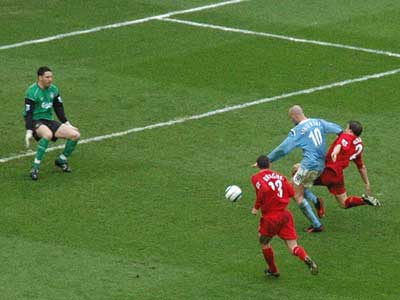 A heading duel ending in a corner for City
Just on half time Barton - 'who was holding his own in midfield '- was cautioned for a foul on Le Tallec who appears to be giving some sort of salute.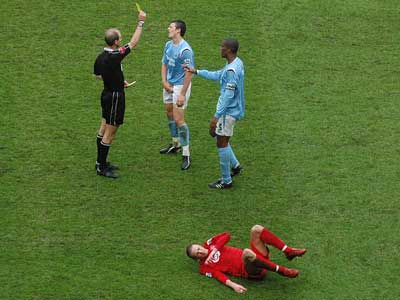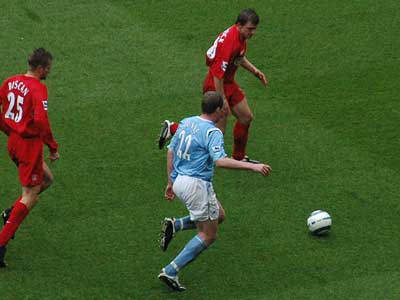 A sight to behold... Richard Dunne darting down the right wing only to be foiled by a linesman baffling decision to award a free kick against him.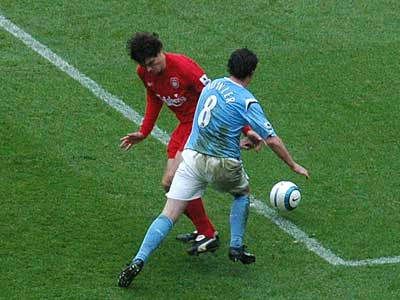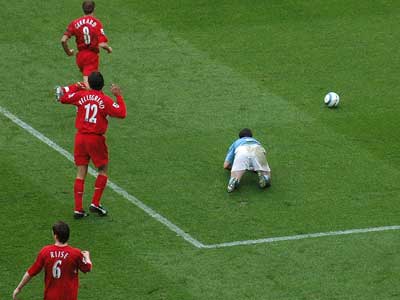 A lucky escape for Liverpool as Robbie Fowler is fouled at the edge of the area but his fall moments later is perceived by Old Mother Riley as being a dive. As if Robbie could ever be guilty of such a thing.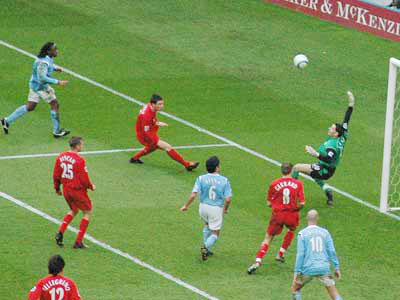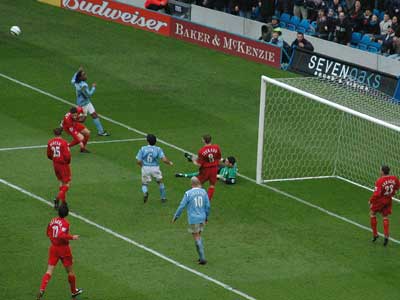 Another lucky escape for Liverpool after 67 minutes when a cracking volley by Musampa hits the post and goes clear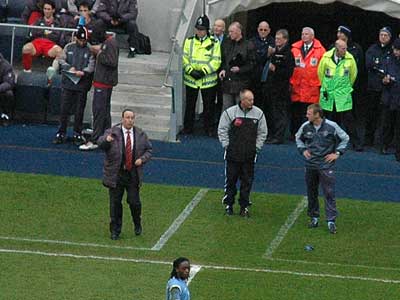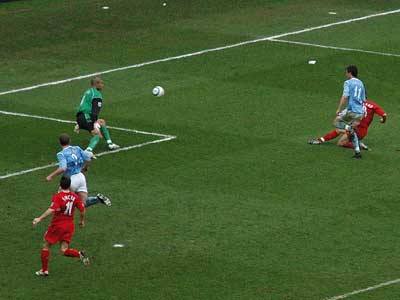 With Liverpool on the back foot manager Benitez tries some Pearce gesticulating to egg on his players
Gerrard had a good chance with 8 minutes to go but his shot hits the side netting.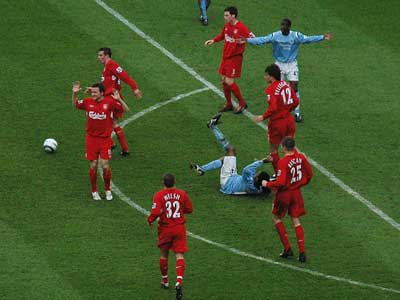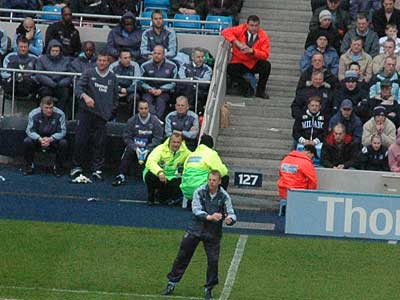 Kiki Musampa is again fouled having been surrounded by six Liverpool players!
With time ticking away Stuart Pearce calls for more action and by now he had brought on Mills for Onuoha, Croft for Bosvelt and BWP for Sibby.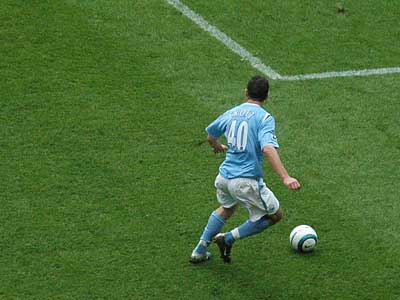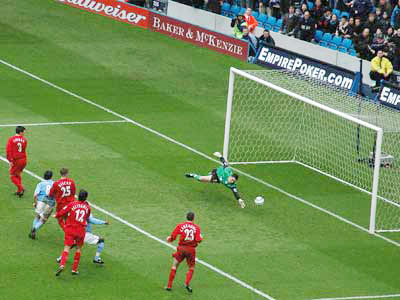 In the final minute the goal came. Bradley Wright-Phillips passed to Croft who took the ball down the line and put in a great cross that was met on the volley by Kiki Musampa and the ball flew past the Liverpool keeper.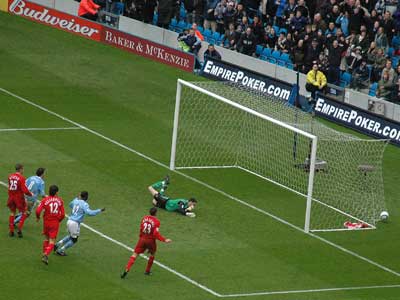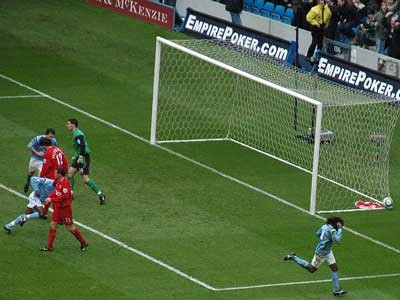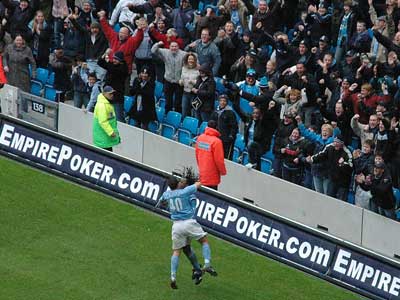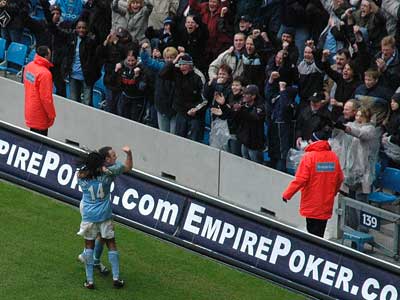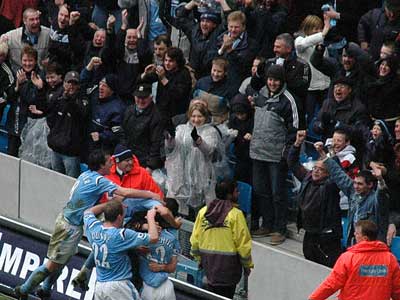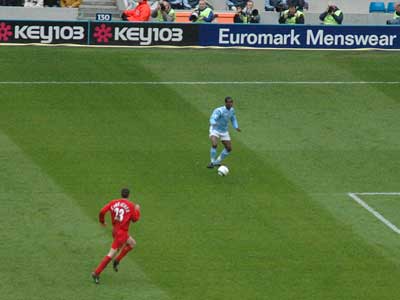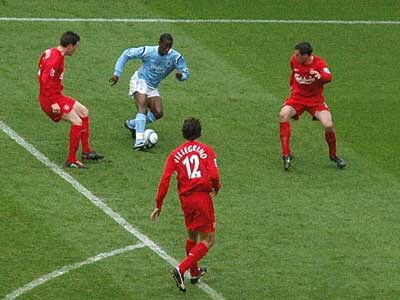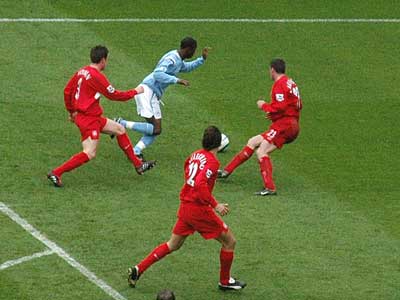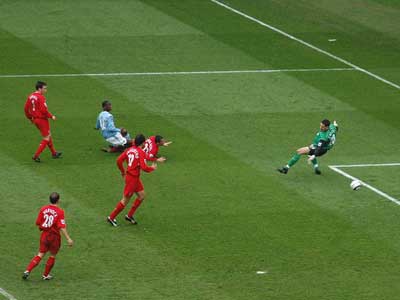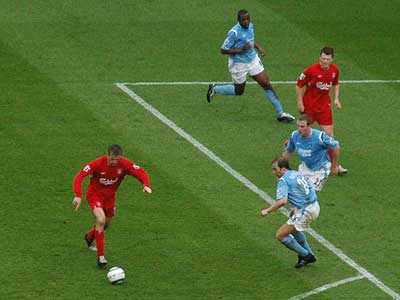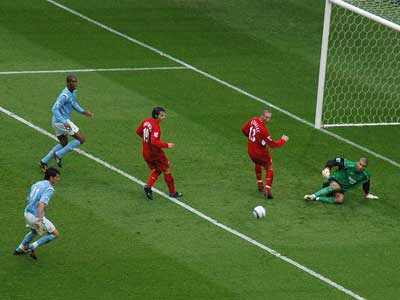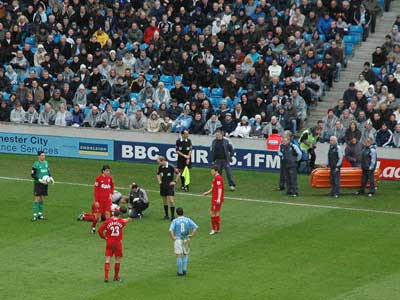 It was a great goal and a fitting one to win the match. Kiki Musampa celebrated his first goal for City in good style too.
I wonder whether his efforts have been enough for Stuart Pearce to keep him on next season.
It might have been two nil for in extra time Bradley Wright Phillips caught the Liverpool defence napping and his shot beat Carson but also the far post to just go wide.
Not an inspiring game but hard fought with City just about worthy winners. A good team effort once again with a high work rate.

Team
James 7: Onuoha 6 (Mills 7), Dunne 8, Distin 8, Jordan7: Reyna 7 Barton 7, Bosvelt 6 (Croft 7), Musampa 8: Sibierski 6 (Bradley Wright-Phillips 7), Fowler 7: