All photo images are the copyright of RICHARD TUCKER
High res versions are available for prints etc.
I spent an hour or so here before the long drive via Zion Canyon to Escalente. Managed to shoot a mixture of stuff on the way before arriving at Tropic -between Bryce and Escalente. I stayed in the excellent Stepping Stone Motel.
The left-hand image of the two shots below was shot on black and white infra red film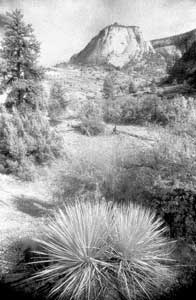 Glendale was ideally placed as a starting off place for my journey to Area 51 and in particular the small town of Rachel. A drive of 80 odd miles to reach the ET Highway (Route 375) through typical Nevada desert landscape, then a further 35 miles before reaching Rachel, not really a town , more a collection of mobile homes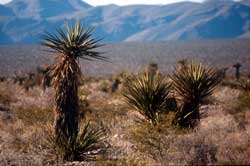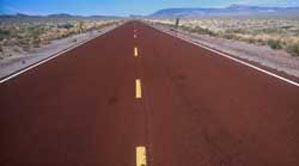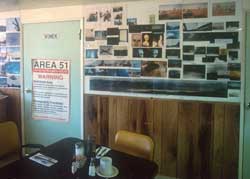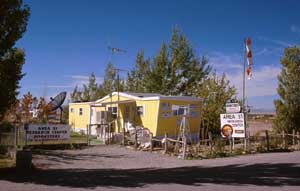 For those interested in staying a while there is a place to stay and eat - the 'Little A'Le'Inn'-I can recommend the fruit pie !. There are also souvenirs to buy and as you can see- above left - plenty of UFO pics to look at. Another place to visit is the Area 51 Research Centre- above right. Plenty to see and souvenirs to buy at the Centre run by Glen Campbell -web site
http://www.ufomind.com
For those planning to visit the area a copy of the area 51 Viewers guide is more than useful - details from the above site- you can get it by mail order.
On the way back I stopped at the infamous mail box where many 'sightings' have been reported. No luck for me though !!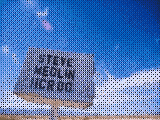 An interesting day ended with a 400 mile drive across Nevada into Utah and Cedar City and the motel.
---
On the road early for Cedar Breaks. This was my first visit here and I found it quite small in comparison to Bryce. It didn't quite have the variety of Bryce though as the sun was finding its way into the canyon I did take a few pictures -the ones below of patterns of light taken with 18 and 180 mm lenses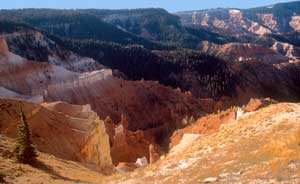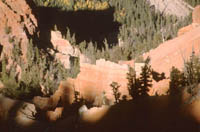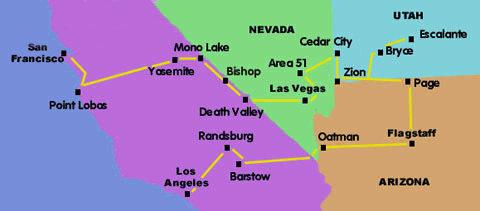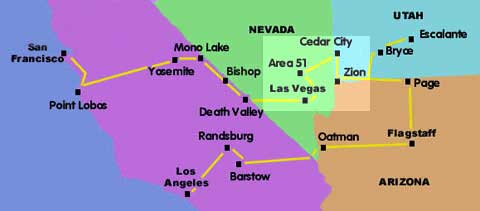 As you will see from the above map it was quite a long trip lasting three weeks with quite a few highs and a few lows. The flight via Newark from Manchester ( UK ) to SF was delayed quite a bit so combined with a wait for my hire car I set off to my first motel quite late. Luckily it turned out to be only a block away so my driving skills were not to be tested that first evening. The changeover in Newark was an opportunity for a few pictures and as you can see below you get a view of the New York skyline from Newark airport.